"If we were taught to cook as we are taught to walk, encouraged first to feel for pebbles with our toes, then to wobble forward and fall, then had our hands firmly tugged on so we would try again, we would learn that being good at it relies on something deeply rooted, akin to walking, to get good at which we need only guidance, senses, and a little faith. We aren't often taught to cook like that, so when we watch people cook naturally, in what looks like an agreement between cook and cooked, we think that they were born with an ability to simply know that an egg is done, that the fish needs flipping, and that the soup needs salt. Instinct, whether on the ground or in the kitchen, is not a destination but a path." ~Tamar Adler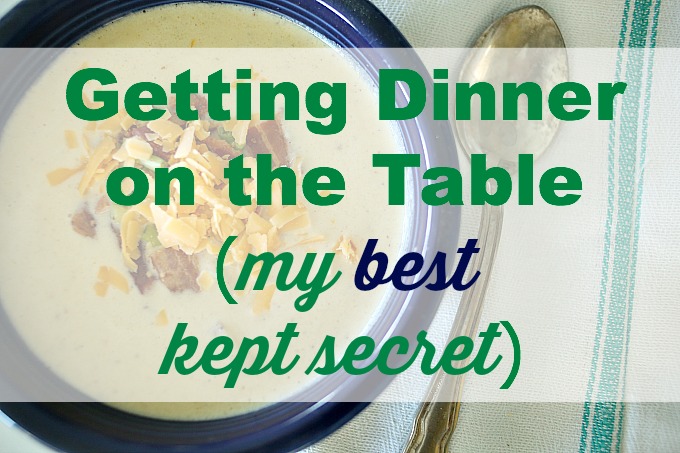 I guess I should start with a confession—we had Sonic for dinner last night.  It was overall a bad decision and a bad experience, exacerbated by the fact that we waited 22 minutes for it.  I know, because the particular Sonic near our house is just about as SLOW AS MOLASSES so I've learned to elevate my stress level by watching the clock.  Last time we went through for fruity drinks I told my girls to enjoy them because we we were NEVER going back.  You see how that worked out for me.  When Sonic used to have skaters bring your food, you would be forgiving of the tardiness because well, someone is bringing your food to you ON SKATES.  Apparently, you can either bring bad food to me fast or on skates and I won't complain.  There were no skates at this Sonic and the wait and food were equally bad.  Sonic used to seem like fun to me but something about turning 40 and needing to properly digest food interfered with all that.  Also, fast food should be fast.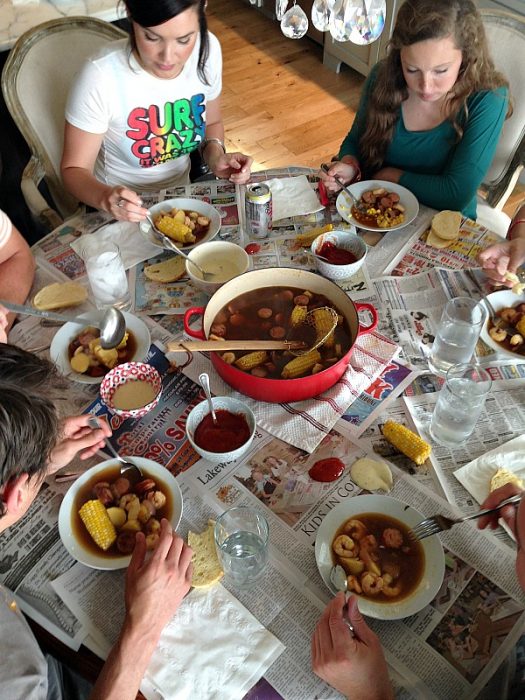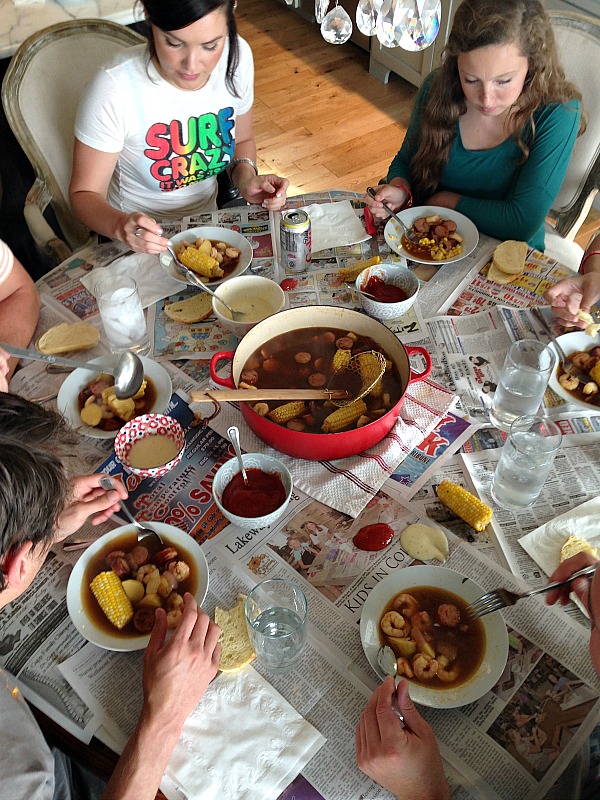 I'm really not a food snob and we eat out some, but we often regret it, either then or sometime that night.   I ADORE good food.  I hoard chicken stock and other things in my pantry and I cook a lot.  After 25 years or so of trying to feed myself and my people, I've learned a valuable secret to getting dinner on the table most nights.  And when I fail to take my own advice, I end in a state of hangry (hungry+angry) at somewhere like Sonic.
And here's the kicker—it wasn't because I wasn't prepared to make dinner last night.  That's the saddest part.  I had my menu planned and I had ALL the ingredients sitting on the counter most of the day. But I kept putting off starting it.  I procrastinated it 47 times until there were no more times left to procrastinate it.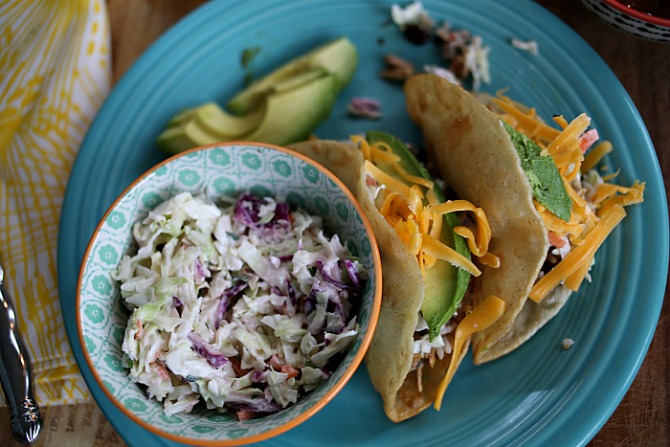 So, here's my secret for getting dinner on the table—DO IT EARLY IN THE DAY.
Now, stay with me, because you're going to tell me you don't have time to make dinner in the mornings.  My gentle reply is you don't have time not to.  When I worked, I almost always got dinner started (or finished) before I left for work OR we ended up eating out.  It's so daunting to think about starting dinner at 5'oclock with hungry short people pawing at you.   And the truth is? I actually find the temptation to procrastinate worse since I stay home most days.  I keep thinking I can do it anytime, but if I don't do it in the mornings, the chances are high that it won't get done.
You also have the added benefit of getting a lot of the initial mess cleaned up and out of the way and I'm much more likely to be enthusiastic about doing dishes at 7 or 8 in the morning than at 8 at night.  And do you know how much momentum it gives you for the rest of the day to know you have dinner started or even done before you leave home for the day.  SO MUCH!! You're a hero.  You're super woman. No matter what else happens throughout the day, you can whisper to yourself, well at least I have dinner figured out.  I would venture to say that it doubles my productivity during the day if I get dinner going early.  It's a quick win, which usually leads to other wins.  It makes you feel so responsible and grown up and capable.
Here's how it works for me……
Slow Cooked Meats—  My general plan of action is to season and brown the meat (this could be chicken breast, pork chops, beef roast, pork loin, beef stew meat, chicken thighs, etc) in oil in a dutch oven.  I almost always add 21 Seasoning Salute from Trader Joe's. It's great on all meats.  When they're brown, I sometimes add a few onions or some stock, but usually I just layer the meat and then cook it covered all day (at least 5 hours)  at 250 degrees.  If you're going to cook it longer than that and it doesn't have much fat, you'll need to add stock to it or it will dry out.   Almost any meat will be delicious by the end of the day and then you can do whatever you want with it—add it to soup or pasta or tacos OR you could serve it with potatoes or rice or veggies.  We did this earlier in the week with a huge family pack of pork chops that were on sale.  We ate them that night with cooked apples (which I also precooked before I left for my afternoon errands).  I do this ALL THE TIME.  Even if you're not sure what you're going to do with the meat, you'd be surprised how wonderful it is to come home to the smell of slow roasting meat.
Crock Pot Cooking—I do the same thing as I mention above and then put the meat in the crock pot.  Add stock and veggies and you have dinner when you get home.  Add a jar of salsa and you have tex mex.  Add mushrooms and wine and you have a French-inpsired dinner.  Just be creative.  Dinner is not to be feared.  Food is your friend.

Soups

—Do you want me to launch into full abandon with my love for soups, because I can and I will.  Almost EVERY soup I can think of can be made in the morning and then reheated.  It'll taste way better if you make it in the morning.  I have a plethora of soups at your disposal so try them all out.  Just today, I made soup from those pork chops that I slow cooked earlier this week.  I chopped up the meat and added it to my Pumpkin Chipotle soup, that technically is supposed to have chicken in it.  But nobody's watching to see if you put the right meat in so use what you have!
Pizza—oh, how I love homemade pizza night!! Get the dough started early in the day and let everyone make their own supper.  It's magic!  Use my no fail pizza crust recipe and there's dinner once a week.
Weekend cooking—I like to do this same precooking thing on Fridays so we go into the weekend with goodies.  And I almost never cook on Sundays because we go out after church and eat leftovers or pizza.  Cooking on Friday morning is my ace in the hole.  Today, I'm making this soup, pizza bianca, and Elea's making these cookies.  It's a way to go into the weekend!
And what if you did a slow cooked meat on Monday, a crock pot recipe on Tuesday, leftovers on Wednesday, a soup of Thursday, and then pizza on Friday.  There's you easy peasy meal plan!  I have a techy version of my meal plan that you might enjoy too, but sometimes I think we can overcomplicate it. Use whatever works for you but the game changer for me was when I started making supper at breakfast.
I know that not everything can be cooked ahead of time but SO MANY THINGS can.   I hope this helps you get supper on the table and saves you from being hangry at Sonic.
Mwahhhhhh!
p.s. I'd love to know your favorite trick, too!
****
My book is available for preorder now! Click here!