This is the conclusion of a 4 part series. Read part 1 (the why), part 2 (the where), part 3 (the how),  first and then come back here to get the full picture of how to integrate this meal planning guide into your normal routine!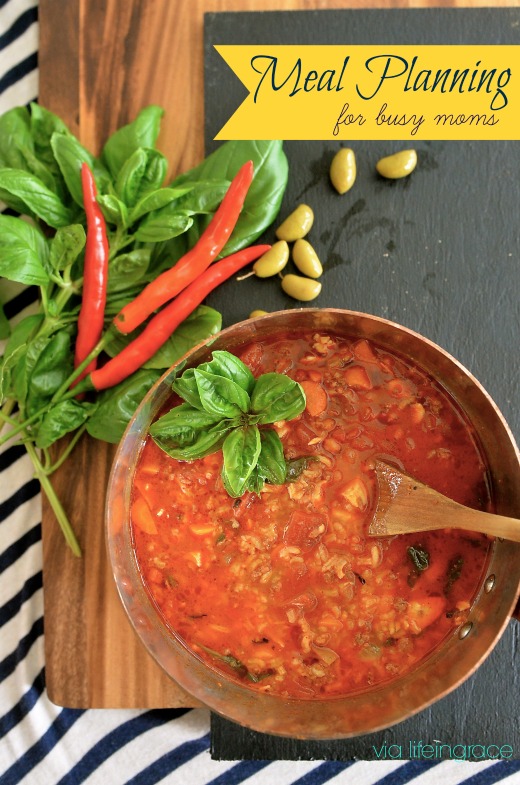 If you're a busy mom in need a meal plan that works, you've come to the right place.  This is the conclusion of a 3 part series on how to significantly reduce your stress, while feeding your family well.  Follow the links below and kiss the 5 pm meltdown goodbye!
I'm making a commitment to myself this year to do things with more purpose.
To make a plan for the things in my life that cause me stress and time.
I may have tackled the hardest one first—-meal planning.
I've come up with a way to use some online tools to create a year's worth of meals in as little as a month.
Part Two goes into lots of (painful) detail about exactly how I set up my Google Calendar to plan my meals and then have them repeat as often as I'd like.
I guess I haven't solved everything.  That dinner's not gonna cook itself.  But for me, the hardest part  is the planning and shopping.  Once I have a recipe and the ingredients in my possession, I'm an armed and dangerous chopping and sauté-ing machine!
The beauty of this program is this—-there are countless  ways that you can use these resources to customize something that works perfect for your family.  You don't have to do it just like I'm describing but there's probably some online tool that you can use to make this part of your life more peaceful and nourishing.
And we all have to eat.  Multiple times a day.
So, having some sort of plan at getting better only makes sense.
Now that you've had a few days to think about it and implement your system, I'd love to know all about it.
I'm adding links to some great recipes that will help you get started in your quest to get dinner on the table.  Some are from my first list and some are your suggestions.
Thanks for all your great ideas!
Happy Weekend and Happy Cooking!
For some new ideas, check out my What's for Supper board, along with my Breakfast, Soups, Bars and Cookies, and Cakes and Cupcakes Boards!
 Marlboro Man Sandwiches (we had these today as leftovers and spruced them up by adding an egg-over-medium onto the sandwich—-I'm pretty sure my new motto in life is to add egg to everything—-it was divine!)
Lasagna Soup (one of my favorites!)
Pasta with whiskey, wine and mushrooms
Baked Penne with Roasted Vegetables
Creamy Lemon Orzo with grilled chicken
Fusilli with Sausage, Artichokes and Sun-Dried Tomatoes
 Lemon and Garlic Roast Chicken
 Chicken and egg soup with Pastina
***********************
I'm behind on answering some of your emails and questions so this weekend, I'm gonna do a video to try to catch up.
If you have a question for me, leave it in comments and I'll add it to what I'm already planning on answering.