I wrote about cooking and meal planning during the 31 Days series and apparently I have passion and feelings about the topic. Large feelings. What can I say? I'm a foodie and I love to feed people. I want you to love it too, so I'm making it a tad bit less daunting.  Because those people we live with?  Are ALWAYS hungry.  Every. single. day.  Hope this helps your 5:00 stress!
Visit my full meal planning guide for busy moms!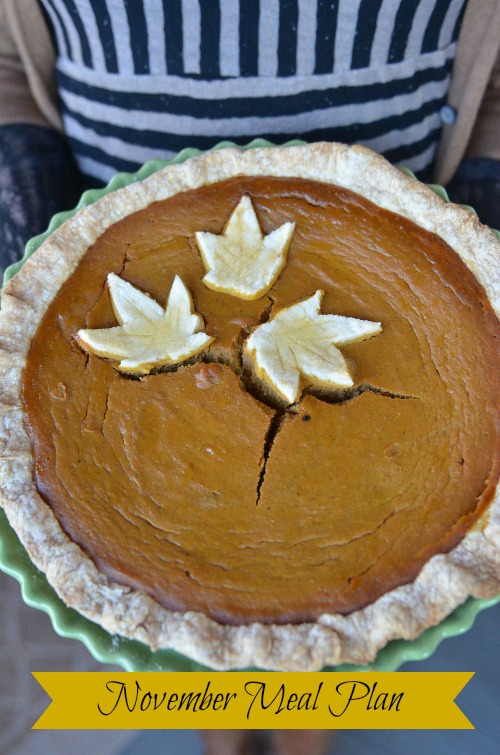 Week 2
Monday, November 11—Baked Potato Bar (Wrap large potatoes in aluminum foil, adding salt, pepper, and a pat of butter before you wrap them up.  Bake at 400 for 1 hour, 45 minutes.  Serve with leftover chili, chives (don't forego the chives!!), cheddar cheese, bacon bits, sour cream, and butter.  I usually make a salad and bread to serve alongside. 

Tuesday, November 12—Pumpkin Chipotle Soup with barley and chicken
Wednesday, November 13—Skinny Italian Meatballs, served on pasta or italian bread
Thursday, November 14—Leftovers plus Salad of mixed baby greens, gorgonzola and pomegranate seeds
Friday, November 15—Crock Pot Chipotle Burritos (use the leftover chipotle from Tuesday!)
Saturday, November 16—Onion Bisque Soup with Cheese Toast Floaters (recipe coming!)
Sunday, November 17—Colossal Club Sandwiches and all the leftover soups from the week!
Week 3
Week 4 (Thanksgiving Week!)
Monday, November 25—Creamy Mushroom Soup 
Tuesday, November 26—Rotisserie Chicken salad with Homemade Caesar dressing
Wednesday, November 27—Shrimp Fried Rice (I like something totally un-Thanksgiving-like and this recipe is awesome!)
Thursday, November 28—(posted separately, later this month!)
Friday, November 29—Leek and Potato Soup, Turkey Pesto paninis (recipe coming!)
Saturday, November 30—Turkey salad  (I do a version of this recipe, adding interesting leftovers from Thanksgiving!)
I have used emeals a lot in the past and their program coordinates with the sales at various grocery stores, so click on the link below and check out their plans, too!
Hope your November is off to an awesome start!
If you're new around here?  Thank you for visiting my blog!  I'm honored you're here and I hope you'll find some encouragement (and some laughter!) for your days.  Visit my about page, which highlights some of my popular posts or will at least show you a peak into my crazy people.  You can subscribe to this blog by email here.  I am currently addicted to Pinterest, so follow at your own risk.  I also post updates to Facebook, Instagram, and Twitter.