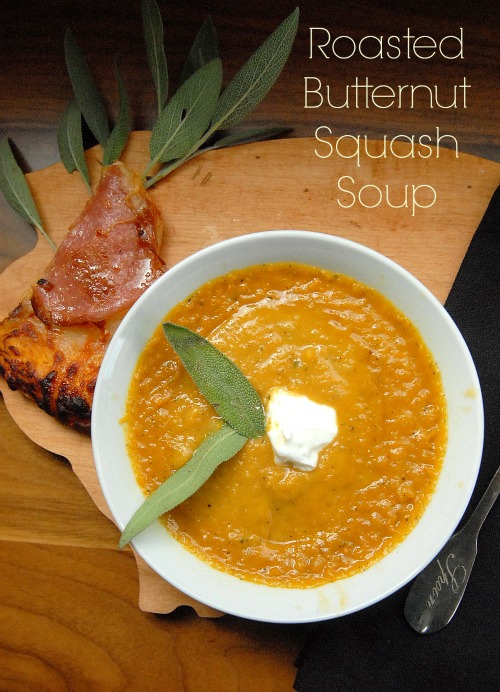 Okay, I'm just gonna give it to you straight.  This Roasted Butternut Squash soup did not change my life like the Pumpkin Chipotle Barley one.  But you can't eat that every week, can you? And fall needs you to embrace butternut squash.  It's like sweet potatoes, minus the sweet and the potatoes.  So, I did what any self-respecting Southern woman would do—I added roasted sweet potatoes, too.  Sweet potatoes are like the mascot vegetable of the South, so if you're gonna live here, you're gonna need to embrace them.
I really, really like this soup and in a funny turn of events, I ended up eating it one day for lunch with leftover homemade pizza and BAM!  I am a woman who loves butternut squash soup.  So, I've carefully lined it up in the November menu plan so that you'll have leftover pizza.  Just heat the pizza up in the oven (of course, right? you would never do it in the microwave.  NEVER do it in the microwave.  crust is the essence of life and shall never under any circumstance be soggy!), and then dip the pizza in the soup.  I don't know what to tell except that it's good, alright.
Without further nonsense:
You'll need:
1 butternut squash, halved lengthwise, then chopped into smallish pieces, (seeds removed, of course!) and roasted
2 large sweet potatoes, peeled and chopped and roasted (you could just do one more butternut squash and forego the sweet potatoes if you like)
2 tablespoons unsalted butter (1/4 stick)
1 medium apple, peeled, cored and chopped, then roasted
1 large onion roasted
2 cloves garlic, chopped
8 fresh sage leaves or a 1 t. of dried sage
1 T. dried thyme
1 box of chicken broth (Kitchen Basics, for the love of all things delicious and hearty)
1 T. honey
1 t. nutmeg, freshly ground, if possible
salt and pepper, to taste (salt along the way and then re-season at the end)
1/4 teaspoon freshly ground black pepper, plus more as needed
1/2 cup heavy cream
1 t. cumin
Make the magic happen by:
Heat the oven to 400 and roast the squash, sweet potatoes, and onions, and apple, after drizzling them with plenty of olive oil, and springing with salt and pepper.  I also use 21 Seasoning Salute from Trader Joe's, which I highly recommend for EVERYTHING you make, but it isn't crucial here.  Roast for ~40 minutes until veggies are tender
Heat 2 T butter in dutch oven and sauté the chopped garlic and sage for a couple minutes, until their flavors release.  (Don't burn the garlic!)
Once the veggies are all done roasting, toss them all into the garlic butter.
Add chicken stock, all the seasonings, and  bring to a boil over medium heat. Reduce the heat to medium low and simmer, stirring occasionally, for  about 15 minutes. Remove the pan from the heat and stir in the cream.
Using an immersion blender, purée the soup and then add in the cream and give it one last puree.
Taste and season with salt and pepper as needed. Serve with leftover pizza or your favorite bread!
For more lifeingrace meal ideas, visit my Recipes page!
Visit Ruth's Thrifty Thursday for more thrifty recipes ideas.