Okay, these menu plans take forever to compile.  Sorry it's late and let me know if it helps you!  There's some good stuff on here this month, so click through and see what  your family might enjoy!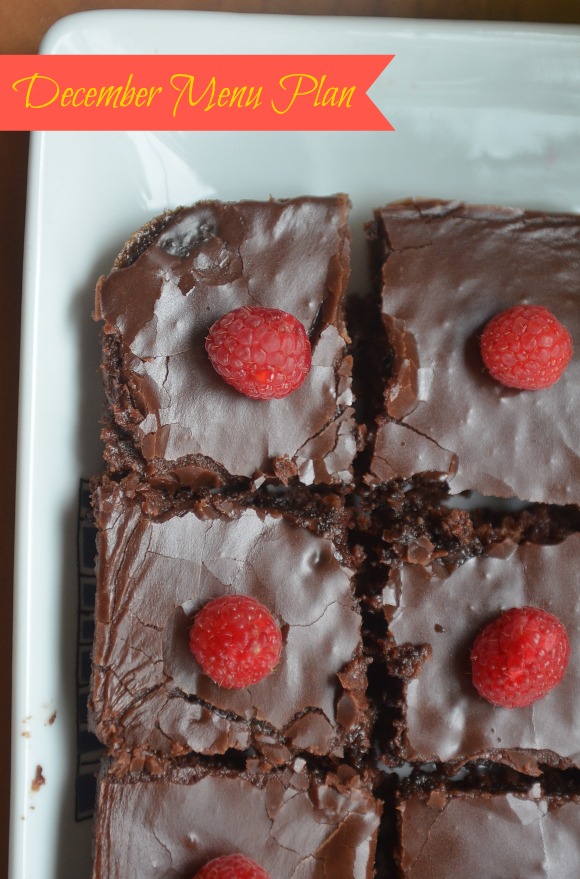 Week 1
Week 2
Monday, December 9—Baked Potato Bar (Wrap large potatoes in aluminum foil, adding salt, pepper, and a pat of butter before you wrap them up.  Bake at 400 for 1 hour, 45 minutes.  Serve with leftover chili, chives (don't forego the chives!!), cheddar cheese, bacon bits, sour cream, and butter.  I usually make a salad and bread to serve alongside.
Tuesday, December 10—Lemon and Garlic Roasted Chicken with Root Vegetables (will use leftover chicken for Thursday)
Wednesday, December 11—Italian Sloppy Joes served on italian bread
Thursday, December 12—Chicken Pot Pie Soup, with leftover chicken from Monday
Friday, December 13—Butternut Squash and Black Bean Enchiladas
Saturday, December 14—Onion Bisque Soup with Cheese Toast Floaters (I promised this recipe last month, and I'm hoping to actually get it posted!)
Sunday, December 15—Coconut Chicken Salad
Week 3
Monday, December 16—Broccoli Cheese Soup with Homemade Honey Wheat Bread
Tuesday, December 17—Middle Eastern Style Chicken (quick, tasty,  and uses rotisserie chicken)
Wednesday, December 18—Hot Roast Beef Sandwiches (Make extra and keep for any company that might need a snack!)
Thursday, December 19—Spicy Beef Stew with Cheddar Grits
Friday, December 20—Copy cat Chick-Fil-A sandwiches (we didn't have these last month, so they're back on!)
Saturday, December 21—Gnocchi Carbonara
Sunday, December 22—Appetizers (more to come!)
Week 4 (Thanksgiving Week!)
Tuesday, December 24—Christmas Brunch, menu coming soon, Shrimp Stew for supper
Wednesday, December 25—Christmas Pasta

Thursday, December 26—Baked ham and Rhodes rolls to add to the leftovers, Warm Potato Salad
Friday, December 27—Leek and Potato Soup, Pesto paninis (recipe coming—also promised last month and NOT executed)
Saturday, December 28—Asian Citrus Salad with turkey strips
I've stopping here, for now, because these take FOREVER.  I don't know about y'all, but ordering take out is what we'll probably be doing at this point.
I have used emeals a lot in the past and their program coordinates with the sales at various grocery stores, so click on the link below and check out their plans, too!
Hope your November is off to an awesome start!
If you're new around here?  Thank you for visiting my blog!  I'm honored you're here and I hope you'll find some encouragement (and some laughter!) for your days.  Visit my about page, which highlights some of my popular posts or will at least show you a peak into my crazy people.  You can subscribe to this blog by email here.  I am currently addicted to Pinterest, so follow at your own risk.  I also post updates to Facebook, Instagram, and Twitter.