Come on in, y'all!  I'm so glad you're here!
Take your boots off and stay a while!  (And after the tour, come link your favorite Christmas treats to my online Christmas Cookie Exchange!)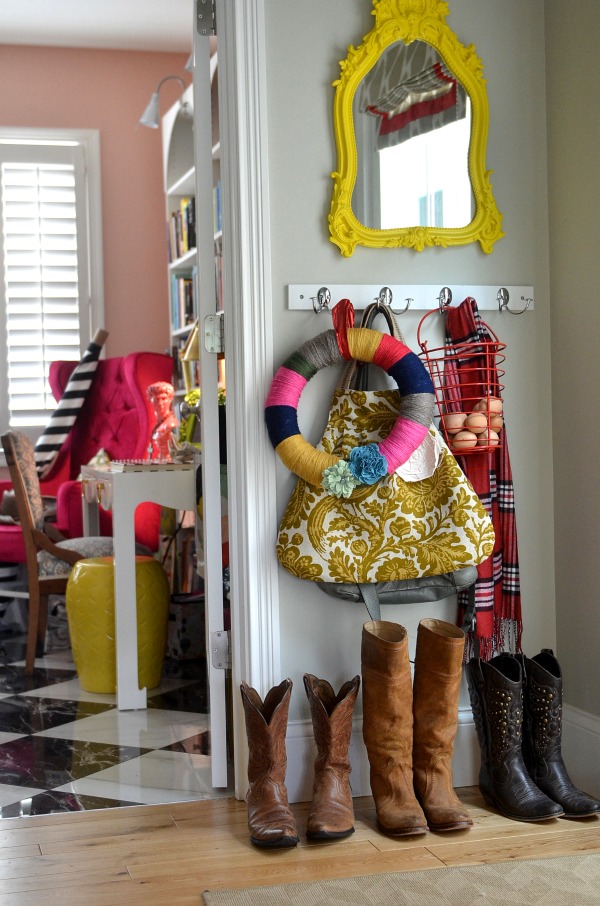 Here's what I hope you take away from this little tour—sharing your heart and home with others is what's important. Don't let the decorating become the main thing.  It's there to serve and inspire your family and friends.  It's not a showplace to impress them.  We live hard in our home and learned after our house fire that you don't have to lose everything to feel your own poverty. Very few of things we fret over really matter.  What lasts are the relationships we make, the love we give.   Our home is a good gift from God that we can use to serve the people we love.  Relax and enjoy it.  Let your own style come through and don't worry about THE RULES!  Most of all, remember that Love has Come and He has left us His sign.
Enjoy my relaxed, preppy, Texas, Anthropologized Christmas house!
******************************
This is our workroom, THE most used and abused room in our house.  It functions as a laundry room, office, homework room, craft room, hang out room,  and throw all the dirty clothes in the corner room. It's probably the smallest room in the house and always has the most people in it.  If I had turned the camera around, you would have seen Caiti and the girls studying, my plethora of craft and decorating supplies swallowing up the table, and laundry hanging everywhere.  (The feathers print is from Anna Marie Horner)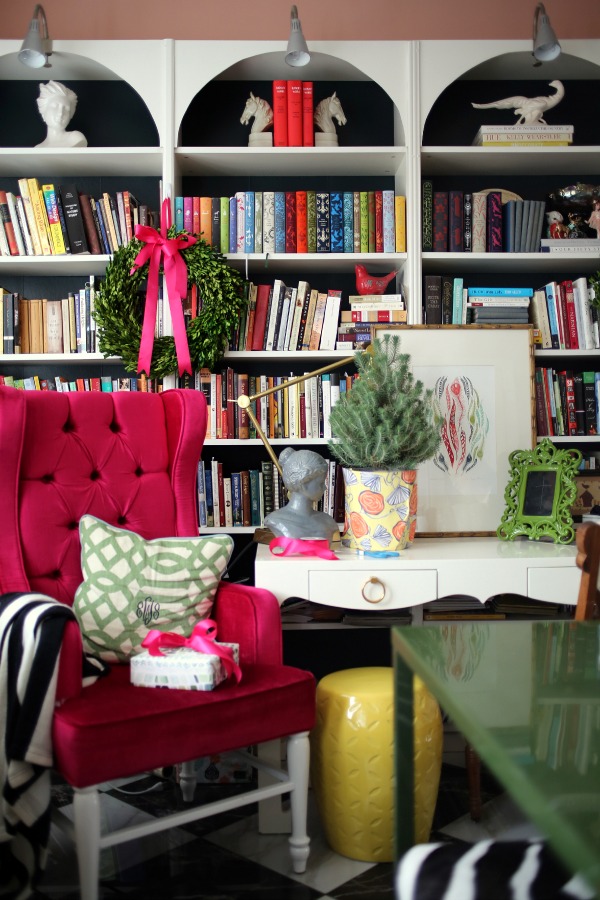 The most difficult to photograph room in my home, but definitely one of my favorites—the striped bath! (Sorry for the wonky coloring!)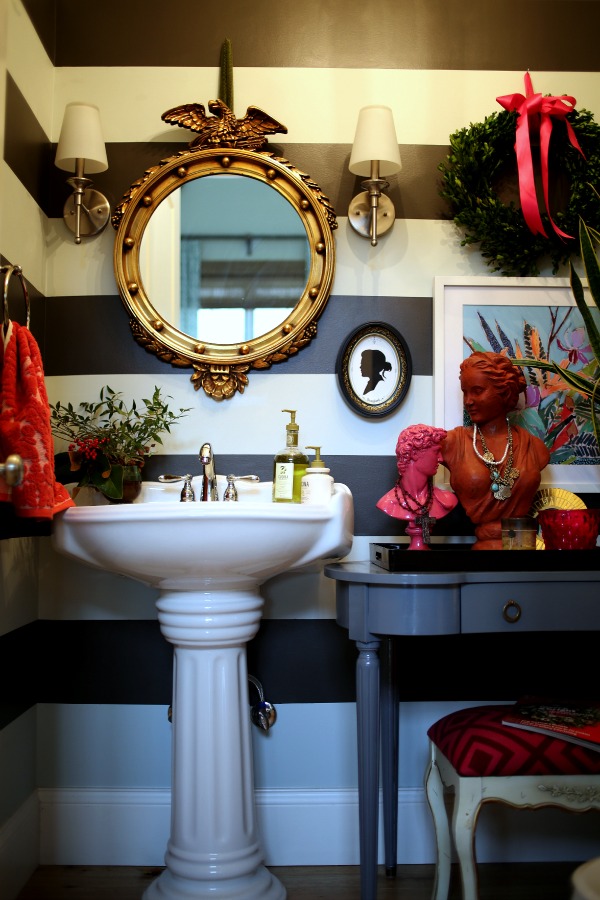 Did you know that if you turn the lights off in your house, the color of your photos is so much better?  I can do that everywhere, except this bathroom.  With no lights on, the color is definitely better, but you can't see my boxwood wreath very well.
Scroll back up and look how yellow the pic is when the lights in the bathroom are on.  It's crazy.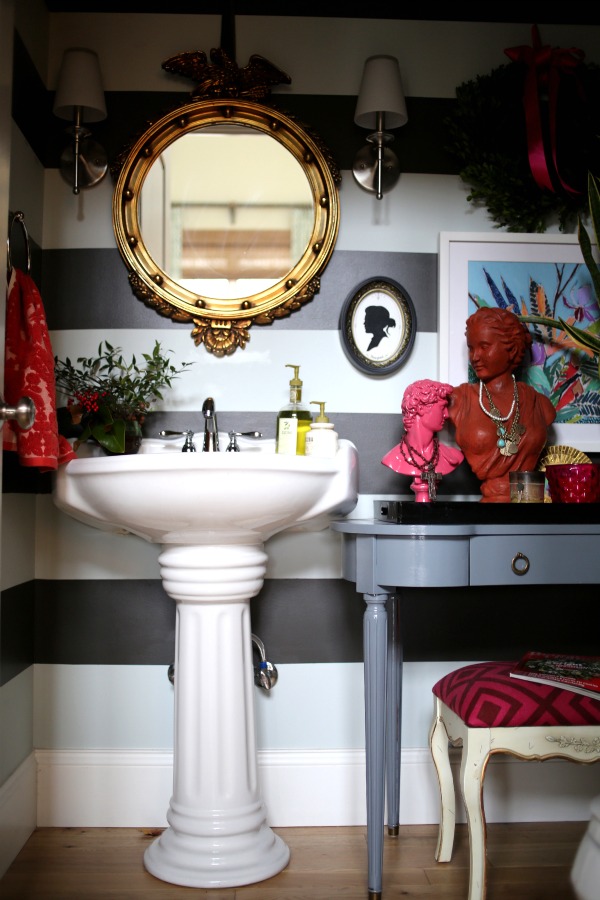 I had big intentions of making enough of these red linen flower pins for each place setting at the table.  Then, the ladies could take one home as a hostess gift.  That may not happen, which is a crying shame.  But, a girl must know her limits.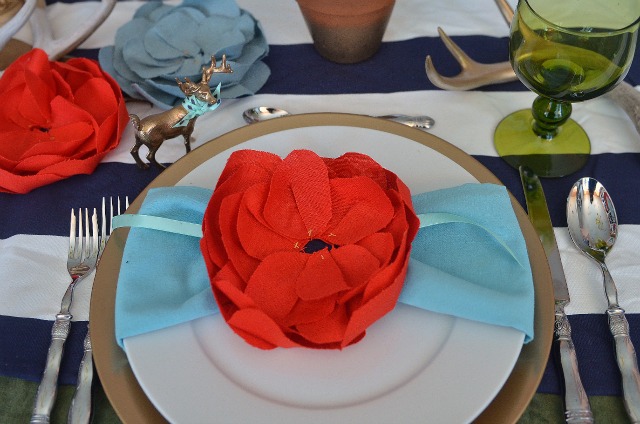 I used colorful, preppy wrapping paper from TJ Maxx, that can be used all during the year.  I love mixing that with natural elements, for a unique look.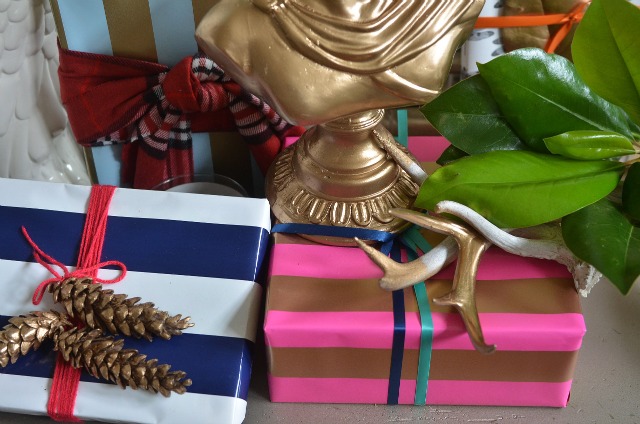 My bedroom was the original home of the mannequin, but I've since moved her to the living room. Stevie may or may not be pleased with that move.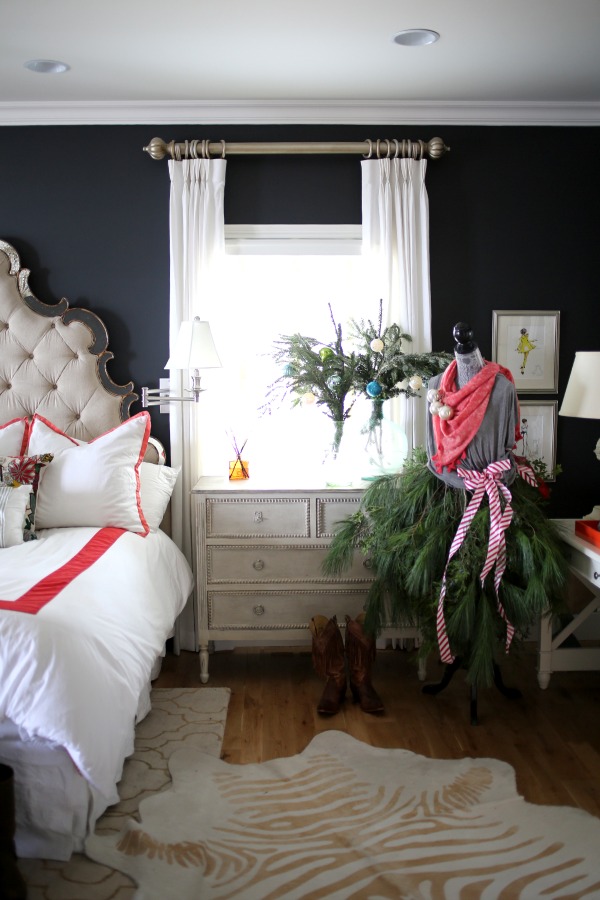 I posted about the bedecked mannequin. Some of you question my sanity, it's true.  But, how can you not love her?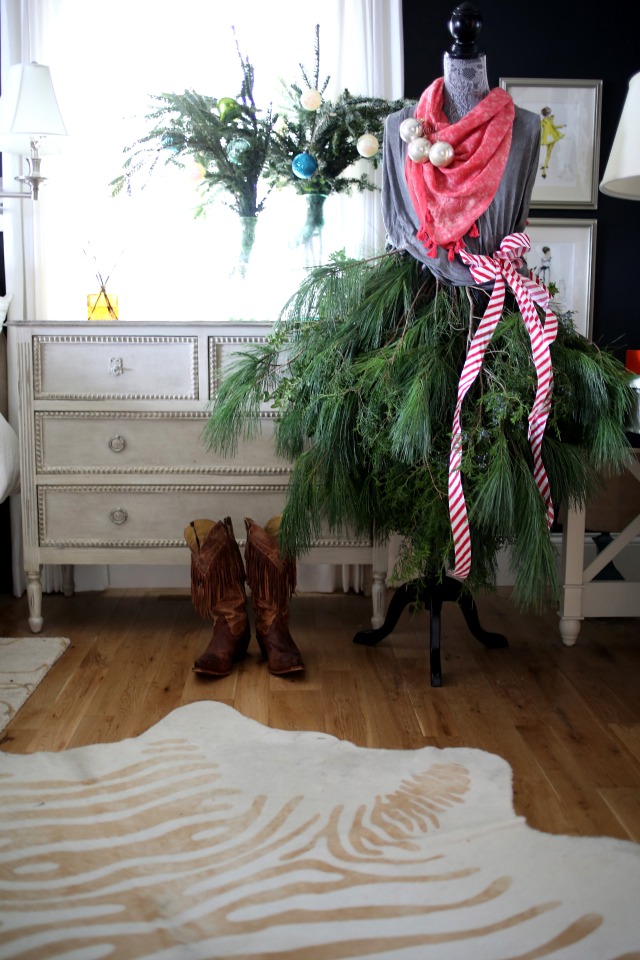 The bar "cart" is a fun little spot during the holidays and is often serving up mimosas with pomegranate seeds. I made the tassel garland using Nester's inspiring tassel ebook and I hand lettered the NOEL sign, cut it out and glittered it with gold.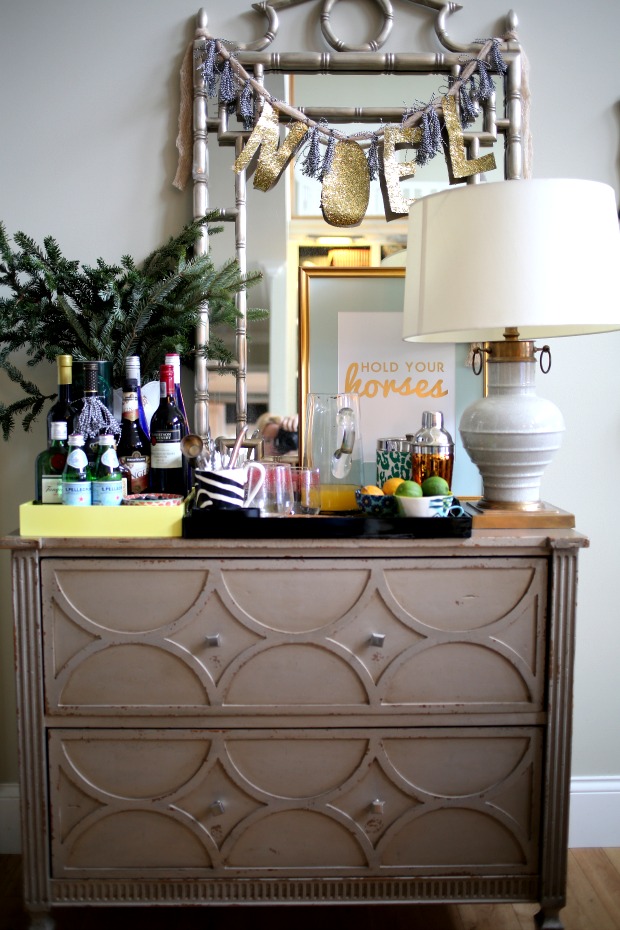 The Hold Your Horses sign is perfect at the bar table and is from Stephanie Creekmur's shop.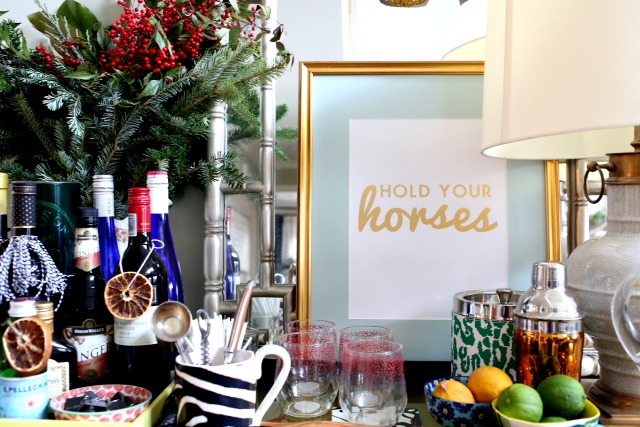 I took your advice and moved Mrs. Tumnus the mannequin into the living room.  I don't even think I need a tree, now?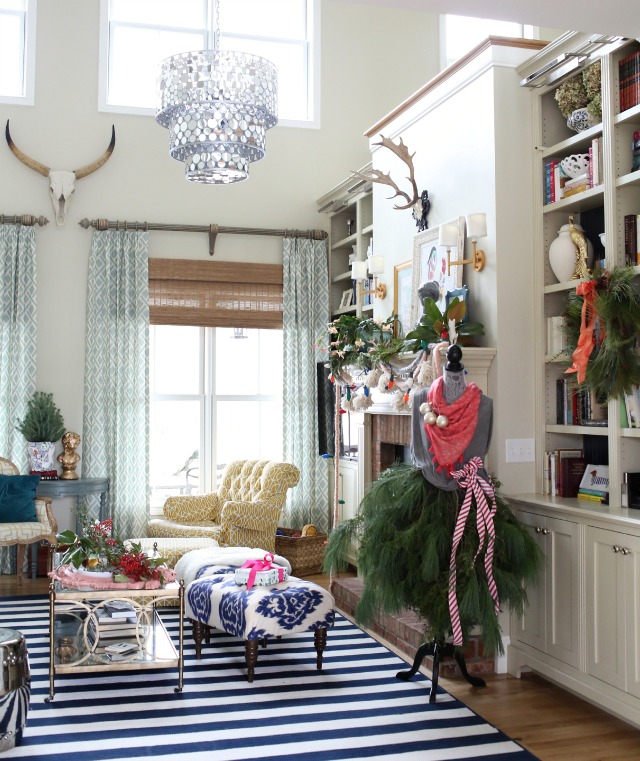 And I give you the quirkiest mantel in the history of the world. I'm like the Austin Texas of home decorators—I'm keeping it weird.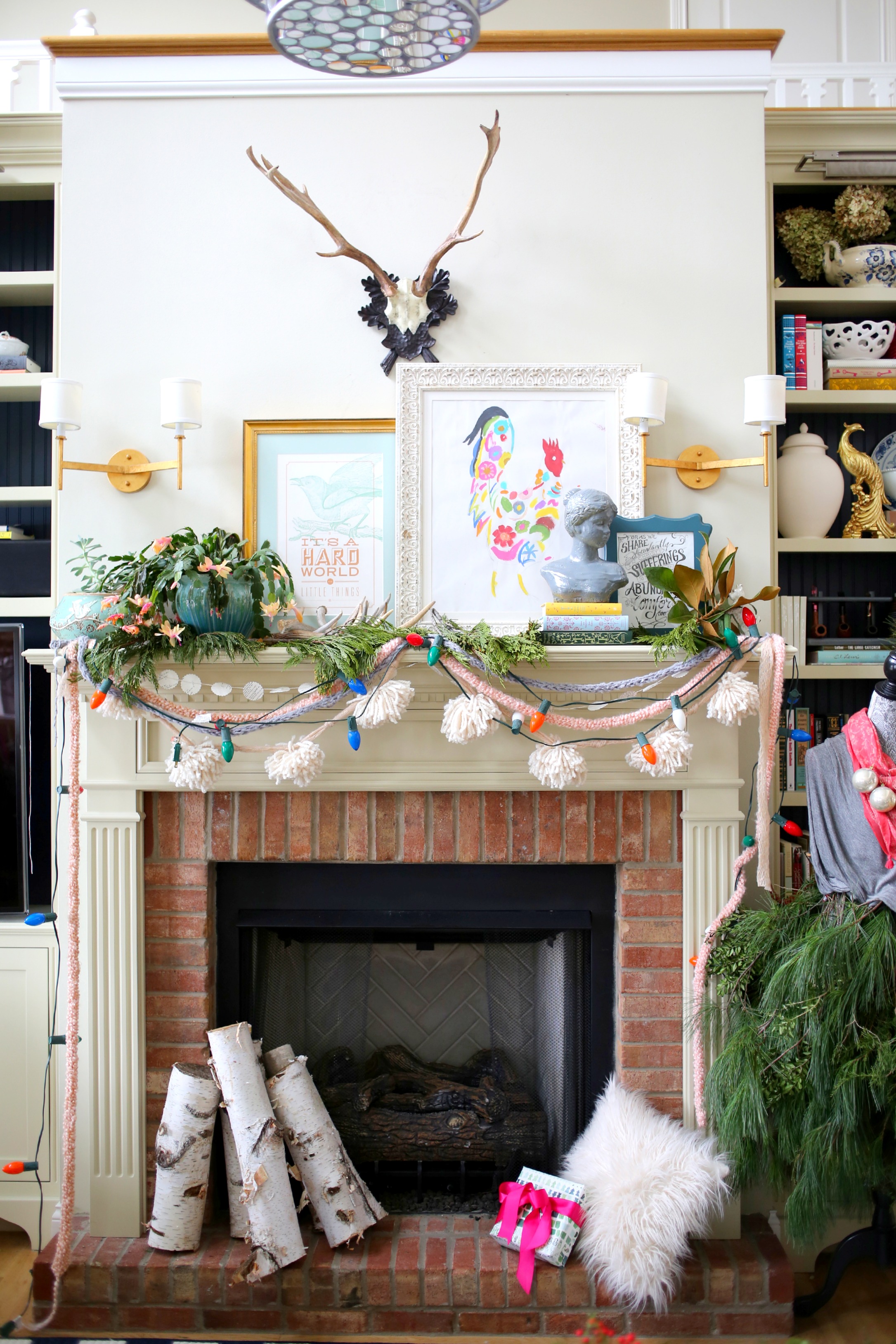 Here's what you'll find of interest up there.  1) The folk artist that painted the chicken is Elea Wadsworth and this ain't her first rodeo.  She's painted a chicken for me before and several people asked me about her work! I had it framed at Hobby Lobby  2) I made the  pom-pom garland after disassembling my pom-pom wreath from last year. 3) Emme made the finger knitted garlands for me in exchange for t.v. watching.  We've been finger knitting a long time, but Nester gave me the idea to use them for garlands. 4) Amy hand-lettered 2 Cor. 1:5 for me and surprised me with it at Allume. I LOVE IT, you talented girl! 5) The Christmas cactus is from last year.  Turns out, I do know how to keep one alive.  Forget it on your screened porch and notice it 3 weeks before Christmas when it's budding out like crazy!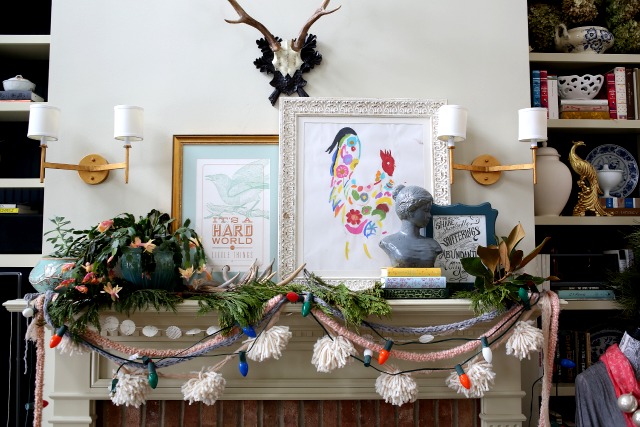 If you haven't asked for anything for Christmas yet from your children, ask for art.  Or finger knitted garlands that you wear as a scarf.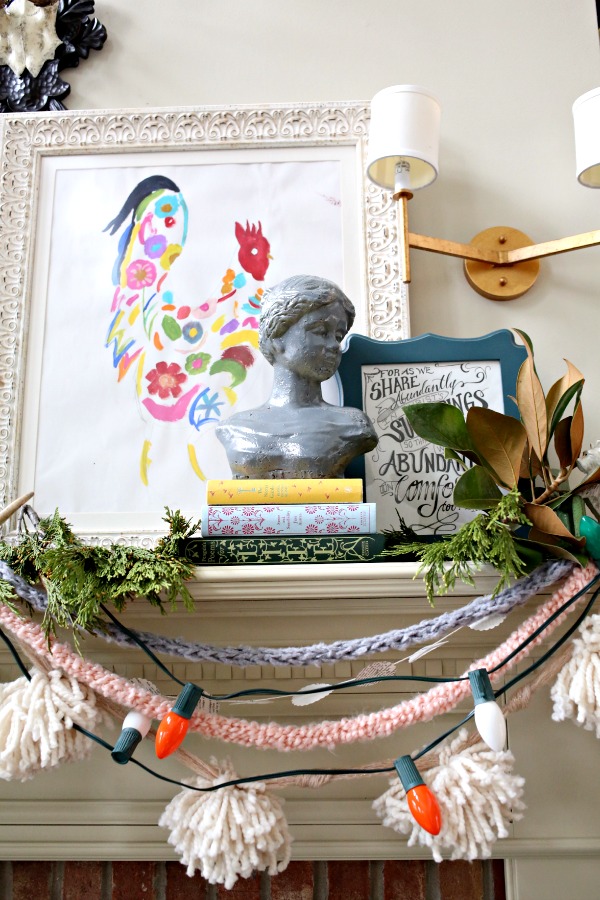 I keep my favorite afghan handy in the winter. This one was hand-knitted by my mother-in-law, who is the pie and afghan whisperer.  The garden stool was a gift from my friend, Myquillin, after our house fire. I move it around everywhere. I'm sure it's been in nearly every room of my house.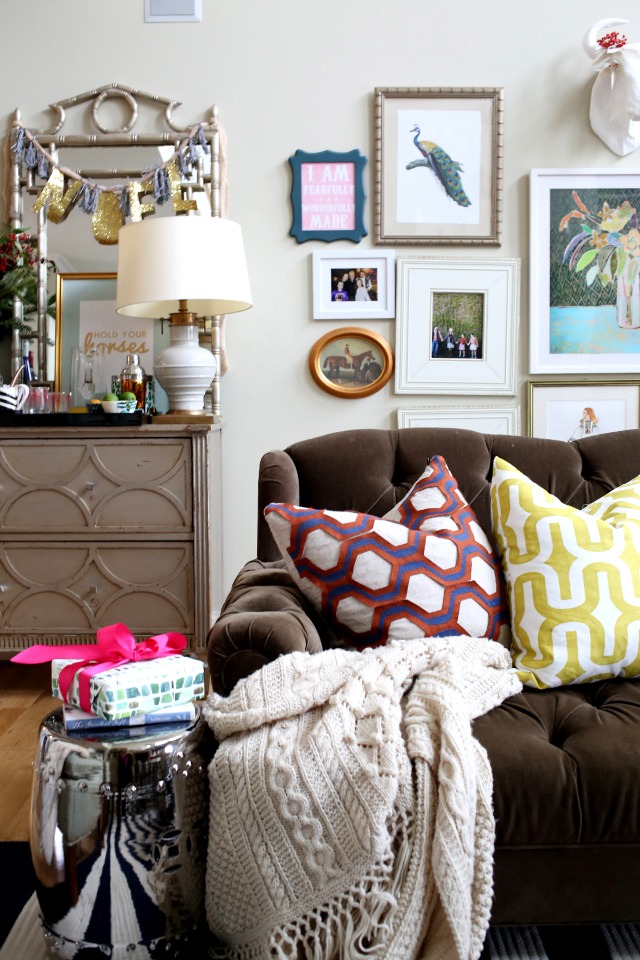 My MOJO when decorating for Christmas is fresh greens.  Your trees and shrubs need trimmed and you need greenery.  It's a match made in heaven.  I copied the Knoxville Anthropologie by  buying a few mini evergreens from Home Depot and wrapping them in Anthropologie wrapping paper.  I LOVE them.  So simple and festive.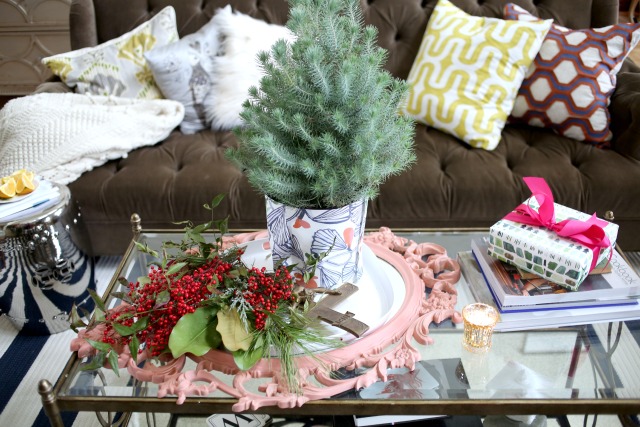 The guest room is calm and peaceful, with just a mini tree and some fresh greens by the bed.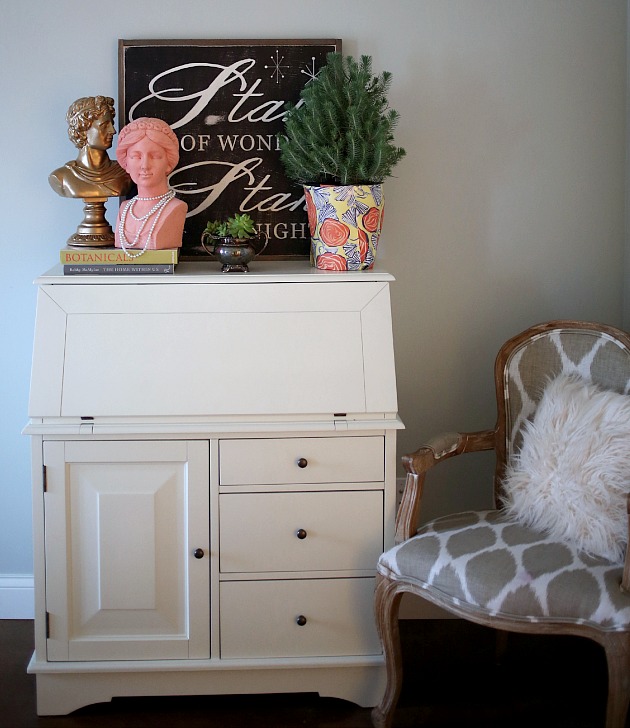 Caiti's been home studying this week, which means I've been scratching my head trying to remember what hormones the posterior pituitary secretes.  I think we'll she'll do well on her exams!  This is her room when she's home.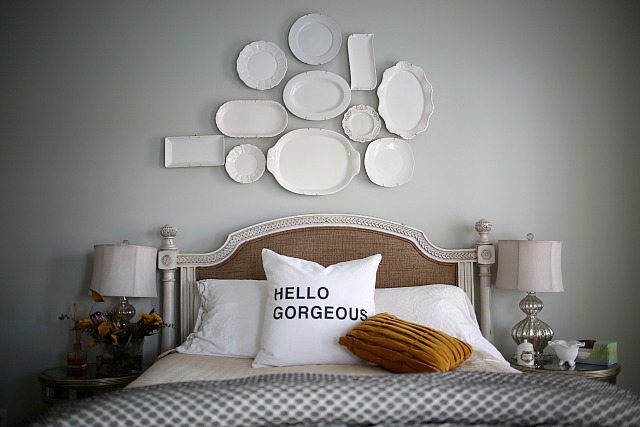 I'm not gonna lie, we made homemade pizzas yesterday and this is the only part of the kitchen that will be clean in the near future.  The pizzas were worth it.  More pics of the kitchen, in its rare state of  clean and not currently being used here. There'll probably be fudge making in there today!  I posted a December meal plan, so check it out and never fret at 5:oo again.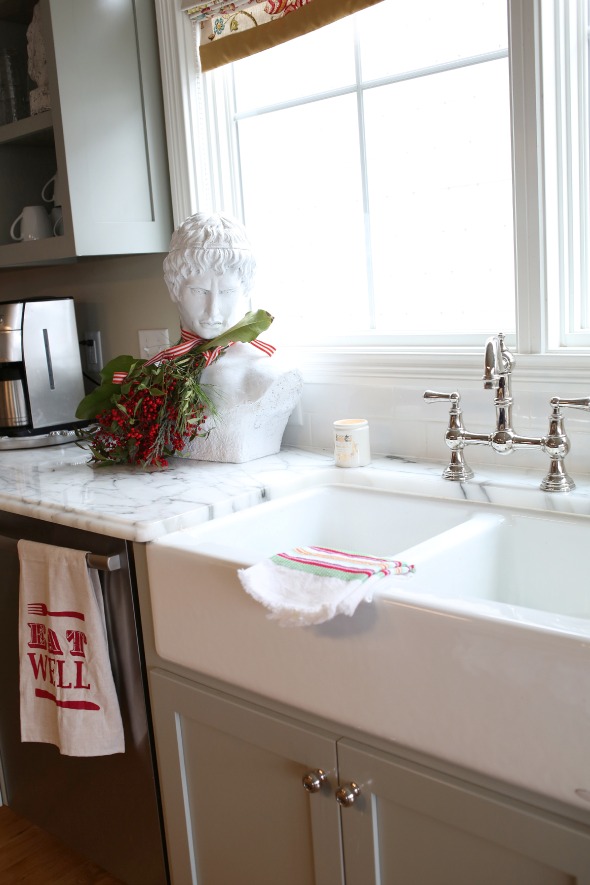 I think one of my favorite places to add festive touches is outside!  Our back porch is where the fire place is so it gets used like crazy, especially in the fall and winter. And we live on the lake, so we like to invite folks for a swim!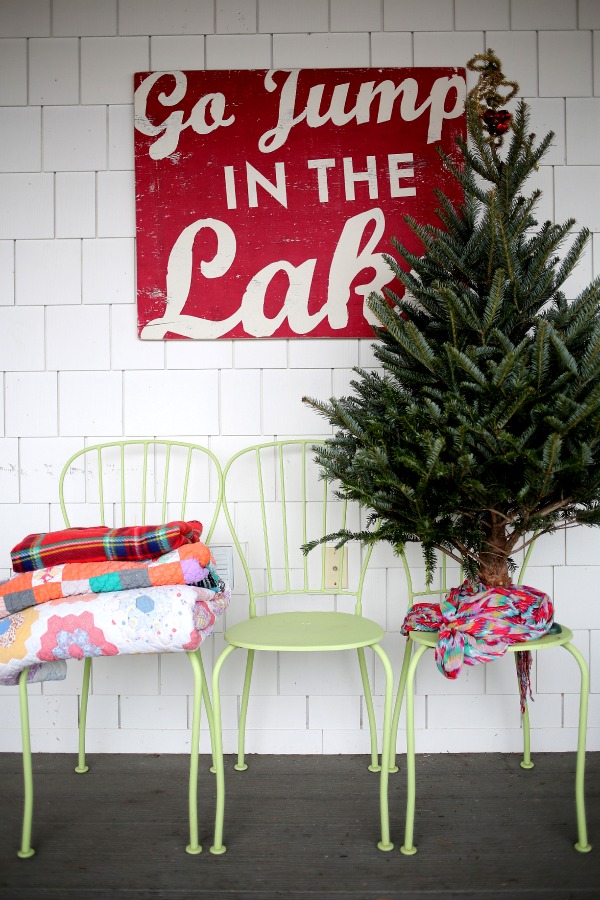 Here's what happens when you give a dog a chair—he'll take two.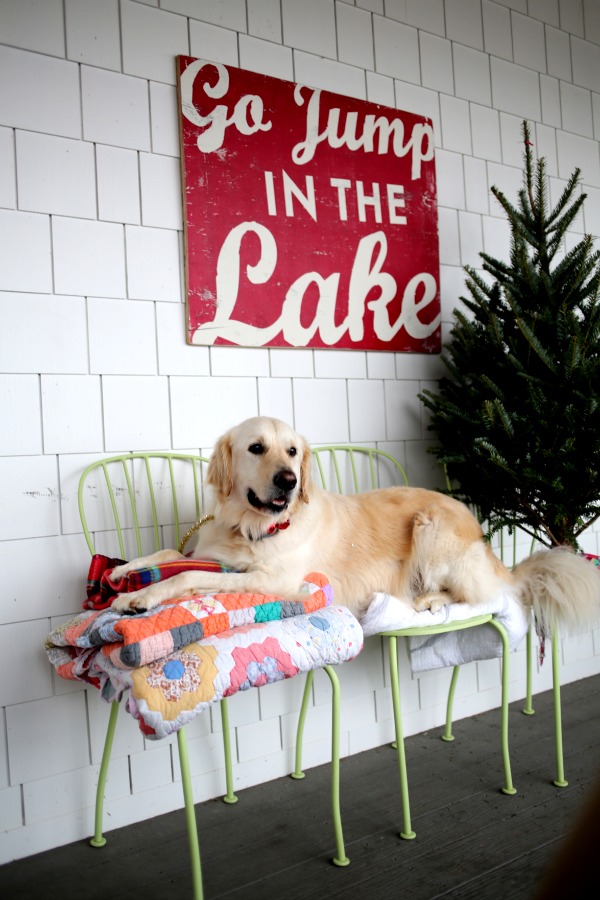 I adore the screened porch.  We also call it the girly porch or the coffee porch or the where you drink drinks with whipped cream porch.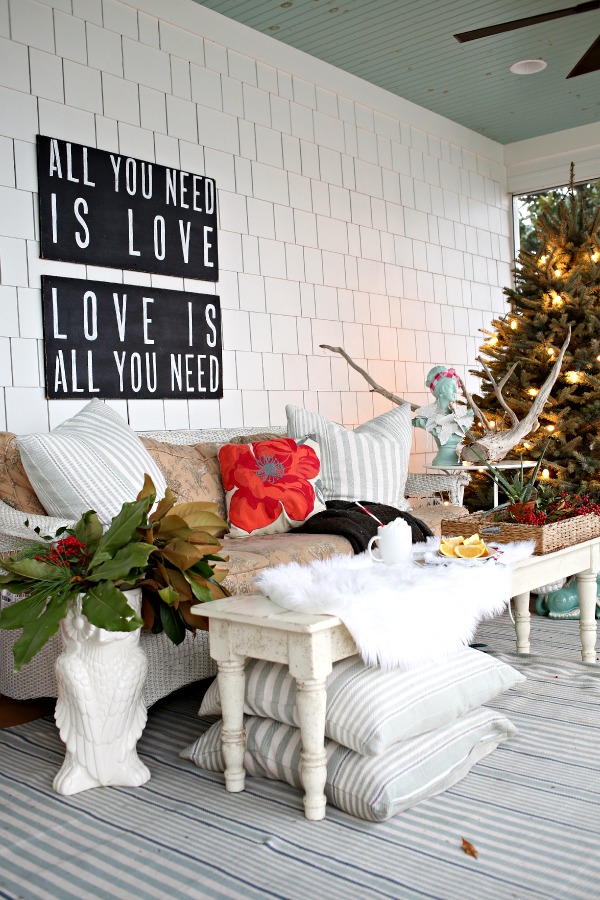 I've decorated the porch tree in years past, but I just put a couple strands of lights on this time.  Easy and festive.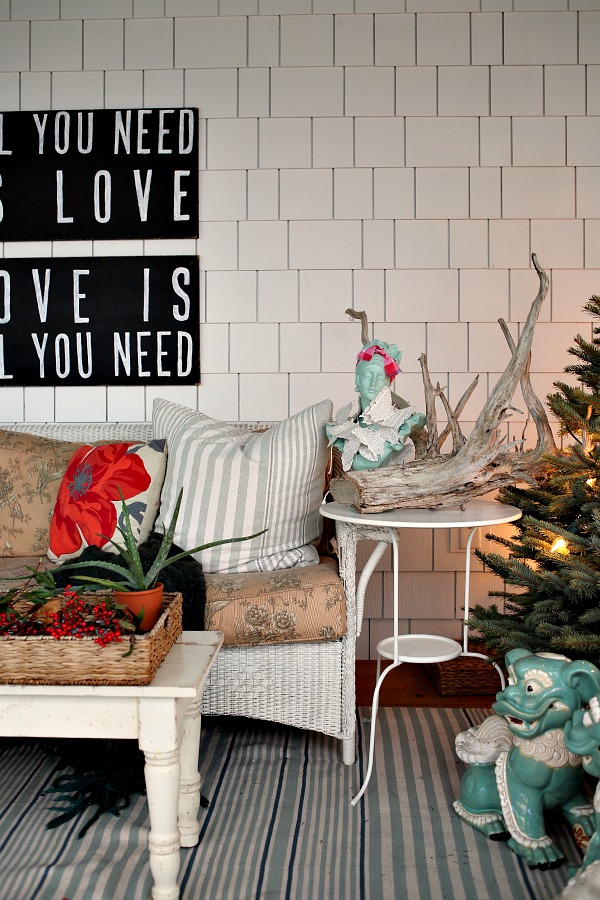 Otherwise, just some fresh greens from my yard.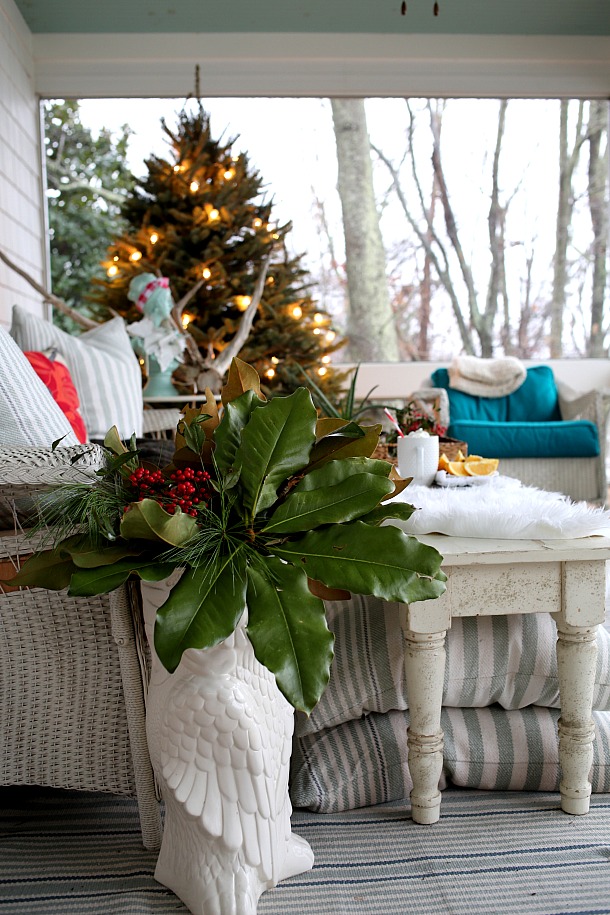 The girly porch is a great place to drink your warm drinks and read your Garden and Gun.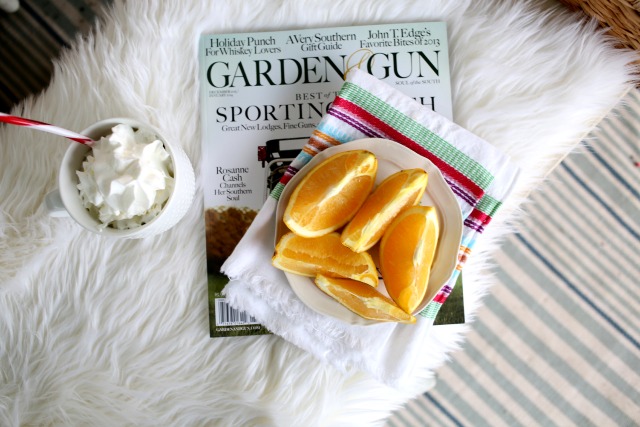 Or just close your eyes and ponder things in your heart.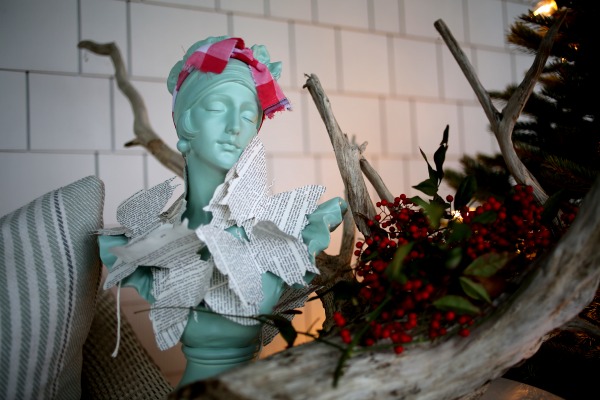 Your big goofy dog will most assuredly follow you there and demand a seat on the comfy sofa.  Hank and I want to thank you for coming on the tour!  We wish you could join us by the fire for some coffee and treats!  Hope you have a blessed Advent and a Merry Christmas.
Mwahhhhh!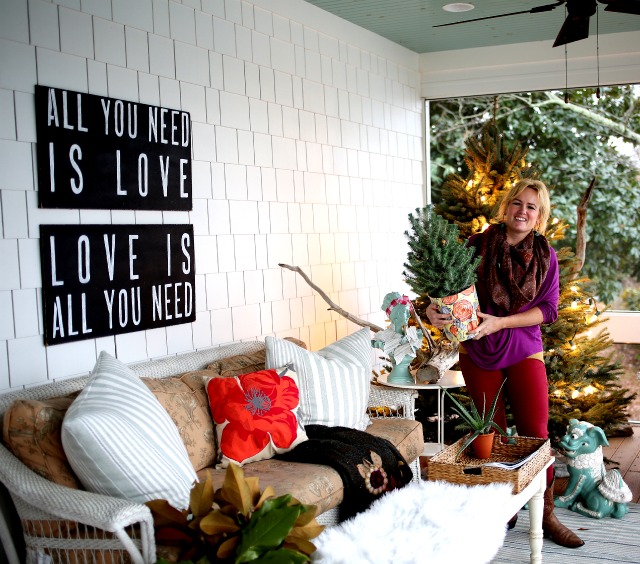 **************************
p.s.  This former family doctor turned blogger, decorator, and writer has officially embraced the world and essential oils and they are BLOWING MY EVER LOVING MIND!  If you want to feel better, sleep better, ditch a bunch of toxins, and join the MOST FUN private FB group around, click here and join me on a journey of unbelievable wellness!!
This month, you get a free bottle of Christmas spirit!! (December 2016)