This is Day 31 of our 31 Days of Less and More series.  To read
 all the posts in order, start with Day 1 and check out our overview page to see the topics for the entire month.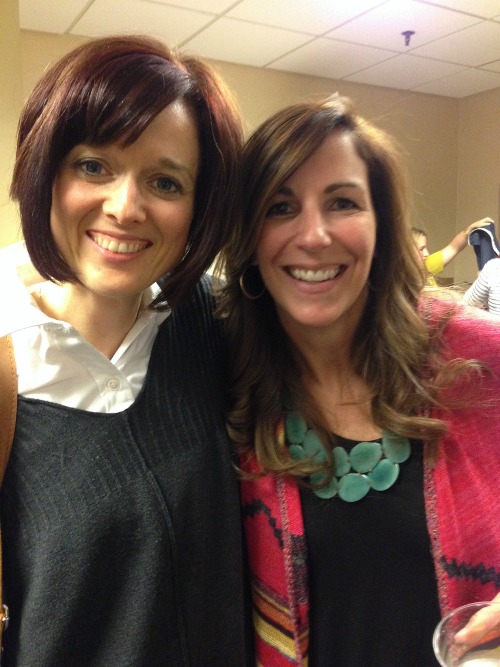 "The search for contentment is, therefore, not merely a self-preserving and self-benefiting act, but also a generous gift to the world. You cease being an obstacle, not only to yourself but to anyone else. Only then are you free to serve and enjoy other people."  ~Elizabeth Gilbert
I met Ann and Melanie this weekend and got to spend time with both of them.  In other words, I die.
They couldn't be more different and yet they're so the same.  I knew I'd be bff's with Melanie because, um, COAL MINER'S DAUGHTER.  She knows all the words from all the scenes. That'll bond two sisters forever. She's funny and stunningly beautiful and she makes me laugh until I cry.  I'm pretty sure I was nearly crying in this picture. I blame her for my near catatonic exhaustion and my sore abs.  I can't wait for her next book, so if you haven't read Sparkly Green Earrings: Catching the Light at Every Turn
, you should do it now!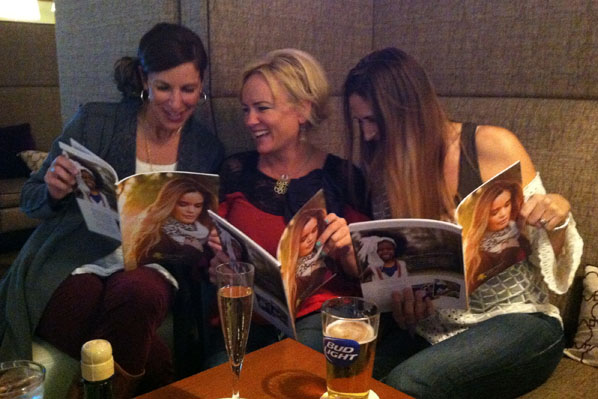 She's so different from Ann.  I knew lots of things about Ann.  I've gotten handful of emails from her over the years, which have always made me slightly suspect that she was an angel in disguise.  She is a woman who has learned to count the gifts.  She is a woman who has looked around in her life and called it enough.  She radiates love. When I met her, she loved on me, told me the nicest things, made me feel so loved and special.  All the things I should have been doing and saying to her.  She is so generous.  And I know that that comes from a contented heart that is full of gratitude.  She is a beautiful woman, who has walked a hard road and she is making the journey lighter and better for all who meet her. What a gift she gave me this weekend, as I was struggling with insecurity about my talk and my book proposal and all the things that make us wish for all the world we had someone else's gifts.
These women couldn't be more different on the surface, but here's how they're similar.  They are both resting in their unique gifts. They have learned to stop comparing themselves to others and just enjoy them.  Melanie is not Ann and she's okay with that.  She is perfectly herself and she's so comfortable in her own skin that she invites those around her be who they are.  I want to find that kind of rest and contentment in who God made me to be.
Contentment is not something you're either blessed with or not.  Contentment is a choice.  Everyday you and I make the choice to see ourselves and our lives as enough, or we run after the things we think will finally make us happy.  And, oh, the running I've done.  When I watched everything material thing in my life burn to the ground, it finally jolted me awake.  This life is a gift—every single circumstance, every hard relationship, every opportunity and every closed door.  It's all His gift to us to make us into who we are meant to be.  And when we learn to look around the landscape of our lives and see that He is using every circumstance to bring us joy, we will finally rest.  And we will guard our hearts from everything that threatens to steal our joy—whether that thing is too much stuff, too much comparison, or just a life too full to notice the beautiful gifts all around us.  I wish you more joy, more peace and more contentment for your days.  I've been so blessed to take this journey with you.
Challenge Day 31: Evaluate the current state of where you are in your life right now.  Ask yourself the hard questions.  Is my life still too full of the things that don't matter?  Am I still letting in too much heartache, too much stress, and too much stuff?  Resolve right now to be intentional and purposeful with your heart and time and environment.  Choose to let in only that which adds joy and peace and contentment.
Be sure to read Ruth's corresponding, Less Stuff Coming In.
Be sure to check out Crystal's thoughts on Less Holiday Overkill/More Memories from yesterday's post!