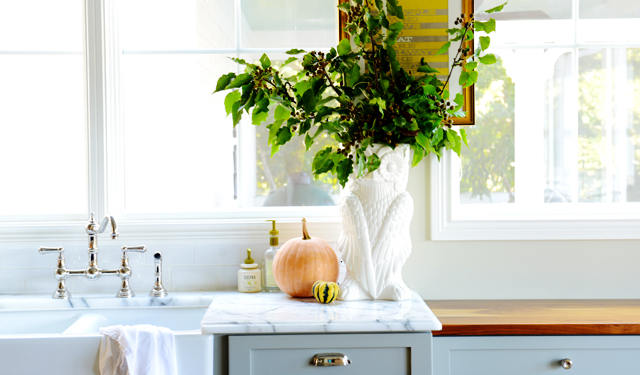 (photography by Patty)
This is Day 1 of our 31 Days of Less & More challenge.  To read all the posts in order, start with this post, then visit the Overview Page to see the outline for the whole series.  
 *   *   *
 Last year's 31 Day Series on Hospitality changed me.  I learned so much as I read and researched and soul searched for that series.  I even turned my writings into an ebook that I published this past January. It was a labor of love, with emphasis on the labor.  (Well, there was a lot of love, too!)
But, I wasn't sure I'd have the stamina to try it again.  Until.   My dear friend, Ruth, told me of her idea to write about LESS.
Less.  Of everything.
I sat kinda quiet and pondered the trend of LESS.   Maybe I'm just a rebel but I found myself conflicted.  I have watched my favorite people in the world (Ruth included) embrace simplicity and a lifestyle of  LESS in every way and I feel a twinge of guilt as I sit in my office;  home to no less than a thousand books.  I have more than enough of everything and it haunts me at times.  Ironically, though, I'm no stranger to less.  I grew up in a world of less and then lost  everything in a house fire a few years ago.  I always feel like the other shoe is about to drop.  I could get rid of more stuff, no doubt.  I could and I often do.  But having less doesn't magically bring contentment and peace.  It's not the answer, in and of itself to what ails our hearts and minds.   If we're not careful to evaluate our motives,  LESS just becomes our next idol.  Welcome to the wonderful paradox and tension of being human.
We are so easily swept up into the predominating waves and trends of our day.  Or at least I am.  Our grandparents and great grandparents lived through the depression and so they were mercilessly frugal.  Our parents enjoyed the kind of economy that made hoarding even possible and they taught us to be consumers.  We push back and rage against the machine and get rid of  all our stuff, often to fill the void with something else.  What I think is more important is the why question.
Why do we do what we do?  
Why do we over consume?
 And is minimalism always or even necessarily the answer?
My portion of the series will provide a little push back to Ruth's LESS— giving some thoughts and suggestions on what we could use more of in our lives.  What can we do with our selves, our stuff, our homes—to better serve those around us? Can we use our MORE and our LESS to serve our families and our world better?
Ruth and I are so excited to share this series with you this month.   Our hope and prayer is that it will offer  inspiration and encouragement, as we all seek to use your resources and our gifts to bless, no matter how few or how many those gifts and resources may be.  We hope this series provides some nourishment for your soul and the courage to make a series of small adjustments that can together add up to a big change.  LESS? Yes.  But, also MORE.  Each post will be short—500 words or less—and will give you one small assignment or task to focus on each day.  You can do as many or as few of these tasks as you feel able.  Our goal isn't to stress you out, but to offer practical tips and encouragement as we walk through this journey together.
The series will be broken up into three main parts.  Part One—days 2-11—will focus on filling our lives with less heartache and more joy.  Next, Part Two—days 12-21—will focus on creating less stress but more peace.  Finally, Part Three—days 22-31—will hone in on our physical spaces and focus on having less stuff but more contentment.
31 Days of Less and More—Will you join us?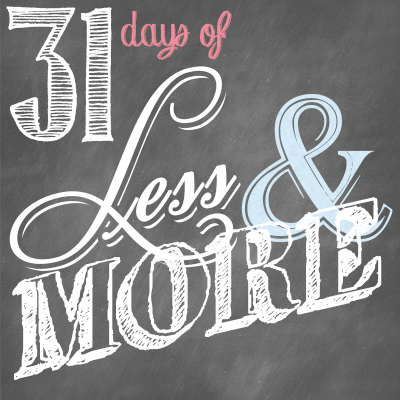 We will be encouraging lots of support and discussion on our Facebook pages, so be sure to "like" both Living Well Spending Less and Life in Grace on Facebook if you don't already!
Be sure to read Ruth's post HERE! 
TODAY'S CHALLENGE:
Commit to joining us for 31 days of Less & More!  Public accountability is a powerful motivator, so we strongly encourage you to let others know that you are IN!  Leave a comment below or on the Lifeingrace Facebook Page.  Even better, post about this challenge on your personal page so that your own friends & family can encourage and challenge you, or perhaps even join you!
*   *   *
Are you ready for this challenge?  What are your fears or concerns?  What are you most excited about?