This is Day 4 of our 31 Days of Less and More series. To read all the posts in order, start with Day 1 and check out our overview page to see the topics for the entire month.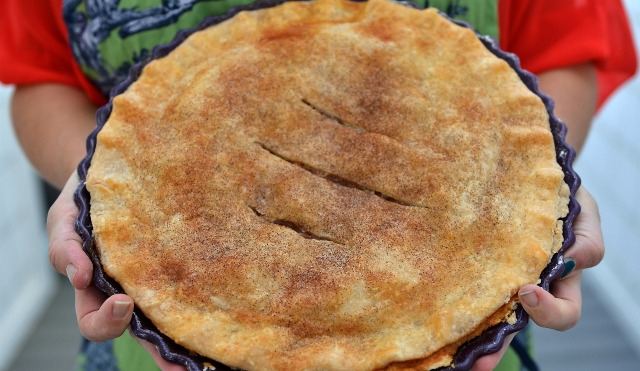 Day 4 Less Comparison, More Self-Confidence
 You will never make a good impression on other people until you stop thinking about what sort of impression you are making. Even in literature and art, no man who bothers about originality will ever be original whereas if you simply try to tell the truth (without caring twopence how often it has been told before) you will, nine times out of ten, become original without ever having noticed it. The principle runs through all life from top to bottom.  Give up yourself, and you will find your real self. Lose your life and you will find it. ~C.S. Lewis
We're all guilty of it, let's just be honest.  We look around and see people who seem to have it all.  We wonder why we struggle in certain areas, why we've been given this particular set of circumstances, why  we aren't more gifted or beautiful, or why everyone else seems to be gliding by so effortlessly.  And if we're not careful, we start to develop bitterness toward the people we're comparing ourselves to.  Find comfort in this:  think of the most wonderful, successful, kind, blessed person you can think of and know that she is comparing herself to someone too—and she's not measuring up.  It's a pitiful cycle that we can all get caught up in and it steals our joy and contentment.
And none of us are exempt.  
Actually, the women we most compare ourselves to—the ones that seem to have it all—are often the ones who struggle most with insecurity and self-doubt.
I know an adorable little 16 year old who has nearly every conceivable advantage in the world;  she has beautiful, long, thick tresses, she's a very gifted dancer, she has a charming personality, and is well liked by everyone.  But, she's plagued with self doubt.  She's always comparing herself to others and always feeling inadequate.  One day she asked me if I thought she looked okay.  She wondered if her outfit really *matched*  and if I thought what she was wearing was in style. I told her that her peers were looking to her for what's in style and that what makes a woman most beautiful is when she's comfortable in her skin.
But, we all have vestiges of our insecure 16 year old selves, making us doubtful and crazy, don't we?
Lean in, pretty momma, because I have something important to tell you.
You are beautiful.  You are enough.  You are just who God made you to be, in every way.
And once you let that sink in, it will slowly begin to change your view of yourself and your interaction with others.
Our tendency to compare ourselves to others makes us more self-centered than we ought to be.  And once we settle into our own skin—comfortable with who we were made to be—we can finally stop focusing on ourselves and start spending that valuable energy on how we can best serve and love those around us.
The truth is, comparing ourselves to others doesn't just steal our joy, it robs those around us of the rare gift of a woman who has learned to give her uniqueness to the world.
Lay down the comparison, the self doubt, the insecurity, and start offering your gifts to the world.  We need you.
Day 4 Assignment:  Think of that one person that you most compare yourself to.  Write down her name.  Write down all of her wonderful traits, all the things you think of when you think of her. And now try to imagine  her trials and heartaches—the things she's struggles the most with.  Think about what her life might really be like behind closed doors.  Pray for her.  Maybe even send her a note telling her how much she has inspired you over the years.  In other words, be thankful for her and for people like her, who raise the bar for all of us.  Perhaps we compare ourselves to her because she has learned to be comfortable in her skin and live in gratitude and service for the people in her life.  And over the next month, every time you catch yourself comparing, stop and give thanks, and tell yourself, "I am enough."
Be sure and check out Ruth's post on Less Comparison.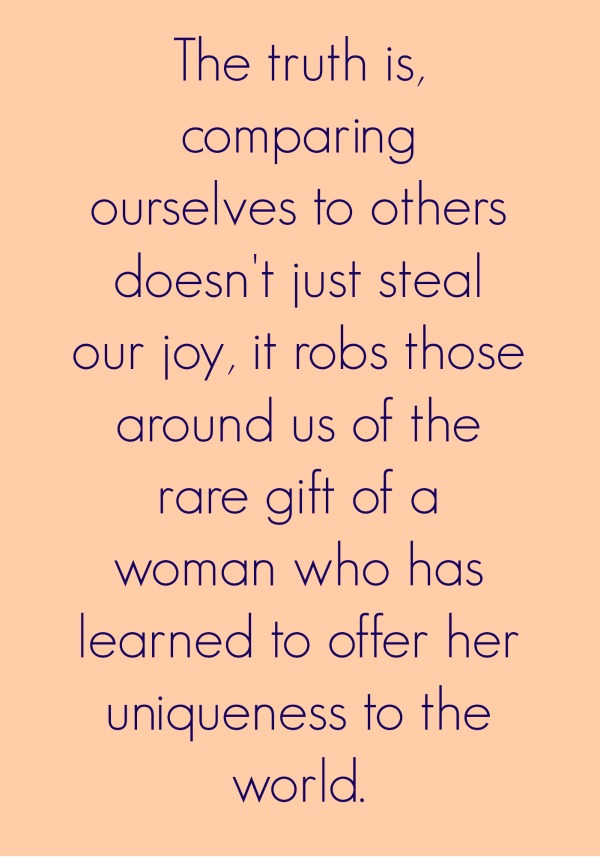 We couldn't be happier to have Crystal Paine of Money Saving Mom  joining our challenge this month!  Be sure to check out her beautiful story and insight on  less bitterness and more forgiveness  from yesterday's challenge.