This is Day 2 of our 31 Days of Less and More series. To read all the posts in order, start with Day 1 and check out our overview page to see the topics for the entire month.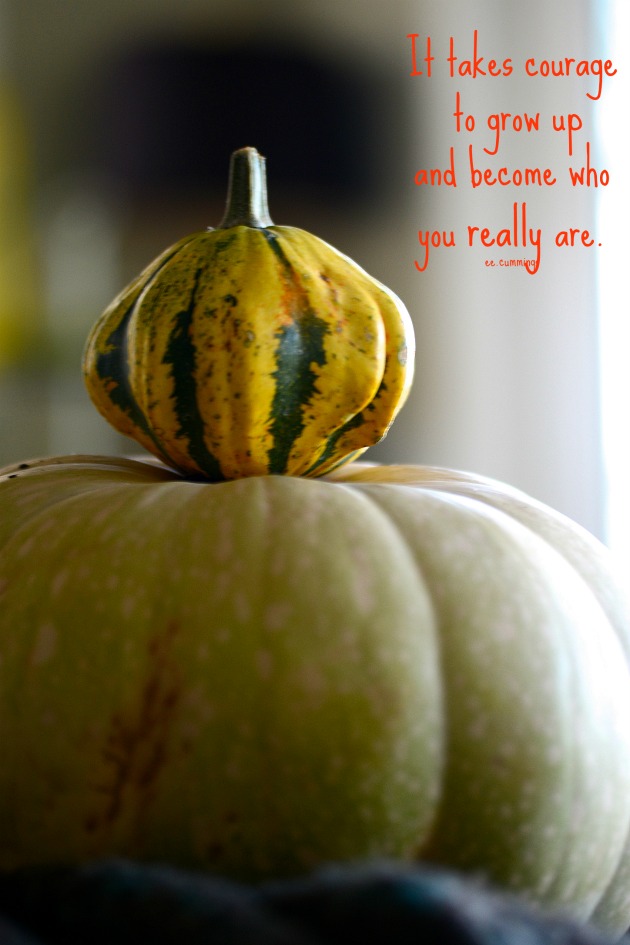 (photography by Patty)
She was crowned homecoming queen of her class and she was beautiful.  I always envied her hair and her womanly figure, but mostly, I was baffled by her kindness.  The boy that everybody laughed at was sitting a few seats down from her at lunch that day, and  the cruelty was almost unbearable.  He had Down's syndrome and they always tried to make him talk, just so they could laugh at him.  Her eyes betrayed her compassion.  From that day on,  the most beautiful girl in the school and the captain of the cheerleading squad,  seemed to make it her personal mission to protect him.  She sat with him, walked with him, laughed with him and pretty soon, everybody started to see what she saw—a lovable and caring person, whose disabilities were only a veil, hiding the treasures of this precious life.  I don't know if I've ever witnessed anything more courageous.
We often think we need courage for the big transitions of life:  courage to go graduate school, courage to try that new sport, courage to adopt a child, courage to launch a business.
There's the kind of courage that those things require—the kind that's easy to see and admire.
But there's a quiet courage of the  everyday.  The courage that's easy to miss.
It's the kind of courage that we often overlook or belittle—the courage to stay when we'd rather leave,  the courage to be gracious when we'd rather judge, the courage to be vulnerable when we'd rather build walls, and the courage to lay down our own agendas in order to serve someone else.  I struggle to muster up this kind of courage everyday, but when I do, it's life-changing—both for me and for those around me.
Everything we will talk about in this series will depend on today.  Do we have the courage to become who we really are?
Will we have the courage take an honest look at ourselves and the way we live everyday?  And in case you haven't noticed, we're not exactly living in courageous times.  There aren't a lot of ordinary heroes left. But we know it when we see it;  when someone performs an act of extraordinary kindness for no apparent reason, when someone goes out of their way to see us and know us and understand us, when a mom stays up with a sick child despite exhaustion,  when a father gets up every single day and goes to work.
Sometimes, courage just means making your beautiful, vulnerable self available to the world.  That is the kind of courage we need more of and it's within your power to start today.  Become an ordinary hero to the people in your path.  Your courage will be contagious and you will be well on your way to becoming who you were made to be.
Day 2 Challenge:  Identify one small thing you have thought about doing but have been too scared to do.  It could be something as small as trying a new food or a new fitness class at the gym, or perhaps speaking to a crowd, riding a roller coaster, or even confronting someone who has hurt you, Whatever it is, write it down.  Tell your fear out loud that it can't control you, that you are going to do this one thing even though you are scared.  Then do it!

Next, think of how different your life might be if you were courageous for the people in your life.  If you were open, vulnerable, tender, kind, self-sacrificing, and compassionate. Think of who most needs your courage today and find a few small ways to show them.  Maybe you've been fighting with your husband, or yelling at your kids, or maybe you've been keeping your heart at a safe distance from everyone in your life.  Whoever's name comes to mind,  write it down and list 3 ways you can be more courageous in your relationships this week.  Pray for that person everyday and put them right at the top of your 'to do' list.  See how your thoughts about them change after a week of loving them with courage.
Be sure to read Ruth's Day 2 on Less Fear!
Read the next post in the series:  Day 3 on Less Bitterness and More Forgiveness.