This is Day 22 of our 31 Days of Less and More series. To read all the posts in order, start with Day 1 and check out our overview page to see the topics for the entire month.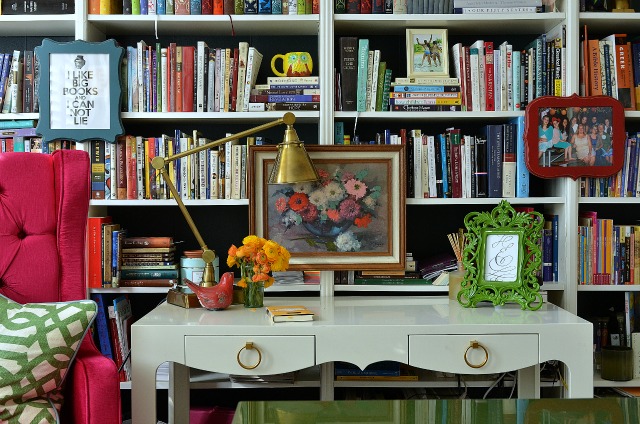 "Paperwork wouldn't be so bad if it weren't for all the paper. And the work."  ~Darynda Jones
This above photo is a picture of my desk, exactly NEVER.  I wish for all the world  it looked like that right now.  To make this talk about paperwork more fun, I'm posting a picture of my desk on Instagram and Facebook, in its current state of I CAN'T FIND ANYTHING,  and I'm vowing to have it pristine by nightfall.  Join in with your before and after photos.  This should be fun!  Side note:  If your before pictures are pristine, we can no longer be friends.  Or we can only be friends if you move in with me and keep my desk clean.
************************
If I had one piece of advice to give about paperwork, it would be this:  Throw things away.  
And being the hypocrite that I am, I look over at my desk, piled high with things that need to be sorted, filed, and tossed.  I'm nothing, if not the pot calling the kettle black.  But the point is, you have to get into the habit of throwing things away.  It's not a one time deal.  In a perfect world, you would process your papers everyday and throw 97% of it away. But if you live in that perfect world, I need to move in and set up shop.  My world feels more like a snow globe most days and I'm grasping at the air trying to nail anything down.  I will say, though, that since I've begun my new filing system, I have a LOT less paperwork than ever before to deal with.  You can read about the whole system here, but the short and skinny is this:  Set up a good filing system that is easy to use, keep an incoming/outgoing box, THROW THINGS AWAY, and file what must be filed a couple times a month.
Trust me on this.  I've developed a low threshold for this after losing everything in our house fire.  It turns out, you don't really need that much.  You can survive your life fairly well with very few papers in it.  And anything you really need, you can probably get from the person/company who sent it.  If you're brutal on the front end, there's less to process through and file and the chances are better that you'll keep up with the system.   In my case, there's one very important caveat—-insurance.  I have to keep every receipt of everything I buy so that I can turn it into insurance for reimbursement.   But after I'm through with this process, I'll only keep receipts for major purchases.
Here's where you can make your smart phone earn its keep.  I'll give you  few examples of how I use my phone to keep my papers at bay.
invitations, graduation announcement, or other events—add the date to my calendar on my phone and set an alarm a week ahead of the event.  If  I can attend the event, I try to RSVP (in a perfect world) and if it's a photo announcement, I keep those in a file folder labeled keepsakes.
wedding invitation—add the date to my phone (calendar) and take a picture of the important stuff from the invitation with my phone.  Add a note to the 'event' on your phone about where the couple is registered so you'll know where to look for a gift.  Set reminder alarms.
catalogues—I almost always throw them away because most if not all of the info can be found online and I don't need the temptation!
regular bills—most of mine are set up on automatic payment systems.  For the rest, I pay them and then file the monthly bill in my filing system.
Day 22 Challenge:  Tame that paper mountain that is threatening to take over your desk or countertop right now.  Give yourself an hour to tackle your piles.  Ruthlessly toss anything that isn't necessary.  Use your phone to take pictures of invitations or other important events, add them to your calendar, and then toss the paper copy.  Start a file box, if you don't have one already and establish an incoming/outgoing box to replace the piles that you would normally make.  Join us on Instagram today as we share our before and after photos of our paper taming.  Use the hashtag #31dayslessmore.
Be sure to read Ruth's corresponding post, Less Paper Clutter.