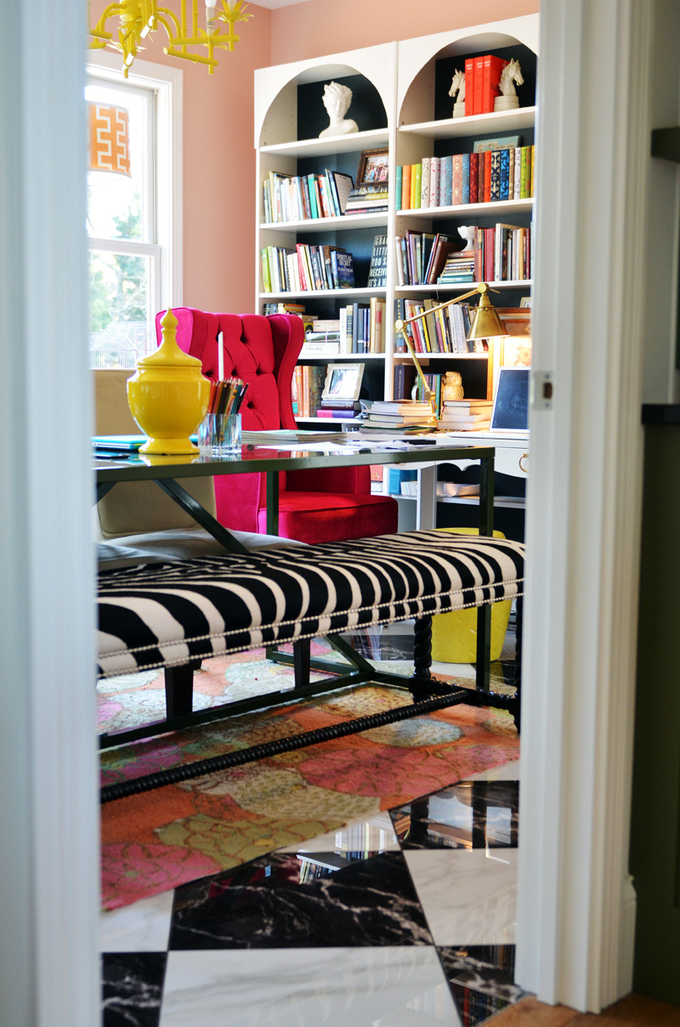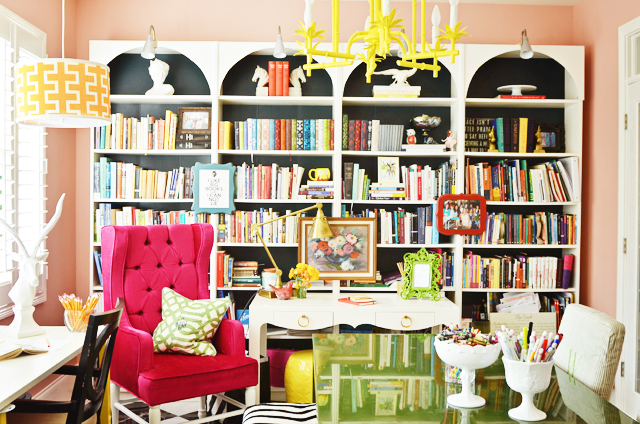 The multitasking type of room has long been a dream of mine.   A room that's like me—–that reads and does laundry and blogs and dabbles in paints and maps and printing and child-rearing and bird watching.  We've only lived here two weeks but I can't even  count the hours we've already spent in here.  My girls' new favorite pastime is to watch nail art videos and make their art come true whilst listening to me read "Gulliver's Travels."  It's the first room we use in the morning and the last room we leave in the evening.   It never looks this clean.   There's usually books and nail polish and writing projects strewn about.   We clean the green table off 27 times a day, only to make room for more art.
Darlene helped to give this room its' strong elements of design.   I knew I wanted muddy pink—she helped narrow down the pinks.  I knew I wanted a great desk—she found this lovely beauty from Bungalow Five.   She even went to all the trouble to sketch the built-ins for me but in the end, we couldn't afford them (except for those over the laundry) so we're making do with my knock-off version of Jenny's IKEA bookshelf  hack. I have to say—-I LOVE them.  But then again, I love everything Jenny does.   She's so talented with color and always seem to make design seem so attainable.   I love that about her!  I painted the backs a charcoal-blue and adding some finishing touches to exterior.  You can follow her tutorial here if you'd like to try it too.    I posted Darlene's drawings here so you can see how talented she is at making use of space.  You can follow her Pinterest Boards here which is a great way to work back and forth with a designer and gain inspiration for almost any project.  Her office/craftroom/workroom board is here.  Mine is here. She even has a Pinterest board called "Inspiration for Edie".   I LOVE her!
Her original vision board looked like this………


As you can probably tell, I haven't been able to turn it all into reality but I think it looks pretty close already, even without the awesome fabrics we chose.  The green fabric is a Kelly Wearstler Imperial Trellis.  I'm working with someone local to help with window treatments so it'll be awhile on those.
This is the room that gave the electrician a pause.   "Does she realize she has 14 lights in this room?"   Yes, yes she does.
And she kinda wishes she had added one more hanging light over the sink.  But, alas, no.  14 it is.
This bamboo-ish bright yellow beauty?  The star of the show.   Or the laundry room, as it were.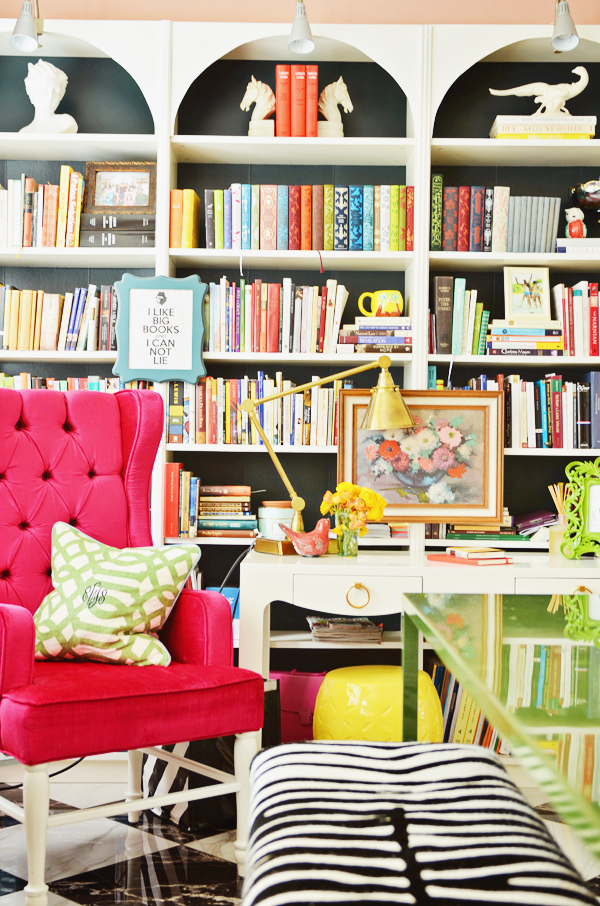 My desk is pretty sweet too……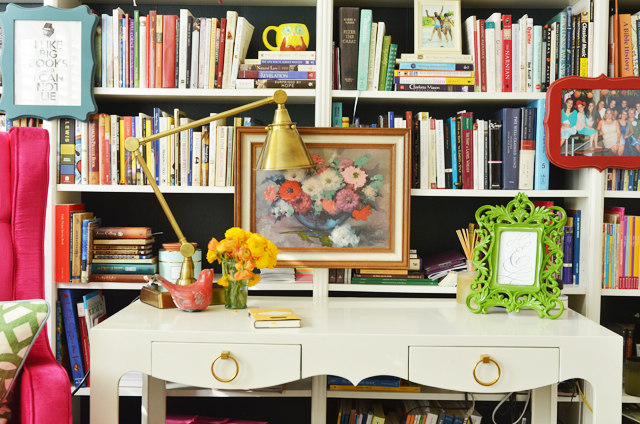 There's no surprise to you, I'm sure, that I've been collecting books fast and furious.

This is a favorite—the Luther books with the horse bookends!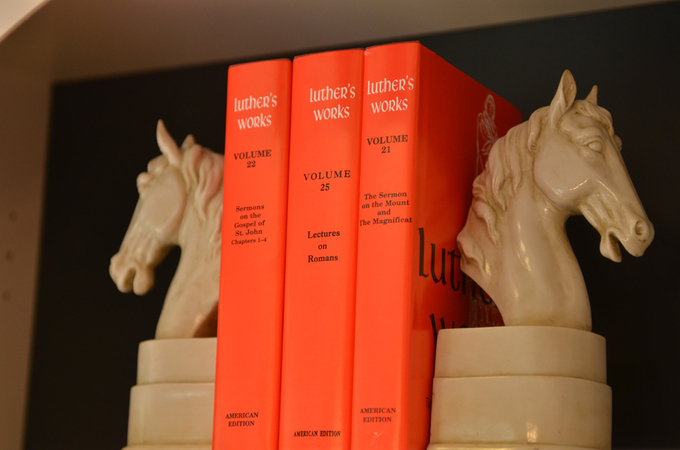 And the Harry Potter collection with the unicorn bookends?!!!!!!  Makes me a little verklempt 🙂
But my favorite daily reads are these, which I keep handy at desk level.  The girls and I use the Lutheran prayer book for morning prayer and then use the scriptures for our Bible readings.  We use the Confessions to memorize Luther's Small Catechism.   (As a side note, my friend Gretchen, who is brilliant and wonderful and happens to be the wife of my pastor, posted a video to her blog of her husband Derek teaching the catechism to his girls.   It's priceless!  And gave us some hints on how to get the kids to fully participate in family devotions. Thanks, Gretchen, for sharing!)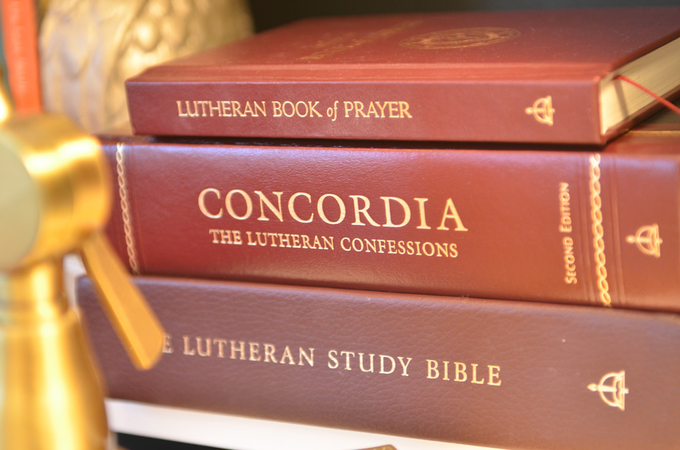 A closer look at my monogram obsession?  Sure.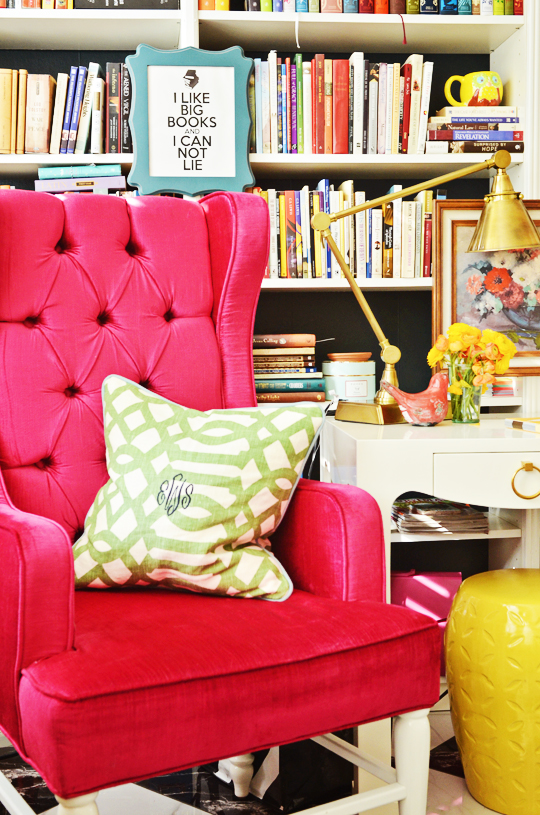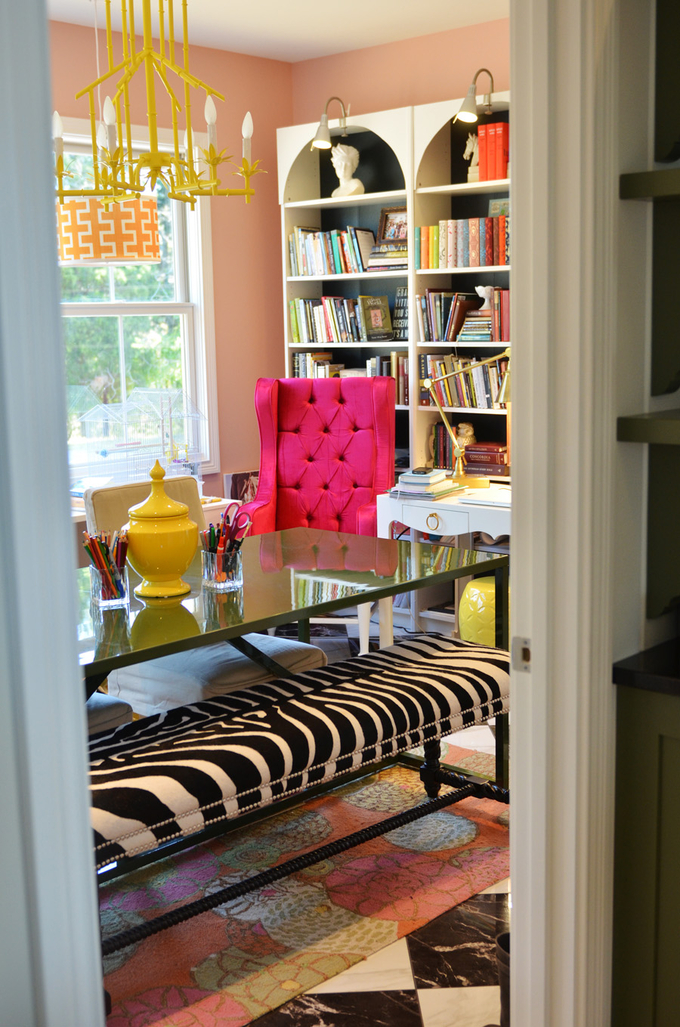 So, you're wondering where the laundry is in this supposed *workroom*, aren't you?   Don't worry, she's even washing as we speak.
However, this room is VERY tight.   As in,  I may need to go back to the gym to continue to navigate in here.   So, it's very hard to get a good image of that side of the room.
Bear with my feeble attempts 🙂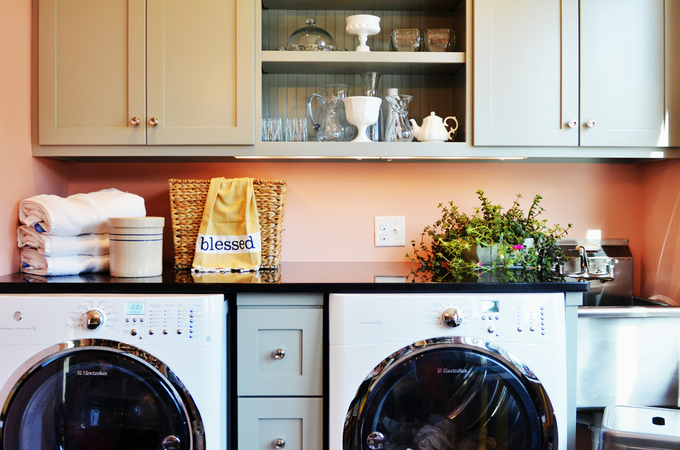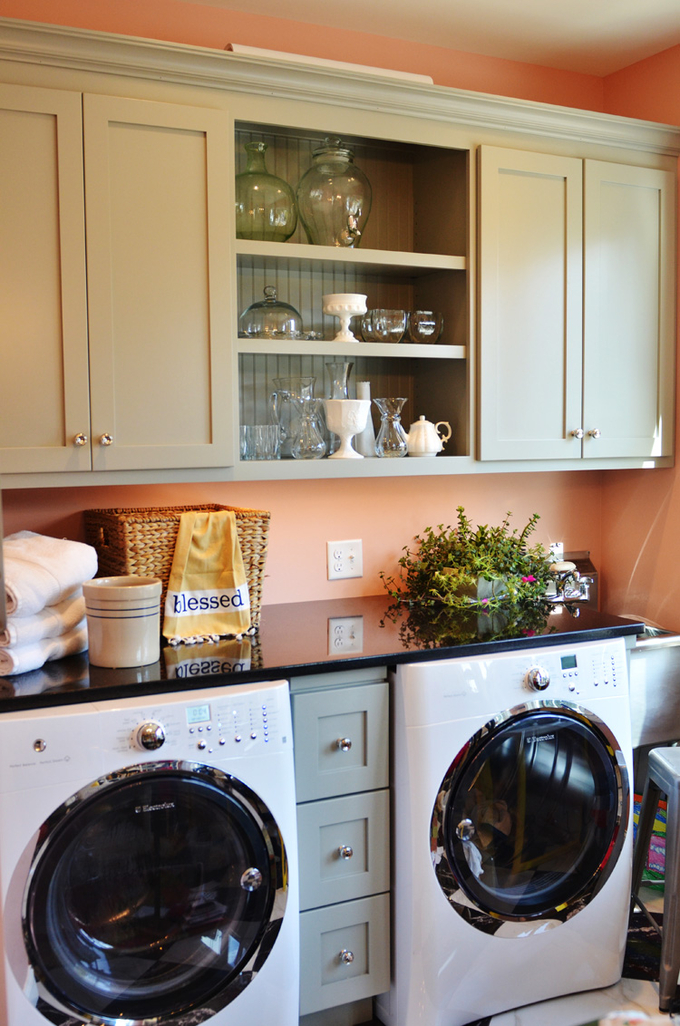 I also would like to help you understand yourself better.
There are two types of women in the world: 1)the immensely practical gal who actually does all her laundry in a timely and organized manner but pays little attention to the aesthetics of the laundry-doing space 2) then there's me and my fellow artsy friends, who may from time to time, have to rewash a load due to laundry procrastinating tendencies  but who somehow find the time to go to great lengths to create a wonderful laundry experience. If you thought to yourself, "Well, that's all well and fine but WHERE'S the detergent and such?" You belong to camp number 1 and the following picture is given for your perusal for your peace of mind.
It's there, it's just hidden as it did not fit with my laundry space  sensibilities.
So, now it's your turn to entertain me.   What is the current state of your laundry room?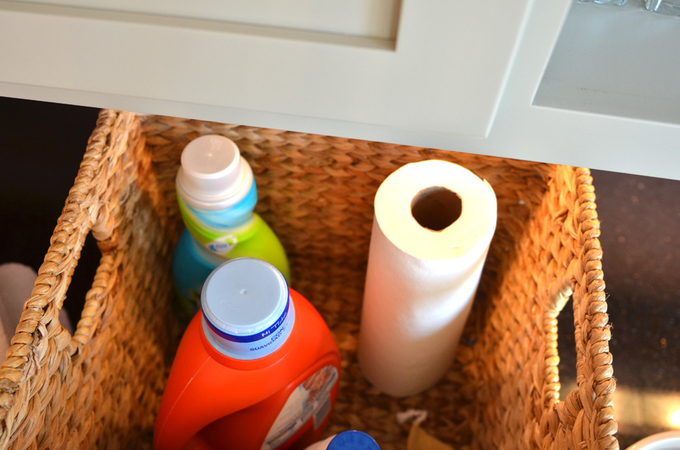 Hope you enjoyed the workroom tour!
I'll be slowly adding the sources to this post as I can find them/remember them.
If you love this room, consider hiring Darlene to help you with a vision board for your next project.
Sources:
Wall Paint—Benjamin Moore Conch Shell
Back of Bookshelf Paint—Sable Black from Home Depot
Cabinet Color—–Fieldstone from Benjamin Moore
Yellow Bamboo Chandelier—-Shades of Light.com
Olive Table—-Blue dot strut in dark olive by Design Public
Lemon Drop Lidded Jar—Modern Chic Home
St. Tropez Chair—-Room Service Store
Zebra Bench—Braden's Lifestyles
Jacqui Console Desk—-Bungalow Five, Layla Grace
Yellow Lattice Ceramic Stool—-Overstock.com
Ravella Orange Disco Rug—-Rugs Direct.com
Geo Zipper Drum Pendant in orange and white—–Shades of Light.com
Task Lamp on my desk—-Pottery Barn
"Blessed" towel—West Elm ( monogrammed by them)
Bookshelf lights—IKEA
various white dishes and tchotchkes—antique and thrift stores
Joining Kelly's home tour, 'laundry room' edition!  Thanks for hosting, Kelly!