I risked life and limb to bring this post to you.  But I know how you like  a good story. So, here goes.
Antique and thrift stores have ruined me forever.  I almost NEVER see new furniture I love.  Yet, nearly every time I go into a good antique store, the possibilities are brimming.  I could recover that.  I could change out the hardware on that.  I could repaint that and bedazzle it with a bust of David.  And on and on it goes.  So, when Emme needed a desk for her new tween room, I knew just where we needed to go.  There's an antique store near us that looks like a bad, dusty version of the Room of Requirement in Harry Potter.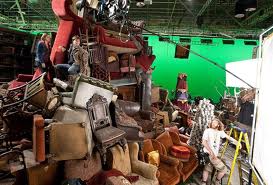 In other words, it makes me  feel like I've died and gone to hoarder's  purgatory heaven. Except that it's way scarier than what you imagine hoarder's heaven would look like. When you walk in the door, it's dimly lit, with piles dishes and pyrex teetering ever so precariously from every narrow isle.  There's figurines galore and enough salt and pepper shakers to season all the food in the free world. Don't look upwards, lest you see the hundreds of sharp farm implements, which seem to be waiting to impale you at any moment. It smells like a stale, poorly ventilated Goodwill and my daughters have been known to dry heave whilst looking for hidden treasures with their mother.  Life is hard and full of funny smells, is all I can tell you.  The floor where the furniture is stacked slants at about a 30 degree angle, so stable shoe wear is highly recommended.
The ends of the isles are so full that you have to do a lot of backtracking to get to the next isle. That gives you plenty of chances to knock down a whole slew of scary looking baby dolls. What gives with the dolls, anyway?  I've never been in the market for nekkid, scary looking dolls with matted hair. So you might be tempted to ask the obvious question.
Why do I love it so?  Because there's almost nothing you can think of, made in the last hundred years, that's not in this building.  This is not a shopping excursion.  This is Operation Find That Desk— Without Being Crushed Under loads of Glassware Never to Be Found Again.  This is not a project for the faint of heart. You gotta to bring your A game.
And I've never been short on hustle.
In case you think I exaggerate, I present the room stacked with gobs of furniture.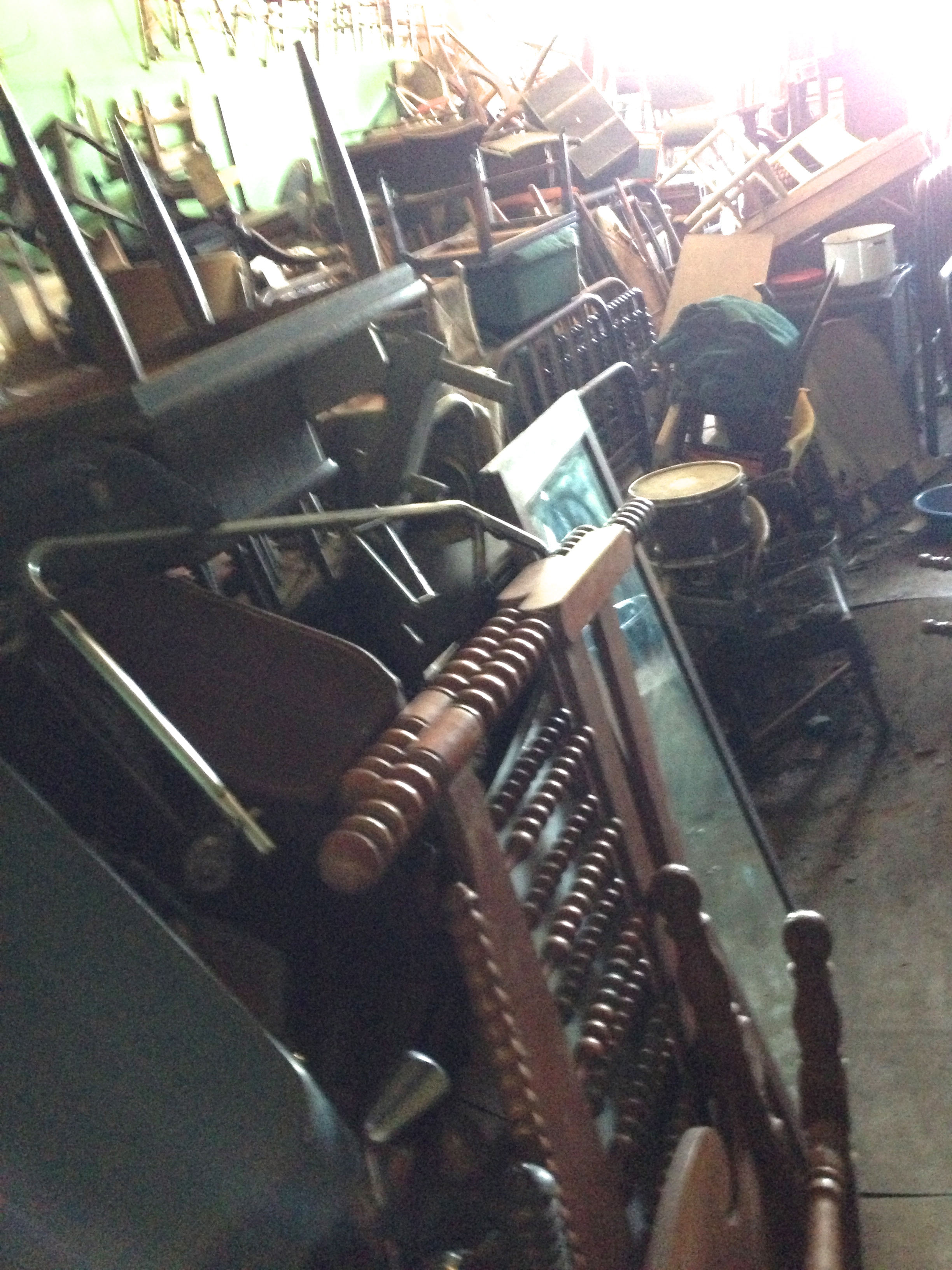 You see piles of odd furniture.  I see endless opportunity.
I asked if there was an old desk. He took me right to this baby—an old sewing desk that had just the right bones for a good rehab job.
What do I look for in a piece of furniture?  1) It hadn't been painted, so would be easy to sand and paint,  2) It was structurally sound with no broken parts, 3) It looked possible to dislodge it from it's current dwelling place.
So, we went to Sonic for slushes while the kind man brought our desk into the light of day.  I should have grabbed the typewriter, too, but I have enough things in my life that need attention right now.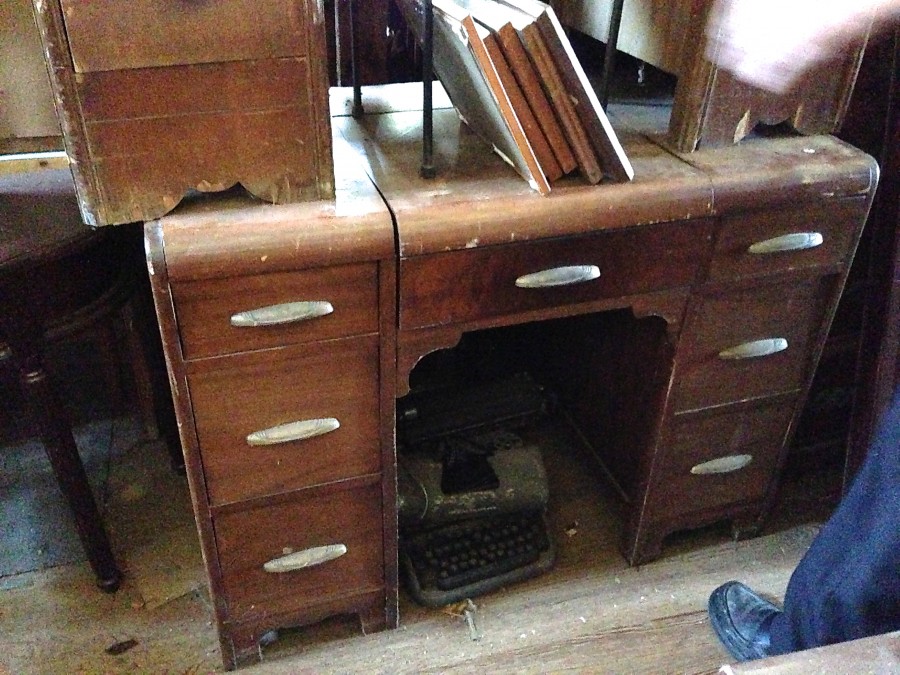 I knew I wanted to paint it in high gloss white, so Nick and I sanded it and then began painting it with Valspar's white lacquer paint.
Here are my tips for this type of painting project:
Sand it down well.  I use this mouse sander, Black & Decker MS2000 Multi Sander with Smart Select and it works wonders and is VERY fast.
Lacquer paint is oil-based and I don't like to clean brushes that have oil based paint on them.  I don't like paint thinner.  SO.  I use an old paint brush and just throw it away when I'm done. Lazy or brilliant.  You decide.
High gloss paint is so beautiful when it's dry  but as you're painting with it, you'll fret and worry about brush marks,etc.  Don't worry.  It will be smooth and shiny and beautiful when you're done, almost no matter what you do.
I did two coats on this but it looked pretty darn awesome after one coat.  I bought 1 quart of Valspar high gloss white paint and had plenty left for other projects.
I use Krylon 1000 Premium Metallic Spray Paint, Gold for all my gold spray paint jobs and it is fantastic. I spray painted the existing hardware and it turned out perfect.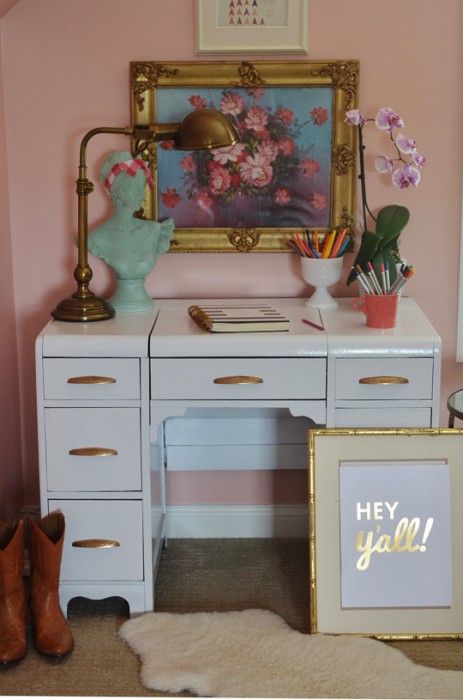 I hope to have this room finished in the next week or two.  I've got a couple light fixtures to have installed and one certain disco ball and some pictures to hang.  But we're close.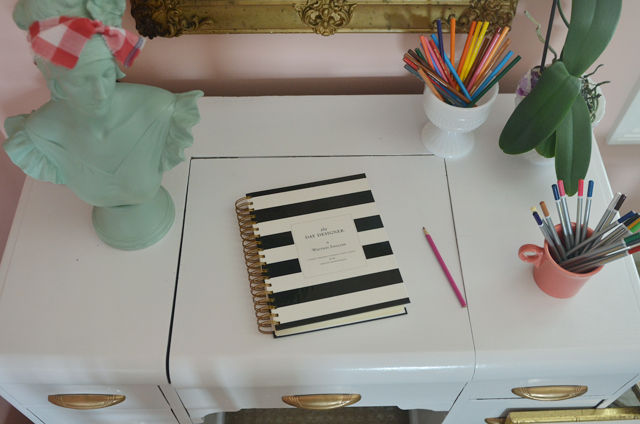 The irony of this whole long post on the story of the white lacquered desk is this—she hasn't sat here one time to do her homework.
NOT. ONE. TIME.
I like to sit there, when I'm visiting the tween room.  It's a great place to sit, dear friends.  It LOOKS like it would be a dandy place to study, too.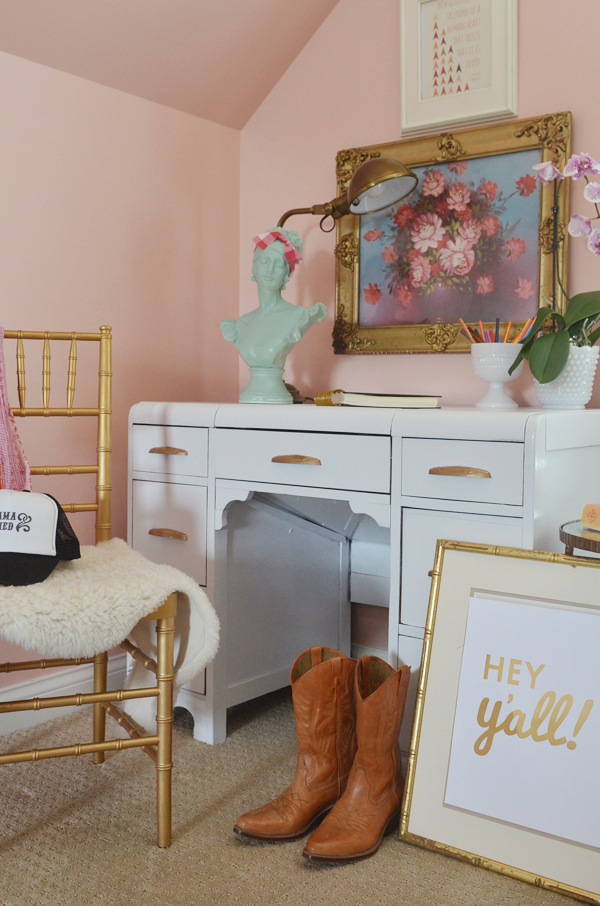 But, inevitably, she and her sister choose the schoolroom, where we've spent so many hundreds of hours, learning and crafting and reading together.  I'm doing better and I know it was the right thing to do for now, but giving up homeschooling was one of the hardest things I've done.  I miss those girls like something awful.
I guess old habits are hard to break, not matter what age you are!
My question for you is this.  If you ever come to Bean Station to visit me, will you make the trek to the Room of Requirement with me?  I'll buy you cherry limeade and we'll dig for treasures together!
******************
A whole post, with sources, is coming for this room.  Check out my Tween Room Pinterest Board for lots of tween room decorating ideas.  Hopefully, we'll be ready in a week or two!
Happy Weekending!
I'm linking this project at Sara's awesome blog!