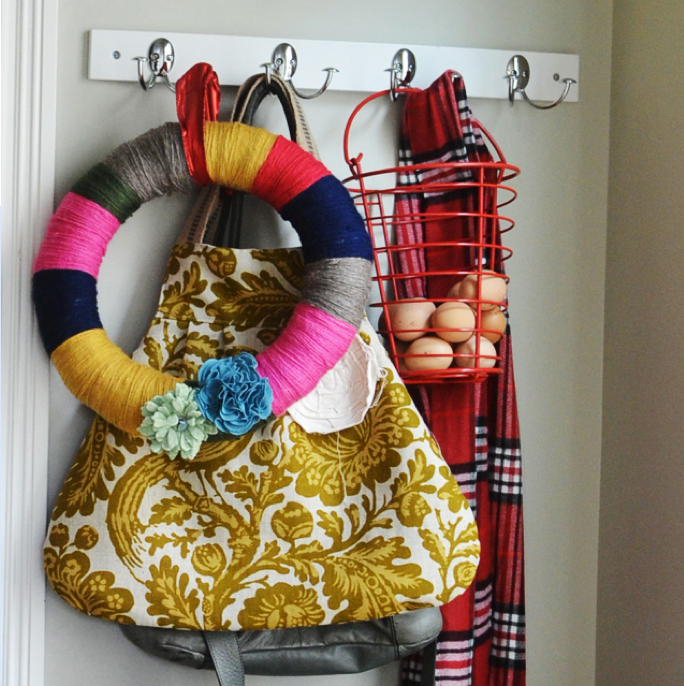 We are so enjoying Advent and a very SLOW move toward Christmas. In other words, I still have pumpkins in my kitchen and on my front porch.
I'm obsessed with all things yarn right now so as we speak, I'm knitting some cool bracelets and a cowl or two.  I made these wreaths last Christmas and I love them SO MUCH!  This project is so easy and takes a little over an hour.  I love to craft during the holidays because it forces me to slow down, to SIT DOWN.  I can listen to music or podcasts or I can eat Grannie's fudge but I can't run myself ragged while I'm doing it.  It's a great way to teach yourself how to relax.  Or at least it is for me.  Yarn bracelets coming soon!  I also made a pom pom wreath last year which I then converted to a  pom pom garland, so check it out too!
What you'll need:
Foam/Straw/Styrofoam wreath (sold at craft stores for $2-$3)
Yarn – any kind, I used a #4 medium weight
Felt or linen flowers or your choice of embellishments
Spray adhesive
Scissors
Ribbon/string for hanging
What you'll do:
Do not remove the plastic wrapping from the wreath, especially if you're using the straw kind.  It's easier to just wrap the yarn right around the plastic wrapping.
Cut four strips of yarn the same length, about two yards.
Hold those four pieces together and after spraying a little adhesive onto the wreath form, begin wrapping.  Wrap it in such a way as to cover up the 'tails' of the four strands of yarn.
When you've wrapped those four strands, make sure you leave the 'tails' of those strands on the back side of the wreath.  You'll use the next set of four strands to then cover the 'tails' of the previous strands.  (I illustrate this is the video, if that's confusing!)
Continue spraying and wrapping, until your wreath is covered and full.  It took me about an hour to finish one wreath.  The reason I use four strands at a time and cut them to a manageable length is because a) it's way faster and b) you can avoid trying to wrap a whole skein of yarn through the wreath form.
When you're finished, use a piece of coordinating ribbon to hide the last set of 'tails' from your yarn.
It looks wonky from the back unless you're a perfectionist which I AM NOT.  But it only shows from one side, right?
And may your crafting force you to slow down dear friends!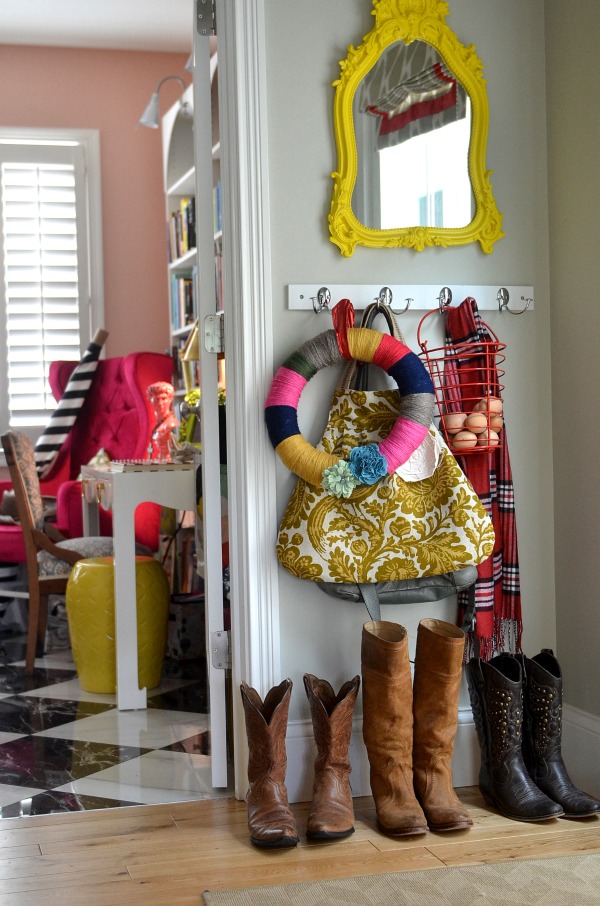 p.s—I'm joining my friend Myquillin's wreath party so head on over for more homemade wreath goodness!  And in case you're in need for some colorful quirky Christmas cheer, head over to my Christmas tour from last year.  And by the way?  The crazy mannequin with the evergreen bough is coming back!!
MY NEWEST BLOG SPONSOR:
This post is generously sponsored by my YL. I am into natural choices for my family, and this is the main way I help boost our immune systems and alleviate lots of minor aches, pains, and injuries.  Read more about how we are using them everyday! My Young Living essential oils are also my newest business
 venture, and the oils are so well loved that they sponsor my blog!!! Thank you, friends!  Enroll by clicking here.