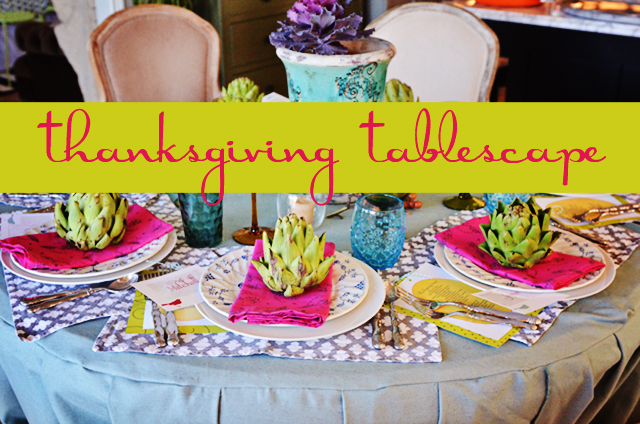 I wasn't even gonna post about my Thanksgiving tables because let's be honest, y'all have moved on and are knee deep in Christmas decor.  But then I remembered that the beauty of using non-traditional colors is that you can use them for any occasion.   I think I may just use the same ideas for Christmas.   And dinner next week.    So, here goes a bunch of holiday tablescape ideas!
We had a sit-down dinner for 34 people on Thanksgiving night.  Mercy.  It was wonderful and chaotic and beautiful.  I do believe that every dish and cup and piece of silver ware I own was used that day.
1.  Use non-traditional colors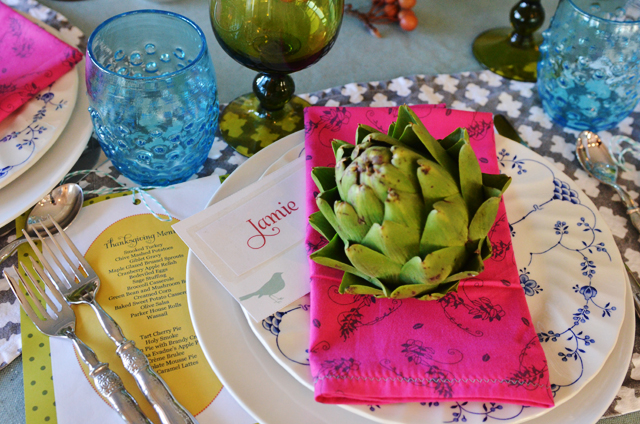 I was determined to have deep pink napkins and couldn't find any that color—-so I bought some wonderful fuchsia cotton fabric at Joann's and made my own.
This was the only table I had envisioned before the big day.  I love the nontraditional colors and the pink napkins just make me happy.
2.  Use natural items
Not only did the artichokes make for beautiful table decor but they also made for hilarious table conversation.
I'm not gonna mention any names but a few people wondered if they were pomegranates—-which we thoroughly 'discussed' and kept bringing up at random times.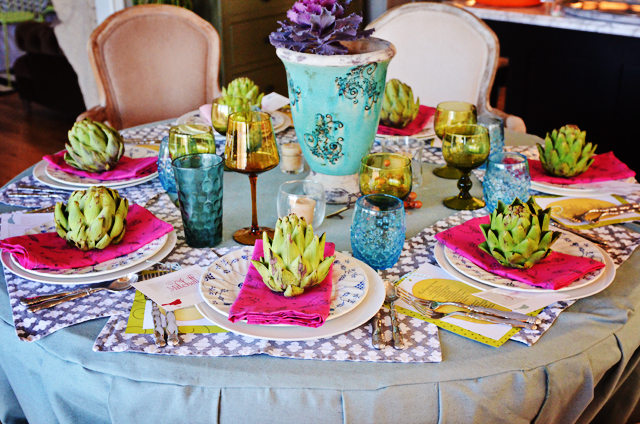 3.  Everything is more fun with help.
I totally winged the other three tablescapes. But setting tables is fun so don't be afraid to let your guests help!
With a lotta help from my eager staff, (the poor girls stuck with helping me) they turned out cute too!
I bought this chevron fabric back in the summer from Hobby Lobby.  It was used the Better Homes and Gardens photo shoot when the darling stylist, Elizabeth, duct taped it together.  (The January issue should be out in a couple weeks!)
For Thanksgiving, I cut (or rather tore) the fabric into 3 equal pieces (the girls looked at me like I was performing sacrilegious acts on the fabric) and then draped them across a huge white king duvet cover (which I pretended was a table cloth) and voila!
It nearly looks legit.  And now, the girls will never wonder where to find a huge white tablecloth.  They'll immediately think king duvet.
4.  Make it personal
Name cards make so much sense.  Noone has to wonder where to sit.   And let's face it, everyone loves their name, whether it's in print or out loud.  Names are important.  Use 'em!
I subscribe to Emily Jones' monthly printables and I think these bird cards were in one of the past month's subscription.   Then, I printed the names in the Albemarle swash font and taped it the bird cards.  Easy as pie but packs a punch!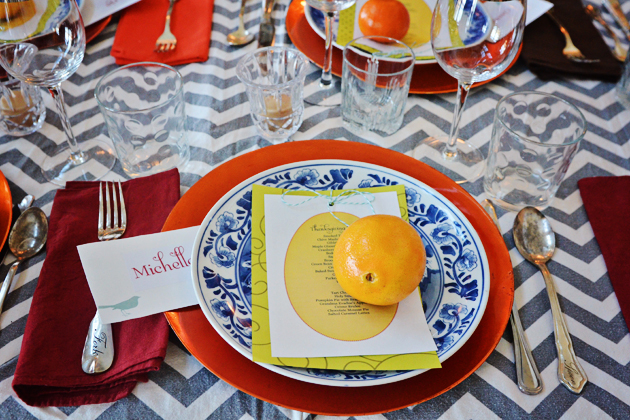 Then I sweet talked these two little ladies into printing and cutting and hole punching and assembling all the menus and name cards.
I used this tutorial to make the menus.
They were happy to oblige, for the most part.  I kept adding people and running out of paper so they became a little flustered with me.
I've always liked having little individual menus and that-away, if someone doesn't recognize one of my concoctions, they can consult the menu in the privacy of their own place setting.
This year's mystery item?  Mashed potatoes.  They looked like hominy or grits or something.  But not mashed potatoes.  I can't even explain to you what happened but they looked funny.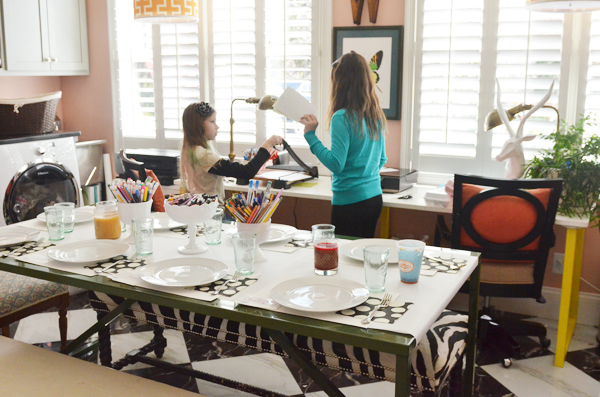 So, to accommodate a sit down dinner for 34 people, we moved some of the furniture out of the living room and set up two tables.  I pulled chairs from everywhere.  And then told my trusty helpers, Jordan and Ali, to find something to add to the plates.  The oranges were perfect and it ended up looking like I planned the whole thing out.
Edie is my name; Helter Skelter is my game.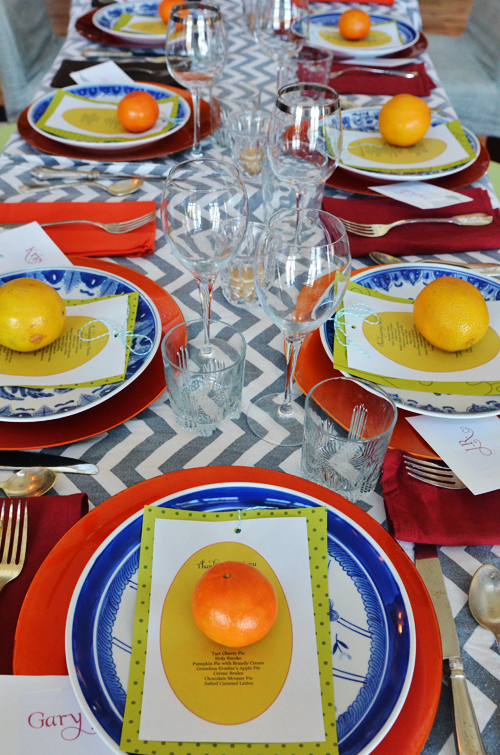 from the front door and featuring my cute little momma: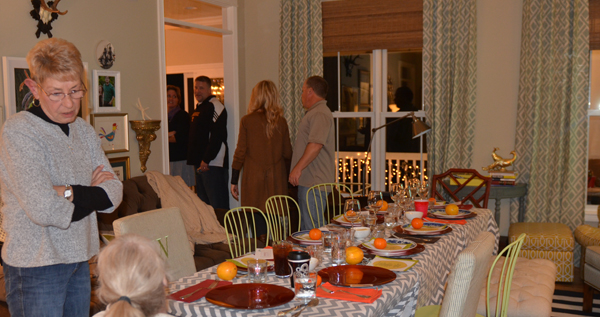 We even pillaged around and found enough stuff to set the young adult table.  The weather was beautiful (if not a little chilly) for outdoor dining.    And noone was impaled by the driftwood.
And see JamieKnoxville over there by the fire?  That was her happy place.   We spent as much time as we could squeeze in huddled by the fire.  I think I've built one nearly every day since Thanksgiving and the girls and I sit out there to  read our Greek mythology.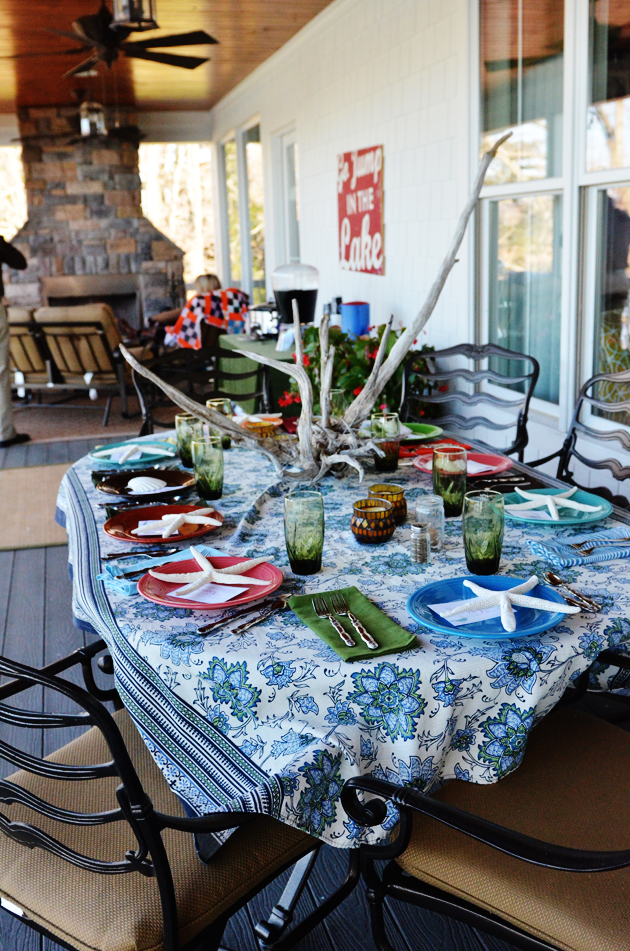 The kids table was cute too, in its own little way.
Nothing like dinner in the laundry room.  I can tell you that the only thing these wee ones were concerned about is whether Aunt Gina was making mac and cheese.
There was a big sigh of relief when she walked in with the Velveeta.   They were saved from brussel sprouts and  broccoli casserole.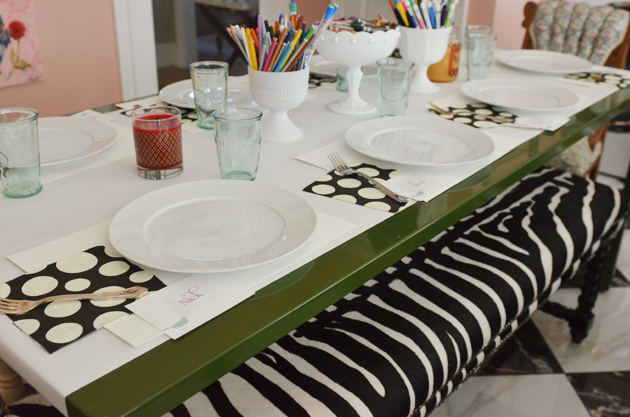 (Polka dot napkins from Hobby Lobby.)
And the labor of love to set all this up and take it all down was provided by my two lovely helpers, Jordie and Ali.
I just had to snap their picture when I saw them take a much needed break on the screened porch.
Thank you, girls!!!!  You were awesome and so much fun!
More on Thanksgiving soon.
For now, we're  headed out to see our first Nutcracker performance of the year, followed by lunch and antiquing with my girls.
Now, go make some pretty tables!
Happy Day!