Long story short, here's how it happened.
My friend, Gretchen, a freelance food and wine writer,   pitched the story of our house fire and rebuild to several shelter magazines after our rebuild last year.  Several months later, we found out that BHG wanted to run the story.
WHATTTTTTTTT?  Y'allllll???!!!!  I have been beside myself with excitement.  It has been a little like birthing a baby.   A huge period of waiting, wondering, worrying, asking a lot of questions……….
My first encounter with them was a phone call with the Home Design editor.   She was completely adorable and gracious and charming.  And thus has been my experience every step of the way.  They have been so great to work with and so kind and complimentary—not to mention very thorough and professional.  This whole thing has been such a process.  So many emails, so many photos, so many questions, so many layers of people involved.  The shoot was originally gonna be in June, then July and finally September.  I've been feeling completely nervous and excited and  quite inadequate.  I don't think I even realized what a big production this would all be.  But it was such a blast and I'm so glad I did it and so thankful that they gave us this opportunity.  And thank you, sweet Gretchen—-for making this all possible for us!
The day before the shoot, Elizabeth Beeler, the stylist came to get everything set up.  It was love at first sight.  She's completely adorable and perfectly laid-back but has such an eye for design.  I think we're gonna adopt her into our family because frankly, she loves to say Bean Station—in her best Alabama voice.  I'm SO MAD at myself for not getting a picture of the two of us.  She's my new BFF and I'm so thankful for her talent but mostly for her kindness and approachability.  I stole this photo from her fb page because it's so perfect for her.  She was running late one day and when she got here, her shoes were muddy from scaling down a ravine to get a picture of the fog rising over the lake.  She's a jewel and I am SO glad our paths crossed.  I'm one of those quirky ones who thinks that things like that don't happen by accident.  I LOVE YOU, Elizabeth!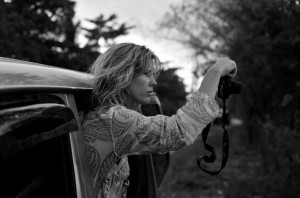 And here's how I knew we were separated at birth.  Her instructions from BHG were to make the laundry room look more laundrified with baskets and cute detergent, etc.
She came with baskets but they got lost in the cabinetry so she asked if I had any cute fabric.  Of course I do and in fact, I make a sport out of fabric hunting.
I produced this lovely David Hicks fabric and Grannie and I mistreated it into a basket liner—with safety pins.  Yes, we did.
I've been mistreating fabric my whole life and now my professional stylist friend not only approves but applauds it.  She and I?  Two peas in a pod.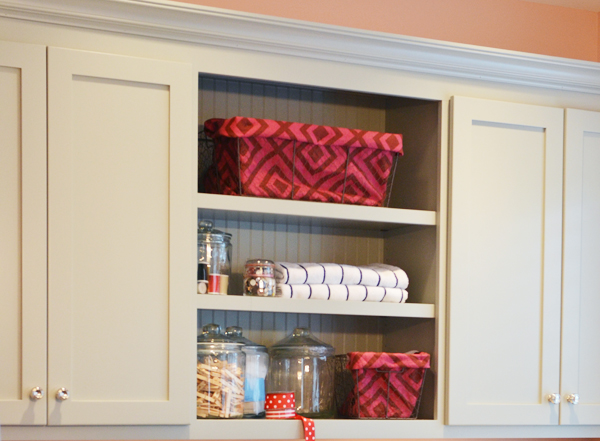 I loved it so much I think I'm gonna make an honest to goodness liner to go in there and I'm gonna keep the clothespins idea.  Loved it all.
I also loved the pillows she brought for the sofa!  (from John Robshaw)   Good pillows are expensive but so worth it.
She borrowed a twin quilt from the Camp Room (which I haven't shown you yet) to put over the sofa and I think I'm just gonna have to keep it there.  And her trick for getting things just right?  She takes pictures of the space and then studies it from there and decides what changes might make it better.
That's Stevie in the background, trying to get the heck out of Dodge as fast as he could.  He's not much of a photo shoot kinda of a guy, in case you were wondering.
Pretty quick after the crew arrived on Wednesday, I did the important things first.  I found out who's in charge of the photoshopping and we had a little talk.  I said to Zane,  "Zane, dear, I just want to be clear on something.  No matter what the photos look like, I weigh 120 pounds.  Are we both okay with that?"
And he said, "Yes ma'am".   Like the good Southern boy he is.   I may or may not have offered him cash.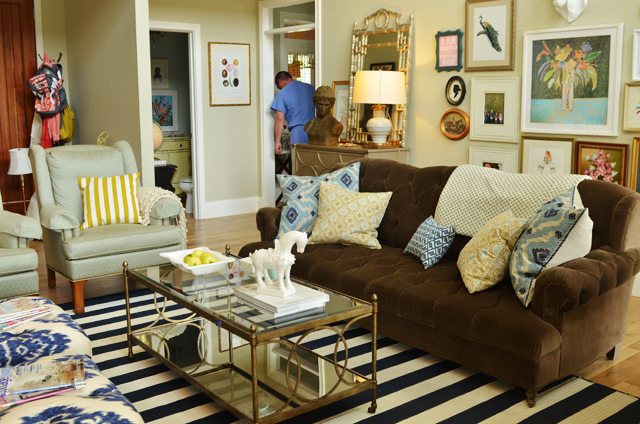 They took about 20 different shots, including the kitchen, the workroom, the master, the girls' room, the living room and the guest room.   They came prepared with a shot list that described in detail what they were trying to capture with each one.  Nearly every shot was the same process: they would set it up, style it, shoot it and then tweak it after looking at the shot on the monitor.  It took a long time to get everything just right.  These people are serious business when it comes to everything being perfect.   They do not attend the school of 'oh, everything looks fine wadsworth academy'.   They cipher and hem and haw and move things an inch and then another inch.  They are really good at what they do. I was so impressed.
They sent me an email a week before the shoot and said, "Hey, since you're gonna be in January's issue, do you have any good organization solutions that are pretty to share?"
"Um, no.  That's not one of my spiritual gifts," I replied.
But turns out, they did find a couple.
They shot my colorful shelves with all the fiesta ware and my glass canisters, labeled and all, full of flour, sugar, etc.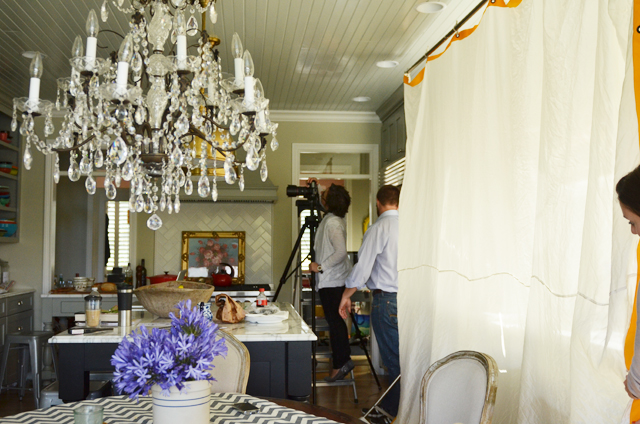 My poor sister slaved over the open shelves in the pantry for a good six hours the day before they got here.   "Should we put the tomatoes beside the chicken stock or the beans by the rice?"  we kept asking ourselves.   This is just like rocket surgery, people.  You gotta get it right.  Everybody knows that barley and wild rice should be stored in proximity.   We both just had a hunch they'd want to shoot the pantry.  And we were right.   I'm so glad she took her organizing skills to the next level and made the pantry beautiful.  I can promise you that it's not always so.
Because she's all kinds of sweet and amazing, she also baked pumpkin bread with pumpkin buttercream icing and it may very well be famous. They took several photos that included the pumpkin bread! It definitely won 'best prop' award. Unless you ask Stevie and he'll say it was the glass of wine.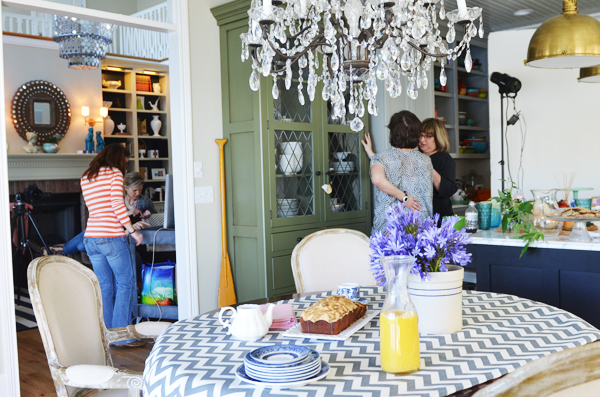 Here's what I learned from the living room shoot.   Decorate the room how you think it looks best and then take out half the stuff.  EDIT.  I don't edit.  I need to learn to edit.   Tzotche  hoarders don't edit well.  See how cleared off my coffee table is? THere's NOTHING on the bottom of it.  NOT. ONE. THING.
Stevie and I compromised when we rebuilt our house and I told him he could find any chair he loved as HIS chair. It wouldn't have to match with the decor and I wouldn't tell him what it had to look like. All I can tell you——it's really comfortable. Not so photogenic, as it turns out. They made a note on their shot list to remove 'the ugly leather chair in the corner.'  Okay, they didn't say ugly but Stevie knew what they meant.  It's a tiny notch above a lazy boy.  A very tiny notch.  It got sent to the kitchen for the shot, along with two other chairs and a stool.  Apparently, I hoard furniture too.
We all had a good laugh!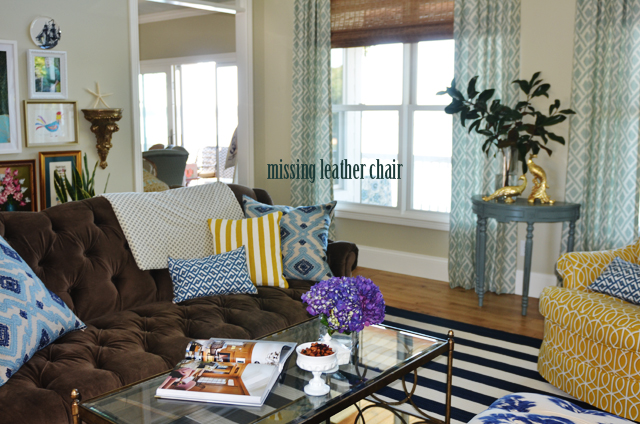 The other side of the room is where the camera was positioned on the tripod.  The shots came up on a large screen for everyone to analyze.  We all crowded around the computer to see Zane and Heather Anne work their magic.  They opened the front door for the living room shot to let as much natural light in as possible.
To make the day more soothing and enjoyable, Zane played some wonderful music for us.  I learned about the Lumineers and Old Crow Medicine Show.    Then around 4:30 when everyone was tired and jacked up on too much caffeine, Zane decided to show us a YouTube clip of Flight of the Conchords.  And in a twist of beautiful fate, he sang this whole little ditty for us, complete with all the beautiful facial expressions.  I laughed until I needed to change pants.  It was epic.  I'll never forget.  Thank you, Zane.  So very much. I hope we end up in the same nursing home cause you're funny.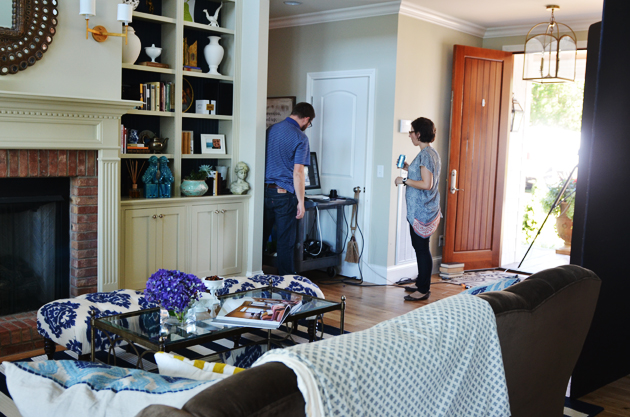 The island looked like this most of the time.  I was far more worried about making sure everybody was fed and caffeinated than anything else.  I can't even help myself.  The photographer was so gracious to have food catered but cooking is just what I do.  I'm happiest when I'm feeding people.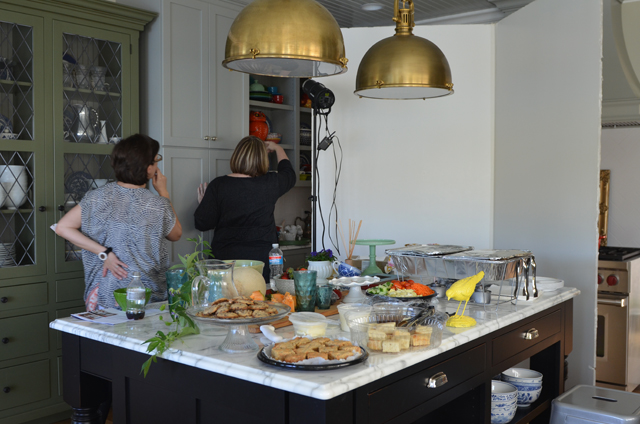 The girls room was scheduled to be shot, which is why they were relegated to the attic room for three days.  Grannie (my mother's name to all who know her) ironed the sheets, pillowcases and duvets and then we forbid anyone in that room until the shoot.  I've added bedskirts and a couple pillows since you saw it last so I thought you might like a peek!  They are so glad to have their space back and I'm still trying to fumigate the attic room.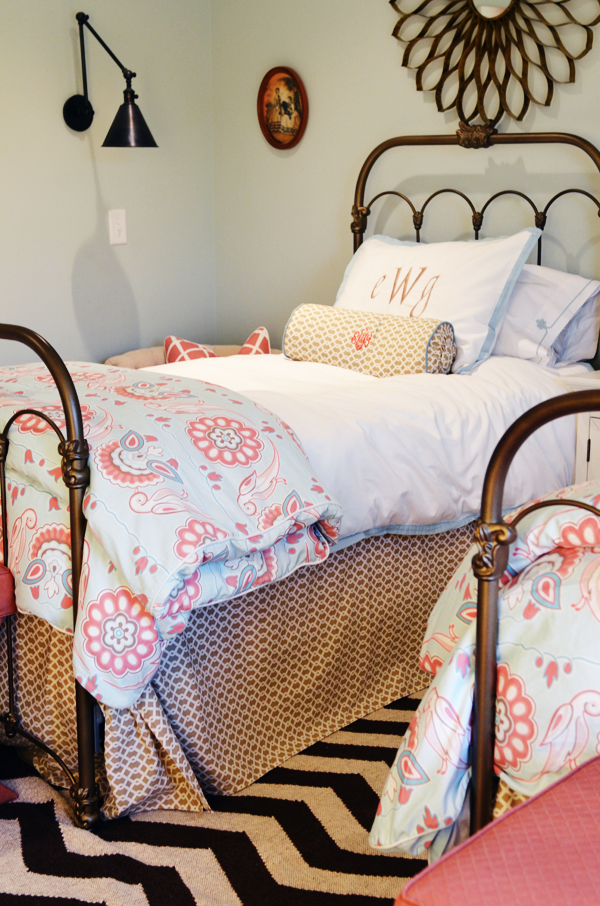 They weren't originally gonna shoot the workroom—but they added it and I think I have finally located all my wayward books.  You've seen this room a thousand times but I thought you might like the green trellis monogrammed pillow I added.  It makes me smile every single day.  And those adorable yellow ranunculus?  My new favorite flower.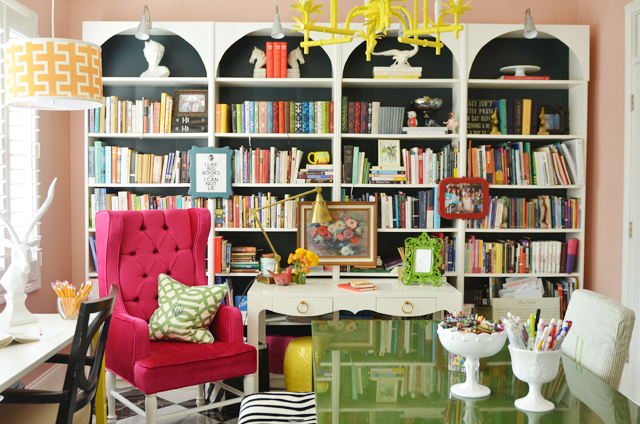 They didn't shoot the side entry but this purse was hanging there this week and I instantly fell in love and had to know all about her.
I sent a text of this photo to JamieKnoxville today and under the text, I said, "Never mind the eggs."
She texted back, "Hmmm, love it but the basket of eggs throws me off.  At least there's not a live chicken coming out of the purse."  Truer words have nary been spoken.
The purse belonged to Jessica, the very talented art director from BHG.  She was very inspiring to be around and was the cause of all my Amazon dollars being spent—-in books and one very cool purse.  She is quite the creative lady with a VERY colorful house!  Her house was featured in BHG a few years back and she showed us the pics.  Her house makes mine look like a snoozer. Great inspiration for us all.
I've already received the purse and I can testify that it is in fact the most wonderful purse I've ever owned.  It's falls the perfect length off the shoulder and the leather is like buttah.
As a side note, I feel like such a fraud when I say purse.  I grew up in a family where the women carried pocket books.  It just seems wrong to call this beautiful thing anything so wrong as a pocket book.   I know what pocket books look like and this is not one of them.  Whatever this is, it is not a pocket book.  Tell me I'm right on this?!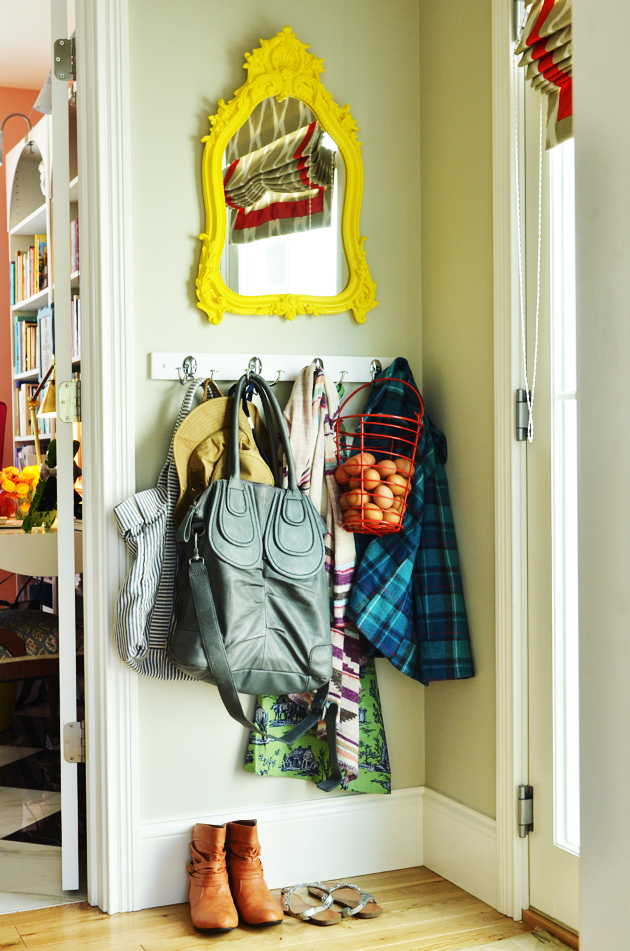 The volume and beauty of the flowers they bring is amazing. I wish I had access to fresh flowers like this everyday. Life is better with beautiful flowers!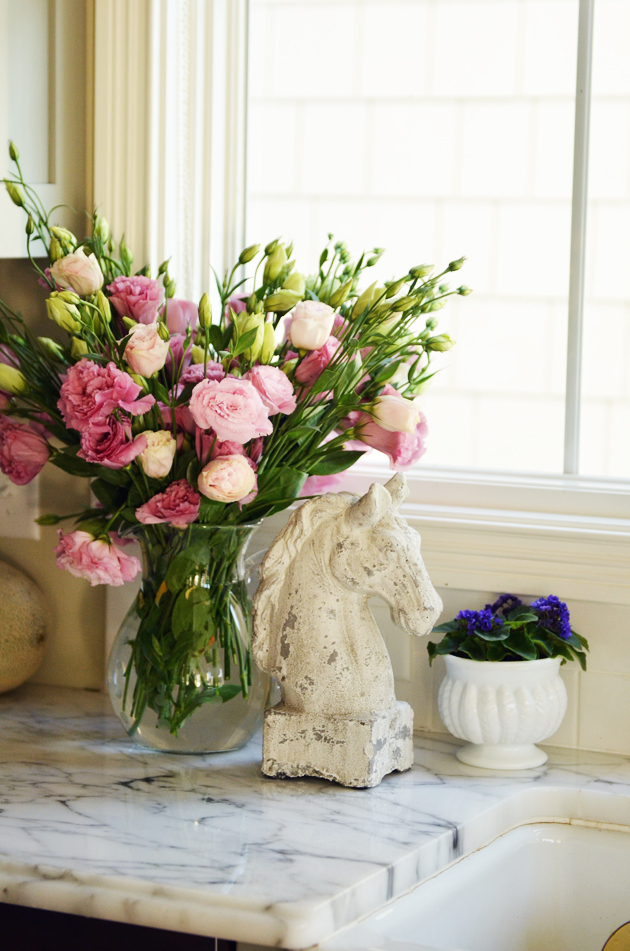 Here's what might surprise you about a big magazine photo shoot.
1.  They turn off all the lights in the house, including the lamps.   I'm so stealing this idea for my own home shooting.
2.  They use a tripod on every shot.   I never bother to get out my tripod but when you're shooting with the lights off, the shutter speed will inevitably be longer and noone can hold that still.   Stealing that idea too.
3.  They're all so darn nice and gracious.  You feel intimidated and out of their league.  I  was gonna start apologizing for all the things in my house that weren't done.  But they're all people too—with homes in various stages of progress.  We're all the same, really.  I shouldn't have been so nervous.
4.  They shop the house and rearrange things like crazy.  They moved chairs, tables, rugs, etc to other rooms and for other purposes.  They also brought a host of things that might help including pillows, rugs and lots and lots of flowers. AND…..beside and all around the beautiful shot they're creating??? Utter chaos. Crap laying everywhere, stuff pushed into corners. But that one spot is perfect. It's really kinda cool.
5. You need your people with you. My mom and my sister stayed with me nearly the whole time. It was so comforting to have their help and to have someone to enjoy the process with. Thank you, a million times thank you for all your sacrifice of time.
6. It was a wonderful, life-enriching experience and I feel SO BLESSED to have been a part of it. What a way to end a story!