This post is part of a 31 day series of rebuilding our house after losing everything in a fire.  The rest of the 31 Days can be found here.   Also, thank you to Kelly for hosting the 'guest spaces' party!
 "Our Southern roots compel us to make hospitality and good manners a priority in our daily living."
The above quote by Cindy Smith summarizes my thoughts about guest spaces.  I like to think through what I would need if I were visiting in this space.   I haven't gotten everything replaced since the fire but here are a few things that I think are a must for well-appointed guest spaces:  1)  A comfortable bed.   My favorite trick is to use feather channel beds on top of our mattresses to add an element of comfort.  2)  Fresh flowers or greenery, preferably from my own gardens.  3) A small token gift to make my guests feel welcome  4) A desk/chair/lamp combo  for writing a note  or using a laptop   5)  A handwritten note left on the bed that welcomes them and might include things such as the network password and where to find toiletries, etc.   Although I fail miserably, I really pray that we can use this house to serve our neighbors!
We take our hospitality serious here in the South and I like for my guests to feel welcome and that there has been some forethought and anticipation to their coming.  I try to remember to use the time I'm fluffing the space to pray for them and their needs.
We have been so blessed to be able to provide ample guest space in our rebuild.
Our basement is nearly the size of our top floor and  fits our life perfectly.  Most of the time, it's just Steve and I and the girls and we can live almost exclusively in  the two upper levels.
But we want our older kids to have a place to still call home.   And since there's six of them, we wanted plenty of space.
We have a full walk out basement that has 2 bedrooms, 2 full baths, a huge bunk room, a kitchen-ette and a living room.  It also has lovely outdoor spaces and a fire pit.
One of the rooms has an Anthropologie-esque feel…..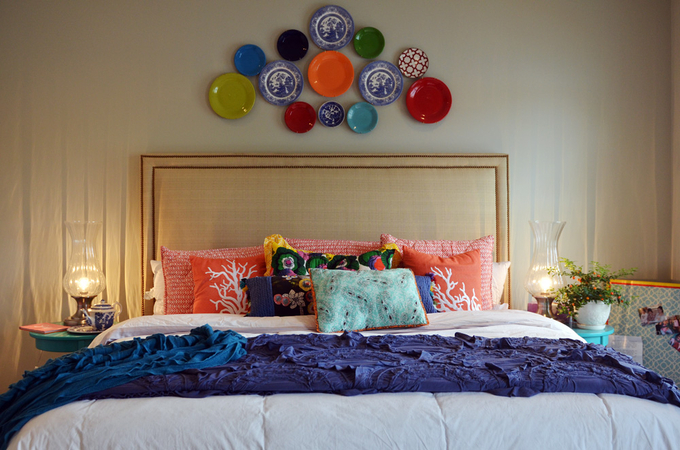 As you can tell, I still need a bedskirt but I don't like traditional bedskirts so I'm pondering on what to do—perhaps you have some thoughts?! At Anthropologie, they'd probably make it out of paper plates but I'm too tired for that. I need Bohemian AND easy.   Now that I take a second look, maybe a ruffled bedskirt is in order.   This is JamieKnoxville's room when she comes and she's made all kinds of demands.   I guess I should run it by her 🙂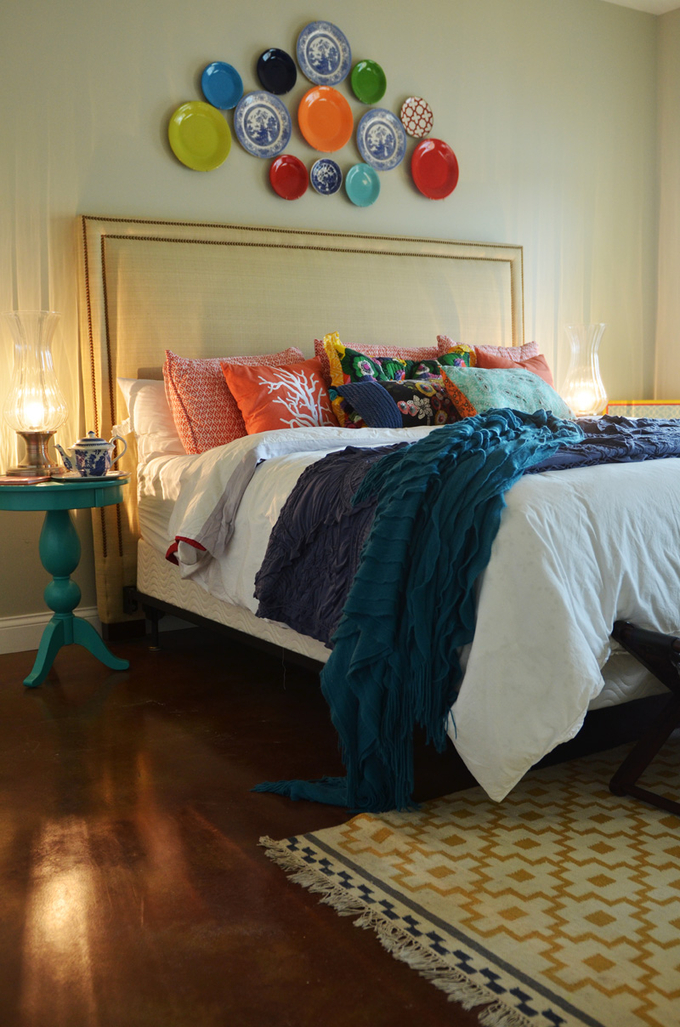 Then there's the Grandmother quarters. This is actually the room I would prefer if I were staying as a guest in my house. It's pure as the driven snow and a bit proper. I love the old school chenille bedspread and I may in fact be fulfilling a childhood dream since I never got the chenille for myself in the 70's.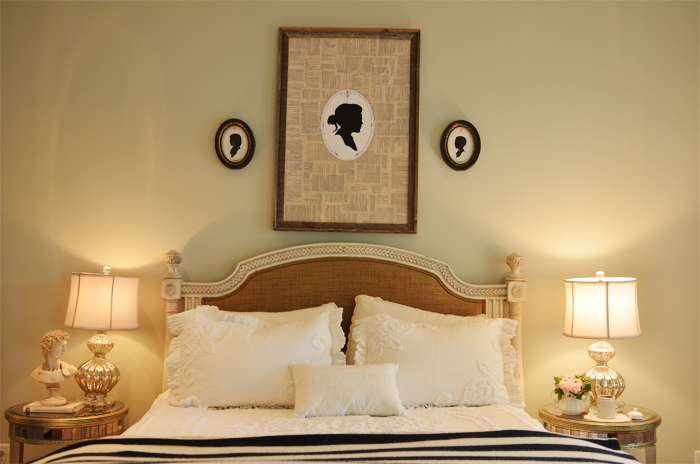 And have I ever told you my fascination with doilies? I do love them and I plan to do a doily wall above the bed. Do you love doilies? Why don't we use them anymore? They're so dainty and perfect and proper. I want them EVERYwhere.
Doesn't this room make you wanna sit up straight and say yes ma'am and crochet a doily?    I think it's my favorite 🙂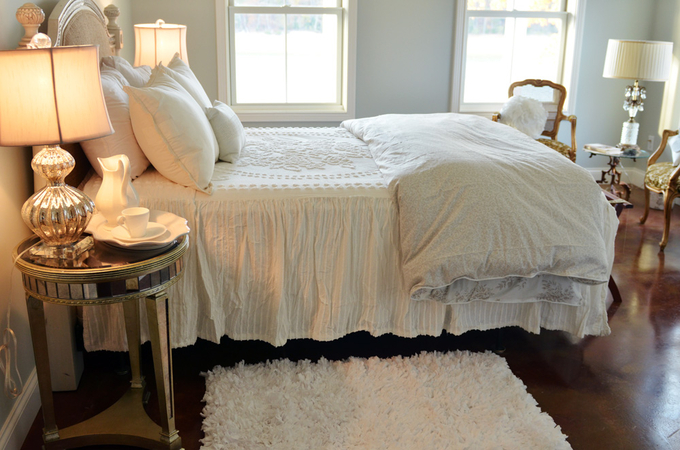 The guest kitchen is perfect for our college and adult age children. It's equipped with a stocked fridge of beverages and pizza rolls and has its' own washer and dryer.
Cue the hallelujah chorus!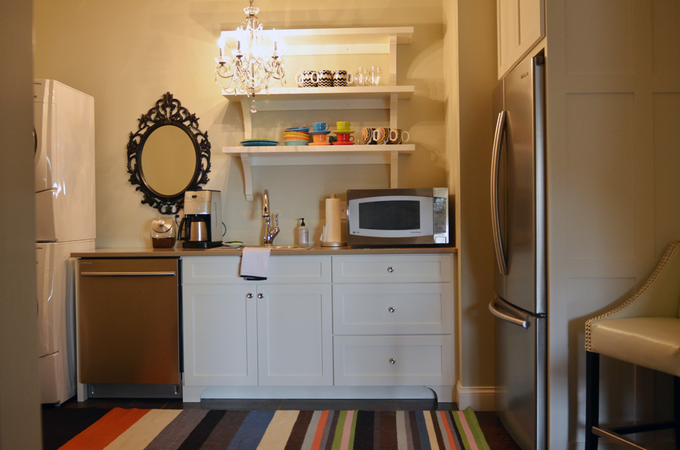 And the guest living room has the leftovers of what we didn't use upstairs. Someday, I'll fluff it up too.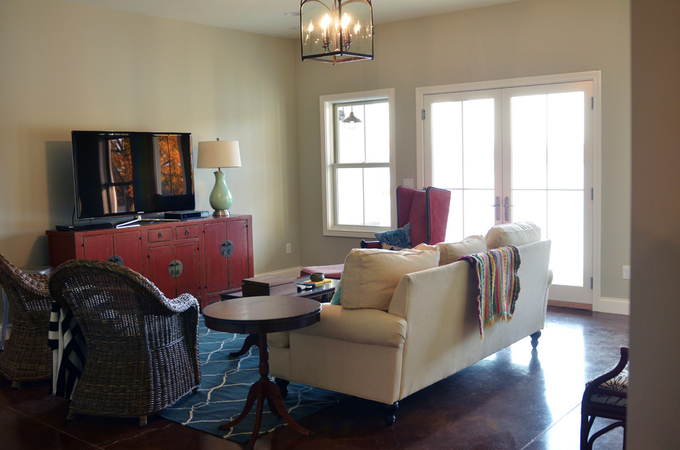 I have dreams for the bunk room and the mudroom but for now they're places to store boxes and wet dogs.
(The concrete stained floors make wet/dirty/shedding dogs a little more bearable.)
We are still working furiously trying to outfit the master bedroom but here's a sneak peek!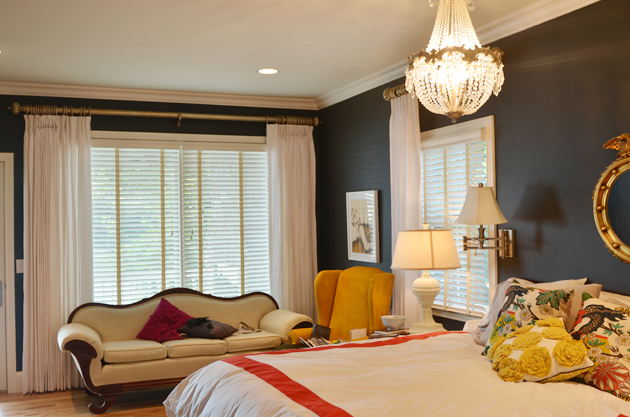 Hope you enjoyed the tour.  Want to see more?  Click here!