This is the 3rd kitchen I've done in 3 years.    Right after I finished the first kitchen remodel, we moved to the lake.  I loved her–-the turquoise kitchen. She'll always be special to me.
Then there was the lake kitchen remodel. And much to your chagrin surprise, I did a white layered palette.   I really liked that kitchen too but again, we only enjoyed her for a few months before our house burned to the ground.
Laurel Cove Kitchen is her own woman.   She may seem a little high-falutin', what with her crystal chandelier and her marble countertops.   But once you get to know her, you'll realize that despite her proper exterior, she's a workhorse willing to serve.
This weekend, she entertained the family with style.  She served roasted turkey and butternut squash soup, the best ever beef stew, smoked turkey and potatoes, and chipotle pumpkin barley soup.  On the sweets side, there were gingersnaps, pumpkin chocolate chip muffins,  apple cake with caramel icing and strawberry pretzel salad.  It was like a fall festival in your mouth 🙂
It was so much fun seeing how the kitchen functions in action—-she's perfect.   Roomy but cozy, pretty but functional.  Mary AND Martha.

I'll let you enjoy the pics and I'll try to post sources tomorrow.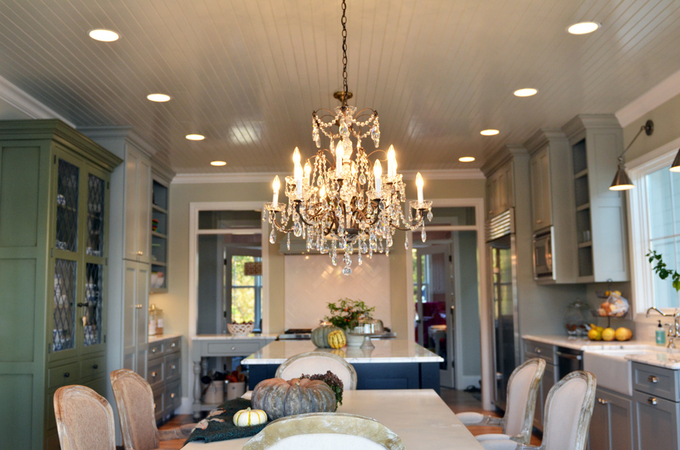 (a Le Creuset pot  is always on the stove and usually full  of yummies)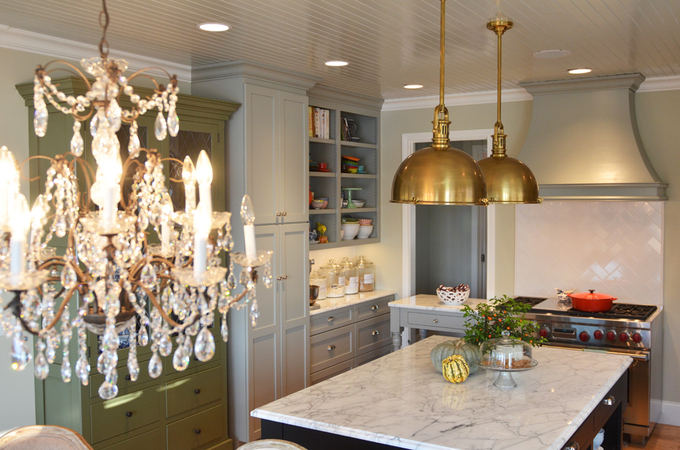 (I stole the idea of the fall leaves in the white transferware from Country Living)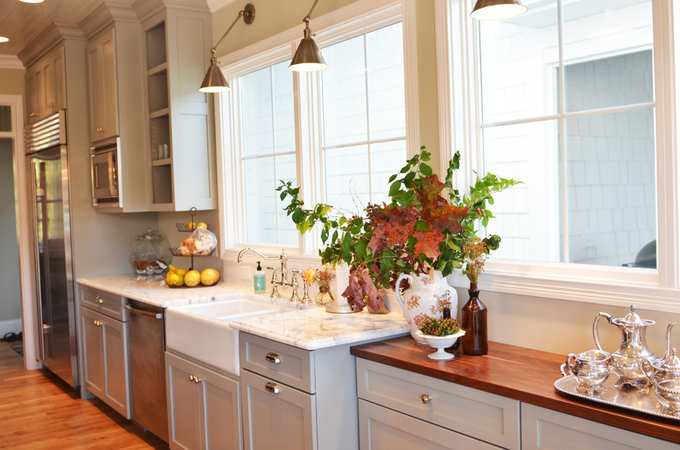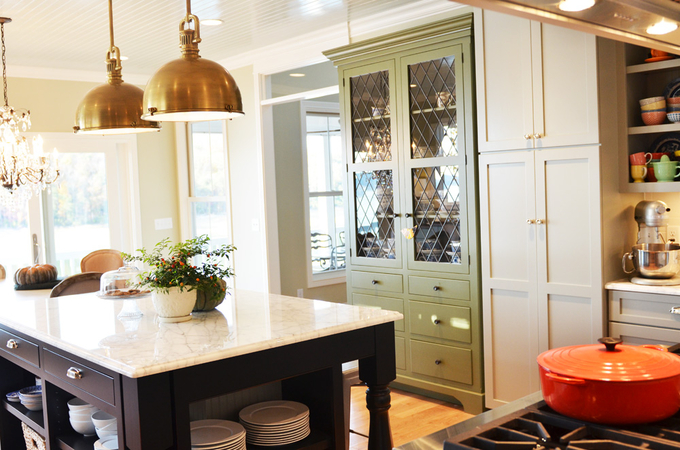 (loving the open island—so easy to get the dishes out and put away)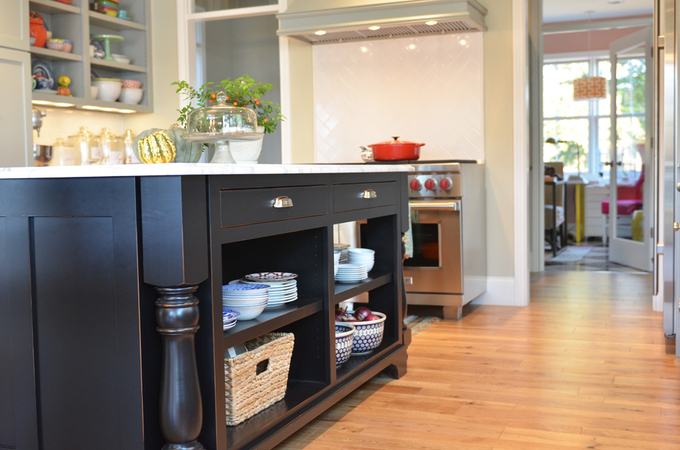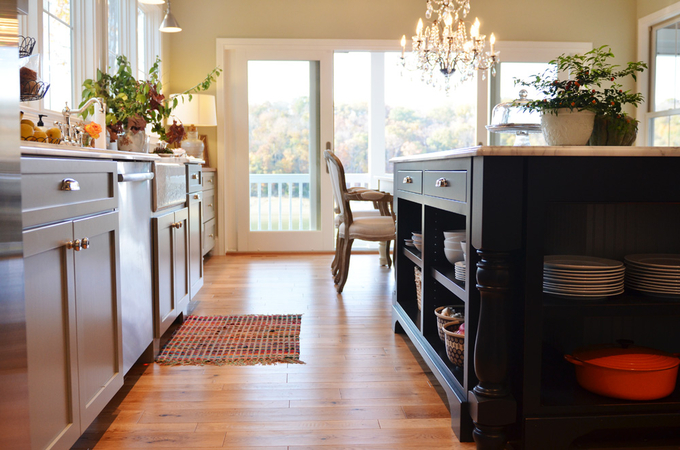 This is the baking center and all the baking supplies and measuring utensils and stored in those drawers.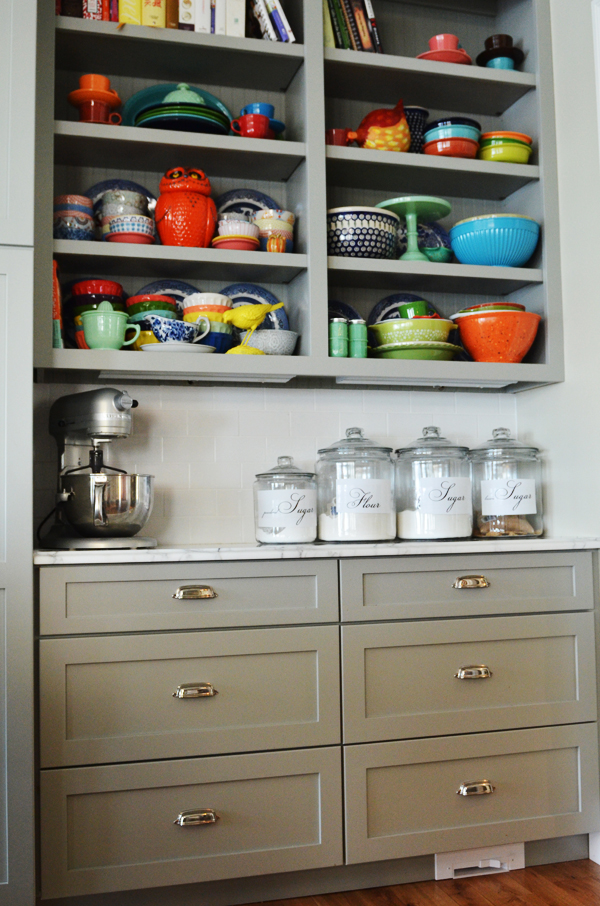 There's a full post on the baking center, including how I organize my supplies and what I keep on hand!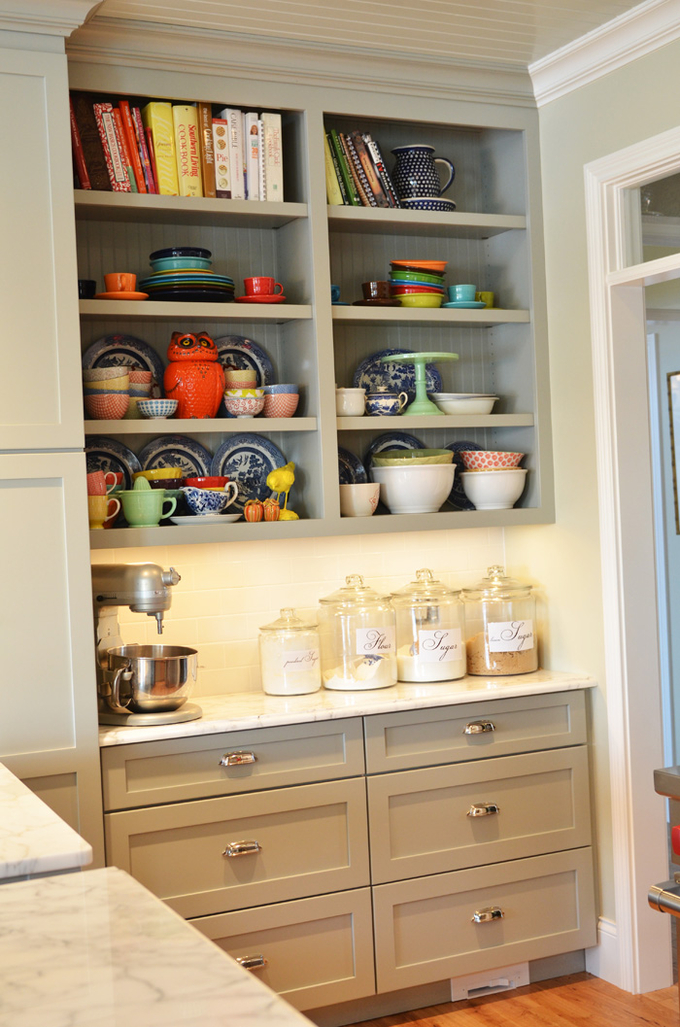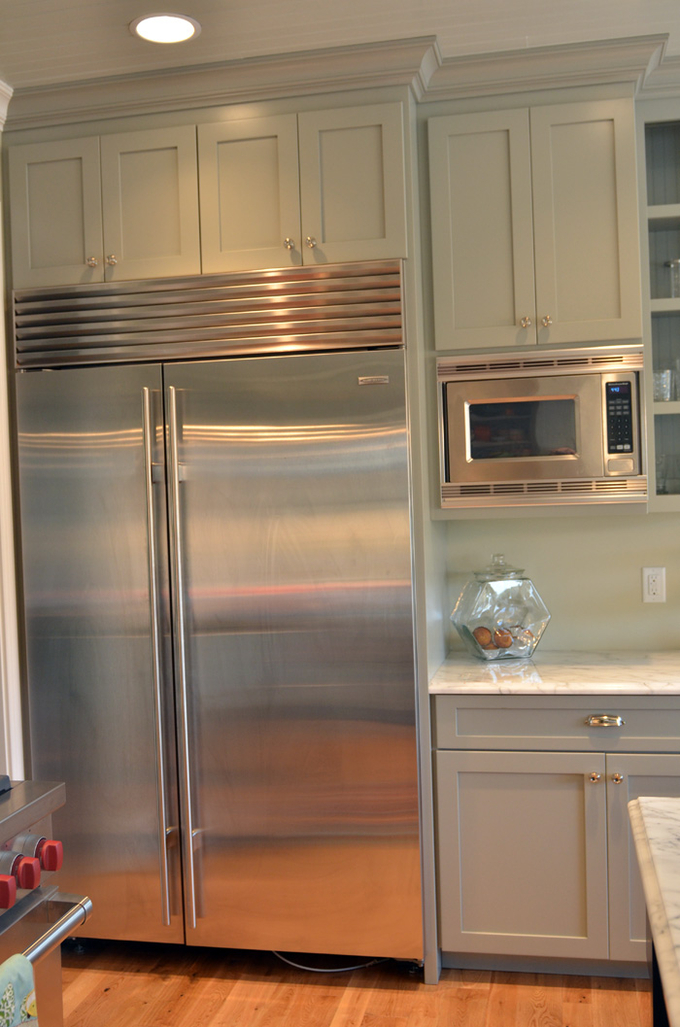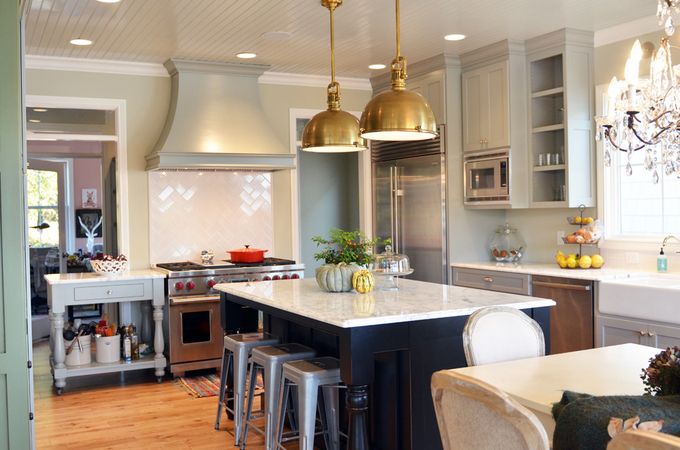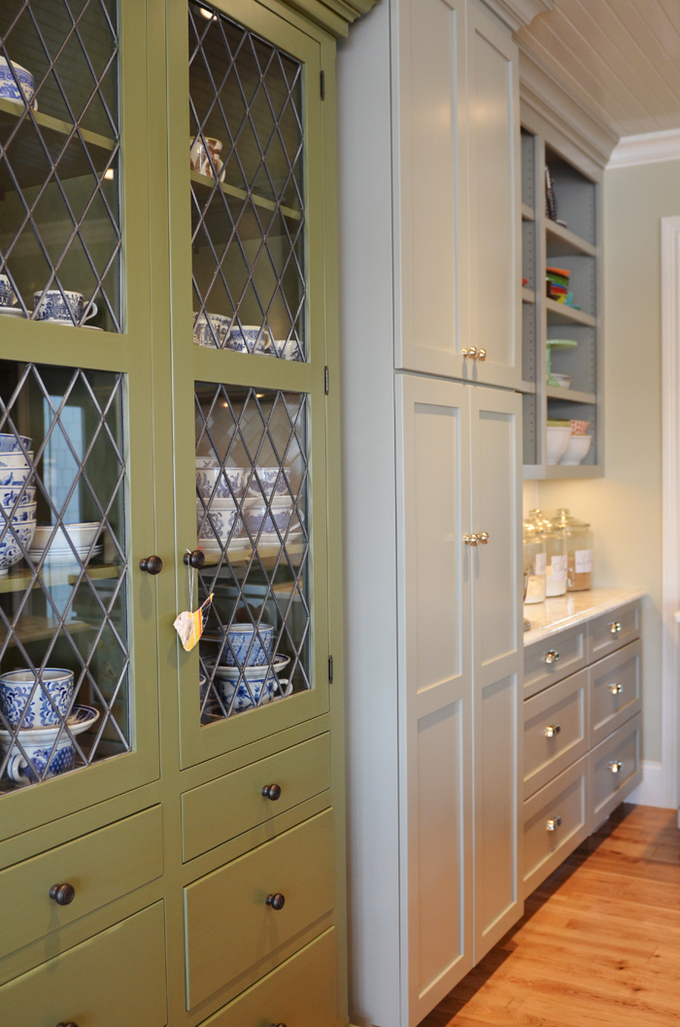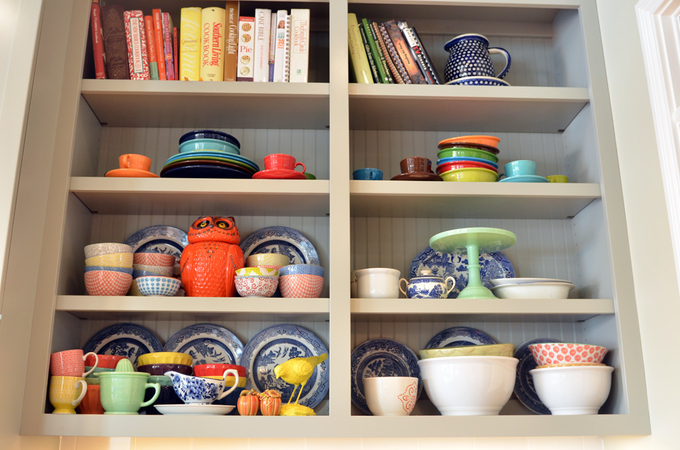 (where all the magic happens)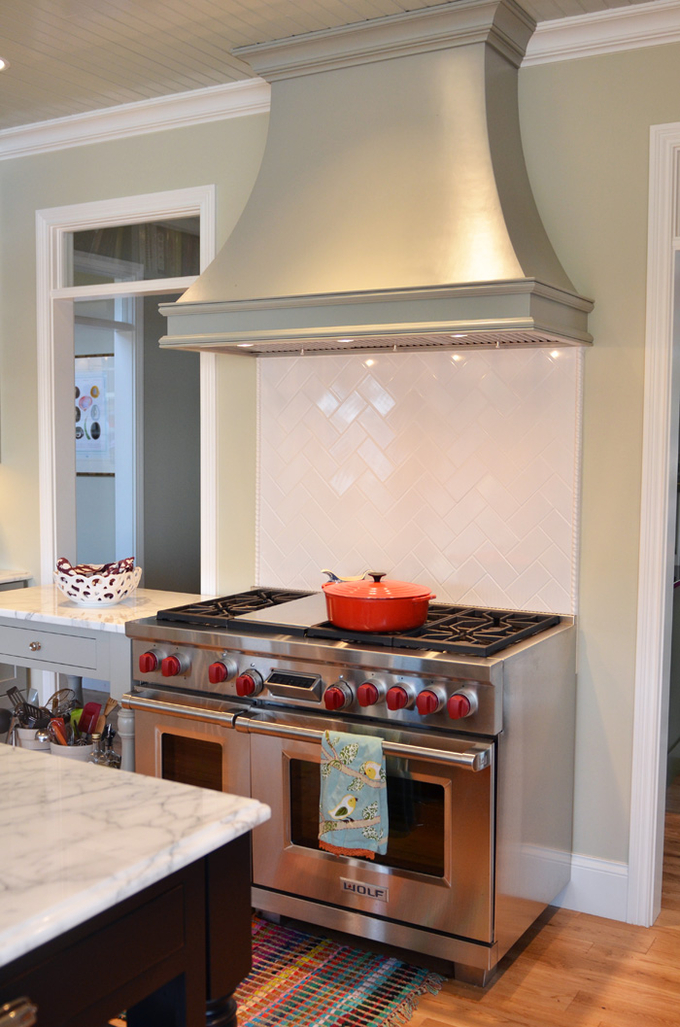 This will likely be the first and last time you see this kitchen in this state.   A table has been ordered and fabrics are being chosen to grace the windows and the chairs.
But I love her now too!  And am so thankful everytime I am lucky enough to cook and bake and live here 🙂


Sources: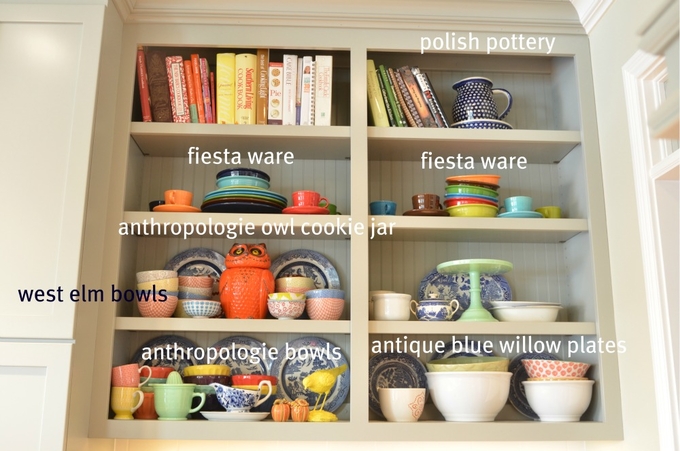 Wall Paint:  Hazy Skies Benjamin Moore
Ceiling Paint:  Sea Salt  Sherwin Williams (this color looks more blue in my master but here it looks more gray)
Gray Cabinets:  Fieldstone by Benjamin Moore
Green Hutch:  Great Barrington Green by Benjamin Moore
Black Island:  the cabinet maker used his own black (it's pretty true black)
Bin Pulls:  Gilmore in Polished Nickel from Restoration Hardware (thanks Sara)
Knobs:  Gilmore in Polished Nickel from Restoration Hardware
Hood:  Custom made by cabinet maker
Chairs:  TJ Maxx
Stools:  Tabouret Stools from Overstock
Chandelier:  Schonbek Madison 12 light crystal chandelier from Lamps Plus
Library Lights above the sink:  Visual comfort Boston Library Sconce
Pendants over the island:  Large Country Industrial Pendants in Antique Brass from Circa Lighting
Marble:  Calcutta Gold marble with polished finish
Walnut top on buffet made by cabinet maker (unsure of stain/finish)
Faucet:  Perrin and Rowe Arched Spout Bridge Faucet
Antique Tea Service:  Antique store in Kingsport
White Transferware pitcher:  Antique store in Kingsport, TN
Mixed Pattern Blue and White Dishes:  Estate sale, local
Large blue and white bowls:  Horchow
Rugs:  Pier One
Fabric on the kitchen windows–Ophelia Blossom