My dear friend and blogging mentor the Nester is hosting a great party today featuring plants in the home.  I LOVE my house plants and am so excited to participate.
I confess that I'm a little lazy with house plants.  I do great for awhile until I don't.  I need house plants that are a little self-sufficient.  I need teenage house plants that want to be left alone.  Unlike my sister, who has my mother's thirty-something year old fig tree, I can't handle that kind of pressure and responsibility.   I'd get an ulcer trying to keep it alive.    I need easy and simple but I love the life and joy they add to my home.
My current favorite is the stag horn fern I bought in Nashville a couple months ago that sits right the middle of the living room.  I LOVE this fern and it totally jives with my  'Texas, cottage, Southern chic, eclectic' vision for my home.  I just added some really cool live moss that I found at our farm on Saturday.  This fern is an attention getter and those brown parchment looking vestiges in the middle are part of the ferns' charm provide some of the 'food' for it to grow and be healthy.  This type of fern doesn't even need soil but can grow on just a little moss.   They can be hard to find but bring lots of enjoyment.  Plus, who doesn't want a fern named 'staghorn'?  I can't think of anyone.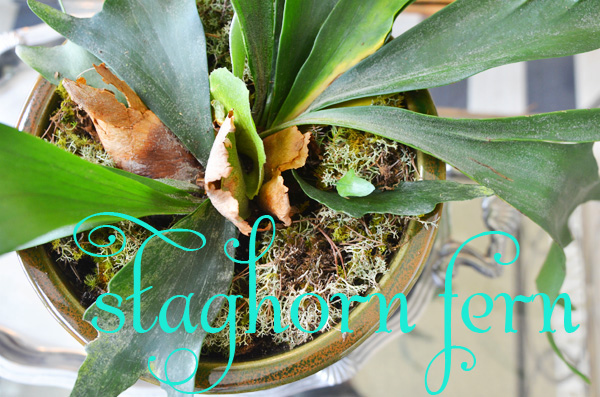 I've had a long time fascination with aloe vera for obvious reasons. We live on the lake and little red cheeks and shoulders can't always be avoided so I love having the cure right on the kitchen counter.  I added some very cool looking lichen to the top, instead of my standard moss.  It gives such interesting dimension and texture.  My husband is crazy for  lichen and he's made a fan outta me too.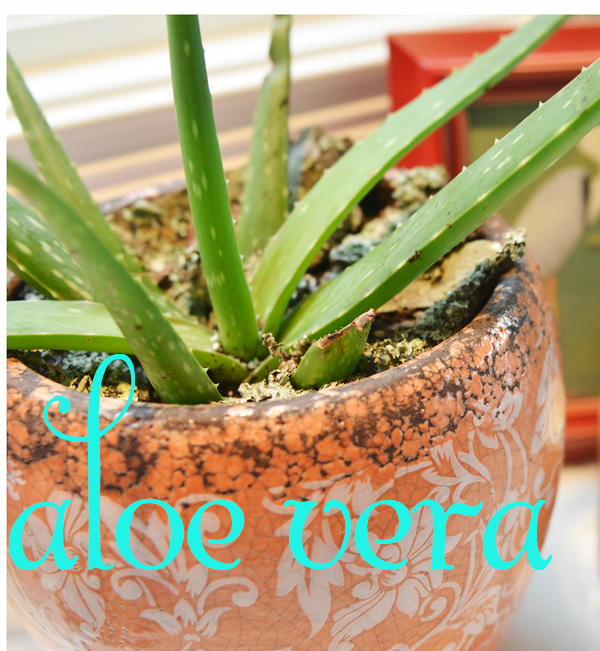 The bird's nest fern is kinda cool and very low maintenance.  It's called bird's nest because the inner portion, from where the fronds grow, looks like little eggs in a nest.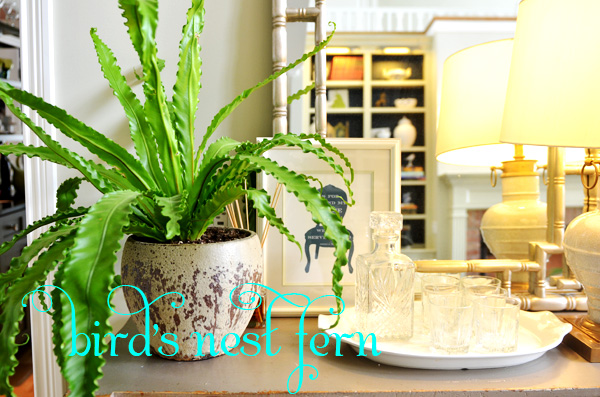 Then there's the snake plant or mother-in-law's tongue that's hardy and easy to care for that for now sits in the kitchen.  I haven't even repotted this one yet because I want to paint the planter.  It's been doing fine for a few months just like that but I've got to do it soon so it'll quit nagging at me.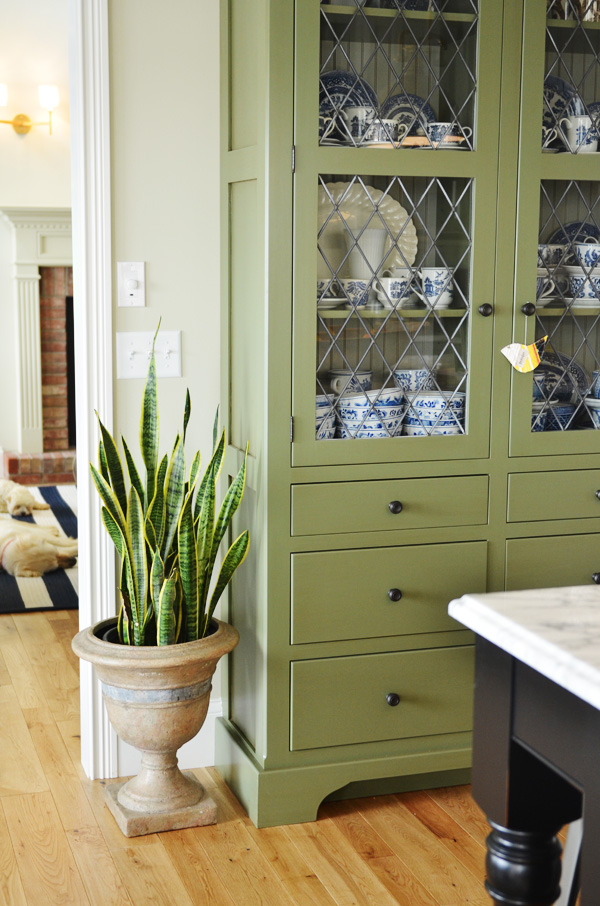 And I treat my plants just like furniture and accessories;  they're mine and don't belong to a certain room.   I can move them where I want so I take full liberty here and move them around as I see fit, taking into consideration light and temperature and such.  Only 3 months after I had lived in this brand new house, I moved all the ottomans, chair and accessories from the living room to my bedroom.  I LOVE it and am still working on tweaking it all.  And luckily, they don't care about light and moisture.
These chairs were in my bedroom and that little succulent between them has been in the kitchen, my bedroom and the workroom.  You might discover a whole new color palette or whole new way to think about life, just by moving things around.  It's my favorite decorating trick and gives you a whole new look without much time, effort or money.  But I digress.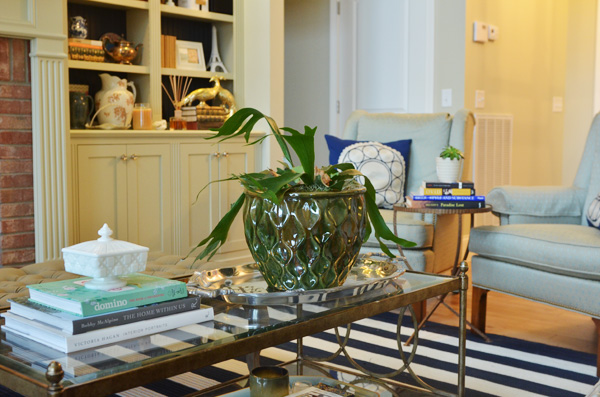 Back to plants.    The workroom is full of our green friends because there's so much light that floods the room.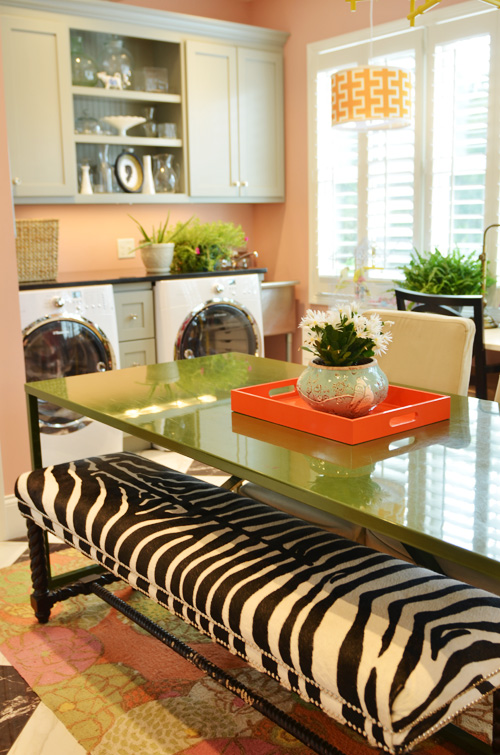 And last but not least, my favorite category—-the succulents. They are a lazy houseplanter's best friend. They don't care if you go on vacation or on strike or temporarily insane. They're like the cats of house plants. Too much attention, then you're in trouble. They love you best when you leave them alone.
I love their no nonsense attitude.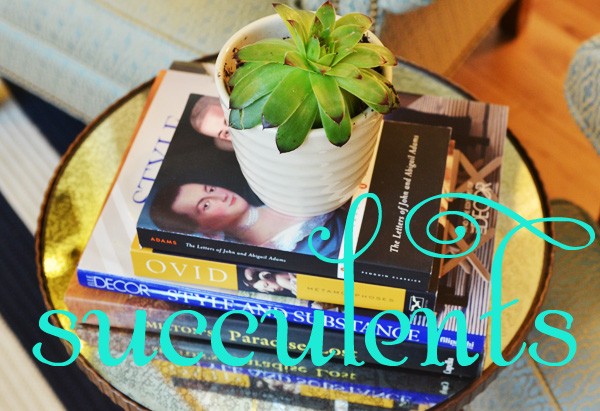 And I'm always scouting out unique ones to try.  These are 'hen and chicks' of the red and green variety.   LOVE them.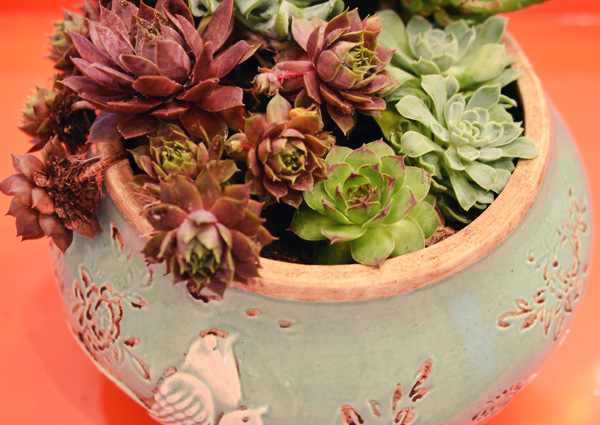 I even made a succulent centerpiece for Easter and am planning to plant the hen and chicks in my garden this week.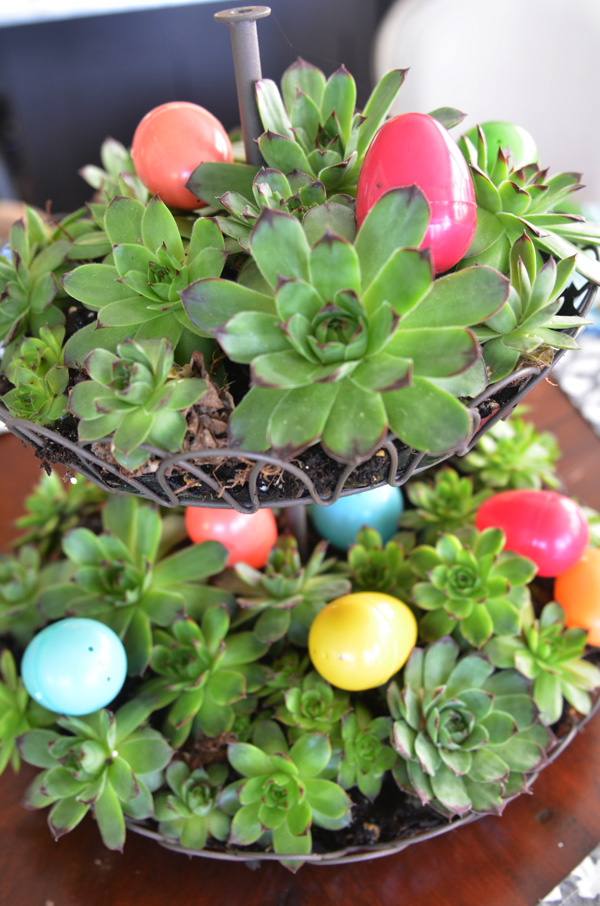 And hope you enjoyed  this house plant tour!
I totally operate with a philosophy of grace with my plants.  I don't put myself under the law.  If they die, I'm happy for the time we had together.  They're cheap and easy to replace.  If they're too high maintenance, then we agree to disagree and perhaps they'd do better living with someone else.   They are good gifts from God but I'm not obligated to them like I'm obligated to my children.   Life has enough pressures.  House plants shouldn't be one of them!
What's your favorite house plant?  Tell me all about it and whether or not the likes of me can keep it alive!
Happy Monday dears 🙂