I have mantels on the brain, so please bear with me! (Also, I'm working on tracing down the links on all the photos, which is harder than it looks!)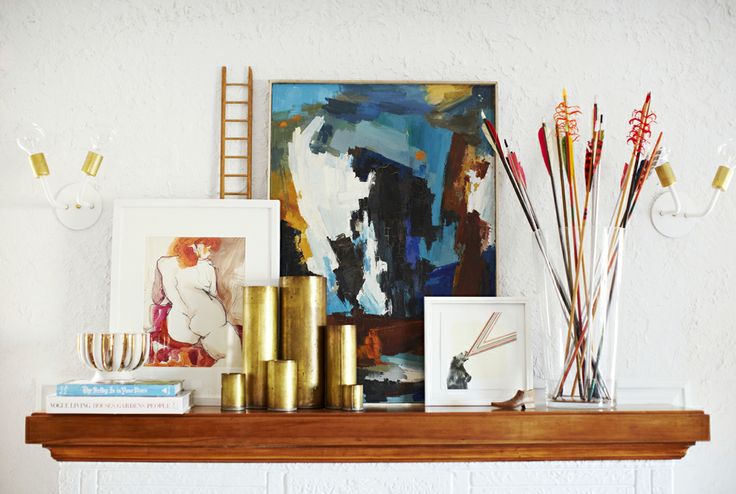 via Emily Henderson, the reigning queen of all things mantel and decorating and baby snuggling.
We know what to get the bride, but have you heard the old saying of what to get the man(tel), "Something alive, something to lean, something you love, something with sheen."  NO?  OH, wait, did I just make that up?  Apparently being snowed in for a week making soup and reading too many books.  Either way, I'm keeping the saying.
I have some fun stuff happening at my house this Thursday, which involves me needing to take down my Christmas wreaths off the front door and de-winterify my mantel.  I know, it's February 17th. What's your point?  It's been snowing and we've been watching the Olympics, which makes it feel like Christmas? or something like that.  Anyhoo, it got me thinking about mantels, how much I love them, how they can change the entire feel of a room, how you can go your whole life and not really realize your full mantel potential.
And the beautiful thing about mantel decorating is this—it's a VERY limited space.  Which is good, because it's not overwhelming.  You don't have to think about decorating the WHOLE room or the WHOLE house, just a little shelf above the fireplace.  It's a great place to start if you feel like your house isn't a good reflection of who you are.  Make your mantel sing.  Give it a vibe that says something to the world about who you are.  Let your mantel tell a story.  Even if that story is that something tragic must have happened to you because it's February 17th and your mantel still looks like Christmas.  In my sad defense, I took down the greenery and the Christmas lights and may have killed the cactus.  But other than that, my mantel still looks like this.  I feel like the pom-poms really show our team spirit. Go USA!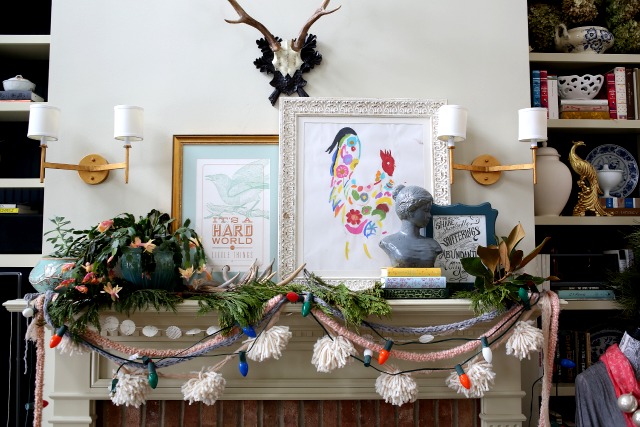 Here are the 4 things your mantel needs from you.    Pick one to do today.  I'm declaring it  happy mantel's day.
1. Something alive
Now allow me to use the term loosely.  It could very well be a living plant, which I adore on mantels.  I've had succulents, irises, cactuses, amaryllis flowers, and even nearly dead unnamed house plants.  But, let your imagination wonder.  Twigs aren't technically alive, but they count.  I've chopped branches off of everything in my yard and stuck them in water and put them on the mantel.  Fresh flowers are even better, but they have such a short half life, that I rarely use them. Something alive or once alive gives the vibe of movement, freshness, air.  And never underestimate the power of taxidermy.  What could you add to your mantel today to give it some life?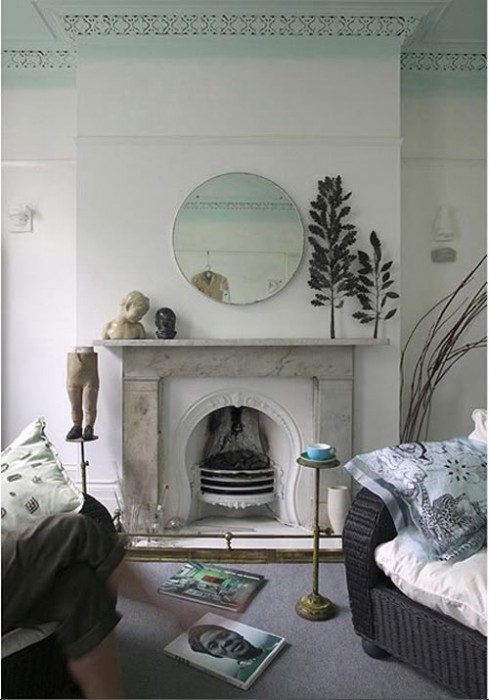 James Brittain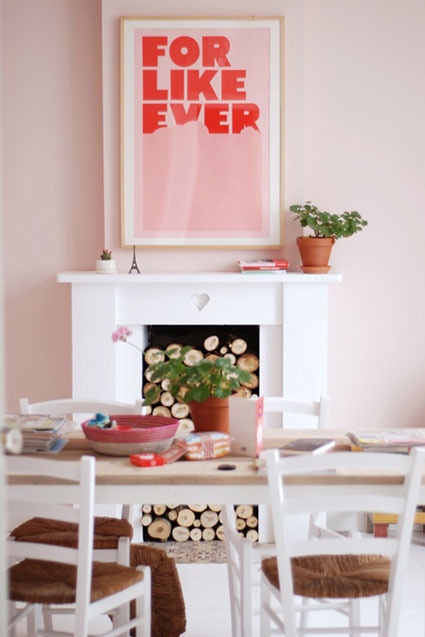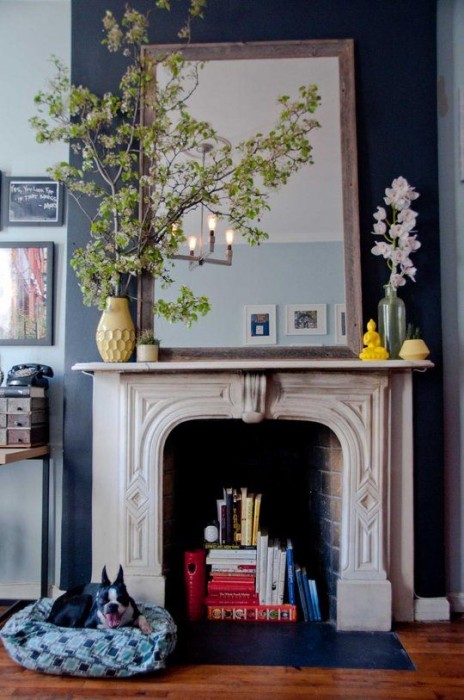 And, um?  Why I did not get small animal taxidermy for Valentine's Day, I do not know.  But, now you know how to steal my heart.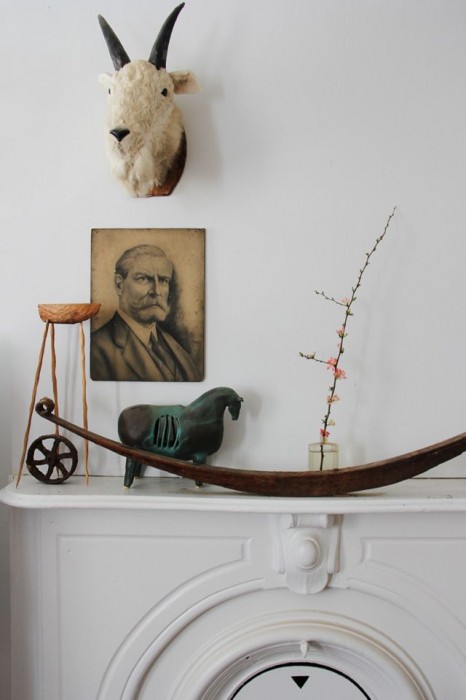 2. Something to lean
I'm a huge fan of artwork on the mantel.  Most mantel decorating experts that I know (?) say that you can have one large piece that takes up most of the mantel wall space, say like this, for instance: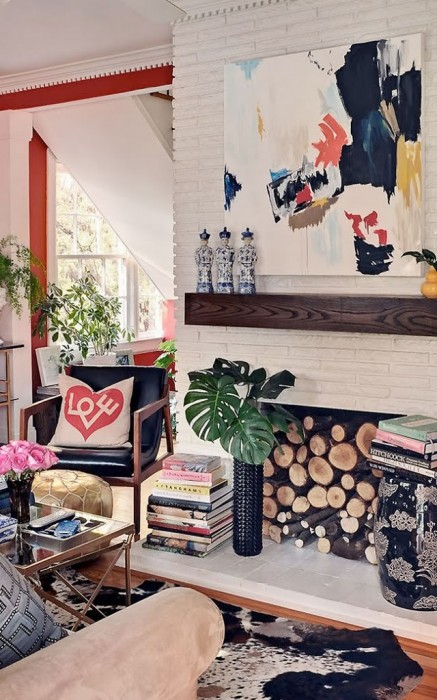 OR.  Several (odd numbers) of pieces that are different shapes, sizes, etc.  Maybe like this.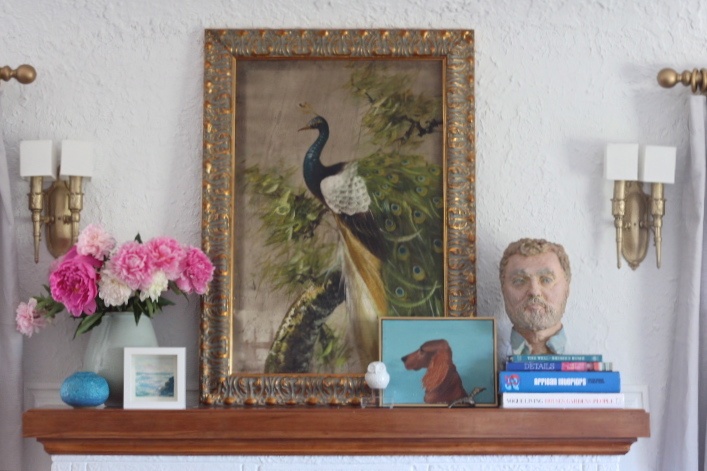 via my girl decorator crush, Emily Henderson
Or like my fall mantel.    I really should have had one more smaller piece of artwork, but the two busts sorta function like one funky shaped piece of art.  See how easily you can twist the rules to make your mantel your own.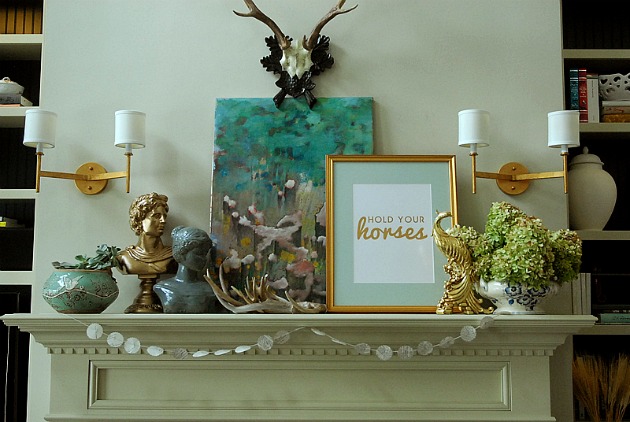 Or this.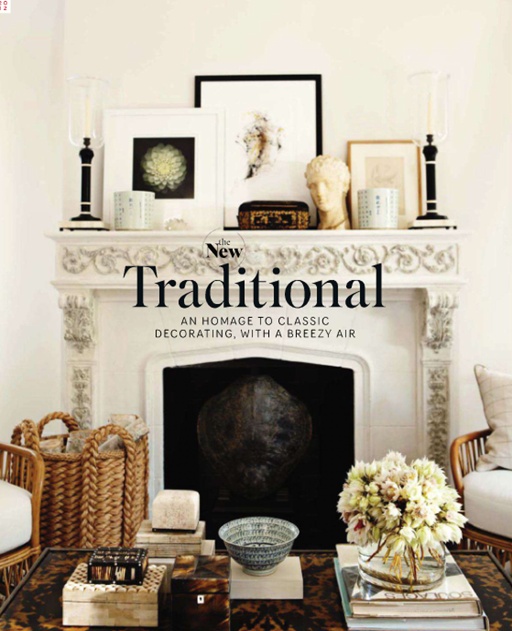 3.  Something you love
Now  listen.  The beauty of this is that we all love different things.  I love antlers, funny sayings, busts, books, and quirky little animal figurines.  You may like velvet paintings of Elvis.  To each his own.  Nobody can tell you what to do.  Your mantel will love you for trying. There's no judgement here.
Like this mantel, for example.  I'm insatiably curious about this person.  We would talk for hours, because WOW, this is a story I want to hear.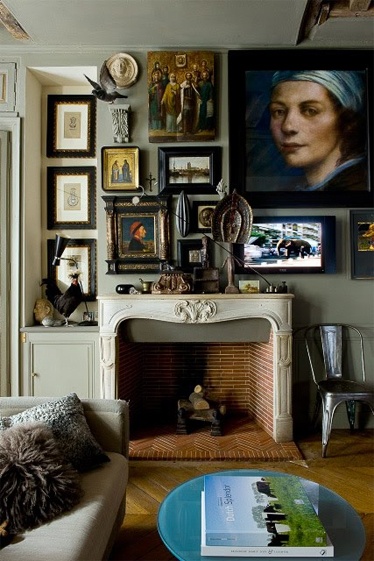 And this one.  I need some kind of rabbit paraphernalia.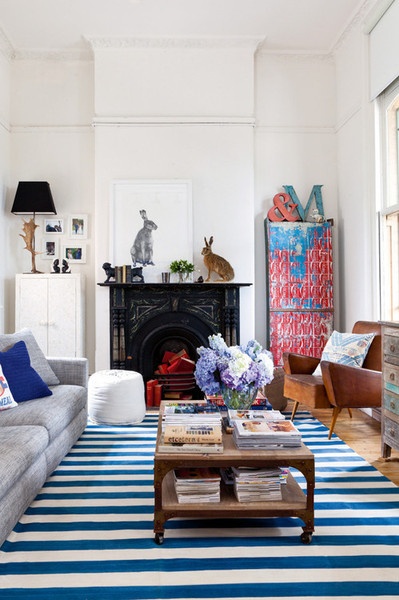 Or this one.  What is in those bottles? And that ballerina sculpture thingy.  You have my attention.  Tell me more.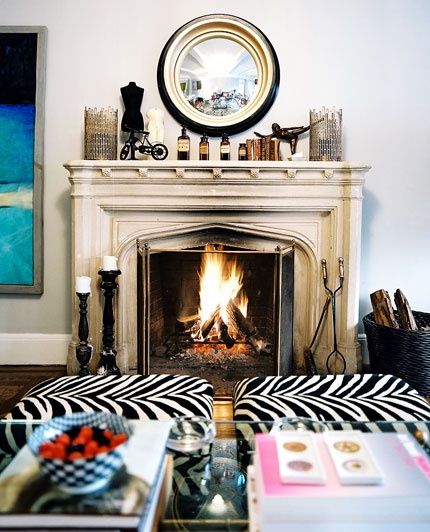 4. Something with sheen
And by that I mean something that shines.  It could be a mirror, a little pewter vase, something copper.  The key is variety.  Try to have a variety of textures, colors,  and finishes.
I love this room of Melissa's from The Inspired Room. Beautiful, simple mantel.  And it has all the elements that make a great mantel, including a little shine.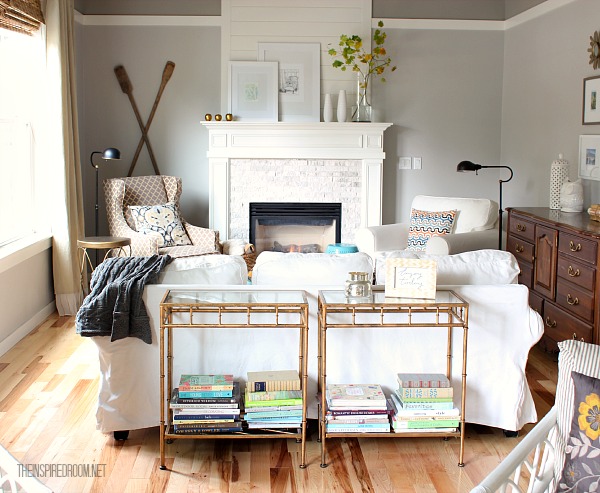 I love the peek we get at this one with the little metal bowl.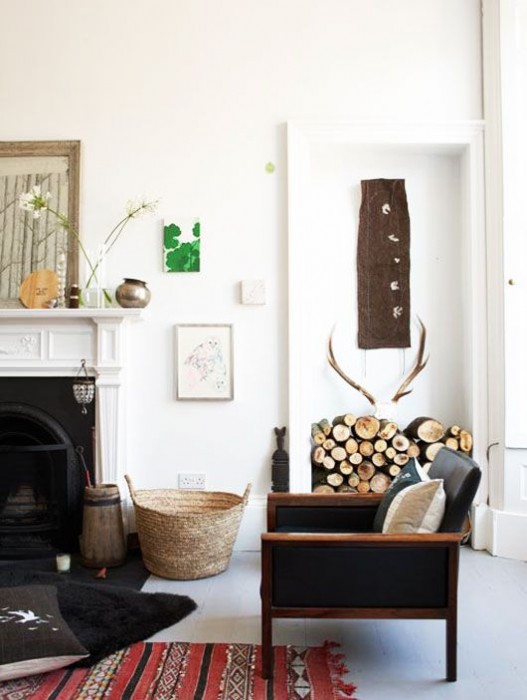 And my favorite mantel lover of all times, The Nester.  She can do a mantel (or a room) (or a house)  like nobody's business.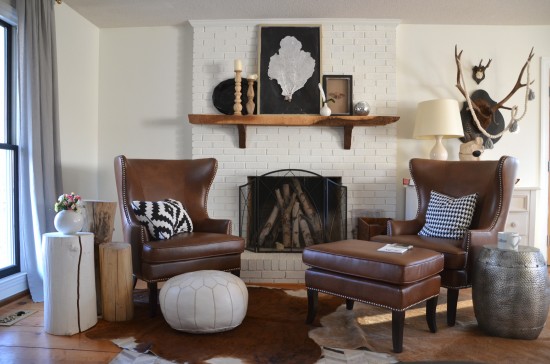 And later this week, I'll show you what I came up with for my Spring mantel project, which may or may not involve some yarn wrapped antlers.
(Follow my mantel-spiration on my Living Room board on Pinterest.
So, let's discuss. Go to your mantel right now and tell me the story your mantel is telling.
I'll be hanging on your mantel stories all day.
Does your mantel need a new story?  Some love?  Something shiny?  Less dust?
Well, then join me for a mantel makeover this week.  We'll share our fresh mantels on Friday on Instagram using the hashtag #loveyourmantel
I can't wait!