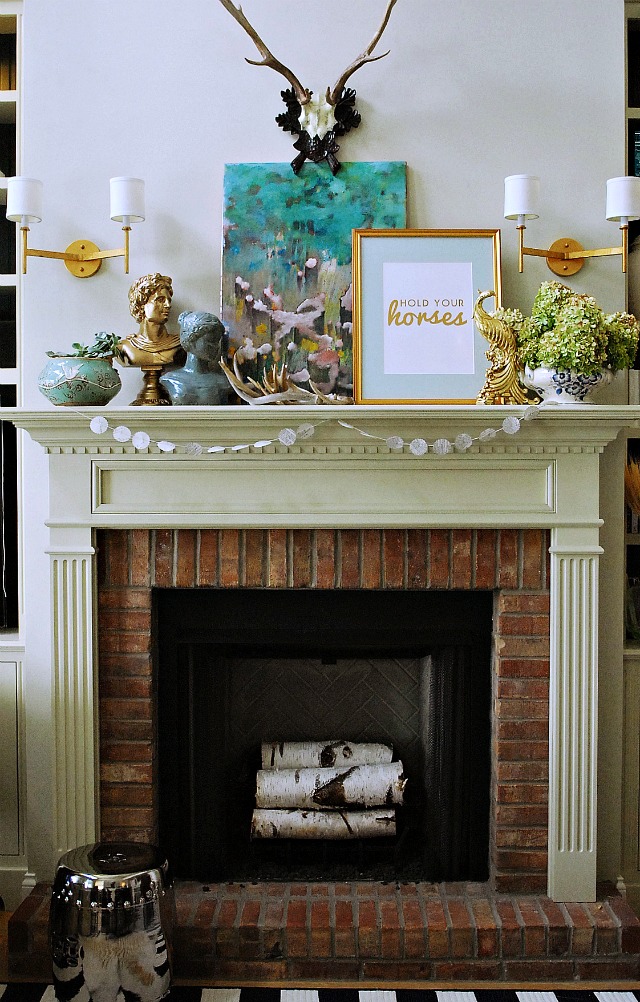 I've been trying over the past few years to decorate for the seasons from stuff I already own or can clip from my yard.  I just collect things I love over time and try to find ways to use them in a unique way. After our house fire, I didn't go out and replace all of our "fall" stuff and I've been very slow to replace Christmas decorations.  I wanted to start using things that could have multiple purposes and go through multiple seasons.  Seasonal decorating is fun, but I find that the more I LOVE my rooms year round, the less I need to haul in a bunch of stuff that I'll only use a few weeks.
So my mantle may not scream fall.  But, perhaps it faintly whispers fall.  At least to me.  I know, I know.   There are no pumpkins (yet!) and there are no overtly fall colors.  But, let me tell you how I justify my fall mantel and what elements you might incorporate into your own fall decor.
1.  Natural elements
This isn't just true for fall, but nothing says fall like natural elements.  I used dried hydrangeas, but I also have feather, dried twigs, and driftwood in various places this fall.  I just walk around in my yard and look for something natural to use indoors. My big, beautiful hydrangeas bushes were still gorgeous, even though they're drying up right on the vine, so I brought those in and added them to the mantel.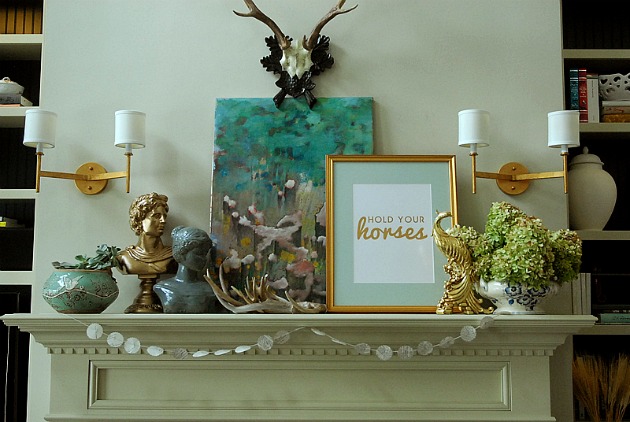 2.  Uniquely fall elements and/or colors
I didn't use overtly fall colors, except I did move my rust colored chairs up from the basement to flank the fireplace.  And as a side note, don't be afraid to move your furniture around.  Just because you a chair is in the living room doesn't mean it's married to that room.  Same goes for your chotch-keys (i.e. knickknacks or tchotchkes).
This is also where pumpkins come in handy, but I haven't found any awesome ones yet, because I haven't been to the Apple/Pumpkin farm.  However, it is deer hunting season, right?  And antlers, I have aplenty.  Some years, I cut maple branches or nandina branches that are changing colors.  Driftwood wood be awesome, too, but my driftwood pieces are too big for the mantle.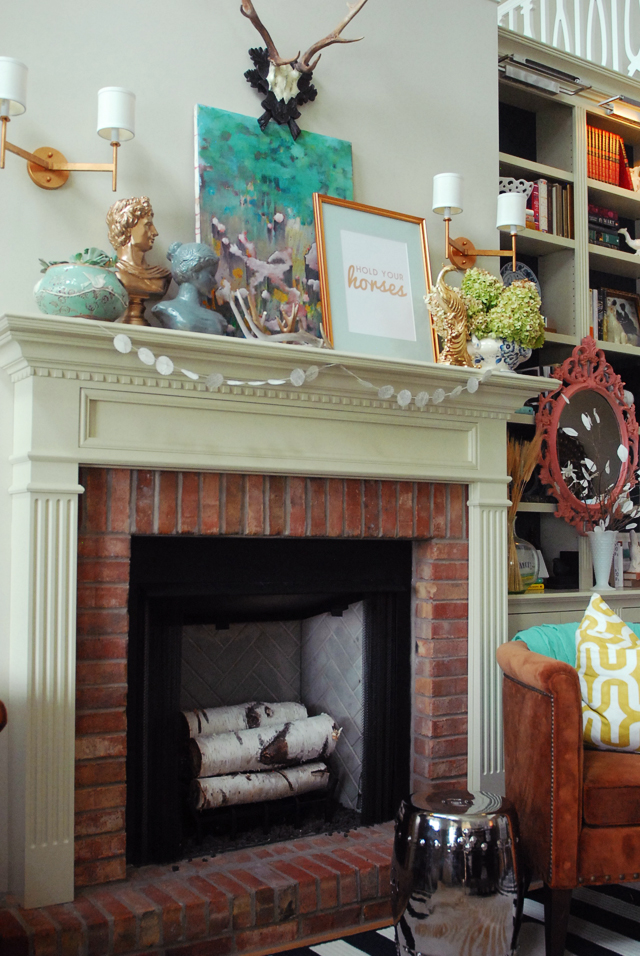 3. Go for the Gold
This is the year for gold and brass, no doubt.  But, metallics add such great color and texture and should always be used, even if in small hints or touches.  I found my bust of David at TJ Maxx and spray painted him gold and bought the  gold Hold Your Horses print at Stephanie Creekmor's online shop.  I spray painted the tips of the antlers, too, because apparently I'm determined to run this gold thing into the ground.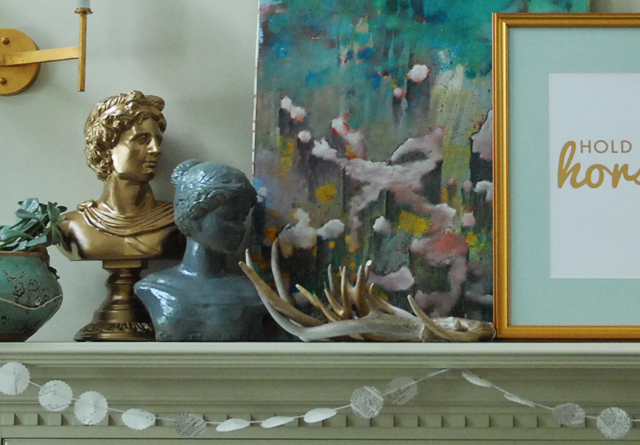 4.  Art 
I'm a huge fan of original art, but my budget doesn't allow for big purchases.  So, for now, I scour antique and thrift stores for art that appeals to me. ( I also stalk art and artists on Pinterest.)  This abstract painting was $7 at a local thrift store and I'm so happy I found it.  There's nothing like original art work to finish a space.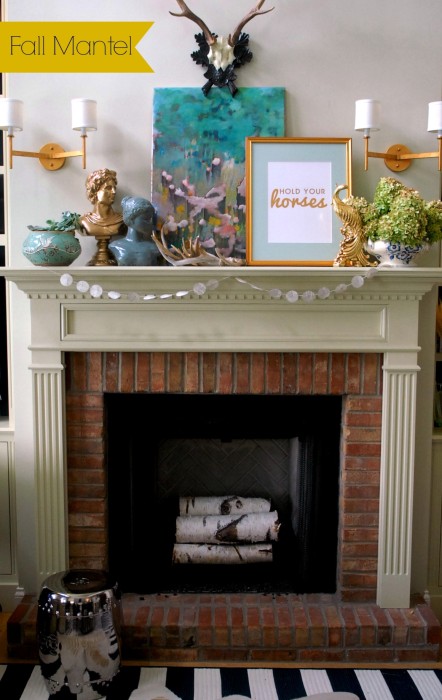 As soon as I find some awesome eclectic pumpkins, I'll add one or two and call it done.
Well, actually, I'll make pumpkin chocolate chip muffins, apple cake,  the best ever beef stew, and start a few knitting projects.  Then, fall can burst through the doors with her lovely colors and weather!
Have you started your fall nesting? What projects are you working on?  What good stuff are you cooking?
Find more fall inspiration at Melissa's Fall Nesting Party and Sarah's Fall Mantel Party!