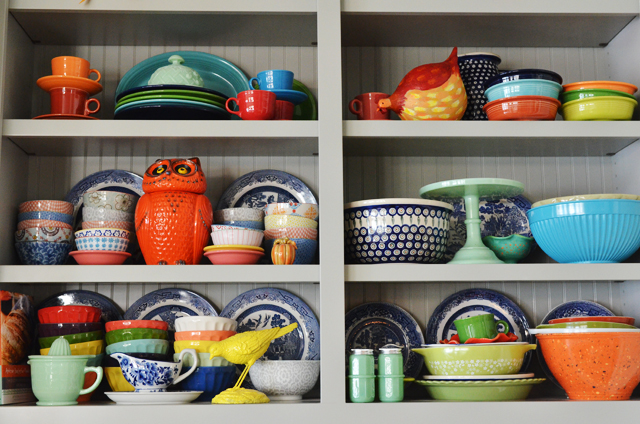 I've been singing the praises of open shelving for years.  When I remodeled my first kitchen and painted my lower cabinets turquoise, I took off upper doors to give my kitchen the look of open shelving, without having to start from scratch.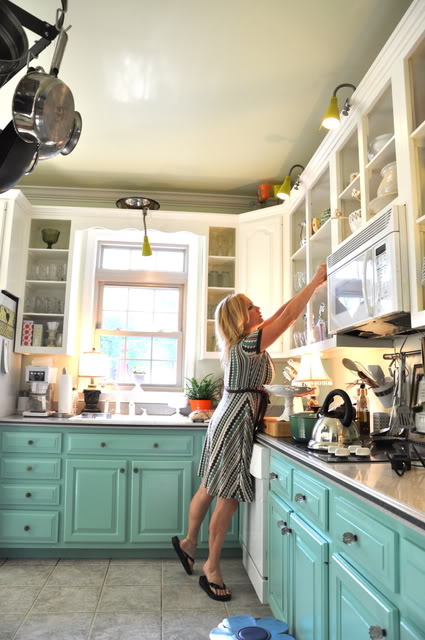 Then, I remodeled the original lake kitchen and added a plethora of open shelves.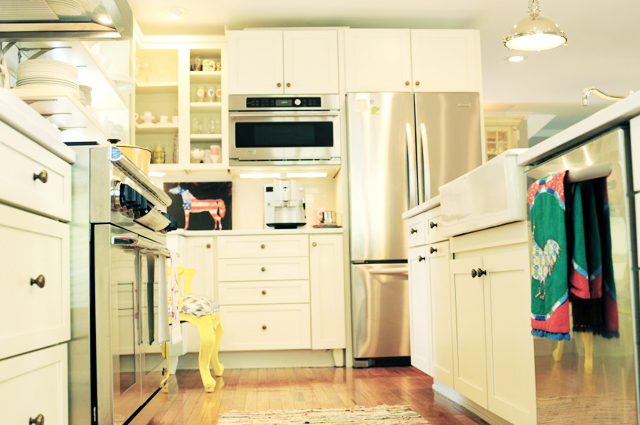 But with our rebuild after the fire, I took open shelving to all new level.  There are open shelves everywhere.
They allow a lot of your personality to come through, or so I was told by a few folks from the Better Homes and Gardens photo shoot.
Two of my favorite inspiration kitchens for open shelving were Lauren's kitchen, from Pure Style Home, who wrote a great post about open shelving,
and Sara's kitchen, from August Fields, who took her inspiration from Sally Wheat's kitchen.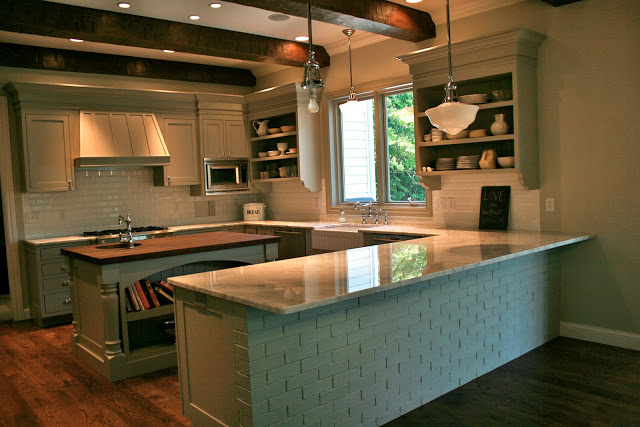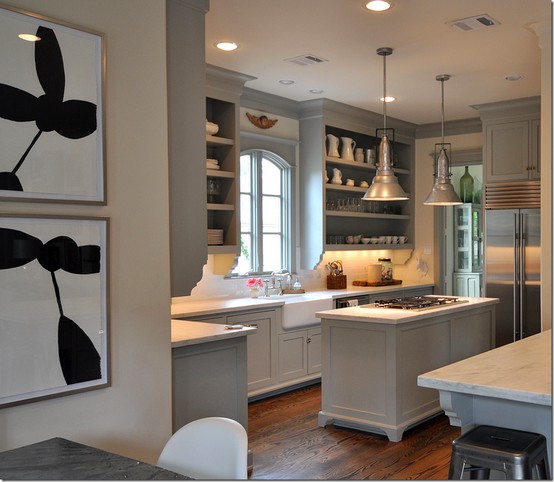 Inspiration from a Martha Stewart kitchen even led me to incorporating a two-sided open island into our kitchen.  And while I LOVE having easy access to everything while I cook and work in the kitchen, these lower shelves are ALWAYS dusty.  And the dust is easy to see.  It's not bothersome enough to me to make me enclose it (at least not yet) but it's pretty dusty, especially in spring with a layer of pollen covering the entire free world.  I keep saying that if someone drops off a baby in a Moses basket on my front doorstep, I'll have to enclose these cabinets. (Are there some people that NEVER get over babies?)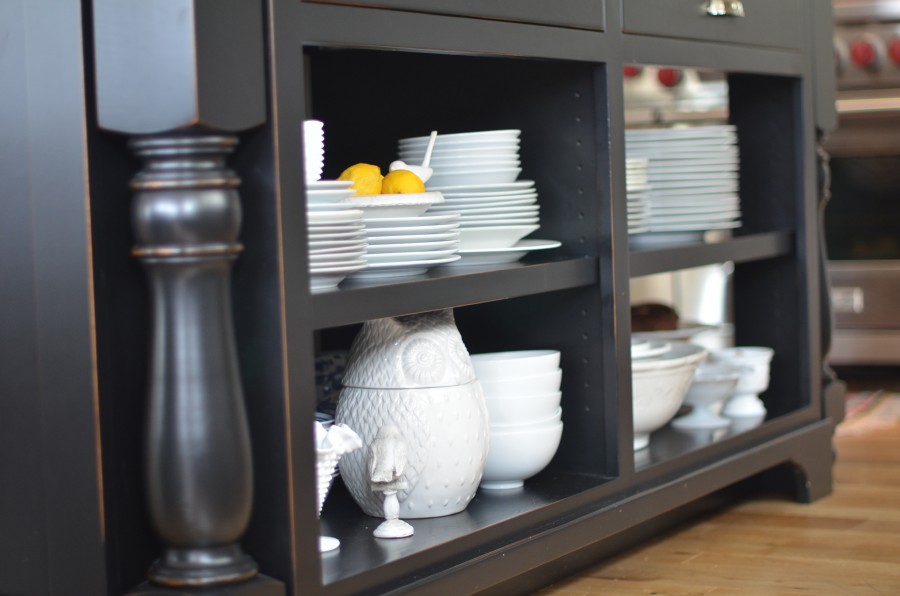 When I got home from girl's weekend, I was inspired to rearrange/redecorate my cupboards.  In other words, they needed to be cleaned.  But merely cleaning them doesn't inspire me, so I need to turn the project into an all-day dust fest—kinda like switching out your winter clothes for summer ones, only with dishes, instead of clothes.  I wanted to move all the white dishes from the green hutch into the island and vice versa.  Because clearly, white is spring-like.  And as much as I love every pattern of color of dishes ever made (almost), I adore white dishes the most.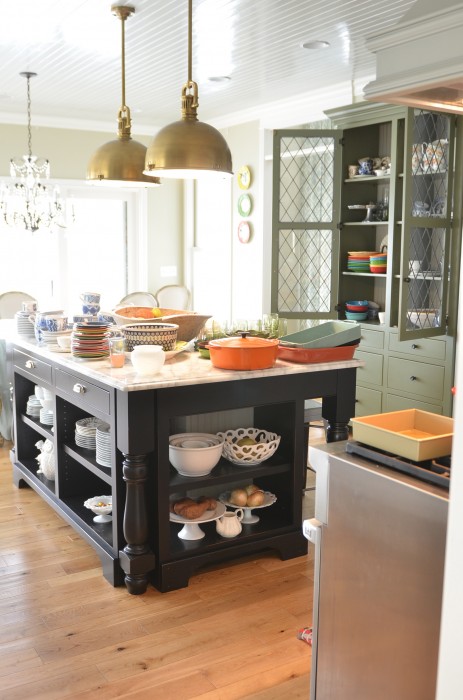 It took a long time but I got the shelves clean and it gave me a chance to think about what I would do different.
Turns out, I'm not sure an open island is that practical.  But I love not having to open and close cabinet doors 8,000 times a day.
I LOVE my green hutch with its leaded glass doors.  (The one I copied the design from Polly's house.)   It's the perfect blend of open-ish but closed cabinets. Since we moved in eighteen months ago, I've had all my white dishes in this cabinet, while the blue and white dishes were in the black island.  So, it was a fun change to switch them all out and clean as I went along.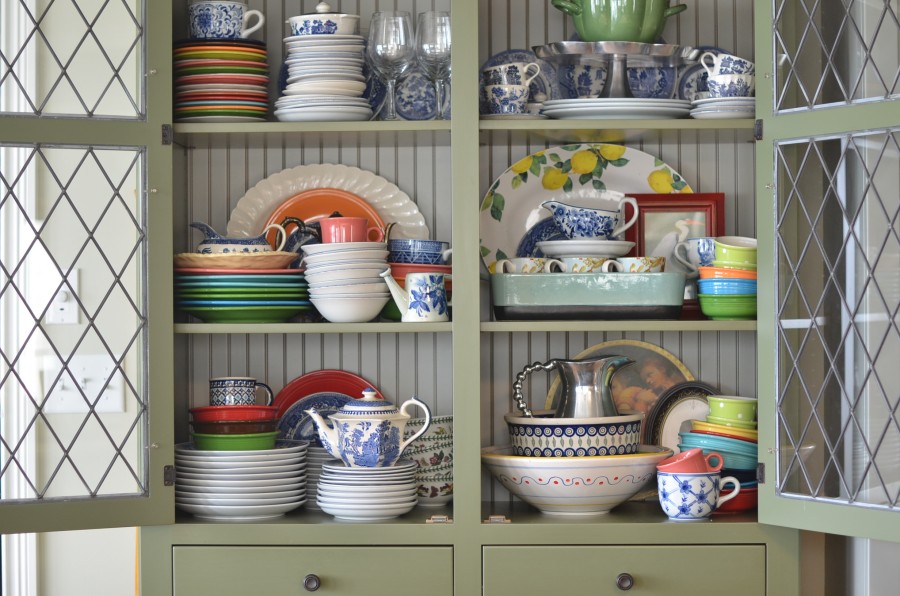 In a nutshell, here are my thoughts: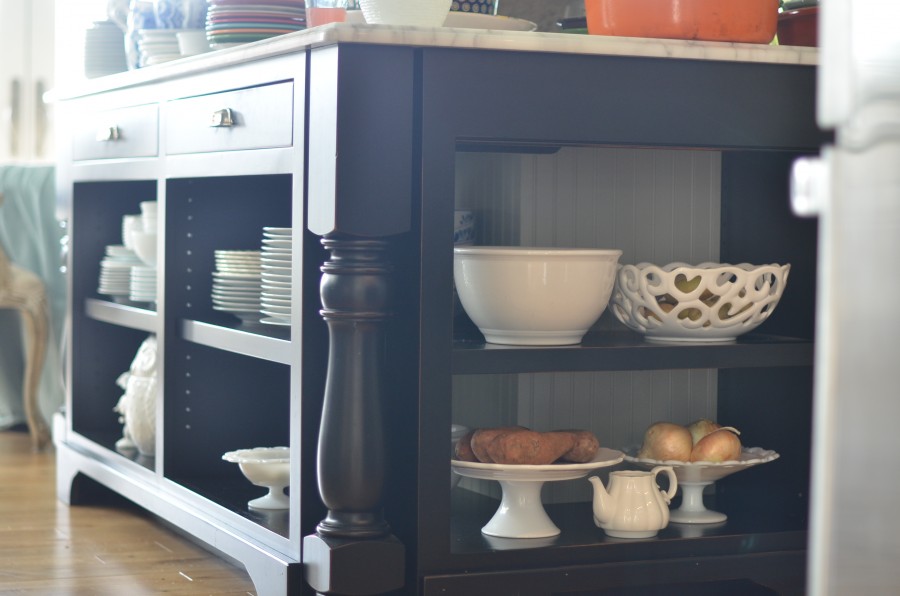 Pro's for open shelving
1.  In general, more open shelving makes the room look and feel bigger.  This is especially true if your cabinets are dark.
2.  Open upper shelves has a very European/industrial feel to it and adds an element of design that is both functional and interesting.
3.  I LOVE being able to see what I have and easily get to it without the constant opening and closing of doors.  It's probably the ADD in me but fewer steps is better in my world.
4.  I will always have some open shelves.  I LOVE them.  Truly, I do.  And most of the dishes on my open shelves don't get dusty because we're home 24/7 and use them all the time.
Cons for open shelving
1.  Open lower shelving should be used sparingly, in my humble opinion.  All the dust floating in the air will land on the lower open shelves and threaten to drive you to the brink of insanity. For some of us, it's a short ride.
2.  Some people don't like the visual clutter that open shelving can create.  What you might call clutter, I call art.  So, know thyself.  If stacks of bowls and pretty dishes are not your idea of art on display, then you might not want open shelves.
As for me, I'm pretty happy with the all the open shelves.
And it's a good thing, because I've got lots of them!!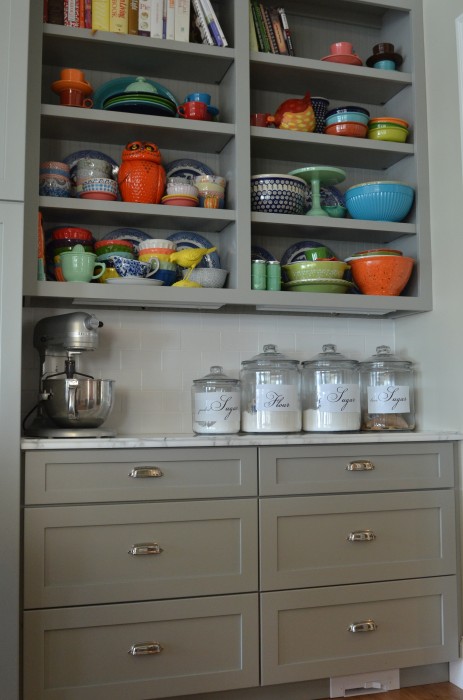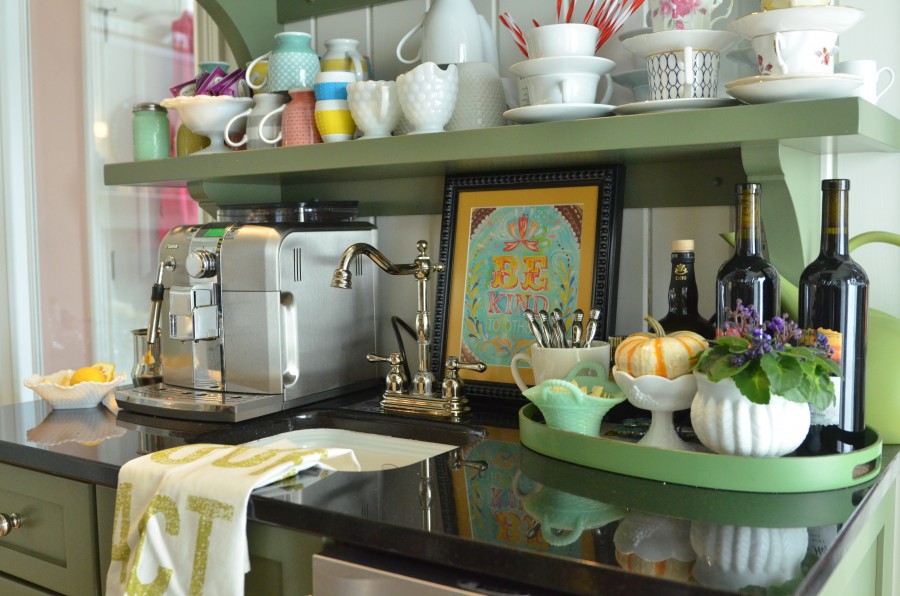 What about you?  Do you hate them/love them?  Would you incorporate them into your next kitchen?
Would this many of them drive you crazy?
******************
Follow lifeingrace on Facebook! or Twitter!