Did I mention I love summer? I'm working on a post to tell you all about what we're doing this summer but in case I never finish it, you should know that I love summer with all my southern soul. In fact, this house is really at its peak in summer. It's a summer house extraordinaire. I love it in spring and fall and even in winter but this house has summer written all over it.
I thought I'd share some of its summer glory with you.
We had company this weekend and my outdoor table has the most gorgeous piece of driftwood for a centerpiece, that came right out of our own lake.
If you come over to eat, be careful not to impale yourself on it–but other than that, it's pretty cool.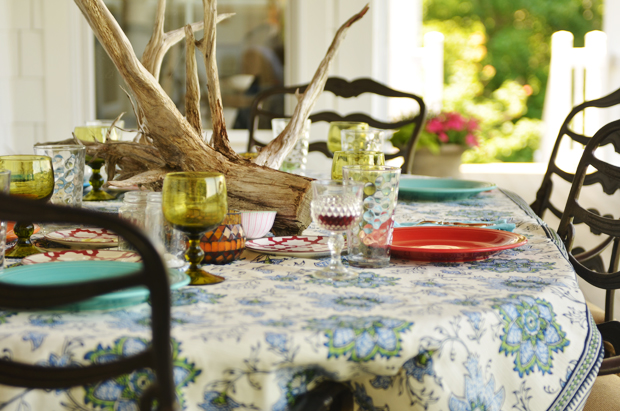 And how could I withhold this image from you? Stevie meets me here every night for a little wine and some chitty chat. When the sun sets over the lake, the back side of our house is toasty. But this side? All kinds of heavenly. And we talk about gardens and flowers and chickens and kids and how in the world we ever got this lucky.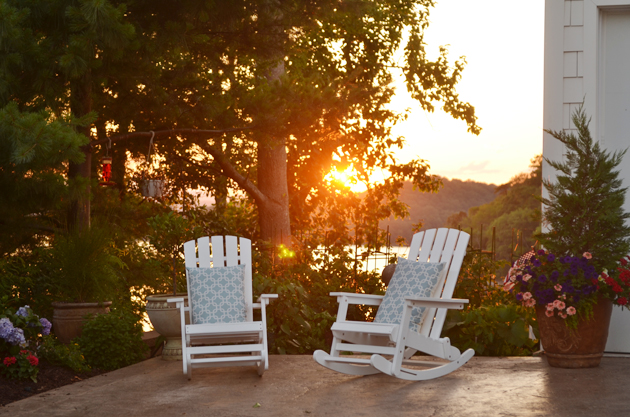 And this is what we see if we look to our left.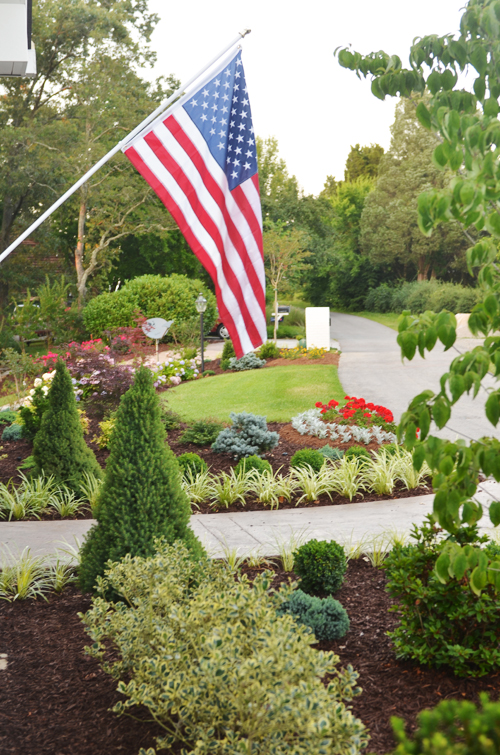 The screen porch is so pretty and peaceful this time of night too. The girls and I sat out here for our reading time last night.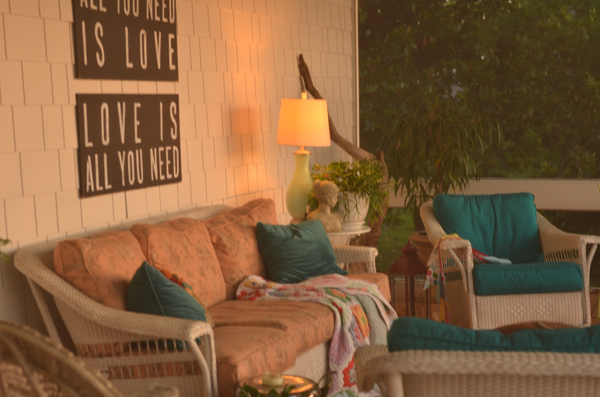 And in the full light of day….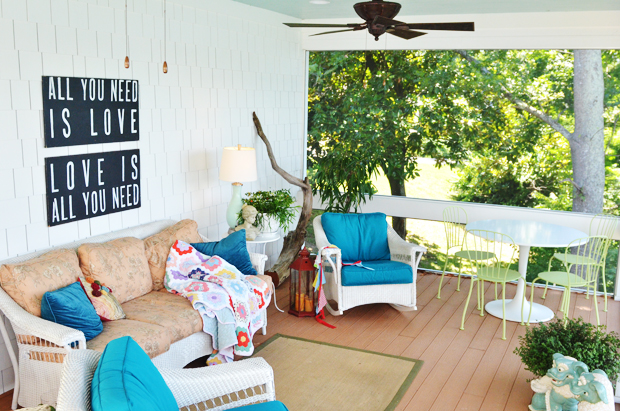 On the inside, I've been working like mad trying to finish all the details of the house. My house has been lacking the final touches that only fabric can give so I'm finally getting there. Fabric is so hard for me. I've been hamstrung trying to decide how many different colors and patterns one person is allowed in their house.  And then do more than that.  🙂
Here's a peek at the window treatments in the master bedroom. You'll have to excuse the fact that the headboard and side tables aren't here yet.
I did simple pinch pleat white linen, which I love against the charcoal walls.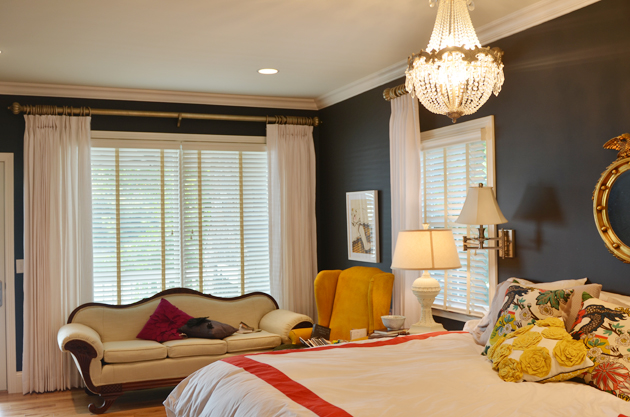 I've been getting a few things framed and setting up my summer cocktail bar!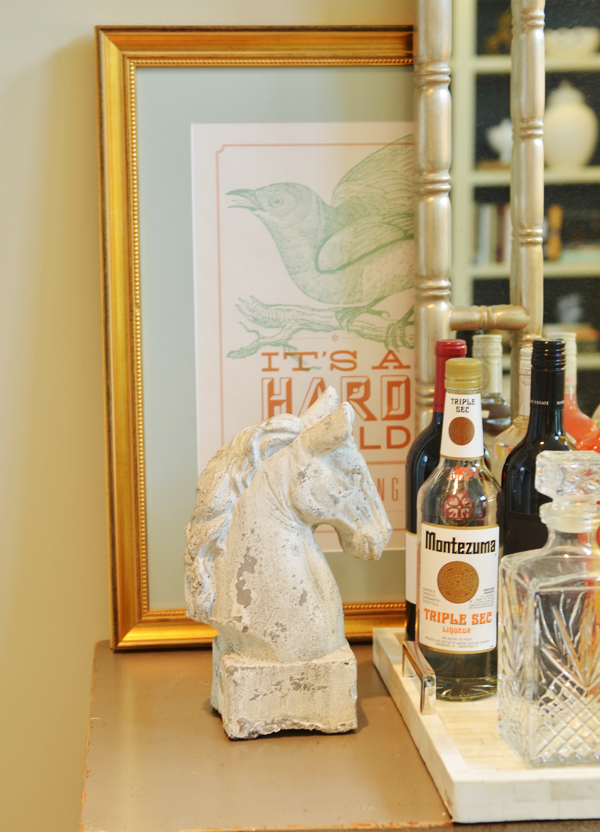 Here it is from farther back……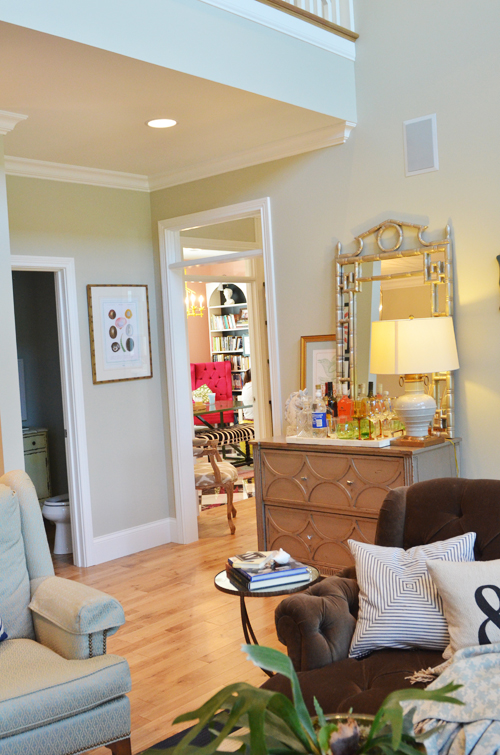 The living room panels and blinds were installed this week too.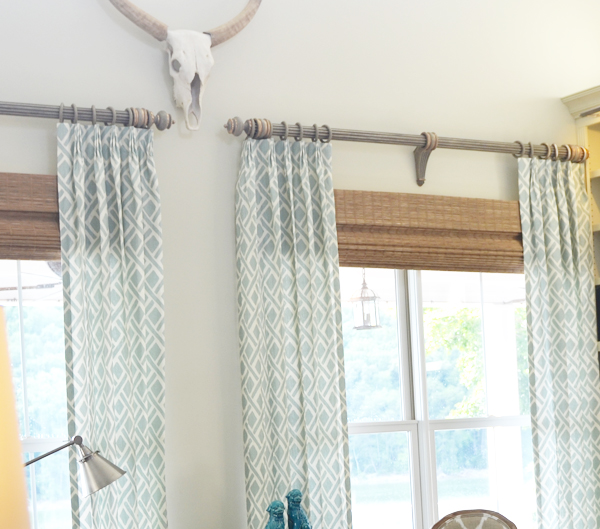 And I've had a few things reupholstered.
This cute little stool in a fabric I bought on OKL about a year ago.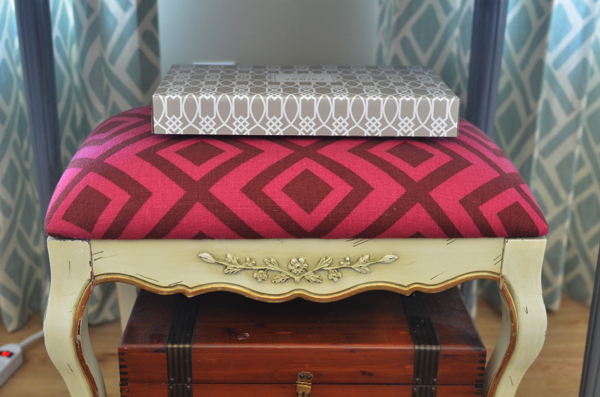 Then there's this chair……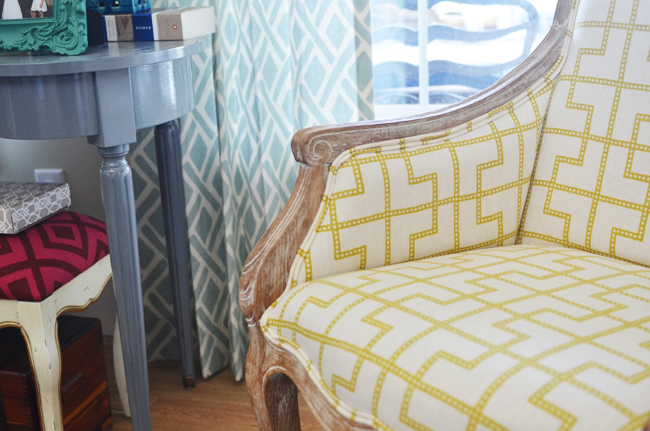 And this ottoman in the lovely Schumacher dragon fabric….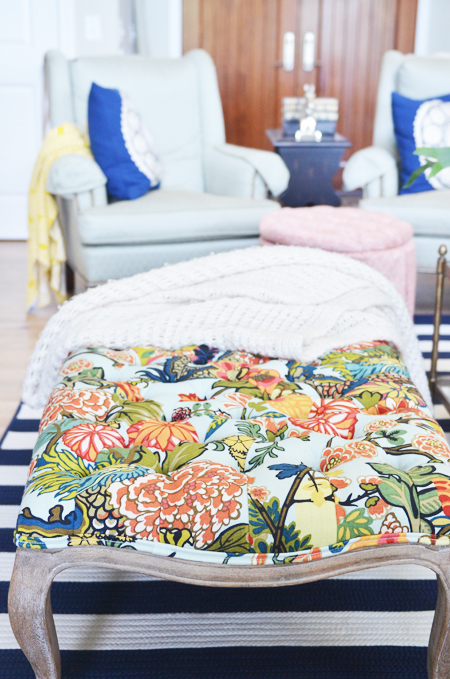 I'm still waiting for a chair to be delivered in here and a few pillows to be added.
After such a long, stressful year, it's so good to see it all come together.
And kept in its proper perspective, it's beautiful to enjoy the good gifts from God, whether they be a delicious meal, a gorgeous fabric, or a night on the screen porch reading The Odyssey with the girls.
This brick and mortar is temporary but what we do behind these walls is eternal.
May He grant us the wisdom to live well.
To not  take it for granted—but instead to relish it, drink it in deep and then share the overflow of that joy with others.
*****************************
I love Pearl Jam and Stevie's been taking me out on the boat for short night rides while he plays my favorite PJ tunes.
This one is our summer song.
It's a good reminder when life gets hard—and it always gets hard.
Just Breathe.

Welcome, summer.  I hope you stay a good long while.