Do you have any idea how tired my girls are of being toted to the job site? And how they hang on my arms and say five hundred times, "Wheeeen are weeee leeeeaaaving?"
But last night, for some reason, they entertained themselves and pretended like the house was a castle.   And they ran and screamed and ran some  more.
Oh life's little joys!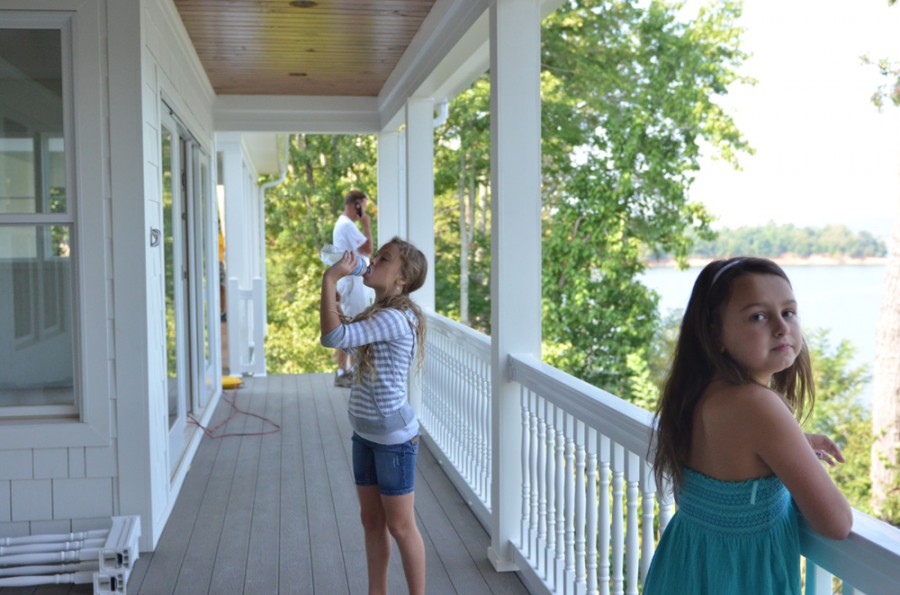 Speaking of little joys, they finished my concrete staining this week.
We decided to stain the basement floors instead of using traditional flooring.
I love how it turned out.  We used a color called bronze on most of the floors but in the downstairs kitchen, we had them score it to look like tile and we used a darker brown called mocha.
This is one of the bedrooms with bronze.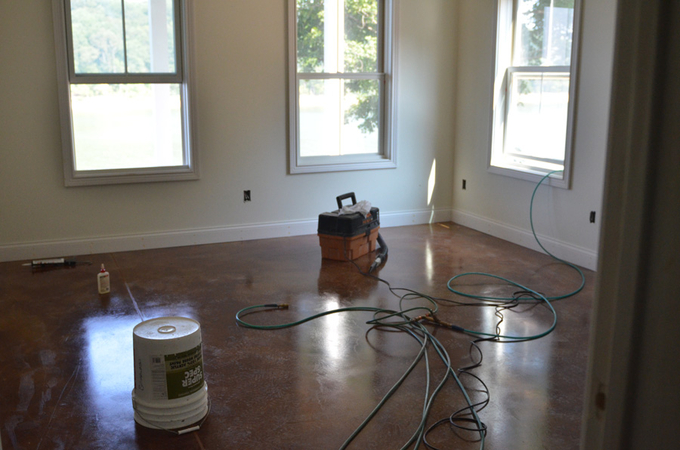 The upstairs catwalk going into the girls' room—one of the few places the floor isn't completely covered with cardboard.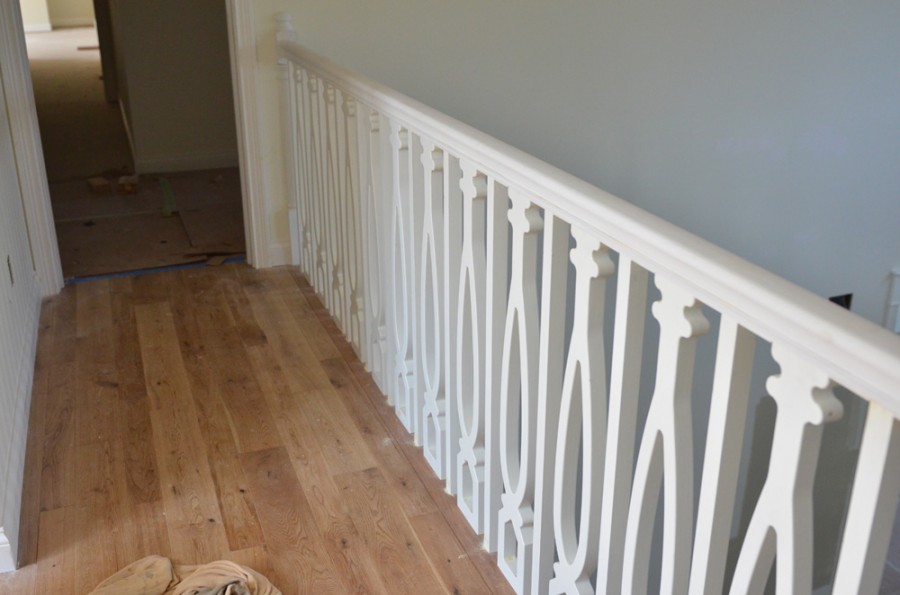 We've begun the fun part of painting wall colors.
I've never had so much trouble with colors in my whole life.
Funny thing is, the outrageous colors like pink and black were easy to choose and turned out great.
The 'beige' color for the bulk of the house has given me an ulcer.
I've painted forty eleven swatches on the wall and asked anyone who would pretend to care their opinion.
I couldn't decide between hazy skies and abingdon putty.   So what did I do?
I mixed them together of course.   And you'll see it soon.
This, however, is conch shell pink for the workroom.
The painter opened the paint and kindly said,  "Um, ma'am, do you realize this paint is pink?"    Yes.  Yes I do!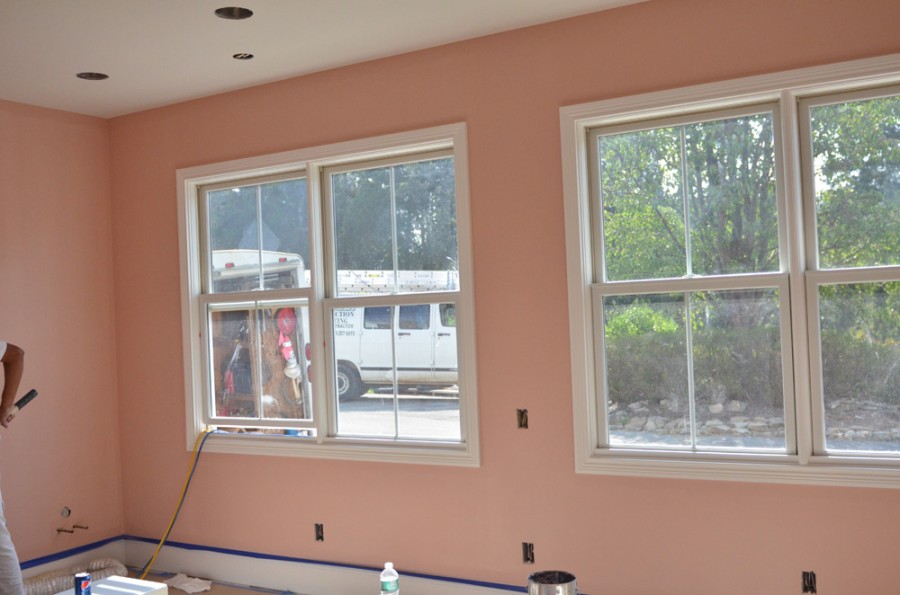 I really like it with the floor!!!  And remember, this is the room with orange drum shades, a yellow bamboo chandelier and a hot pink velvet office chair.
Doesn't it just inspire you to make something crafty?
The view from the catwalk…….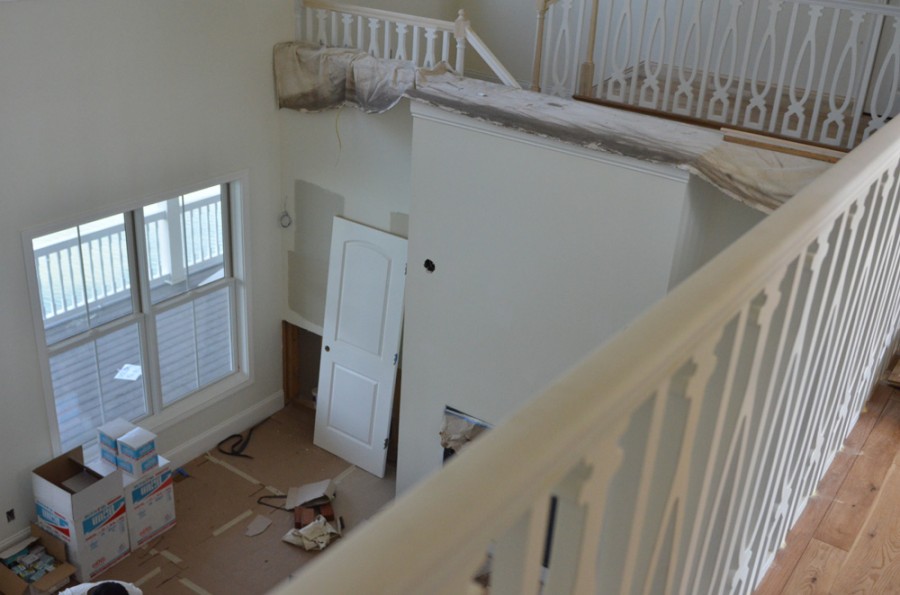 The outrageous granite paint for the master!   I love it too.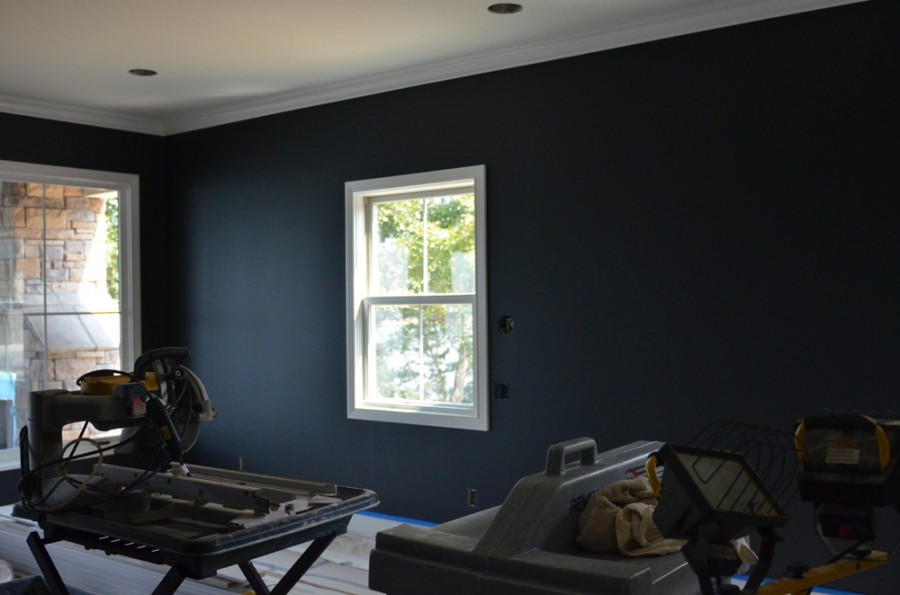 And the outdoor fireplace got stone this week.    You can see it perfectly from our bedroom window.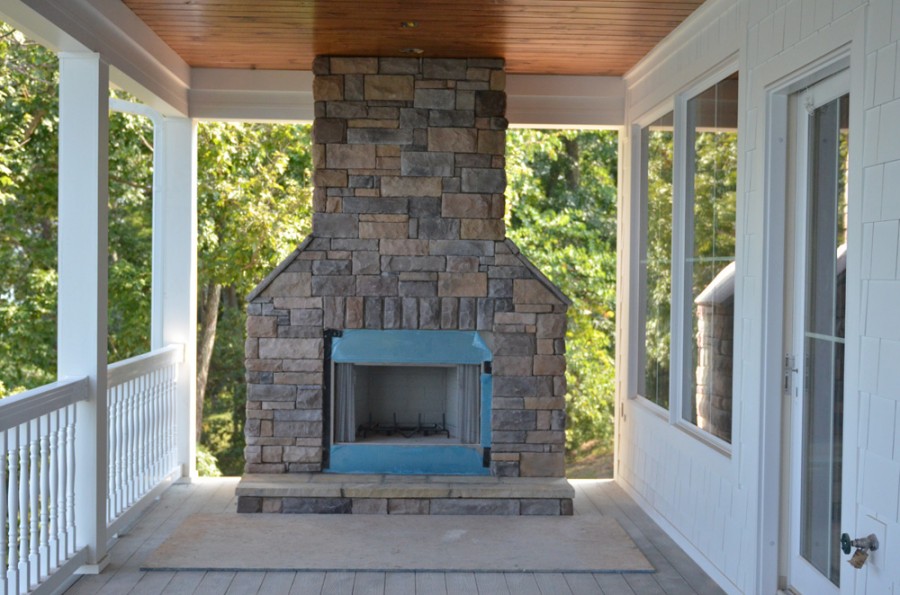 The colonial style railing was installed.   Love it and especially from the breezeway.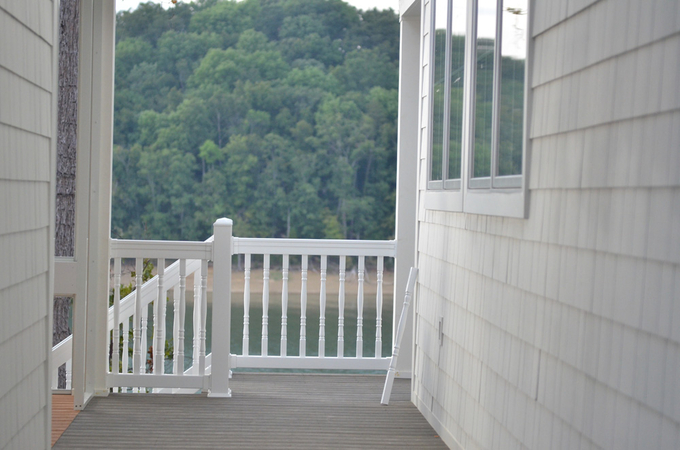 And this is the front door—–fir wood stained with early americana stain and then poly'ed.
And a sampling of the custom paint color I created.     I'm weak and vulnerable.   Don't tell me if you hate it.    I'll burst into tears and look for chocolate.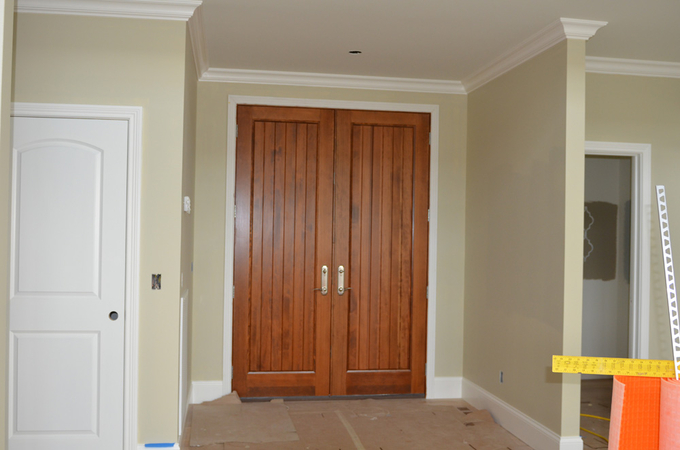 Front door from the front.   Steve and I both LOVE the door.
He said,  "Now that's a door you could hang the 95 theses from."
It is indeed but please don't.  Let's honor Martin Luther with the chapel balusters.    No nails in the beautiful door.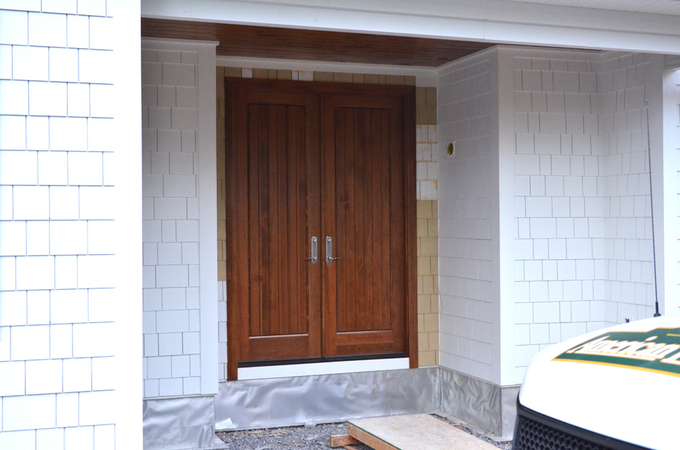 The screen porch got framed up yesterday.  I thank my neighbor Ms. Jan for letting me take many pictures of her screen porch so that I could emulate it as much as possible.
They're gonna wait and put the screens in when we're done with all the dusty work around here but I love it so far.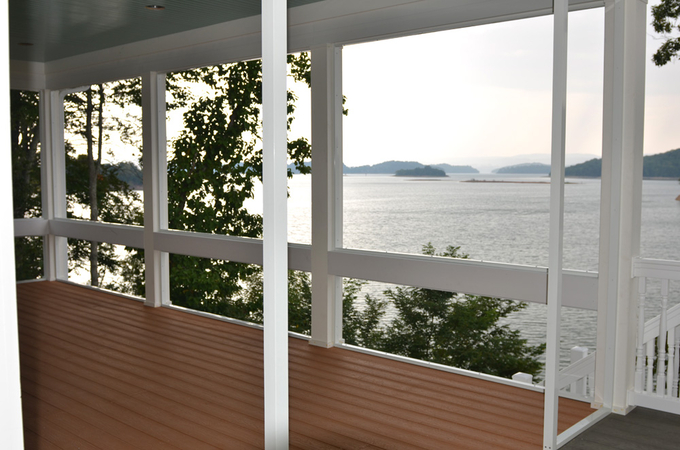 I even carry my beloved chair around from the garage and sit in it when I can.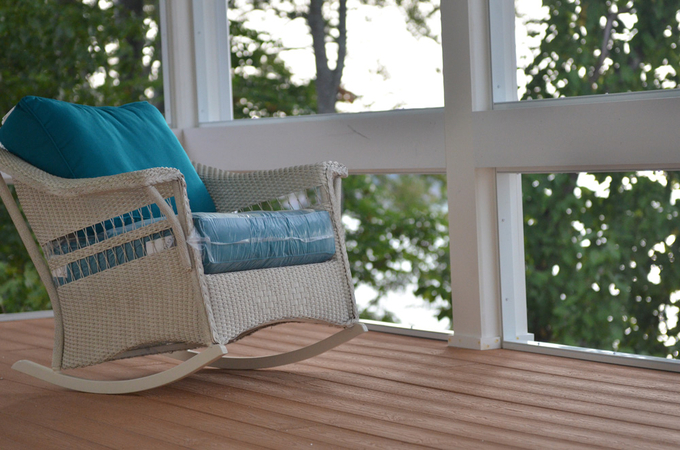 And I leave you with this beauty!
Do you have any idea how much my tile guy hates me?    This is apparently not fun to put down.   This apparently makes perfectly rational people want to curse and throw things.
So far, I've brought him red velvet cake, cookies and brownies.
He starts the octagon and dot in my bathroom on Monday.   What should I do—-mocha cake?  strawberry cake?   a clogging routine?
Just trying to be a blessing 🙂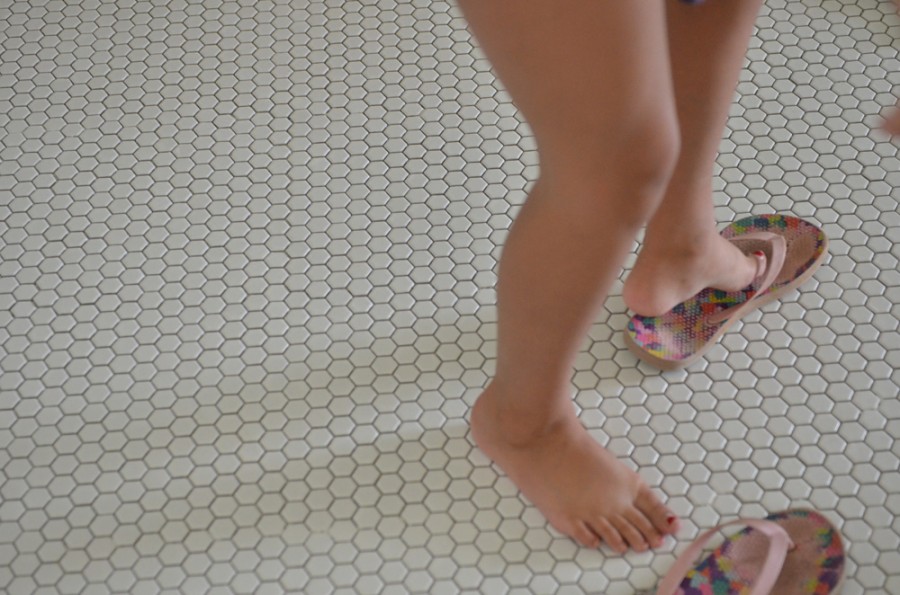 And then there's two more little things.
Number 1. I'm pretty sure my cabinets go in this week. Which means I may bring champagne to the job site.
Number 2. Did I tell you we got parakeets?
okay ba bye.