Warning:: Not much time or heart for blogging lately, so sorry for the dry litany of house stuff.   I just wanted to update you on the progress!
After looking at forty eleven hardwood samples, we finally found one we both like.
Cue the hallelujah chorus!
It's nothing like my inspiration picture because Stevie happened to have a strong opinion on this one.
He likes light wood.  Unstained, natural wood.   And he wouldn't mind if it looked brand new.   That's where I drew the line.
So back to the drawing board we went and found this beautiful compromise.  It's random width, somewhat distressed but not hand scraped (which he doesn't like)
with a very matte finish, giving it an aged look without being too beat up.
We both love it.   And most relieving of all, it's another decision DONE!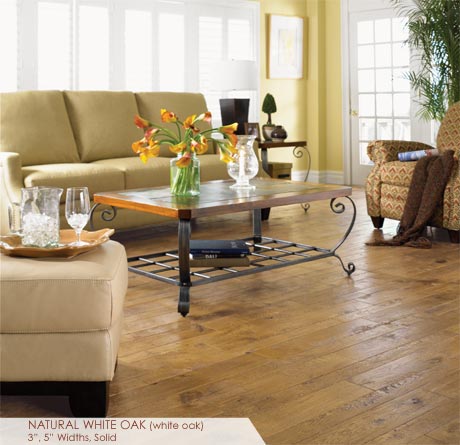 We've been in a dust cloud of sheetrock the past week and a half and they're almost done.   (This pic was taken with my iphone standing on the lake side of kitchen looking back toward the kitchen and workroom.)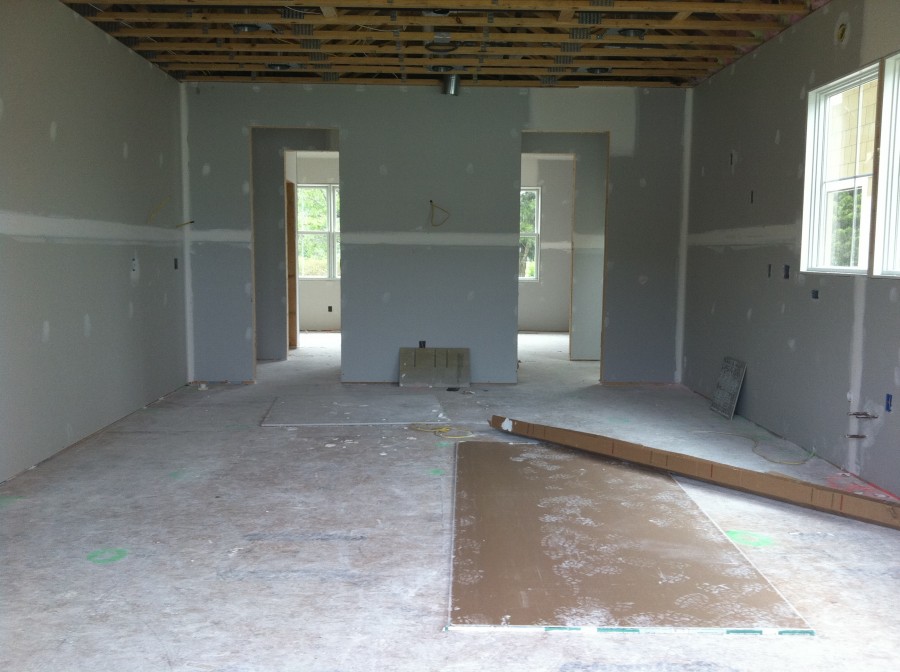 I turned in my paint colors Friday and we'll probably be ready to paint by Tuesday.
I chose Ancient Ivory by Benjamin Moore for most of  the house.   Thanks to all my facebook friends for chiming in on choosing the right white.
I like that this one is creamy with the slightest tinge of green.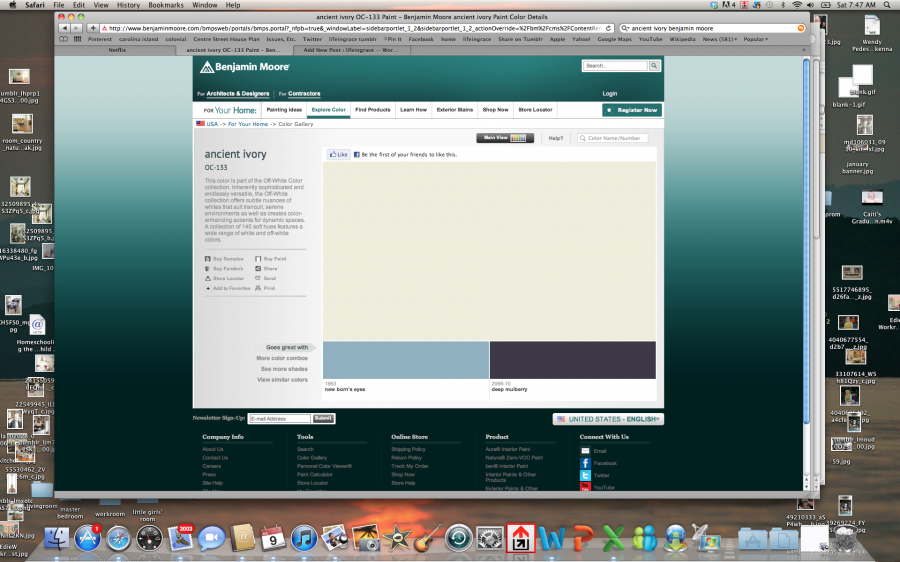 We also picked out tile for the bathrooms and backsplash.
Here's my shower inspiration picture.  I love the use of the trim pieces to make the all white shower more interesting.
We are still looking for trim but the subway tile is easy to find and cheap.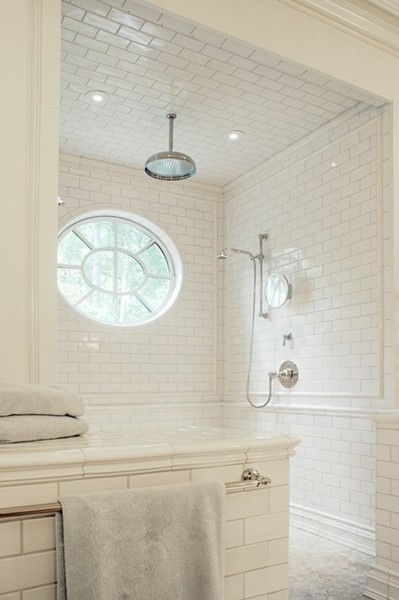 I chose octagon and dot all white with matte finish and charcoal grout for my floor.   Like the pic below, only with dark grout.
And apparently this tile is expensive.   Normally around $14 a square foot.   We got several different quotes ranging from $8-11 per sf but then I lucked up and found it online yesterday
for $4 a square foot from Daltile (via FastFloors.com) and ordered it in a fury.   It's ordered and in stock!  Woo-hoo!
I'm still looking for the best price on 1 inch hex for the girls' bathroom but Home Depot seems to be winning at the moment ($5 per sf)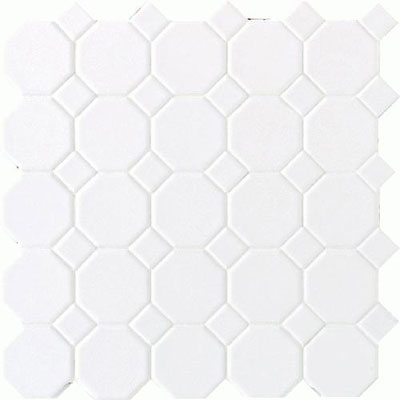 We're using white subway tile in a herringbone pattern for the backsplash behind the stove and 18 inch marble-looking porcelain tile for the workroom (in a black and white checkerboard).   I found that tile at Stover's in Knoxville for $4.99 first quality.
The stone for the foundation gets delivered this week and the wood ceilings for the porches and the kitchen will be finished and stained/painted.
The exterior is getting another coat of paint (white dove) and that should be finished by Tuesday.
The power line will be dug and we'll have electricity and cold air!!!   (in preparation for the hardwood in a week or two)
It looks like cabinets may slow us down but otherwise we seem to be making very good time.
I'm working on my kitchen (chairs, table, window treatments, cab colors etc) and soon to start working hard on the master bedroom.
Whew!!!!!   Busy, busy, busy.
************************
I've also been rereading Evangelical Is Not Enough for the 3rd time.    It's Thomas Howard's journey from evangelicalism to historic, liturgical Christianity.
He's very Lewis-esque and quotes C.S. Lewis very often.
AMAZING BOOK!
It won't make you defensive if you're not a part of a  historic liturgical church but it will make you think.
If you are already familiar with the traditions of the historic church, it will enrich your understanding of it in ways you can't imagine.
Okay, off for  a run and then to the lake.
Hope your weekend is filled with your favorite things!
xo,
edie