greetings from the minnesota north woods!
here's where we are on the house;
-the stone foundation is finished.
-the concrete was poured at the walkout basement patio area.
-the trim crew has begun.
-the tile man is starting today, i think.
-the porch ceilings are done.
-the power is on and the air has been turned on.
-hardwood will go in as soon the doors are hung.
-i finalized all my cabinetry but haven't picked colors yet. (i need your fave white–off-white and your fave charcoal/black)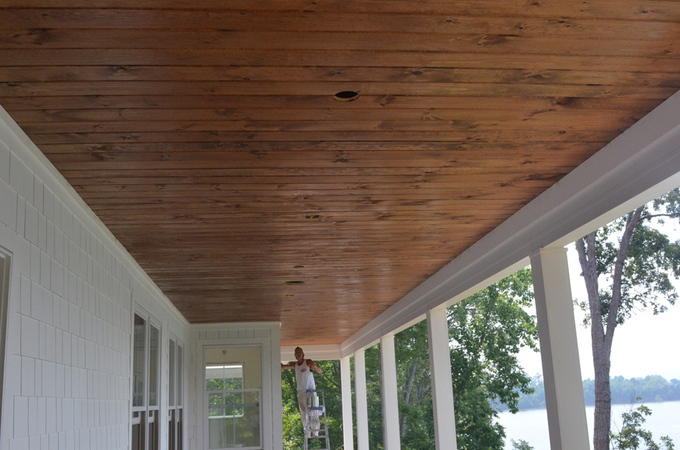 i love this stain.  i think it's called early americana.   it's the yummiest caramel color ever.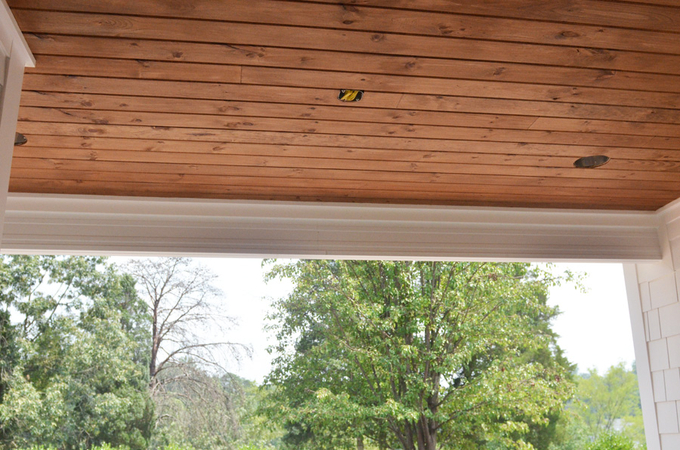 we got this wood very cheap—so we've used it on all our outdoor ceilings and in several spots inside.   i love the pine imperfections coming through the stain. this is the front porch ceiling–which has the same stain color.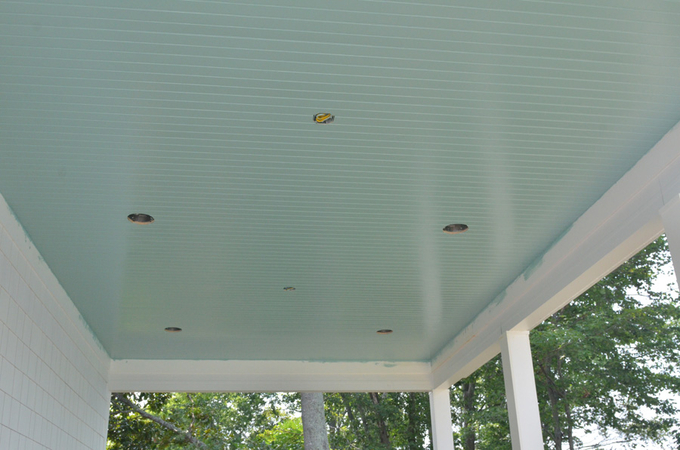 and this my friends, is my take on haint blue.
it took me three weeks to finalize this color.    i searched on forums and blog posts to find the perfect haint blue but just couldn't settle on one perfect color.
finally, we took a vote.   caiti and my sister voted on the same color—which i can't remember the name of at the moment—-and i voted on hazel blue.
i did what any schizophrenic half-crazed woman would do and i bought a gallon of each one and mixed it together.
it's THE most perfect shade of haint blue ever!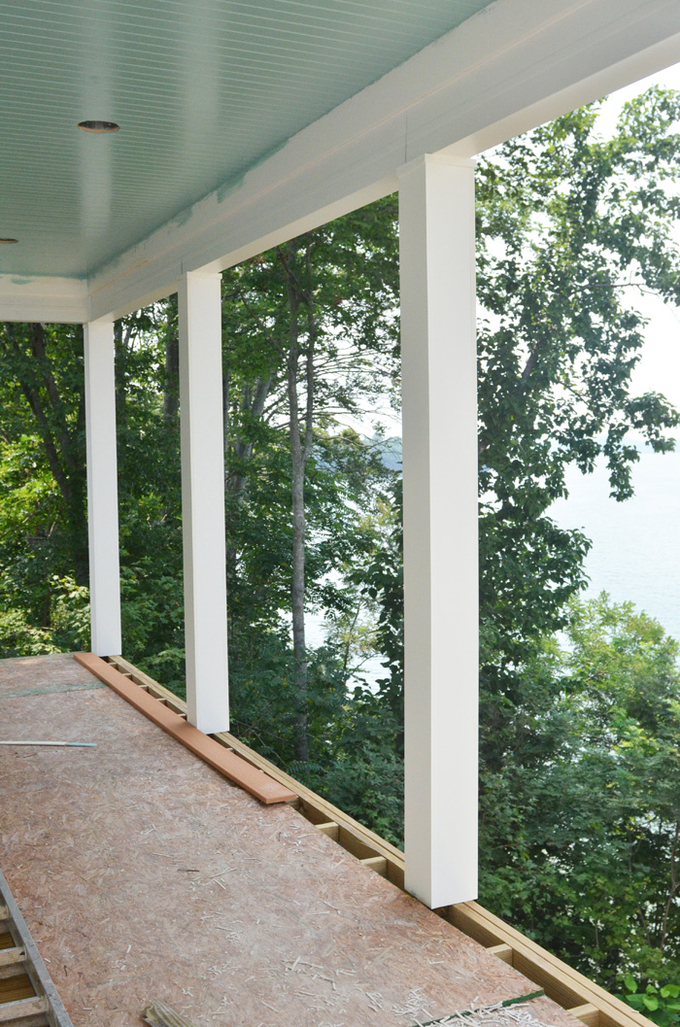 my furniture for the screen porch is here so i'm DYING for it to be done.   we could live on the porch til this house is done, could we not?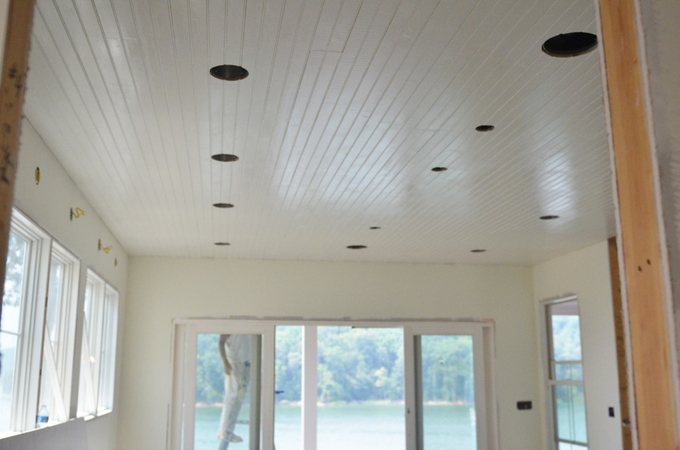 the kitchen ceiling is painted.   i just love it.  we used the beaded board side of the wood in here.
the painters were mad i didn't stain it.   i know, it would've been cool but i really wanted it white.  it's white dove by benjamin moore.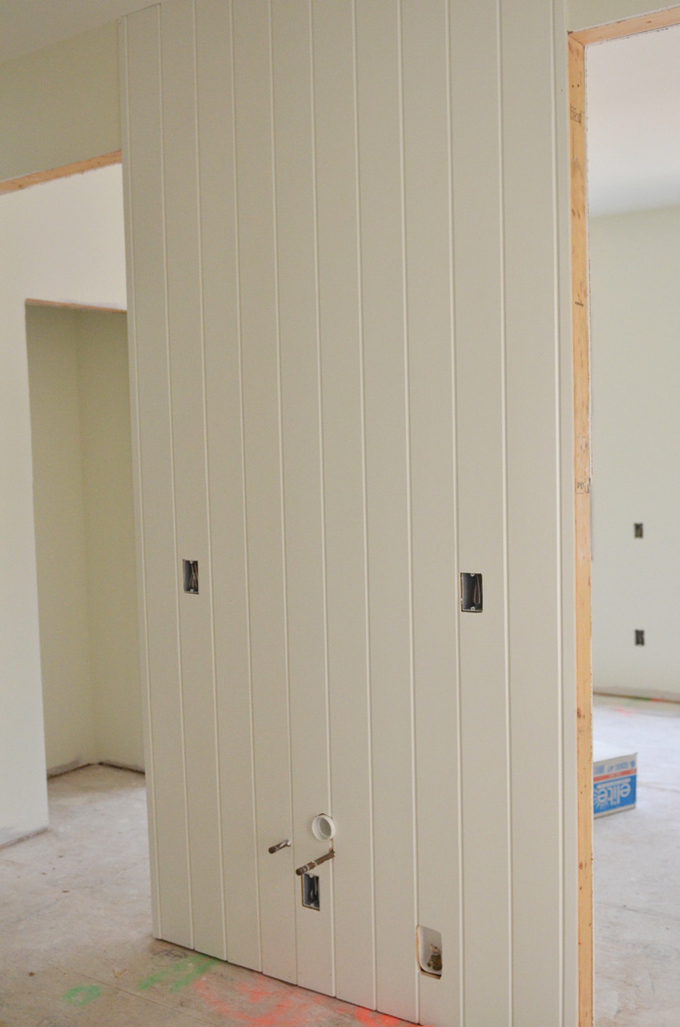 then there's the wood wall at the beverage center in the butler's pantry.   love it too.    i could plank all my walls and be perfectly content.  and broke.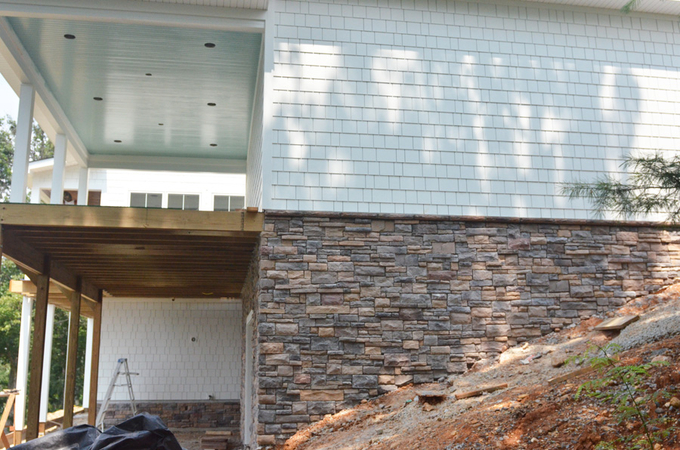 the stacked stone is looking mighty fine too.
they're probably done with it now.   we're still on vacation and can't wait to get home to see the progress.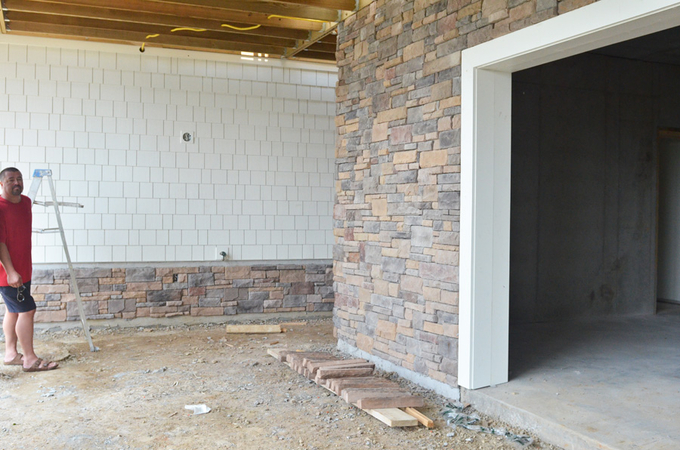 we stand around and gaze at the house alot.   my kids have said to me more than once,   "why do you just look at it so long?"
i don't know.   i just do.  and apparently stevie does too:)
and this is the walk out basement area.  the concrete was poured here on tuesday.
maybe if you're in the area, you'll text me a pic?!!!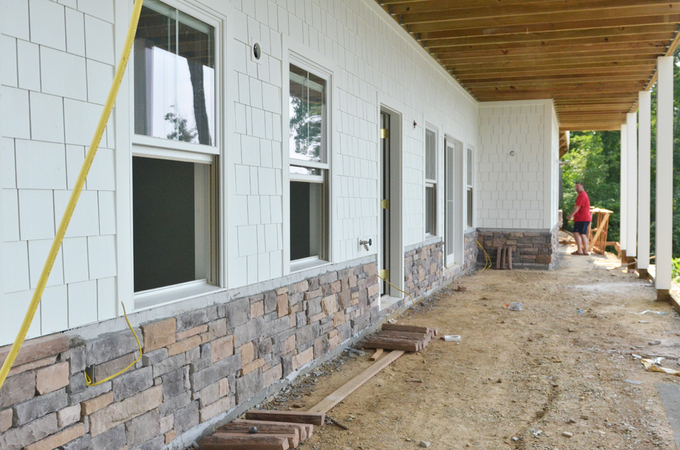 we're having a blast in mini–sohta.    we're 'camping' in the family cabin this week.   and by 'camping' i mean sleeping in bunk beds with air conditioning.
lots of  lakeside fun, bonfires, s'mores and  early morning reading time.   i think i've taken 500 pics this week.
there are new babies in the family and we've been just giddy with baby-love.
hope you're summer fun continues!
much love and hugs from MN,
xoxo
edie
p.s.  you can thank my dear friend ms. nester for this post.  it's been in draft on my computer for a week but i've been too lazy to post it.
she sent me a tweet this morning requesting a house update.   i love that girl and apparently will blog on demand for her!!!