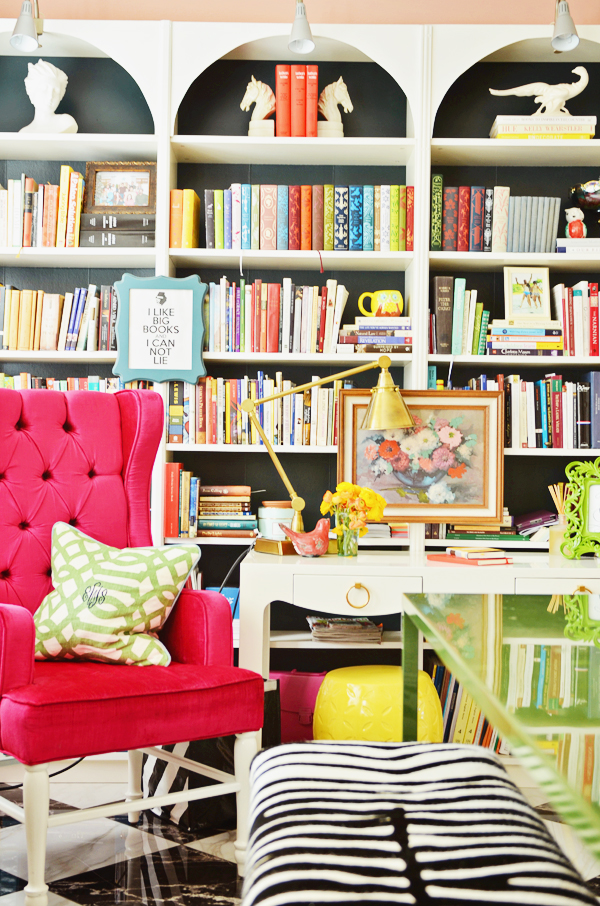 I've been focusing on "Home" this month and let me remind you that if you've been doing any home projects—organizing, redecorating, cooking, gardening, etc—that you'd like to share, please link up tomorrow for "Home. On Purpose".  This is a year long series where we live our lives with purpose, focusing on a different area each month.  (Just a little hint, May is all about Women, which goes perfectly with the series I'm working on about feminism.  I'm hoping to release a new installment of the series each week.)
One of the most asked questions about our new rebuild is how I'm liking the workroom.  Does a multifunctional room really work as well as it sounds it would?
The concept of a multifunctional room like this is fairly new so I didn't know anyone personally who had one.  I collaborated with Darlene to turn this fairly small space into a powerhouse of a room.  It functions as an office/homeschool room/laundry room/art room/coffee-drinking room/study room/bill-paying room/library.  This room works harder than any room in our house, though it may, in fact, be the smallest in size.  The room is roughly 12×16 and I'll let you peek at a sketch of the floor plan, sketched by Darlene.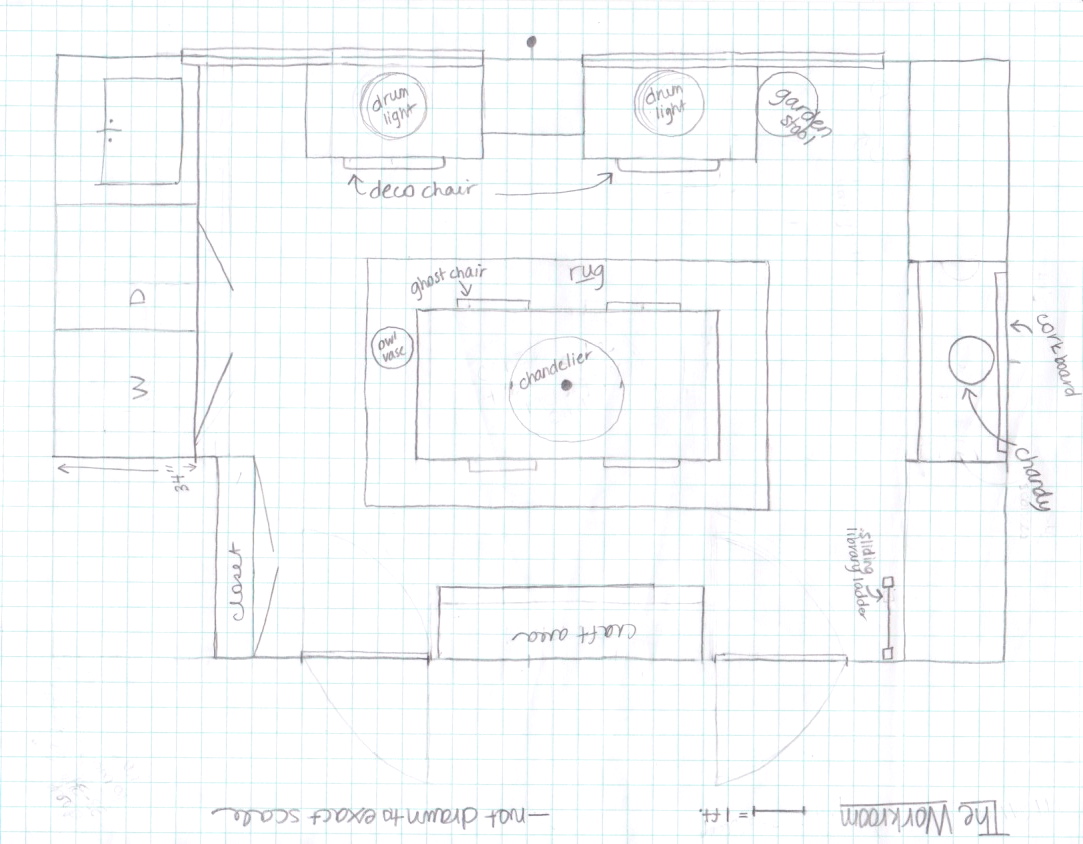 Here's what I said about the room, after living with it for two weeks:
The multitasking type of room has long been a dream of mine.   A room that's like me—–that reads and does laundry and blogs and dabbles in paints and maps and printing and child-rearing and bird watching.  We've only lived here two weeks but I can't even  count the hours we've already spent in here.  My girls' new favorite pastime is to watch nail art videos and make their art come true whilst listening to me read "Gulliver's Travels."  It's the first room we use in the morning and the last room we leave in the evening.   It never looks this clean.   There's usually books and nail polish and writing projects strewn about.   We clean the green table off 27 times a day, only to make room for more art.
Up until about a month ago, I would have had absolutely nothing negative to say about this room.  It has functioned exactly like I thought it would. We have lived hard in here—we've learned how to translate Latin,  dabbled in mixed media art and watercolors, read Homer and Shakespeare and Virgil, painted our nails hundreds of colors and folded 867 loads of laundry.  We've knitted and crocheted and danced and sang and laughed, until it seemed like my heart might burst.  But, this season of having girls at home is a season.  And as my girls began to talk seriously about wanting to go to *real* school, I began to mourn the loss of all the things that this room has come to stand for.  And I began to wonder if creating a room like this was a mistake in the long run.  Maybe we would have been better served by a traditional dining room.  Maybe I should have been more practical. Maybe the perfect, multifunctional room is only so in theory. But at this point, if I had it to do over, I wouldn't change a thing.
If we didn't homeschool, does this room still fit within our lifestyle?  (Homeschool post forthcoming someday but my heart can only take so much;)  Well, I guess we'll have to wait and see to know for sure but I can tell you this— I wouldn't trade anything for the time I've spent in this room with my girls.  If they do traipse off the real school next year, I hope to be using the big green table as a workspace for reading and writing and bird watching.
Here's my advice if you're considering a multifunctional room.
1. She will be a busy room.
A multifunctional room can be a little like having 27 browsers open on your computer at the same time.  The laundry's going, someone's painting, someone's trying to find a book, someone's using the table as a ballet barre.  She's the perfect companion to female industry and productivity but she  probably wouldn't work well as an work office if you needed long stretches of quiet time to get work done, or at least not at my house.
2. She can get cluttered fast.

 
There are paints and pencils and books and paint brushes and protractors and wide-ruled paper and the list goes on to infinity.  Keeping the supplies at bay can be daunting.  AND?  Our workroom has two glass doors, so leaving her a mess is not an option.  Unless it is.  But I don't like that option.
3.  She stands as an icon of female strength and grace.
I love how the beauty of this room is undaunted by how hard she works.  She's the perfect woman.  She invites you in, inspires you to create, beckons you to new frontiers of learning, and never seems to tire of your endless projects.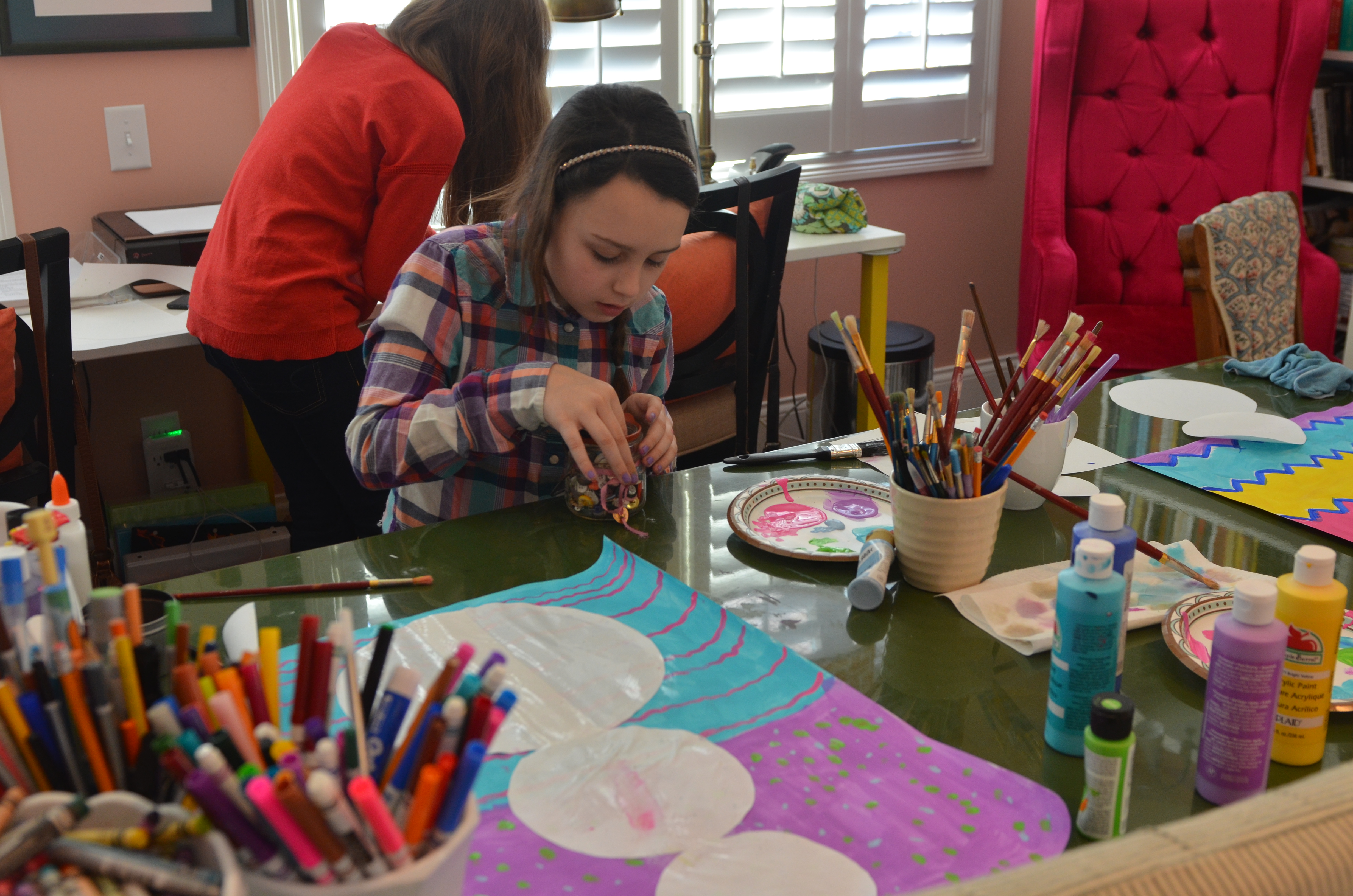 If you'd like a full tour of the room and a huge list of sources, visit the workroom page.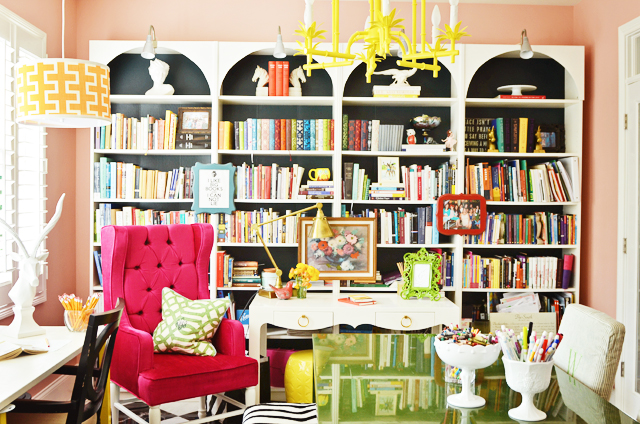 Wanna know something else cool?  There are a few images of my house (I think one of the workroom?) that made it into Kelly Edward's Design Book.  You can purchase her collection of gorgeous designs by clicking on the icon.  (I'm not ashamed to say I bought one.)  Or leave a comment on this post before midnight tonight and I'll give a copy away.

So, did I leave anything out you've been wondering about?  Would you like having a room like this or would it drive you crazy?
And don't forget to link up tomorrow with your home projects!
***********************************
p.s.  Can I express my heartfelt gratitude for your care and love for me after this weekend's post?  I don't know what to say, except that I'm so blessed to be taking this journey with you. 
Love you and thank you.  Maybe the lump in my throat won't be permanent 🙂
Affectionately yours,
edie