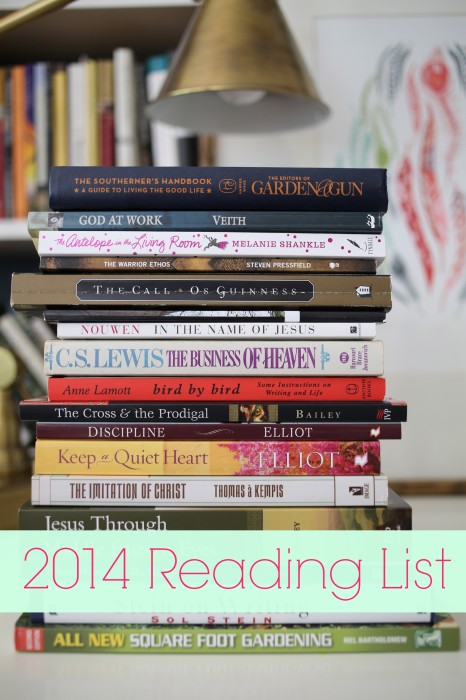 "It is what you read when you don't have to that determines what you will be when you can't help it."  ~Oscar Wilde
There's probably nothing more dangerous in your house than a stack full of good books.  More than any other one thing in my life, books have been the most transformative.  And I'm not talking about 50 Shades of Grey, I'm talking about the best books, often classics, that have stood the test of time and place.  Cultivating a serious reading schedule is the best gift you can give yourself.  When I make my reading list, I feel like I'm giving myself the best kind of gift.  Coming up with a reading schedule for the year is one of my favorite things to do in January.  And since y'all made lots of comments about books in your surveys, I thought I'd share what's on my overflowing nightstand!  I try to do one classic every month and then 3-4 other books (sometimes more) that are easier to get through.  I'm working on a master book list, of all the books I've read and love with little snippets of reviews.  Hopefully soon!
I've had the bad habit in the past of having 4-5 books going at once and then not finishing them.  I'm trying to do better, and have only 1-2 going at a time until I finish them.  Multitasking books is probably not the best practice.  So, for instance, the last 3 weekends, I've read one novel each weekend and tried to finish them either by the end of the weekend or the end of the week, submersing myself fully in the fiction dream land.   I can read nonfiction in parts, a little here and there, but literary fiction is more demanding and needs some dedicated time.  There's nothing that does my heart better than a weekend with a great book and a clean calendar.
Here's my working list and I'd love to hear what you're reading too!   (I reserve the right to add and subtract as I see fit!)
The Great Divorce, C.S. Lewis (one of my favorite books of all time!)
Telling the Truth, Frederick Buechner (excellent, maybe the highlight of my summer reading)
The Writing Life, Annie Dillard
Wordsmithy, Douglas Wilson
Gilead, Marilynne Robinson (OH MY WORD.  So good!)
Home, Marilynne Robinson
Bossypants, Tina Fey
Stein on Writing, Sol Stein
The Memoir Project, Marion Roach Smith
Long Man by Amy Greene  (finished, beautiful, rich prose)
The Business of Heaven by C.S. Lewis (short daily readings, great of course!)
God at Work by Gene Veith (finished, must read!)
Flannery O'Connor's Prayer Journal
Luther on Vocation by Wingren
The Antelope in the Living Room by Melanie Shankle (finished, HI-Larry-Us)
Broken: 7 Rules that Every Christian Ought to Break by Jonathan Fisk
The Tempest by Shakespeare
Suttree by Cormac McCarthy
The Ongoing Feast: Table Fellowship at Emmaus
Jayber Crow by Wendell Berry
Notes from a Blue Bike by Tsh Oxenreider (reading now, great so far!)
Middlemarch by George Eliot
All the Pretty Horses by Cormac McCarthy  (amazing times 10)
The Nesting Place by Myquillin Smith
Working Days: The Journals of Grapes of Wrath by John Steinbeck
The Call by Os Guiness (finished, very enlightening book about vocation)
Jesus Through Middle Eastern Eyes by Kenneth Bailey
The Brothers Karamazov by Fyodor Dostoevsky
The Imitation of Christ by Thomas a'Kempis (finished, deep but rich!)
Light Years by James Salter
Beloved by Toni Morrison (reading now)
Bird by Bird by Anne Lamott (book on writing, reading now)
The Warrior Ethos by Steven Pressfield (finished, love his other books, this one not quite as relevant but still good)
Word and Sacrament, Luther's Works
To Kill a Mockingbird by Harper Lee
Heaven on Earth by Arthur Just
Discipline by Elisabeth Elliott (finished)
Anna Karenina by Leo Tolstoy
Something Other Than God by Jennifer Fulwiler
Let Me Be Woman by Elisabeth Eliot (finished, good but not as deep as I'd hoped)
Peace Like a River by Leif Enger
The Middle Place by Kelly Corrigan
The Signature of All Things by Elizabeth Gilbert
Stein on Writing by Sol Stein
Escaping Into the Open  by Elizabeth Berg
This Dark Road to Mercy by Wiley Cash
Lilith by George MacDonald
Reading has been a large priority in my life for the past ten years.  If you're just starting out on a quest to read more, be easy on yourself.  Reading is demanding and you get better at it with practice.  Our culture is so accustomed to things that are instant and easy, so cultivating a life-long habit of reading good books will take time.  But, the gift you give yourself and your family by filling your home and minds with good books is immeasurable.  I love this quote from Flannery O'Connor when a reader claimed that her books were dark,  hard to read, and not uplifting enough.  She said,
"There is something in us, as story-tellers and as listeners to stories, that demands the redemptive act, that demands that what falls at least must be offered the chance to be restored.  The reader of today looks for this motion, and rightly so, but what he has forgotten is the cost of it.   His sense of evil is diluted or lacking altogether and so he has forgotten the price of restoration."
In a larger sense, the stories and essays that we've gotten from the greatest authors have come to them at great price.  I live and die by their books—by the hard fought words of someone else.  All day, I hear the drone of culture and the drivel  of my own self-centered voice in my head and I know that I am impoverished.  I don't have the right words and so I need to borrow them from someone else—–from someone who has read better books, lived in a saner time,  and  paid a steep price for the kernels of truth they so generously share.  The words of my favorite authors color my world and wipe away the fog that our modern, consumerist society has accepted as the new status quo.   I think Flannery O'Connor was right.  We have forgotten the cost of redemption.  Perhaps the masters will help us remember.
Now, tell me the top few books on your list this year.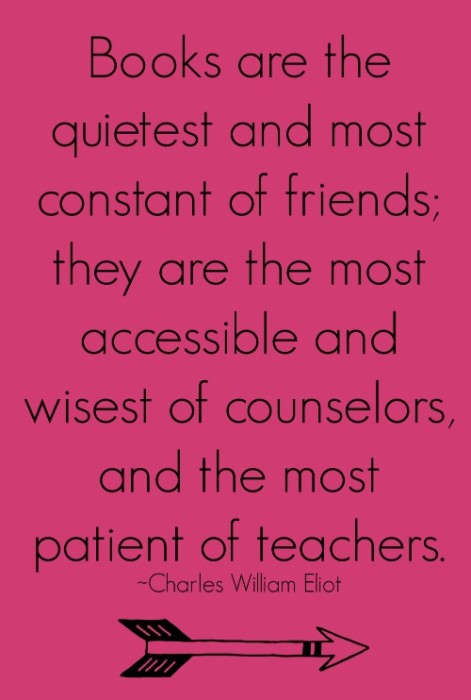 If you're new around here?  Thank you for visiting my blog!  I'm honored you're here and I hope you'll find some encouragement (and some laughter!) for your days.  Visit my 

about page,

 which highlights some of my popular posts or will at least show you a peak into my crazy people.  You can subscribe to this blog by 

email here.

  I am currently addicted to 

Pinterest

, so follow at your own 

risk

 I also post updates to 

Facebook, Instagram

, and 

Twitter.