This is day 22 in a 31 day series on hospitality. Start from the beginning here.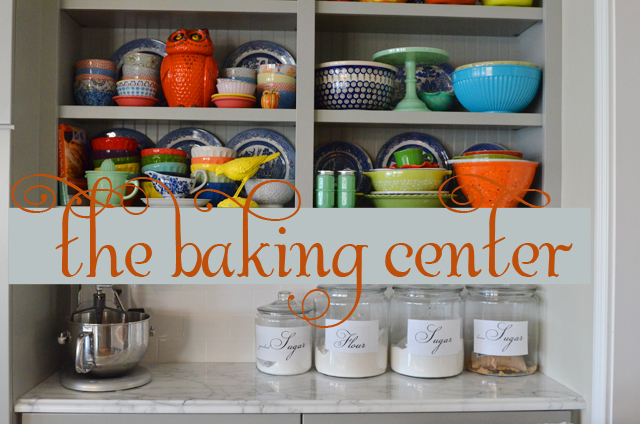 I've never quite had a baking center like this but it was a priority when we rebuilt our house.   I've had various versions of one for a long time and here's the truth of the matter—-if your supplies are easily accessible and organized, you'll bake more.
The flour and sugar that are sitting on my counter are practically begging me to bake something.   AND, I never run out of stuff because I always know when I need it.
So, it's worth the effort to think through your spaces and see where you could incorporate and organize your supplies.  Here's my advice on how to set up a baking center:
1.  Put your highly used items in pretty containers.
I love these glass jars from Walmart and I used the champignon font at 200 pt to print off the labels onto plain white paper and then I use packing tape (wide) to tape the labels onto the jars.  It's so simple and though I keep thinking I'll order real labels someday, these work perfect until then.  I store flour, sugar, brown sugar, and powdered sugar like this.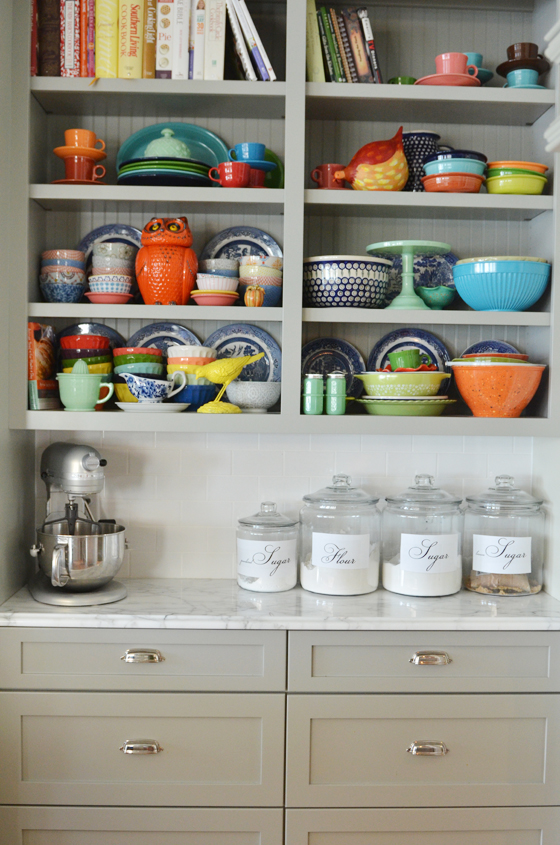 2.  Store them on the counter if you can.
I have open shelving for a reason.  Life is too short to repeatedly get things out of the cabinet.  Can I get an amen?  Open and closing doors  a hundred times makes me crazy.  So I eliminate that step so that there are no barriers to cooking for me.  I never think to myself,  "Should I drag all that stuff out to make homemade bread?"   It's all ready to be used.  It's as if I'm making my kitchen stand at attention and be on the ready to work.  I love spaces that are pretty but work hard.  You're not just another pretty face, Queen Kitchen.  You've gotta earn your keep around here.  And my family benefits because there's lots of homemade food.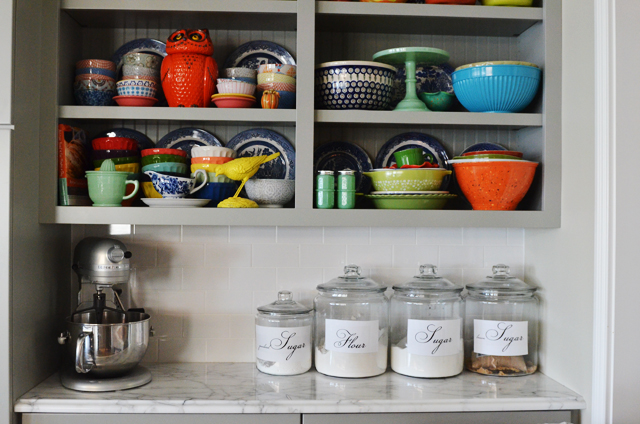 3.  Keep all your baking utensils handy and organized.
The top drawer below my mixer holds all the measuring items, scoopers, disks for my cookie press, shakers filled with cinnamon and powdered sugar, a few frequently used flavorings and extra yeast. I cook and bake all the time so I frequently put the measuring cup right back in there if I've just scooped out some flour or sugar. This habit drives my sister crazy, who will come to my house and say, "Why are these measuring cups dirty but still in the drawer?" I just figure I'm probably gonna use it again in 30 seconds so why wash it every single time? It's just flour. But every time I do it, I think of her and chuckle. I know. I'm a old granny.  (It just occurs to me as I look at this photo that my corn skewers are in here.  Are you scratching your head wondering how I incorporate those into my baking ritual?  Don't worry.  I don't.)
The clear/acrylic organizers I use in here are from Target and Walmart.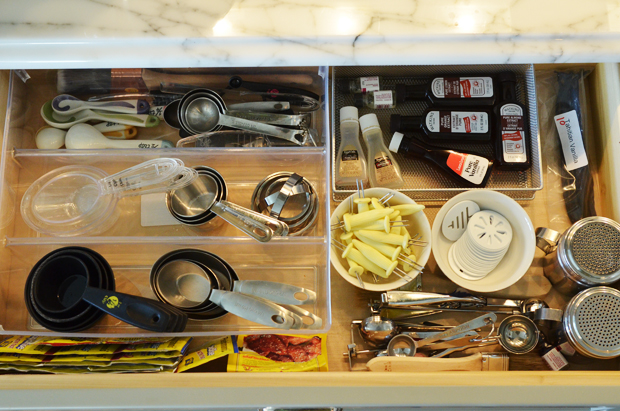 The pull out drawer beside that one has cake/cupcake decorating supplies along with cupcake liners and picks, twine and ribbon, clear plastic bags (for packing up treats to share) and toothpicks.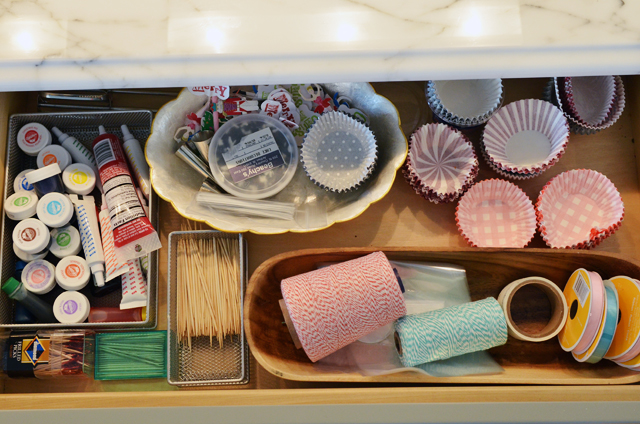 In the second drawer down, I store all the rest of my supplies, including liquid measuring cups, salt, baking powder, cocoa, baking soda, corn starch, vanilla, cinnamon, corn syrup, etc.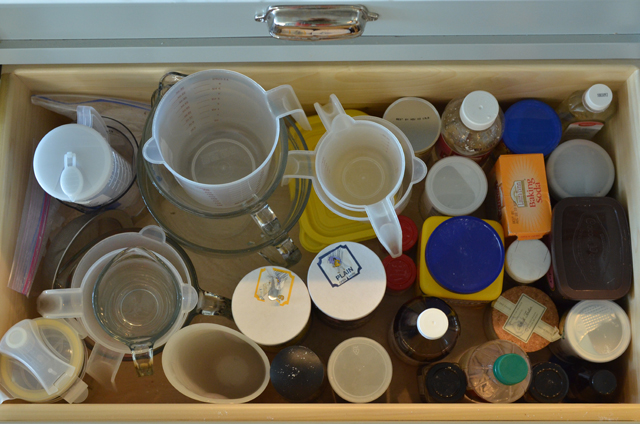 4.  Bake with  others in mind
It's so easy, while you're baking, to put a few items in a bag for someone else or to bake an extra loaf of bread to give away.  I keep different sizes of clear bag on hand, lots of plastic containers, along with aluminum loaf pans, so that I can easily give part of what I make  away.   I never really understood how much it blesses others to cook for them until our house fire.  I got so emotional when people brought food to us.  Just the thoughtfulness and soul nourishment of it. Not to mention the fact that it fulfills such a basic need.  I love that about my Southern heritage.  We cook for each other.  It's just what we do.  My sister is ALWAYS bringing food to people.  She's always making twice the amount of food so she can give some away and I want to teach my girls to be the same way.  To cook with others in mind.   You don't realize how special it is until someone does it for you.
And finally, here's my list of what I stock:
All purpose flour
Whole wheat flour
Cake flour
Wheat bran and germ
Flaxseed meal
White sugar
Brown sugar
Powdered sugar
Cocoa
Salt
Baking powder
Baking soda
Cream of Tartar
Corn Starch
Corn syrup
Flavorings (real not imitation, if I can get them)
Cinnamon, nutmeg, allspice, cloves, ginger powder
Baking chips of all kinds (chocolate, white chocolate, butterscotch, dark chocolate, chocolate chunk, you get the idea)
Yeast
Shortening
Evaporated milk, condensed milk
Marshmallow cream
Pumpkin puree
Local honey
Dried fruits
Molasses
Bark chocolate (I love Trader Joe's brand)
Have you ever set up a baking center? Don't you think you use it much more when it's accessible?  Even if you can't have a whole space dedicated to baking, rethink your system and see if you can make it easier to use.
Okay, toodle-loo.  Off to bake some honey wheat bread.  (Don't worry, the recipe is coming soon!)
And THANK YOU for all your sweet comments and emails during this series.  They've kept me going when I was sure I couldn't write another post.  Mwahhhhhh!
And happy baking!