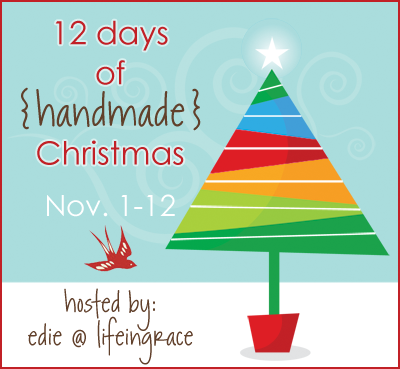 Welcome to my 2nd Annual 12 Days of Handmade Christmas Tutorials!
Spread the word on twitter and facebook that we're under way with handmade creativity.
You are in for a treat! I am giddy to be able to bring you some of the most talented and inspiring women in the blogosphere,
many of whom I am blessed to call friends.
I couldn't be more thrilled to showcase my friend Lindsey from The Pleated Poppy.
I met Lindsey last year when we were roomies at Blissdom and she is one creative and productive lady. She will forever be endeared to me as a kind, funny, and genuine soul whose gifts and talents are many. You'll love her blog and her shop!
Welcome Lindsey 🙂
hi! i'm lindsey and i'm a stay-at-home, part time home schooling mama of 3 littles, 7 and under. when my kids are all snuggled in bed, i am the owner of a small business called the pleated poppy, where i create fun handmade goodies and pretty accessories for everyday, from zippered pouches to checkbook covers and so much more! i am so blessed to be able to spend my days with my kids, and my nights with my sewing machine! being creative recharges me for my days ahead and having a supportive husband who i am madly in love with makes it all the more better!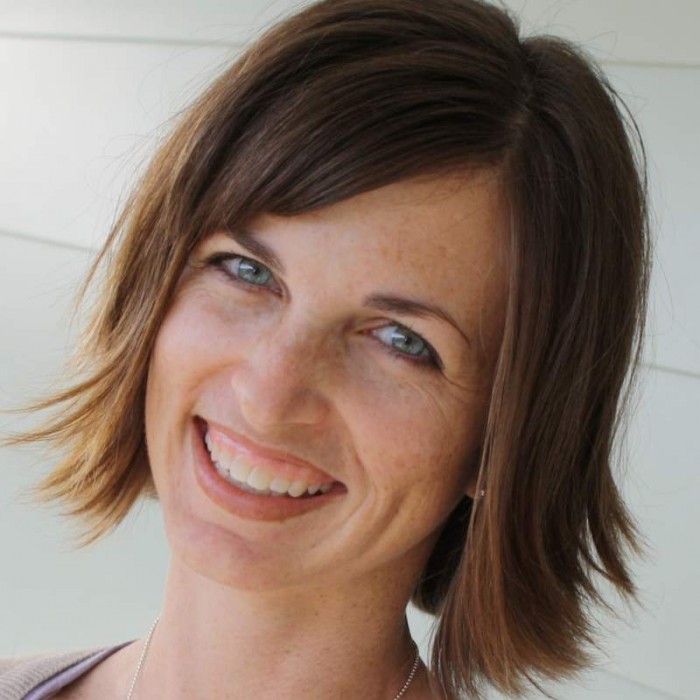 these are perfect for gifts!
each of my girls have one and silas (2 1/2) has been begging for one, so i made up this adorable one for him. these are great for throwing in your purse, for keeping the littles busy in the car, waiting rooms, restaurants… and when they're done, they love that each crayon has its own little home
and they can roll it up themselves and secure it with the elastic.
so, are you ready for the tutorial? here you go!
supplies:
2 pieces of same fabric for outside and inside – 5″ x 16 1/2″
1 piece of coordinating fabric for pocket – 6″ x 16 1/2″
1 piece of flannel for lining – 5″ x 16 1/2″
1 coordinating hair elastic
1 button
needle and thread
1 box of 16 crayons (i get mine at walmart)
disappearing ink fabric marker
1. cut out all 4 pieces of fabric
2. fold pocket piece of fabric in half length-wise and iron flat.
i have found that it helps to actually PLUG IN the iron, and not the nearby vacuum cord.
crazy how that works!
3. lay out flannel piece.
its just a lining to give the roll a little more stability.
then lay one of the 5″ wide pieces on top of the flannel (wrong side down),
then pocket piece on top of that, lining up all bottom edges.
pin at the ends.
4. find the midpoint of the pocket at 8 1/4″.
with your fabric marker and a straight edge, mark the middle line.
5. then make a line every inch, until all 15 lines have been drawn.
see how the space after the last lines on each side is a little wider than 1 inch?
that's to allow for the seam allowance.
6. now stitch down the pocket.
i start at the center line, 1/4″ below the top of the pocket, and back stitch (very important!),
then run your stitch all the way down.
work your way down the lines to the right, then to the left, until all lines are stitched down.
trim threads.
7. if you have a tag to add, do it now.
also stitch down the elastic on the far right side.
i take the seam part of the elastic (where its melted together) and pinch it.
i stitch it down just inside the edge, about a 147 times.
ok, not really but i really want to make sure the elastic holds when little hands are tugging on it.
8. now lay the outside piece on top of all that you have just attached together,
right sides together, and pin at each corner.
9. next stitch all pieces together with a 1/4″ inseam.
start at the short end without the elastic, leaving about a 2″ opening to turn right side out.
i marked my opening so you could see my placement.
clip the corners.
10. turn right side out and gently poke out corners. i like to use a chopstick for this.
11. spray your stitched down pocket lines with water before ironing crayon roll flat.
sometimes if you don't spray the marker lines,
when you iron it it makes the ink permanent rather than disappearing.
12. press all the edges flat and tuck in the edges of the opening.
13. starting just below the elastic, stitch very close to the outer edge to hold all the pieces together.
14. organize your crayons (my *favorite* part!) and tuck into pockets.
15. roll up tight.
gently stretch the elastic to find where the button should be sewn down.
sew on the button securely.
16. you're done!
find a cute little one to give this to and make their day!
i so hope you enjoy this little project!
thank you for reading through this very long tutorial,
and thank you edie for inviting me to be a part of your fabulous 12 handmade days of christmas!
xoxo
lindsey