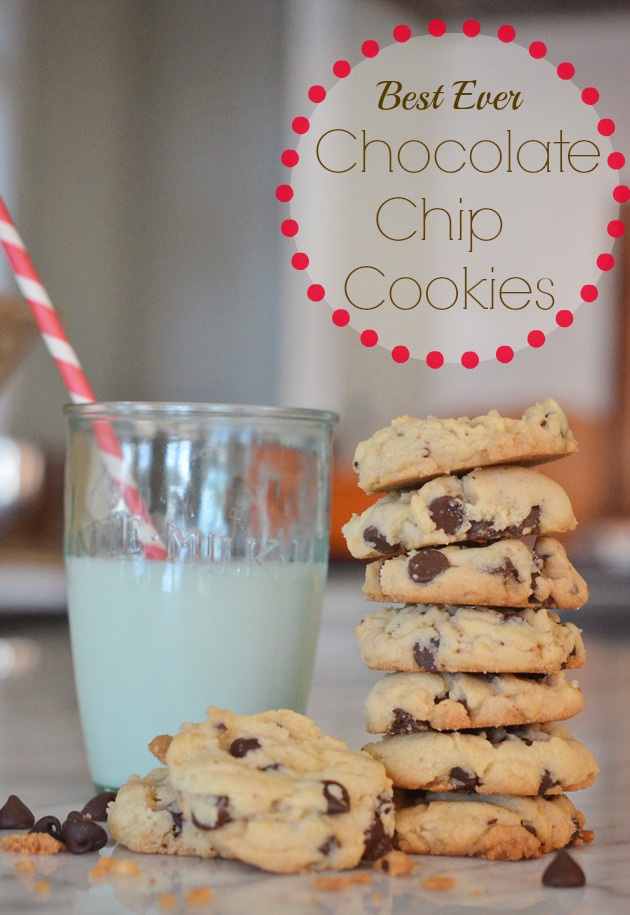 I've written about this recipe before but it's been a few years and this chocolate chip cookie recipe is  absolutely my most requested one.  And trust me when I say that I've made more versions of the chocolate chip cookie any one woman should.   My wonderful friend Kimmy introduced me to these delicious cookies and I am so thankful and indebted to her for sharing it with us.   My sister now makes these cookies all the time and they recently won "Best Dessert Award" at her church's Super Bowl party.   They took down some serious cakes and pies to win the prize.   And here's why I like them so much:  1) They have the best taste and texture.   2)  They are just as good on day 4 as on day 1.  3)  They freeze very well.    4)  They turn out perfect EVERY. SINGLE. TIME.
They never disappoint.  Ever.   And the best news yet?    They never flatten out on the pan.
These cookies are gonna change your cookie-making life.  And that is not a word of a lie.
After you make them, send me your testimonials and maybe I'll set up a Facebook page in honor of these culinary delights.   Ok, I'm kidding.
But they're just that good.
Without further adieu, I give you the chocolate chip cookie of all chocolate chip cookies.
2 sticks butter, softened
1 cup of vegetable oil
1 egg
1 cup of white sugar
1 cup of brown sugar
1 t. baking soda
1 t. cream of tartar
1 t. baking powder
1 t. salt
2 t. vanilla
4 1/2 cups of flour
1 12 oz bag of semi-sweet chocolate chips
1 T. milk
Cream butter, sugars, and egg until fluffy.   Add the rest of the ingredients and mix well.   For best results, use a scooper to scoop cookies onto cookie sheet.  Bake at 350 for 9-10 minutes until the edges are slightly browned.  This recipe makes 4-5 dozen cookies depending on what size you make them.
 My recipes page has plenty more goodies for you to try!