When Stevie and I met, he said he didn't like mushrooms.  I set out to the change his mind on that.  It was a successful campaign and now he begs for them.  Or something like that.
If you think you don't like mushrooms, I urge you to give this jewel a try.  I started making this years ago, after having it in one of my favorite little restaurants in Johnson City (no longer in business.)  I think I've finally figured out just how they made it.  I served it at my little soiree this week and thought it'd be easier to share the recipe by blogging it instead of emailing it to my friends.  I'm lazy like that.
So, hope you enjoy the soup and your weekend!
Also, before you start cooking, make sure you head over to Allume's website and make your plans to attend their conference in October.  The tickets for the conference went on sale last night and they sold out of the early bird tickets.  They still have regular tickets but after I saw the updated speaker line-up, I'm sure they'll sell out fast.  Ann Voskamp is giving the keynote.  Yes, you heard that right!!  And Melanie Shenkle ( from the Big Mama blog—who has a brand new book out!) and my favorite dearest blogger, The Nester will be speaking again.  It's within driving distance this year, in Greenville, SC, so if any locals want to make a road trip with me, let me know.  You can purchase tickets here!
I'm completely beside myself because how am I supposed to say something meaningful in that kind of company?   Can you say nervous Nellie?
Making soup is so much easier, so here ya go!!
Ingredients:
1 large box fresh button mushrooms
1 small box fresh cremini mushrooms
1 small box of shitake mushrooms (optional)
2 tablespoon good olive oil
3 T. butter
1 cup chopped onion
1 bunch fresh thyme, tied together with kitchen twine
Kosher salt
Freshly ground black pepper
1/2 t. nutmeg
pinch of cayenne pepper
1/3 cup all-purpose flour
2 cups chicken stock
1 cup half-and-half
1 cup heavy cream
1 T. honey
splash of balsamic vinegar
Instructions:
Saute onion in butter and olive oil until translucent.
Clean the mushrooms by wiping them with a dry paper towel and add them all except about a cup of the button mushrooms. (you'll add them at the end, sliced)
Add the cayenne, nutmeg, salt, pepper and the thyme.
Add the flour and cook for one minute. The mixture will be thick and gloopy-but not to worry!
Now, add the stock and stir well to incorporate the flour. You can use a whisk if needed to break up the clumps of flour.
Add the rest of the ingredients and let the flavors mix together well. Once you add the milk products, you want to keep the soup from boiling. Cook at mostly low heat.
Remove the thyme stems and serve with crusty bread.
(The reason for adding a cup of the mushrooms at the end is so you'll have different layers of texture in the soup, some mushrooms well cooked and others with a bit more crunch!)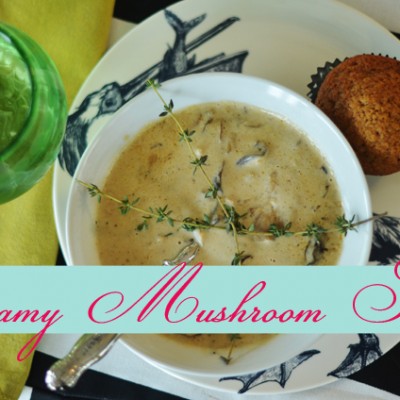 {Creamy} Mushroom Soup
Ingredients
1

large box fresh button mushrooms

1

small box fresh cremini mushrooms

1

small box of shitake mushrooms

optional

2

tablespoon

good olive oil

3

T.

butter

1

cup

chopped onion

1

bunch fresh thyme

tied together with kitchen twine

Kosher salt

Freshly ground black pepper

1/2

t.

nutmeg

pinch

of cayenne pepper

1/3

cup

all-purpose flour

2

cups

chicken stock

1

cup

half-and-half

1

cup

heavy cream

1

T.

honey

splash of balsamic vinegar

juice of one lemon
Instructions
Saute onion in butter and olive oil until translucent.

Clean the mushrooms by wiping them with a dry paper towel and add them all except about a cup of the button mushrooms. (you'll add them at the end, sliced)

Add the cayenne, nutmeg, salt, pepper and the thyme.

Add the flour and cook for one minute. The mixture will be thick and gloopy-but not to worry!

Now, add the stock and stir well to incorporate the flour. You can use a whisk if needed to break up the clumps of flour.

Add the rest of the ingredients and let the flavors mix together well. Once you add the milk products, you want to keep the soup from boiling. Cook at mostly low heat.

Remove the thyme stems and serve with crusty bread.

(The reason for adding a cup of the mushrooms at the end is so you'll have different layers of texture in the soup, some mushrooms well cooked and others with a bit more crunch!)