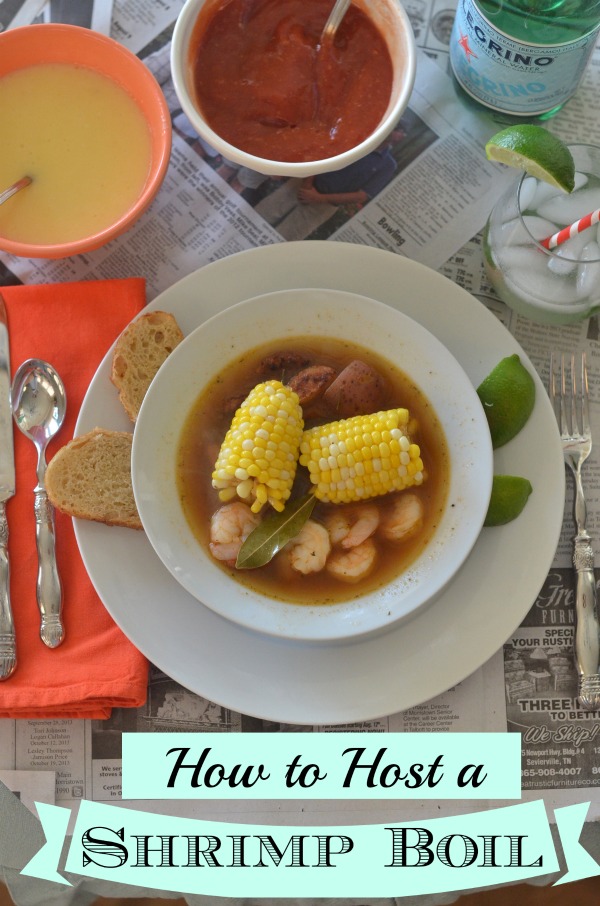 This has become my favorite meal to serve when we have company.  It's more than a meal. It's an event.  And it's so EASY and delicious.  And it's the perfect mix of laid-back and gourmet.  And here's the best part.  You don't an ocean, you don't need a fancy cooker, you don't even need fresh shrimp.  I've tried it multiple ways and it's perfect with frozen shrimp, cooked right on your stove at home.  You've GOT to try it!!  Most fun and delicious meal of the summer at the Wadsworth House!  And we always buy the frozen 41-50 count shrimp when it's on sale, which makes this meal doable for under $15! The last time I served it was for Ruth and her family and so, in honor of her, I'm linking up with her Thrifty Thursday! 
Then, you serve it right from the pot and let everyone ladle their own yummy goodness.
Here's how to do it:
1. Spread some newspapers on the table and put on some fun summer music.
Our playlist this summer was Bronze Radio Return but you can pick your own summer favorites. Forget about the fact that you don't live near water or that you can't get fresh shrimp. None of it matters.  This is gonna be epic.
2.  Invite some adorable people to your shrimp party.
Especially cute little people. Or those you live with everyday.  Those are perfect, too. Give them party glasses, bandanas, and cocktails.  Wait, hold the cocktails for the shorties.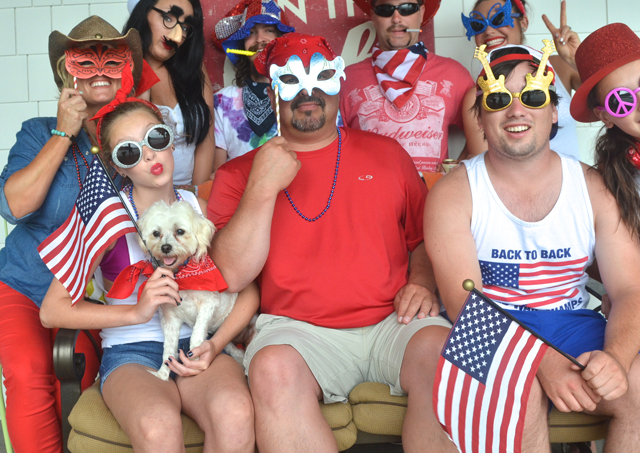 3. Cook up a big pot of frogmore stew.  (Shrimp boil aka frogmore stew aka low country boil aka many other names!)
Here's what you need to feed 4 people:  (I'm never feeding four so I double or triple it)
 One pounds of kielbasa, split in half and then chopped into bite size chunks 

4 ears of corn, shucked and cut into thirds or halves (you can usually break it into pieces with your hands, easier than with a knife)
2 boxes of chicken stock
1 can of beer (optional, could omit or use a little water, gingerale, or more stock)
4-6 medium yukon gold potatoes—washed and cut into bite sized chunks
1 medium onion
2 pounds of 41-50 count shrimp—(I use frozen shrimp, let it thaw in the sink, and then dry it off good with a paper towel)
1/4 cup  of OLD BAY seasoning (can be adjusted, so I start with a quarter cup and then add a little more if needed for taste)
salt, pepper
2 T. honey
2 bay leaves
1 T. balsamic vinegar
How to cook the stew:
Saute the chopped onion and kielbasa in a few swirls of olive oil until it's nice and carmelized

Add the chicken stock and beer
Add all the seasonings and the chopped potatoes
Cook for 10-15 minutes or until the potatoes are starting to get soft.
Add the corn and cook on medium heat for another 10 minutes.
Shrimp should be thawed and dried and then sprinkled with Old Bay seasoning
Just before serving, add the shrimp and cook for 3-4 minutes or until the shrimp looks pink and floats to the top.
Don't overcook the shrimp!
Serve with crusty bread and ENJOY!!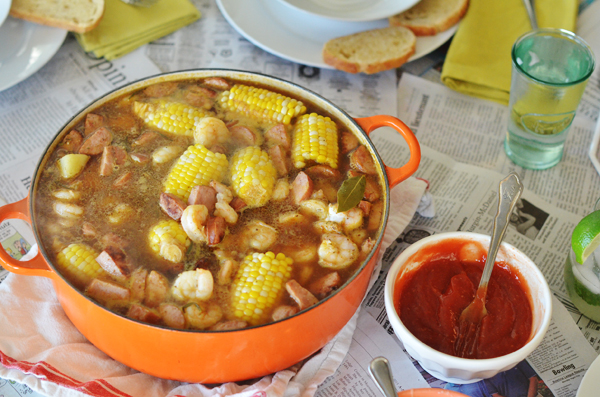 THE SAUCES  (don't skip this part, it's easy and MAKES the meal)
I got these from this website, but have adapted them slightly.  We use the cocktail sauce for the shrimp and the garlic mayo for the potatoes.  And in keeping with the casual party style of this dinner, we spoon each sauce out right onto the newspaper beside each plate!
Cocktail Sauce
1 cup ketchup
1/2 tablespoon prepared horseradish
Juice of 1 lemon
1 teaspoon freshly ground black pepper
1 teaspoon sea salt
1/2 teaspoon aged hot sauce, like Crystal or Tabasco
Mix well and refrigerate.
Easy homemade garlic mayo
1 egg yolk
1 clove garlic
1 teaspoon sea salt
Juice of 1 lemon
Pinch of Coleman's mustard
1 teaspoon apple cider vinegar
1 cup canola, peanut or vegetable oil
1-2 T of prepared mayo
Mince garlic and then mash to a paste with salt. Whisk with egg yolk, dry mustard, vinegar and lemon. Slowly drizzle in oil, whisking vigorously until emulsified.  Add mayo at the end and mix well.
Serve with crusty bread to sop up all the yummy juice from the stew!
Don't be scared.  Host a shrimp boil this weekend for your very own special peeps!