As my faithful readers know, the girls and I are studying the golden age of Greece. I have renamed myself Hestia, the goddess of hearth and home. We're painting grecian urns, memorizing lists of the gods and goddesses, learning about Odysseus and the parthenon, and making salt maps of Crete. And now I give you my take on a meatless (in honor of  those who give up meat for Lent) greek frittata….which I have renamed Greek Goddess Frittata, because I am a smidge melodramatic. And I like eggs.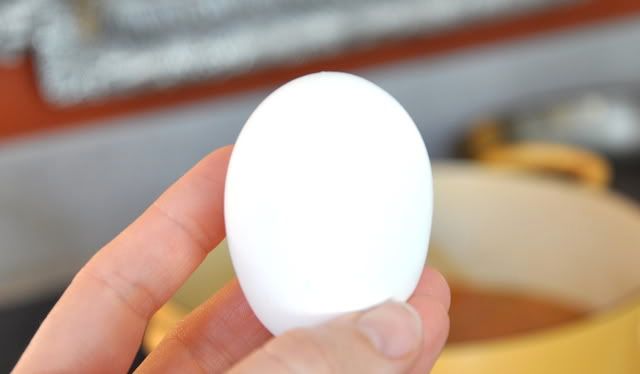 You will need:
12 eggs
1 jar roasted red peppers
1 red onion
1 box frozen spinach
4 T. half and half
1 cup cheddar cheese
1 container feta cheese
1/2 small container mushrooms
1/2 container grape tomatoes sliced in half
2 T. garlic and herb seasoning
few shakes of balsamic vinegar
1 T. honey
salt and pepper to taste
your supreme goddess kitchen skillz

If you're from the south and not Catholic, start with a tablespoon of bacon grease, which you keep stored in your cupboard. If you're not southern, ignore that part. We don't really have bacon grease that months old stored in our cupboards for cooking purposes. *wink* Do we girls? You can just start with a tablespoon of butter and we'll let bygones be bygones . Then everyone add a few swirls of olive oil to a large nonstick saute pan. Then add 1/2 of a chopped red onion, the mushroom and grape tomatoes and then salt and pepper to taste. Also, take 2 peppers from the RRP container and chop and add them to the onion mixture. Saute until onions begin to carmelize.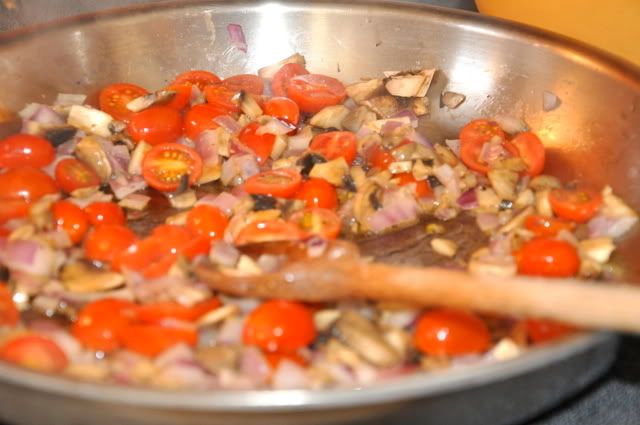 Meanwhile, combine the eggs, the cheddar cheese, the garlic seasoning, the vinegar and honey. Mix well. Cook the frozen spinach in the microwave for 4-5 min and then drain it very well. Very well, I said, and then add that to the egg mixture.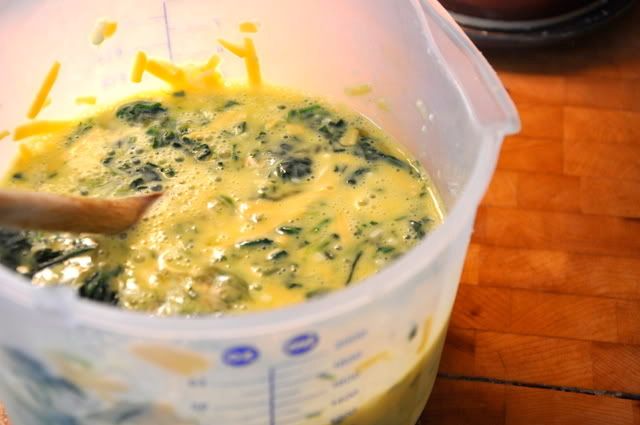 Demeter, the goddess of grain, will try to persuade you to add this beloved mixture into a crust of some kind. Resist her please. Please. This a frittata, not a quiche little Ms. Demeter.
Now continue to cook this on the stove and stir it as you would an omelette.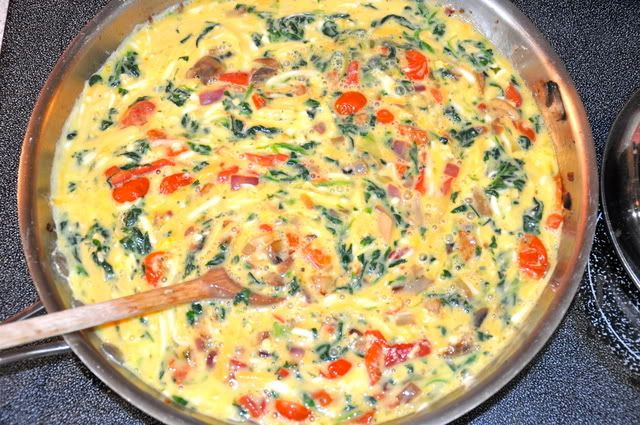 Then add 1/2 container of feta cheese. (the small container and whatever 'flavor' you like…I used tomato-basil feta). Stir this around and cook for a couple of minutes. Then add to the top rack of the oven on BROIL. It will take about 8-9 minutes to cook. I make mine early in the day and then reheat in the oven on 350 for 5-10 minutes before dinner.
I give you

Sure to appease your meatless cravings, your spartan children and your handsome Apollo!
For other Tasty Tuesday recipes, visit
Kim
at ForeverWherever!