Italian Sub Soup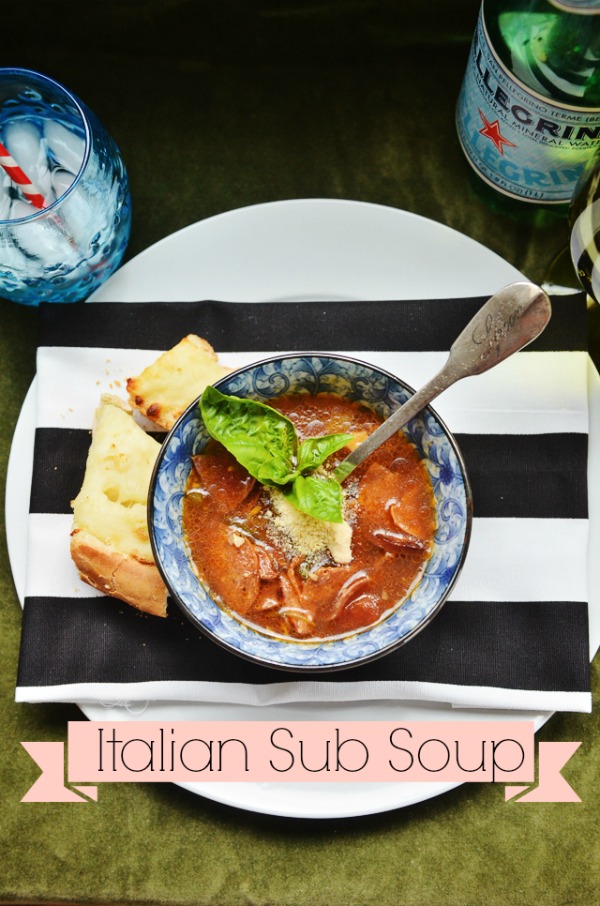 My mother has many charming qualities but one of my favorites is the way she says Italian (Eye-talian) and Hawaii (Hiii-wah-ya).
I think I'll make it my personal goal to make sure she says those two words every time I see her.
It may be tricky but it's too cute to pass up.
Just another excuse to make this delicious soup.
As a matter of fact, why don't we all just agree that they should both be pronounced this way from here on out?
Back to the soup.   It's Eye-talian. It's full of salami and pepperoni and ham. It's better than a vacation to Hiii-wah-yah. Yah, it is.
We had this soup for Christmas Eve because my family is not a huge fan of the seafood stew I usually make.
I'm here to please. Eye-talian it is baby.  The cheesy garlic bread wasn't too shabby either.  My cheese bread is pretty similar to  Pioneer Woman's—which means you'll need stretch pants and a clot buster.
This is an adaptation of an old Rachel Ray's recipe for italian soup  that uses the ingredients in a sub sandwich and puts them into a soup.
You'll need:
1 package of pepperoni cut in halves or fourths.
1 package of salami cut in halves of fourths.
1 package of canadian bacon cut in halves or fourths.
Whatever sandwich meat I have left over, chopped up and thrown in, usually ham.
1 medium onion, chopped
2-3 cloves of garlic, minced
1 green pepper, seeded and chopped
1 28 oz can of tomatoes  (I use San Marzano whole tomatoes and then just break them apart with my hands,  much to the chagrin of my observing children)
1 T. oregano or eye-talian seasoning
2 t.  red pepper flakes
1 box of chicken stock
1 T. balsamic vinegar
2 T. honey
fresh spinach (could use half or whole bag—I always use whatever I have, which is usually a partial bag)
salt, pepper and hot sauce to taste
Garnish with parmesan cheese and olives or whatever else you have that seems eye-talian
Saute all the meats in a few tablespoons of olive oil.  The meats are the star so you want them nice and caramelized.  After they sauté  a few minutes, add the onion, green pepper, garlic, red pepper flakes, salt, pepper and oregano.   When the onions are translucent, add the stock, tomatoes, spinach and then reseason and add the honey and balsamic.   Garnish with cheese and serve with cheesy garlic bread.
It's like a homeade Eye-talian sub, only easier and cheesier and more fun!
P.S.  Despite the fact that I love good food and have made a host of yummy goodness recently, I had Lucky Charms for dinner tonight and was crowned Queen of the Scrabble Board today.  That's good times.  Hope you're living it up too 🙂
And?!?? Get my free soup ebook here! It's gorgeous and has my favorite 5 recipes in it!