Welcome to the well stocked pantry!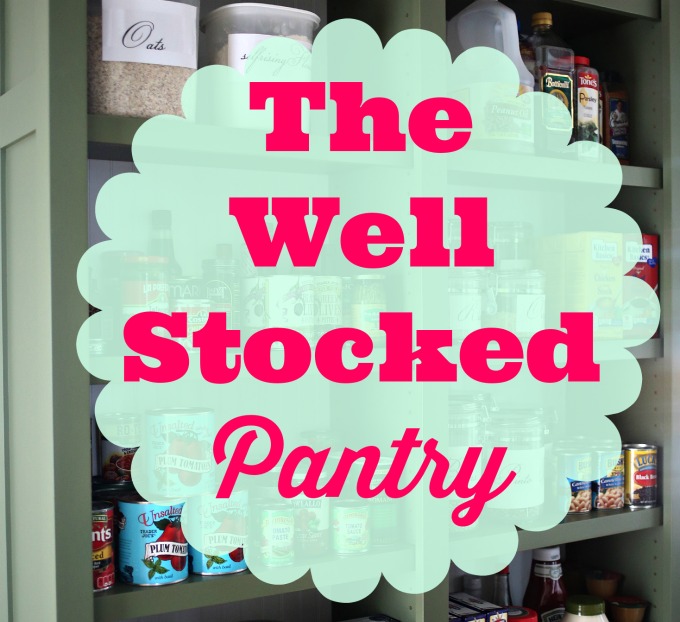 Okay, I'm not saying I'm a hoarder but what I'm saying is—I like a well stocked pantry. My sister hoards paper products  so it runs in the family. At this very moment, she's probably got 120 rolls of toilet paper. And I could be underestimating here.
But then, who am I to talk, I just bought a case of chicken stock and 14 cans of tomatoes.  And more chicken stock is being added to my grocery list as we speak because as a girl heads into football season, there's two things she can't get enough of—her favorite SEC team (Go Vols!) and chicken stock.  There's Rocky Top chili and Italian Sub Soup to make, dear ones.  I do not want to be caught with my orange and white checkered pants down.
(If you're more interested in Game Day fashion than Game Day food, visit my friend Melanie, who has attended to all your orange attire needs.)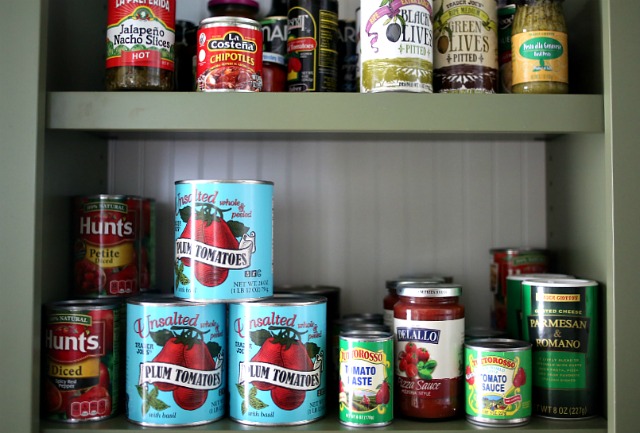 Okay, drum roll please. I almost hate to tell you this because every time I tell someone about my chicken stock, they start hoarding it too and then I can't get it at my grocery store.  This is not a word of a lie—I drove to 3 different stores in my little town last week in order to get my chicken stock.  Which is why I always buy all they have, be it a carton or a case. Because this brand is amazing. I wish they were paying me to say that, but they aren't.  It's better than homemade stock, in my humble opinion. It's dark and rich and full of tasty goodness. I use it ALL the time in almost everything I cook. I get very nervous when the stash gets low. If you ever wonder what to get me for Christmas, you can never go wrong with this chicken stock. Or something from Tiffany's. Either one is fine.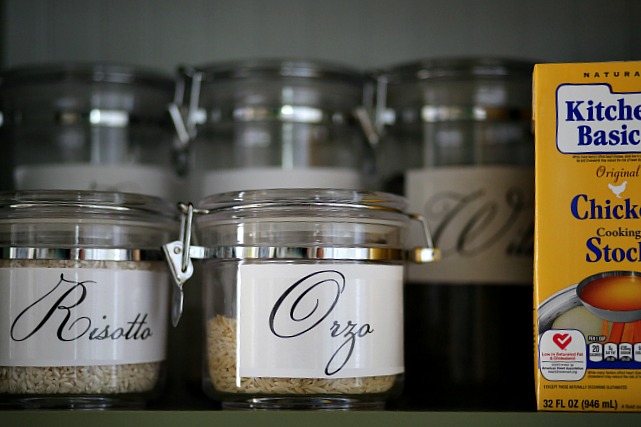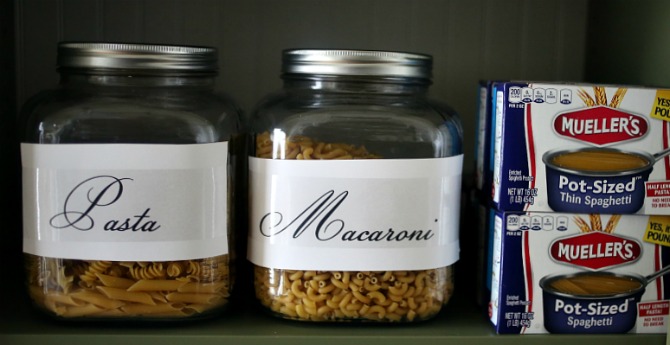 Kitchen Basics stock—chicken in bulk, a couple beef (I don't love the vegetable or seafood stock but you might!)
Tomatoes–28 oz cans of San Marzano and 14 oz cans of fire roasted, tomato sauce, tomato paste, marinara, spaghetti sauce, Rotel
Canned Beans–black, pintos,garbanzos, cannelini, white northern, chili beans
Dried Beans—navy, pintos, lentils, black
Grains–I keep jasmine rice, brown rice, wild rice, long grain, risotto, quinoa. Pasta–lasagna noodles, fusilli pasta (I use this for my lasagna soup), macaroni, orzo, spaghetti, angel hair, linguine, barley
Soups—cream of chicken, cream of mushroom, cream of whatever's on sale, tomato
Oils–I buy olive oil in large vats, canola, peanut, coconut, sesame, chili oil
Vinegars—red wine, balsamic, distilled, apple cider, rice wine Sauces–chili sauce, Sriracha, cholula, Sweet Baby Ray's, Country Bob's, local honey!!!!, maple syrup, various hot sauces, every kind of mustard this side of the Atlantic
Peppers and Olives–chipotle peppers in adobe sauce, roasted red peppers, black olives, green olives, kalamata olives
Bread Crumbs—panko, regular and eye-talian
Jellies and Jars–pepper jelly, apricot, marmalade, pesto, jalapeños, pepperoncinis, pickles, hot cherry peppers
Misc—canned artichokes, canned pumpkin
Nut Butters–I have about 5 varieties of peanut butter, almond butter, and of course,  Nutella.
Nuts–Trader Joe's has a superb selection of nuts and we keep every kind imaginable on hand.
Dried Fruits–I always keep jumbo raisins, dried cranberries and dried Tart cherries for my cherry chocolate chip cookies!
Don't forget the onions, potatoes, garlic, and shallots.
There's no end to the yummy goodness that can be made and shared from a well stocked pantry. Buy in bulk and watch for sales, especially buy one, get one free.  I've always got my eye out for pantry items that are on deep discount.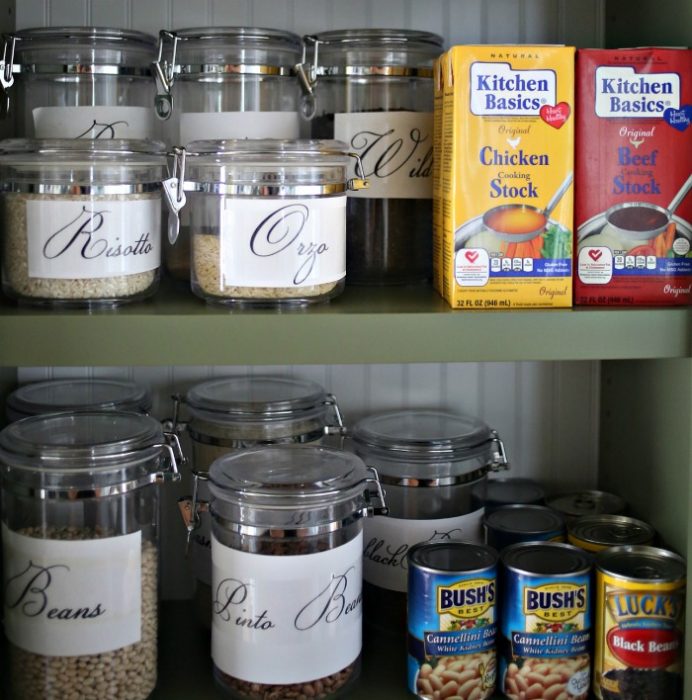 With a well-stocked pantry, you eliminate the first road block to cooking. If you have things on hand, you're much less likely to give in to the temptation of eating out. Your family will be happy and well nourished with good, home-cooked meals and you will be like super woman.  Only without the corset.
Click here to print this list!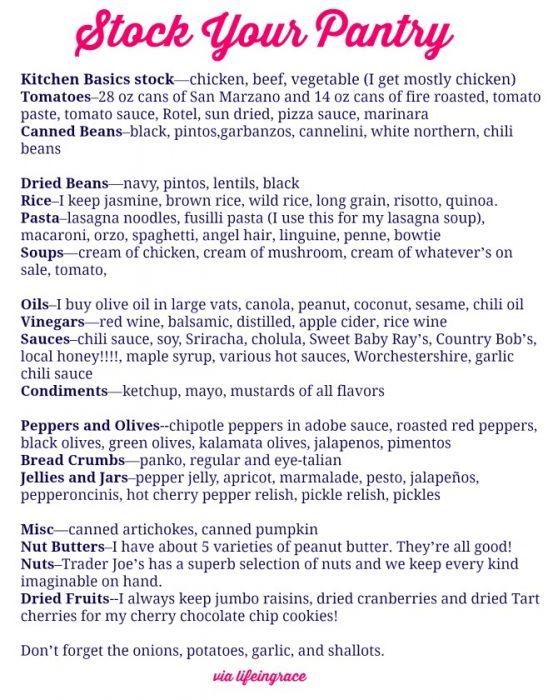 To make the labels, I just print the words I want in my favorite font (Champignon) on card stock or even regular computer paper, cut them to size and then tape them (with packing tape) onto the containers.  I usually resize the font to 150 ish to get the size I need.   This is a great job for an eager (younger) helper!  I got my containers at Walmart and my local grocery store.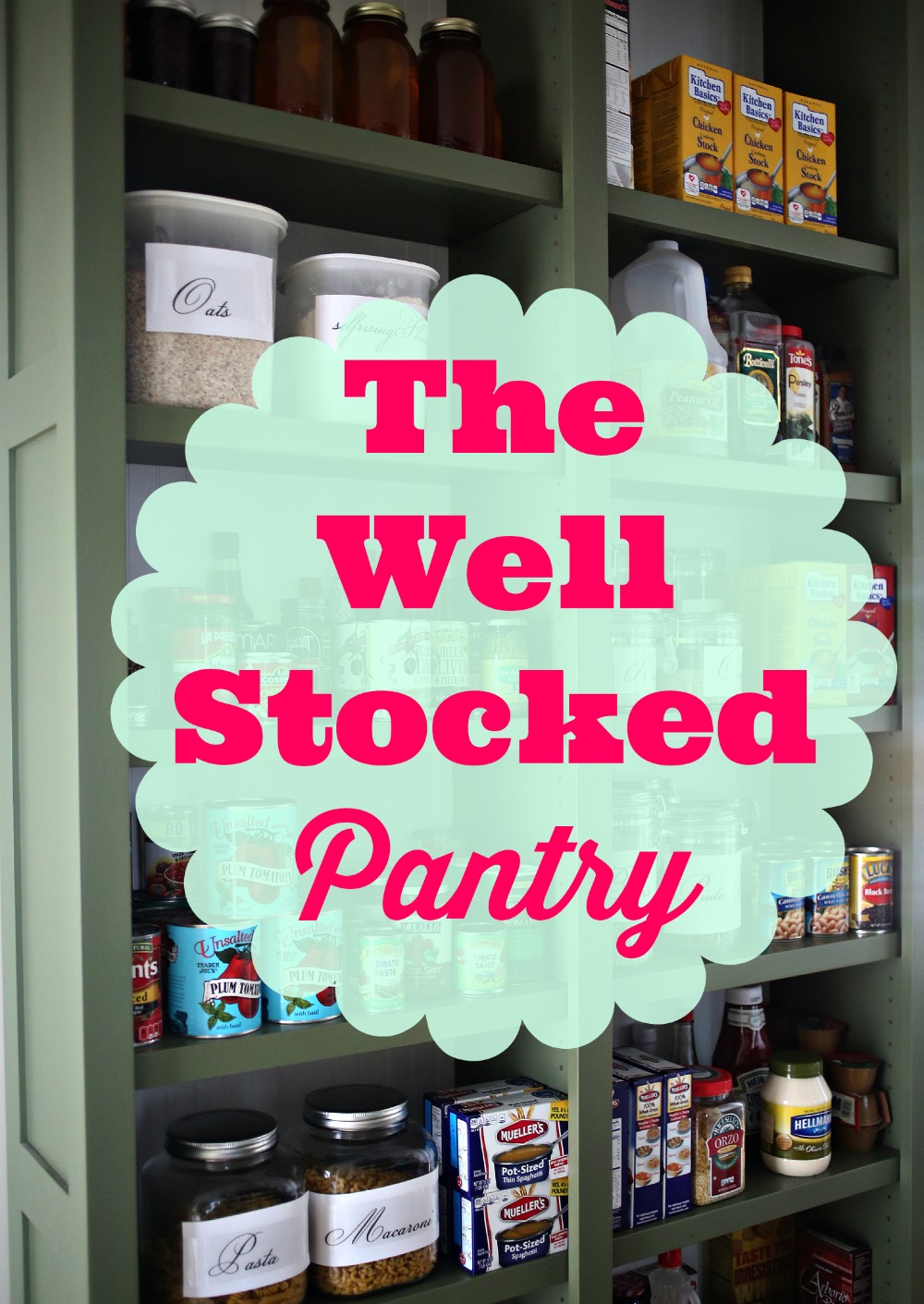 *********************
ps.  In case you didn't know, this family doctor took the plunge into the world of natural health and essential oils and these oils are BLOWING MY MIND.  If you want to feel better, sleep better, strengthen your immune system, reduce your stress, and clear some of the common toxins out of your life, I'd love to walk with you as you get started.
In the month of December (2016) I'm giving away a signed copy of my book along with a $10 product credit (to repay you for the cost of your shipping) to anyone who joins Young Living with me with a Premium Starter kit.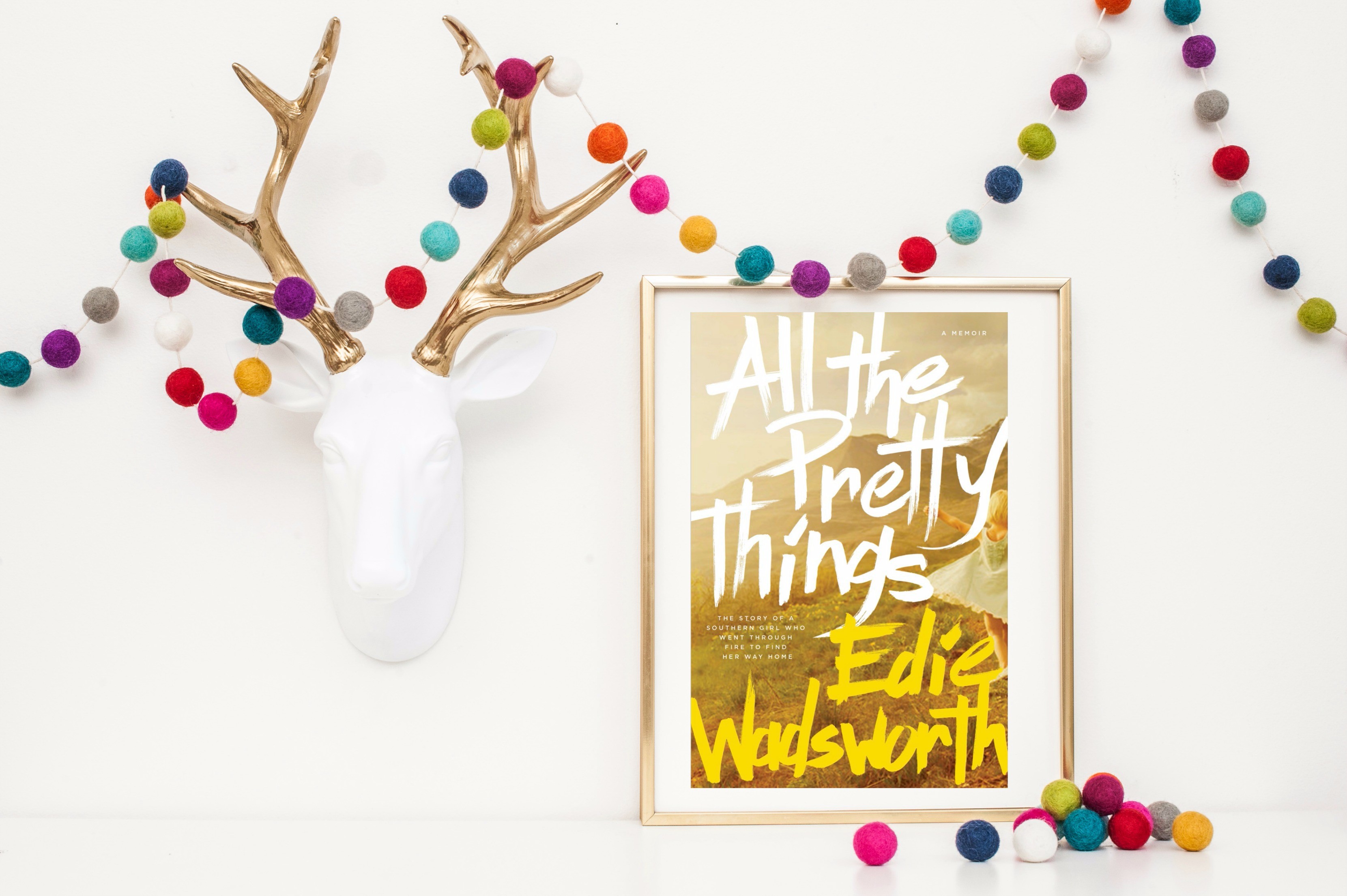 Young Living is giving away a free bottle of Christmas Spirit (my ABSOLUTE favorite Christmas scent and SO GOOD for mood!!) with every starter kit purchase. It's a great time to join!!