What is hospitality?  And is it still relevant in our modern, individualistic society?  This long lost art of welcoming others into our homes and hearts can and should be revived.  Join us in a 31 day series to rediscovering a heart of hospitality!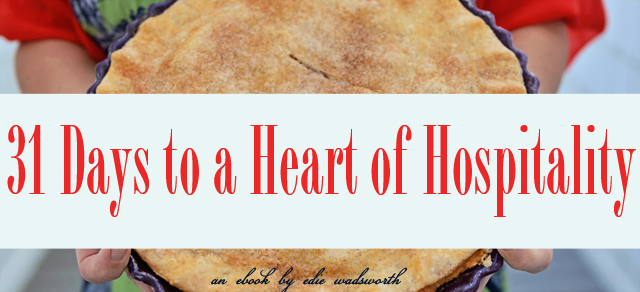 This series on hospitality has been growing inside my heart for a lifetime.
Because really, isn't it the ache of every human heart—to be known, to be loved?
Join me in a 31 days series as we dig deep into what true hospitality means and how it can change our lives.
Day 1:: What Hospitality is Not
Day 9:: Hospitality Begins in the Bedroom, part 1
Day 10:: Hospitality Begins in the Bedroom, part 2
Day 12::The Well-Appointed Guest Room
Day 13:: The Well-Stocked Guest Bath
Day 15::All They Really Need is You
Day 16::Hospitality the size of Texas
Day 17::Readying the Hearth with Prayer
Day 18::The Well Stocked Pantry
Day 21:: On Feeding People Well
Day 22:: Setting up a Baking Center
Day 23:: Homemade Honey Wheat Bread
Day 24::Homemade Whole Wheat Bread
Day 26::Hospitality, Square Dance Style
Day 27::On Listening and Margin
Day 28::What to Cook, when company comes
Days 30 and 31 will be completed as part of printable booklet!