This is day 13 in a 31 days series on hospitality. (What was I thinking?!?!?!?) Start from the beginning here.


Now, y'all know already that this is my master bathroom but it's the only one roomy enough to get a decent picture.  Bathrooms are notoriously hard to photograph!
Remember this summer when we hosted 25 people at our house for the week of July 4th? I knew that with that many people (8 of them being our kids) we'd need well stocked bathrooms so I went on a bathroom stocking spree. The great thing about stocking your bathrooms well is that when you need something, you can always shop the house before having to shop the store.
I like to start with great smelling soaps and lotions.  I almost always shop at TJ Maxx because they have great brands at a fraction of the cost.
Inexpensive glass jars make great storage for cotton balls and Q-tips.  I have these in all my bathrooms.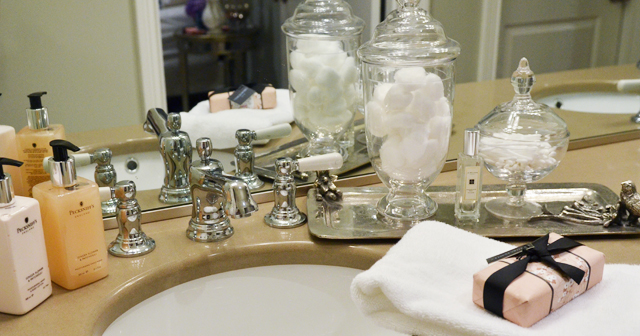 I also like to have either a basket  well stocked with various toiletries that  my guests might need.  You could store the basket under the sink or on the counter if it's small enough.  I also try to keep an extra robe in the guest bathrooms and plenty of towels and washcloths.  It may seem redundant to stock things that *may* or may not be used but I'm always grabbing things from these bathrooms until I get to the store to restock them.
Here's a list of things I like to keep on hand for guests:
-extra toilet paper
-paper towels
-soaps and lotion
-pads and tampons
-toothbrush and toothpaste
-motrin and tylenol
-visine eye drops
-extra contact cases and contact solution
-bandaids and first aid creme
-nail clippers and basic manicure set
-deodorant
-cotton balls and Qtips
-body and face wash
-chapstick
-small sewing kit
-white terry robe
This list isn't exhaustive but it sure comes in handy to have the things you need without having to ask your host for every item you might have forgotten.  I think it serves to give your guest some sense of control when they are out of their element and away from home.  These items would be great to stock in travel sizes and to buy as you see them on sale.
*********************
And you can imagine my delight when this One King's Lane holiday flyer came in the mail with a whole spread dedicated to the guest room and bath. So cool and who wouldn't love to be a guest in this room?!? If you haven't shopped at OKL, you're missing some great deals. I buy almost all of my art from them! Follow this link to sign up!