This is day 18 in a 31 day series on hospitality.   Start from the beginning here.
The title of this post is 'The Well Stocked Pantry'.
The alternate title is, 'Hello, my name is Edie and I hoard chicken stock.'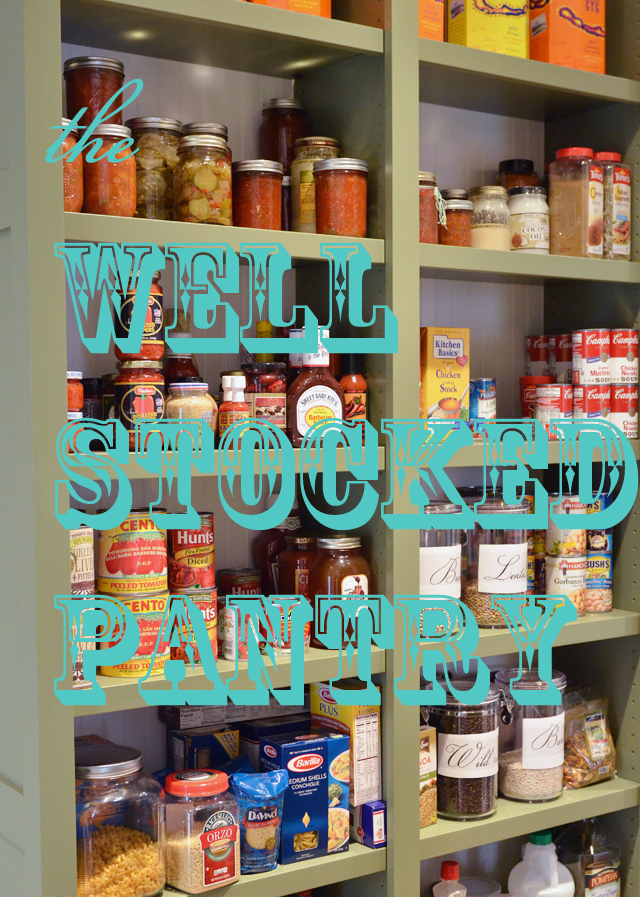 I'm not saying I'm a hoarder but what I'm saying is—I like a well stocked pantry.  My sister hoards paper products so it runs in the family.   At this very moment, she's probably got 120 rolls of toilet paper.
But then, who am I to talk, I just bought a case of chicken stock and 14 cans of tomatoes.  Don't turn us in.  We're just trying to be hospitable, ya know.
Okay, drum roll please.  I almost hate to tell you this because every time I tell someone about my chicken stock, they start hoarding it too and then I can't get it at my grocery store.  Which is why I always buy all they have, be it a carton or a case.  But this brand is amazing.  It's better than homemade stock, in my humble opinion.  It's dark and rich and full of tasty goodness.  I use it ALL the time in almost everything I cook.  I get very nervous when the stash gets low.  If you ever wonder what to get me for Christmas, you can never go wrong with this chicken stock.  Or something from Tiffanys.  Either one is fine.
Add this to your grocery list, dear ones.  Just please don't buy it from the East side Ingles.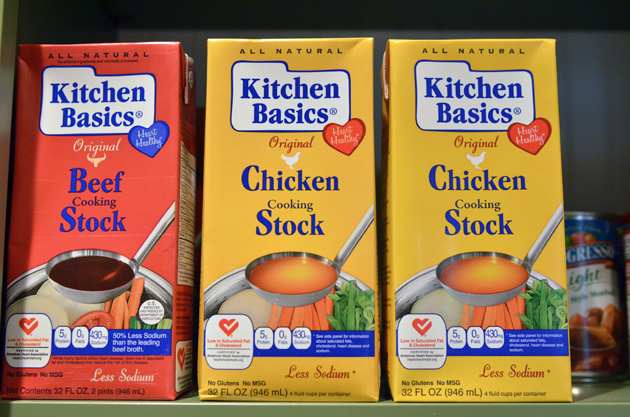 The day before BHG came, my sister spent HOURS organizing my pantry.   We started the process of moving some of my pantry items into containers with labels.  We used the 'champignon' font at 200 pt and then just taped the labels to the front of the containers.  I'd like to get most of my pasta, dried beans and rice into containers.  Maybe by Thanksgiving.  Or whenever she comes back 🙂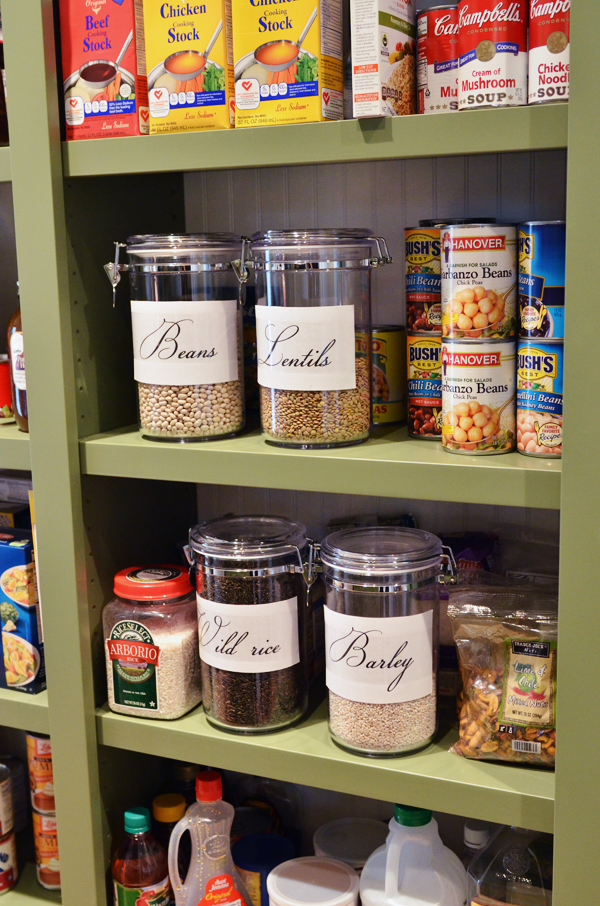 There's one other item that I'm a brand Nazi about—-the San Marzano tomatoes.  So worth the extra cost.  I use them in all my soups where tomatoes are a main player.  I also like the fire roasted and use them when I don't use the San Marzano.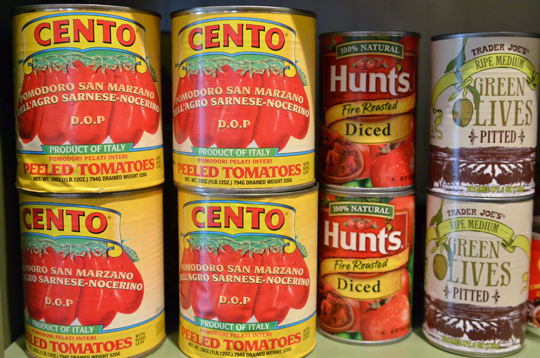 Here's a listing of the things I like to keep well stocked so that I'm prepared to cook for my family and friends.   (I'm doing a whole separate post on baking so those items will be left off here.)
Kitchen Basics stock—chicken in bulk,  a couple beef  (I don't love the vegetable or seafood stock but you might!)
Tomatoes–28 oz cans of San Marzano and 14 oz cans of fire roasted
Canned Beans–black, pintos,garbanzos, cannelini, white northern, chili beans
Dried Beans—navy, pintos, lentils, black
Rice–I keep jasmine, brown rice, wild rice, long grain, risotto, quinoa.
Pasta–lasagna noodles, fusilli pasta (I use this for my lasagna soup), macaroni, orzo, spaghetti, angel hair, linguine
Soups—cream of chicken, cream of mushroom, cream of whatever's on sale, tomato,
Oils–I buy olive oil by the droves, in large containers, canola, peanut, coconut
Vinegars—red wine, balsamic, distilled, apple cider, rice wine
Sauces–chili sauce, Sriracha, cholula, Sweet Baby Ray's, Country Bob's, local honey!!!!, maple syrup, various hot sauces, every kind of mustard this side of the Atlantic
Peppers and Olives--chipotle peppers in adobe sauce, roasted red peppers, black olives, green olives, kalamata olives
Bread Crumbs—panko, regular and eye-talian
Jellies and Jars–pepper jelly, apricot, marmalade, pesto, jalapeños, pepperoncinis
Misc—canned artichokes, canned pumpkin
Peanut Butter–I have about 5 varieties of p.b.
Nuts–Trader Joe's has a superb selection of nuts and we keep every kind imaginable on hand.
Dried Fruits--I always keep jumbo raisin, dried cranberries and dried Tart cherries
Don't forget the onions, potatoes, garlic, shallots
There's no end to the yummy goodness that can be made and shared from a well stocked pantry.  Buy in bulk and watch for sales, especially BOGO.
Stocking the beverage center, baking center and refrigerator coming up soon!
Happy weekend and happy hoarding!