This is day 19 in a 31 day series on hospitality. Click here to start from the beginning.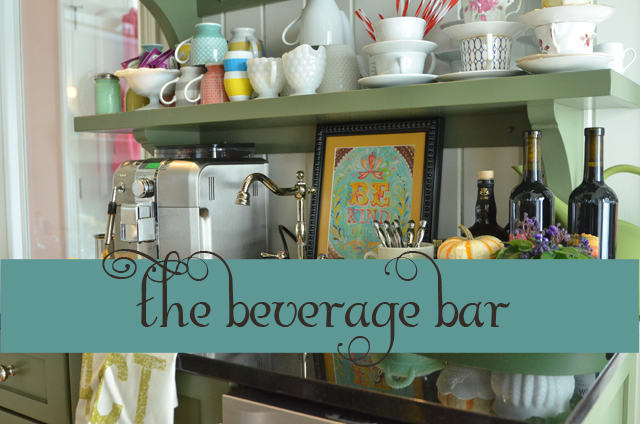 I've never had a beverage bar before but it's been on my wish list for a long time. So, when we were rebuilding our house, I decided to make it happen. And oh, am I glad I did.  I've had friends in the past with this type of space, away from the hubbub of the kitchen and it works so well for flow of traffic and ease of entertaining a big family or lots of friends.
I actually changed the floor plan of the house to accommodate this awesome space.  As you walk through this side door (coming in from the breezeway), the beverage center is to your right and the floor to ceiling open pantry is to your left.  That's a peak of my bedroom at the end of the photo.  The glass doors to the workroom are on either side of the beverage bar.
Did I mention I LOVE this space?  If you ever have a chance to create a scullery/butler's pantry/beverage center, I would highly recommend it.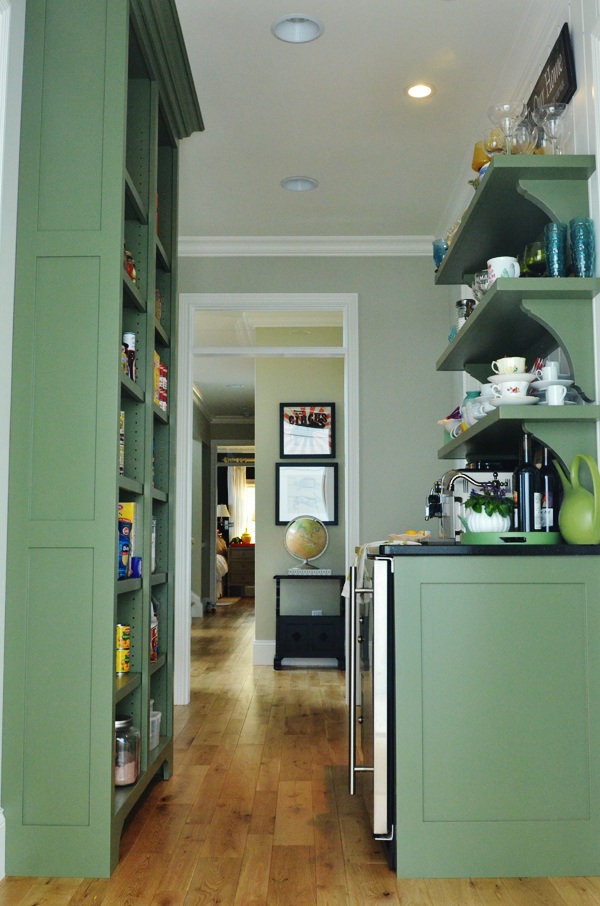 Side note:: I love to put little love notes throughout the house to encourage a certain joy de vivre and to help us all remember to love and serve each other.
Katie Daisy's stuff is awesome!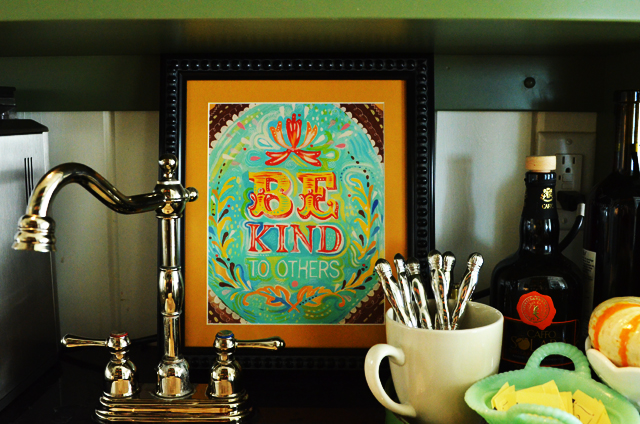 We did vertical plank board behind this wall for durability and architectural interest.  It's so easy to wipe down and keep clean.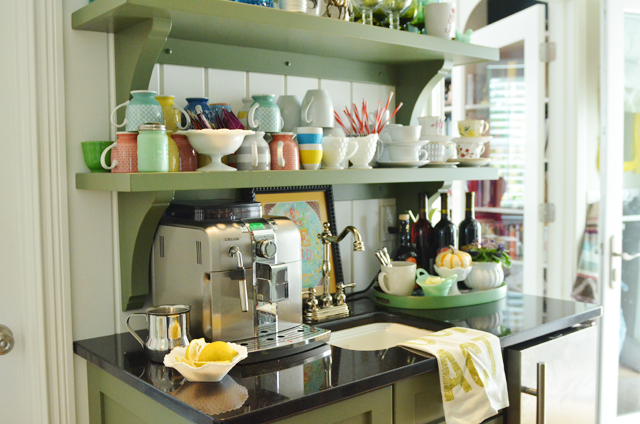 Most of the glassware is thrifted.  The colorful coffee mugs are from West Elm, as is the monogrammed amber stemware.  The sign was a gift from our wonderful builder, Larry Anglea and his wife.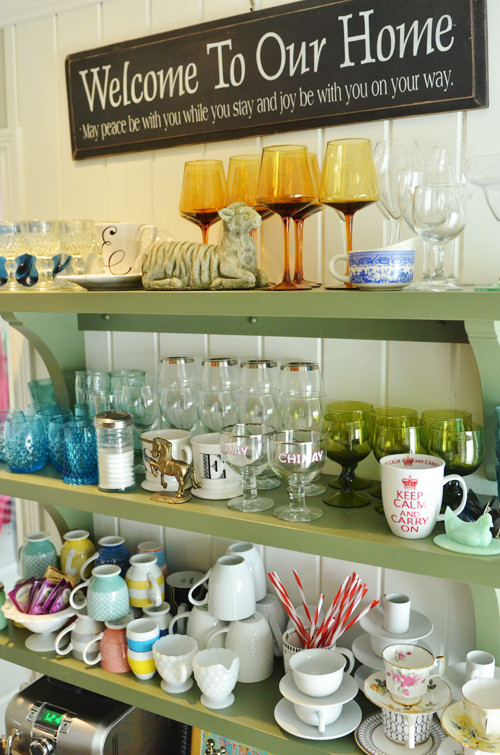 I keep cinnamon in my beloved Jadeite salt shaker to add to my coffee (thank you for the tip, Miss Patty!). We have this Philips Saeco RI9837/05 Syntia Automatic Espresso Machine, Stainless Steel

and we LOVE it. This is our second espresso machine and I highly recommend this brand, if you're in the market. The coffee and espresso are divine and the frother works great. (Often the frothers are weak on these types of  machines or don't last long, so definitely read reviews before you buy). It also dispenses hot water for hot chocolate and tea.  The only problem is that I often become the barista when guests are here because nobody else knows how to use it.  It's not quite as easy as making a pot of coffee.  It's a good problem to have though and I've just about got my girls trained to use it.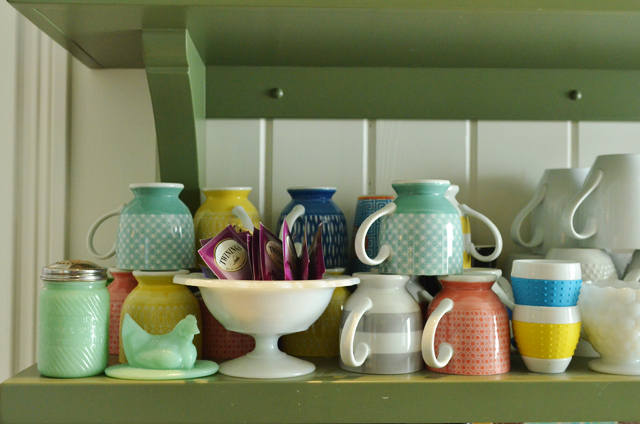 I keep the lower drawers stocked with extra coffee and tea, to-go cups for hot and cold drinks, packets of propel and crystal light and latte and cappuccino mixes.  The to-go cups are a huge hit and so worth stocking up on for the holidays.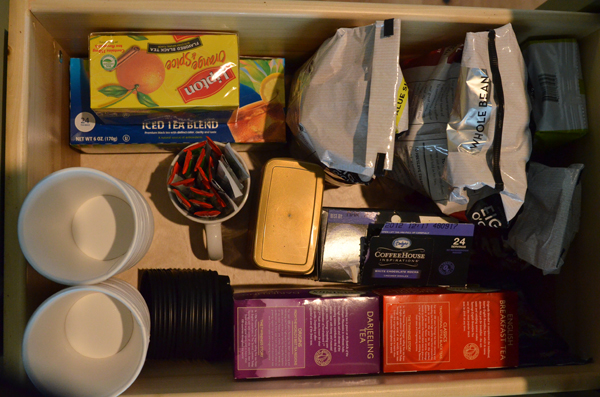 This may in fact be the most hardworking of all our rooms. It gets used all day, everyday.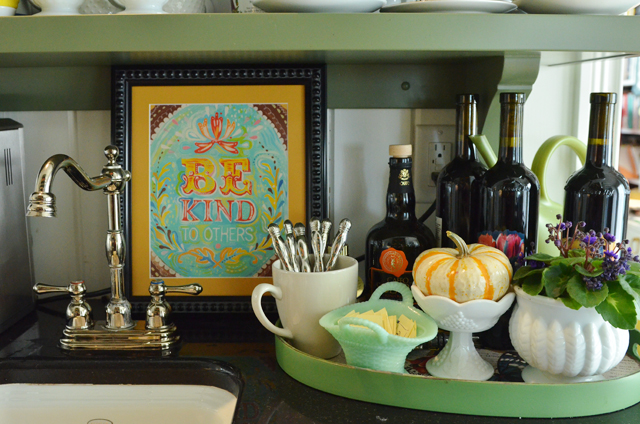 This space is just behind the kitchen so it definitely eases traffic jams in the kitchen.  The traffic jams are all in here, though!
When we're having company, I like to keep fresh limes and lemons sliced and ready.  I always have sugar, along with all the sweeteners and my favorite local honey  for use in coffee or tea.
We designed this space specifically for the U-Line ice machine which we use all the time but especially in the summer when we're filling up coolers.
I am SO THANKFUL for this little corner of our house.  It is the very essence of hospitality and I think it's a crying shame that the butler's pantry got tossed aside right along with the butler.
We should start a 'bring back the butler's pantry' revolution.   Heck, we should start a bring back the butler revolution.
THAT's what I really need.  A butler to man the butler's pantry.  Any takers?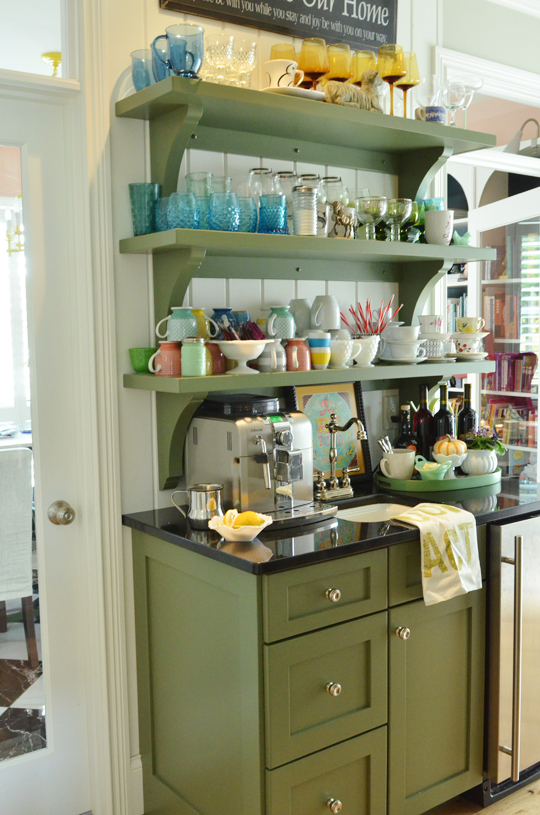 The question everyone asks about the open shelves is,  "Doesn't everything get dusty?"     Not at the rate we use it!
Inspiration for the shelf style from Urban Grace Interiors.
Cabinet color:  Benjamin Moore Great Barrington Green.