This is day 26 in a 31 day series on hospitality. Start from the beginning here.
You know you've raised your kids right when they ask for a square dance party for their 16th birthday.
And that's just what my niece, Hope (or Hope-y, as I call her) asked for.   Isn't she adorable?????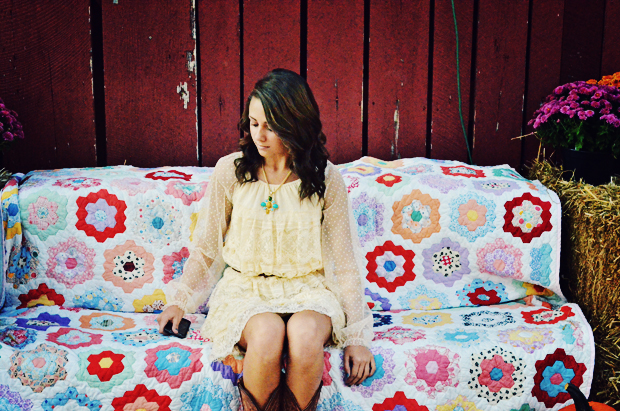 And here is the hostess with the mosses, in the flesh.  My sister, if I do say so myself, knows how to throw a party.  She knows how to feed people.  And she does it with grace and with a big smile on her face.  She's always doing it too, so I suppose the practice has paid off.  If you're having an event or just blessing people in your everyday, you need to learn from the master.  She is hospitality extraordinaire.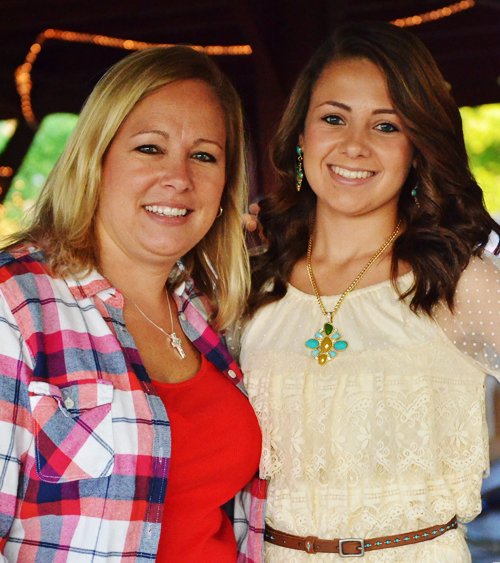 She's smart too because she surrounds herself with her people.   Which reminds me that it takes a village to raise a child host a square dance.   We discovered during the setup that Aunt Shawna is little OCD with her decorations.  They have to be PERFECT!  Which was a great balance to my, "Oh, everything looks great!"  attitude.  The three of us were a mean team of decorating and serving and cleaning up.  You need your people.  Hospitality is seldom a solo sport.  We made Hope-y pose with the aunts.  It's only fair since we've half raised her!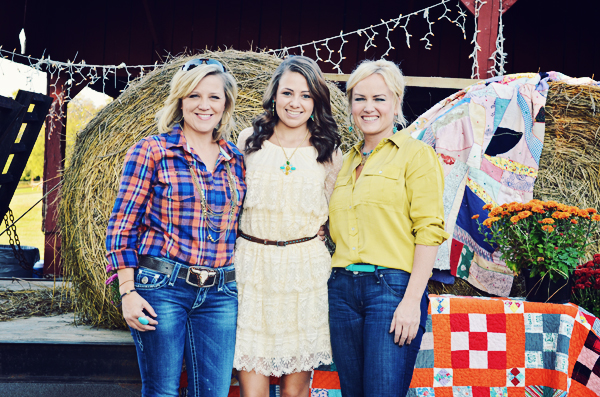 And the girl cousins—so completely adorable!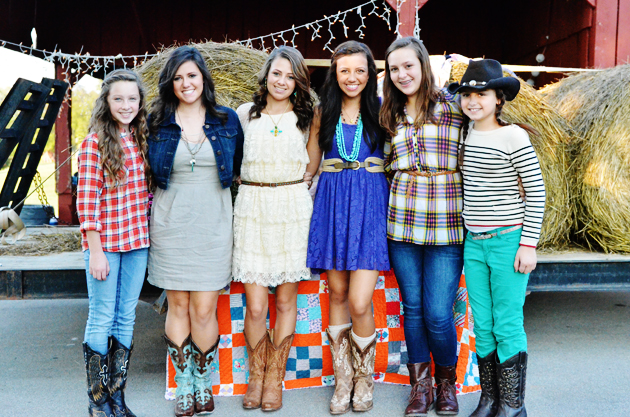 The hillbilly couch got put to full use.  Just set up some hay bales in the rough shape of a sofa.  Instant photo booth!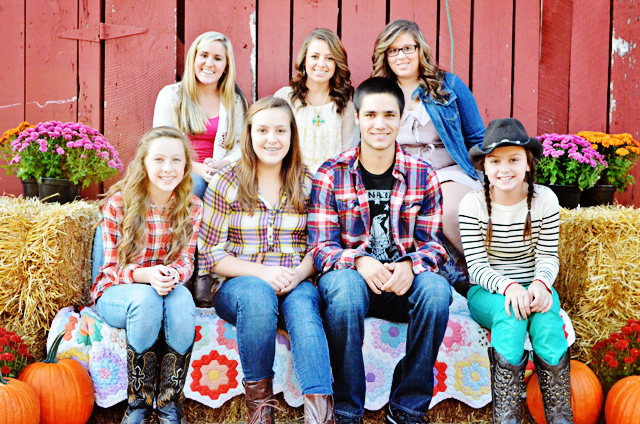 The food was beautiful to look at and yummy to eat.
When sissy texted me a picture of one of these sunflower cupcakes the day before the  party and said, "Just 74 more to go",  I got a little panicked for her.  Except then I remembered that she's a machine.  She can just churn out the work and get .stuff. done.  I LOVE that about her.  Nothing intimidates her, nothing rattles her.  She's a work horse and knows how to do EVERYTHING.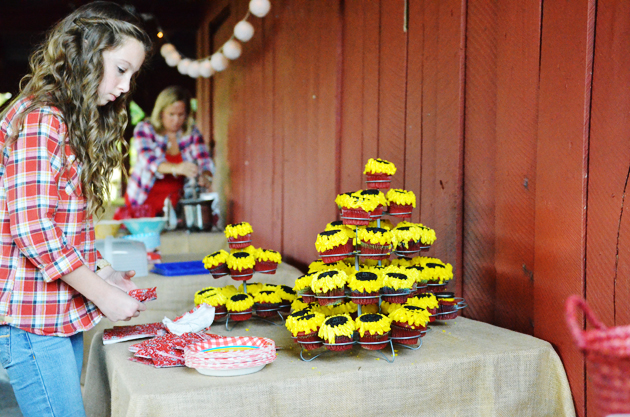 She simplified the drink list to include sweet and unsweet tea and lemonade.   She also has tubs of water bottles sitting around.   Perfect and simplified.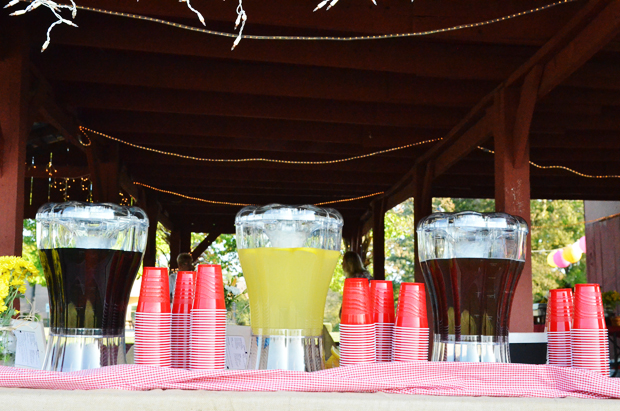 The chocolate fountain was a huge hit.  Cleaning it out the next day, however, was not.  I said that we should just take a vote on whether to throw the whole thing away or clean it.  I'm sure my vote of 'throw the whole thing away' was tempting but she cleaned it out, God love her.  Every last drop.  I vowed to never buy a chocolate fountain.  EVER.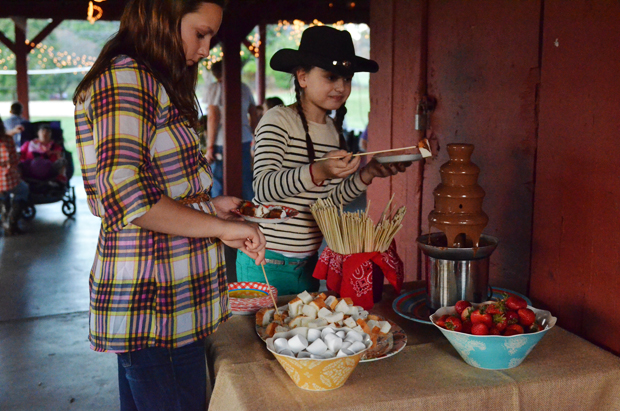 We decorated mostly with burlap, bandanas and mason jars.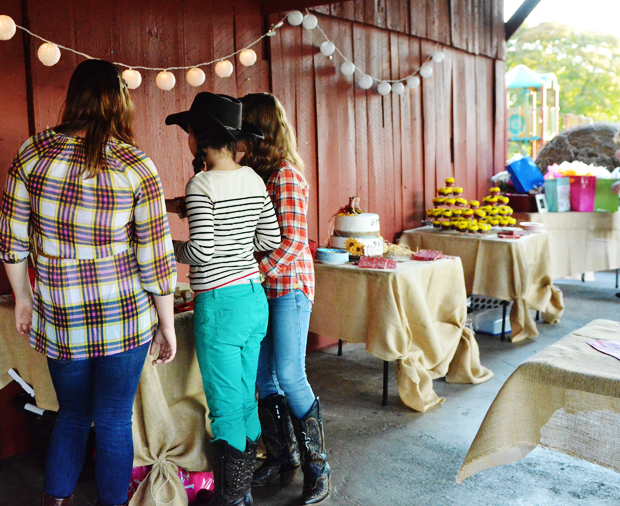 The tables were set with simple flowers (in mason jars) and small votive candles.  She served BBQ, baked beans, cole slaw and chips.
And you can't have a party in our family without Grannie and Poppa G to help you.  They work like crazy, in the background, to make everything perfect.
Grannie's got that look on her face like,  "Did we remember to unload the mums?"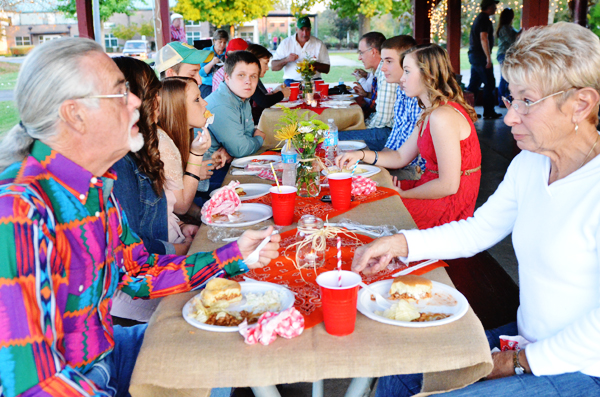 Hope and her friend Paige decided to celebrate their birthdays together.  Their cake was todiefor!
(Side note—when you're having a big party like this, it's a great idea to do it jointly to defray some of the costs and some of the work.  Paige's family was awesome in helping us get all set up and torn down and since we had the party at a barn, there was a lot to load and unload.)
And then there was the square dance.  If you've never been to one, find out if there's a local caller in your area and book one right away.  It's the perfect family activity because all ages can participate.  You don't have to know what you're doing and it's easy to catch on.
It's THE MOST FUN, EVER!  I'll let the photos speak for themselves!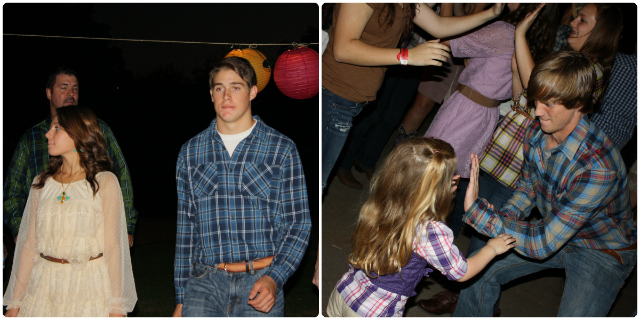 Take your partner and do-si-do!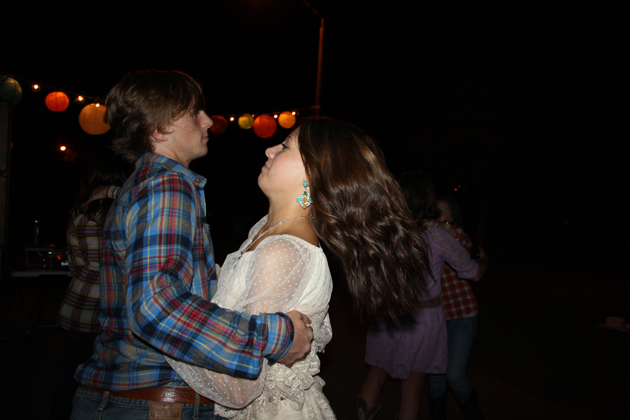 These two boys were HI-LARRY-US.  Trevor showed up in a mullet and they rocked the square dance floor all night.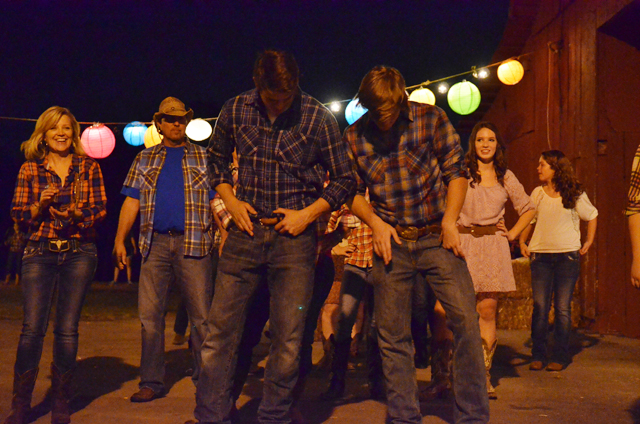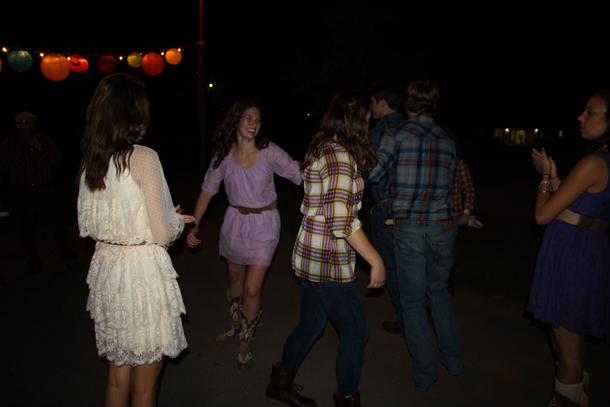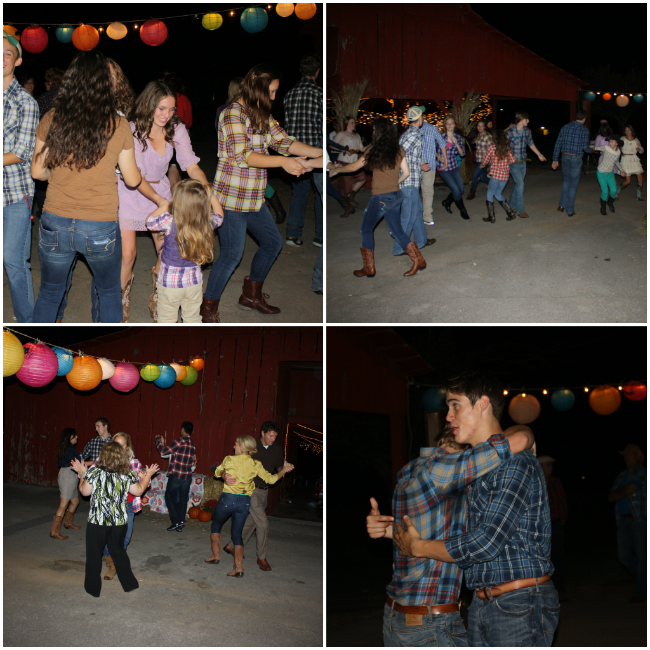 It was the most fun I've had in a long time.  Maybe even since the last square dance.
And watching my sister work her magic was just icing on the sunflower cupcakes.