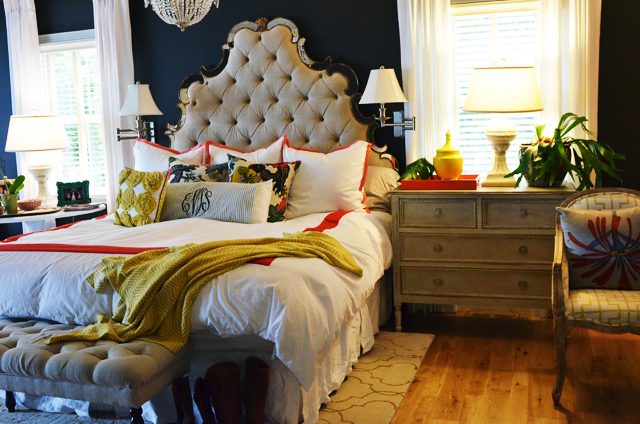 Okay, since we've  reordered of our affections toward our beloved, here's a few practical tips for making the bedroom more welcoming and sultry.
Declutter
Remove the treadmill.  And the stack of clothes currently sitting on it.  You know this was never a good idea, right?    This sanctuary, this sultry holy of holies (thank you, Laura!) was never made for exercise equipment.  It's just wrong.  We've gone way to0 analytical and practical.  This room is not made for practicality.   Read some  poetry in here.  Play some Mumford and Sons.   This room was made for love.  Period.  You know I'm right 🙂  And I know you're gonna hate me for this–but while you're at it, get rid of the t.v. too.  Mmmkay, quickly moving on.
Infuse your Personality
If any room in your house should wreak with your personality, it should be this one.  You can do this in so many simple ways.  Put your jewelry or your scarves on display.   Hang some art that inspires you.  Paint it a romantic color.  But somehow, in some way, make this room be a reflection of who you are and what you love.   I violated all rules of wall hangings in my little corner but it makes me smile every single day.  Of course my all-time personal favorite in the 'make your room scream YOU' category is the monogram.  It's my mission in life to have at least one in every room.  That way, if you're ever at my house and can't remember my name, there will be little clues everywhere.
Now, don't stress yourself out.  Take baby steps.  Make a Pinterest board of inspiration and then slowly but surely,  infuse your bedroom with little parts of yourself.
Buy the Best Linens You Can Afford
Save your pennies and invest in good linens.  You spend 1/3 of your life here in your bed.  Don't sleep on cheap, scratchy sheets.  I've made a science of bed comforts.  We use only feather pillows, we invested in a good mattress and I have the softest Italian sheets known to man.  They were not cheap.  But you can get great, high thread count sheets from Tuesday Morning and TJ Maxx for a fraction of the retail cost.  It's so worth the thought and effort you'll put into it.  Stevie and I HATE to travel because our bed and linens are like BUTTAH.
Invest in a Good Room Fragrance
4.  I am so sensitive to smells.  I can detect a sour scent a mile away.  So, my house is full of home fragrances, mostly diffusers.  There are certain ones I like for certain rooms but my favorite for the bedroom is Archipelago's Havana.  You can buy it here.

I do still have some candles but due to family allergies, I don't use them very much.  Good quality diffusers like this are so worth it because they put out a lot of fragrance and last forEVER.  I've had the one in my bedroom for 6 months and it's not even 1/3 gone.  You'll be addicted to this Havana scent!  Just between you and me, I also spray a tiny little bit of my own perfume on the linens before I make up the bed. Did I mention I'm very influenced by smells?  I use Tocca's Cleopatra.  It's todiefor.

Okay, that's a good start.  Let me know the state of your bedroom and what little changes you could make to make it beautiful and inspiring for the one you love!