This is day 4 of a 31 day series on hospitality. To find a listing of the other 'days', click here.
Before we prepare the house for hospitality, we're working on the heart issues. Don't worry, it's a long series and we'll get to all the fun stuff!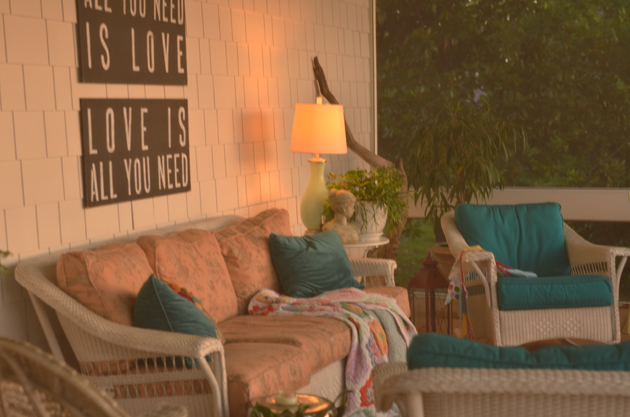 We talked a little about what hospitality is and what it is not.
We've even conceded that we need each other.
But hospitality doesn't come just because you have a better understanding of what it is.
Hospitality follows closely behind its friend humility.
C.S. Lewis gave the best definition of humility I've heard when he said,  "Humility is not thinking less of yourself but thinking of yourself less."
And that may be our biggest barrier to hospitality.
We are so full of ourselves that there's no room to welcome anyone else.
Our thoughts are so consumed by all the details of our own selfish lives that we're not even that curious about other people.
Humility takes the stance,  "I don't know you or understand you but I'm willing to empty my heart just a little of myself and welcome  you in."
We come to relationships and even to strangers with such an agenda.  We need them to like us, to do something for us, to make us feel a certain way.
When it comes right down to it, we manipulate the majority of the people in our lives to do what we want them to do.
When is the last time you came to a relationship emptied of yourself, without your own agenda, and sought to know them and find out their need?
Wouldn't our marriages be different if we weren't always trying to get our way?
It's called putting yourself in someone else's shoes—-living in their skin.
And that is the very humility and love that Christ demonstrates toward us.   He is humility incarnate.
"He emptied Himself and became obedient unto death, even death on a cross."
I despair this morning that I'm so full of self, that I come to every single relationship  ready to plow my way through my own agenda.
But Christ has made the perfect exchange.
He takes on my pride and gives me His humility.
He takes on my lies and gives me His truth.
He takes my sin, death and darkness and gives me life and salvation.
We wear His humility and we get a glimpse of what it's like to walk a mile in someone else's shoes.
Hospitality is learning to live toward others with His borrowed love, in His perfect humility.
He gives us what we don't have in exchange for what He has in abundance.
Lord, give us Your humility, teach us to give ourselves to others and forgive our stubborn selfishness.
Here's a few practical tips on making room for others.  It won't feel natural at first.  It'll seem contrived.  But keep at it  and you'll see your heart grow and change.
1.  Pray specifically that Christ help you see others through His eyes.
2.  When you encounter someone today, ask them a few questions about themselves.   I have a friend that is so good at this.  She is naturally curious about people and makes you feel like your life is so interesting.  You could talk to her for an hour and she'd never once turn the conversation to herself.  But be aware how quickly we all turn things back to our own lives, our own agenda.  This is takes practice and once you become conscious of it, you'll see what I mean.
3.  Let yourself linger with thoughts of that person.  What must his life be like?  What are his struggles?  Is there any way I could help or be of some encouragement?
4.  Practice the same skills with your family.  You won't make a ten year old any happier than by really listening, asking questions and being interested in what they're doing.
Try it, with your own family, your coworkers, a perfect stranger and see if you don't find that it's not that hard to make room for others.
Pretty soon, you'll have spaces in your heart that are emptied of self and ready to meet others.
And that space you make for others is the beginning of hospitality.