This is day 8 in a 12 day series of handmade Christmas tutorials. For an overview of the all 12 days, click here. For all the great projects from 2012, click here.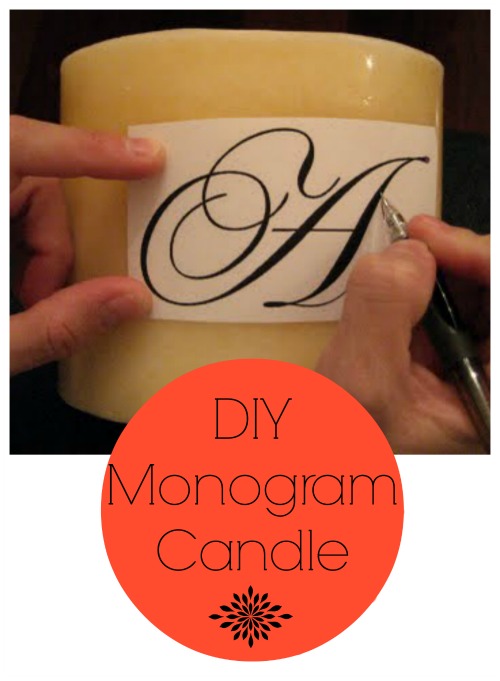 I can't believe it's Day 8 already. And I can't believe it's November already. And I can't believe I have a son in college and I can't believe I'm almost 40 years old. Does time ever catch you by surprise like that? Amy from Playing Sublimely will cheer us up! She is a beautiful new mom blogger with adorable kids and great creative ideas to share with us. I think you're gonna love these candles. I can't wait to try them myself.

Don't you just love candles! I love them so much I light them year round. My husband comes home from work in the middle of the summer when it is 95 degrees outside, and goes around the house blowing out all my candles…and I follow right behind him relighting them all.. I always buy candles that have a fragrance to match the season. Year round, I just cannot get enough of them. Well you can imagine my delight when I learned to paint and monogram candles. These lovelies make beautiful gifts: birthdays, baby showers, Christmas, weddings, etc.. Here is what you are going to need:
Glass and Tile medium, black acrylic craft paint, and a tiny paint brush
A candle (my current favorite is this brand from Bed, Bath and Beyond). Candle manufactures come and go, as soon as I fall in love with one they will stop making it. Try out a few and see what works best for you. There are lots of great, affordable candles out there.
Now that you have your materials, print out a letter (or letter's' if you would like a triple monogram) off the computer in the font that you would like for your monogram. Position and center the letter on the candle. Hold the letter in place and trace the letter onto the candle with light, but firm pressure. I like to use the point of a mechanical pencil for this step because it carves a thin line onto the surface of the candle. Remember, some candles are softer than others, so take care to not press too hard which would result in large, deep lines in the candle.
Next, paint on a very thin coat of the Glass and Tile Medium over the monogram on the candle as shown below. This coat will dry slightly "milky" so be sure to use a thin coat. Allow about 15 or 20 minutes to dry.
Using your thin paint brush, paint over your carved letter with black paint. Keep your hand as steady as you can, and paint the letter to look as much like the letter you printed off the computer as possible.
Once you are satisfied, allow the paint to dry for at least 30 minutes before wrapping the candle. These candles look lovely wrapped in clear plastic cellophane wrap, tied up with festive ribbon. I keep lots of ribbon on hand, by simply changing the ribbon it becomes a great, unique gift for lots of different occasions.
Don't be afraid, you can do this! This is a simple way to create lots of affordable and personal gifts. People will love receiving them and they will enjoy many hours of the calming serenity that candlelight can bring into a home. Have fun!
Blessings to you all,
Click here to hear all about the square dance I went to this weekend!