What you'll need:
1. An inspiration photo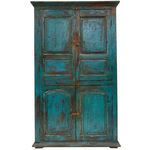 2. Deep Turquoise paint from the Laura Ashley collection at Lowe's. I used Latex semi-gloss and did not prime or sand. More on that later.
3. A candle—any candle—even a candle from last year's Advent wreath.
4. Sponge roller to paint with—so that you won't have those pesky brush marks—unless you like those, which I sometimes do.
5. Dark brown latex paint if you choose to add a little more distressing to the piece. I did apply the brown paint with a brush.
6. Wet wipes (or damp old rag) used for wiping the paint off the edges and corners.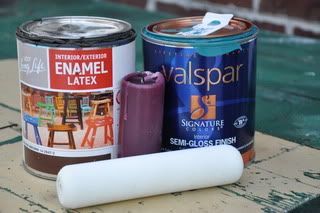 First, decide if your piece needs sanded. My armoire was 15 years old, dry as a bone virgin wood and was begging for paint. To sand it would have been downright cruel. But if your piece needs it, sand it. I also did not prime it because I wanted to brown wood to show through underneath.
Then take your trusty candle and rub the edges, corners, and wherever on the piece you want the actual wood to show through. You should rub the candle vigorously enough that little flecks of candle wax are hanging onto the furniture. Then take a dry cloth and remove any flecks that are visible. This will allow you to easily wipe off the paint from the corners and edges. I first saw this technique on Censational Girl's blog, so you might want to check out
this
post, it's probably slightly more detailed than mine.
I just turned the candle on it's side and rubbed the corners. This is my banister—which is in danger of being stained or painted in the next few months.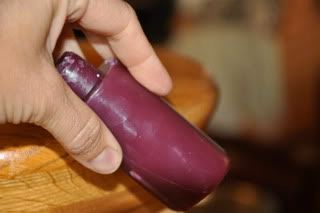 Now, you're ready to paint. Use a sponge roller to avoid brush marks and begin painting.
I did small sections at a time—like the one armoire door at a time–because the paint dried so quickly on my parched little armoire. Just as the paint is drying (it took about 10 minutes on this piece), take wet wipes or a damp rag and wipe the paint off the edges where you had previously rub the candle wax. You can wipe the paint off as liberally as you'd like. The more paint you wipe off, the more distressed it looks.
If you mess up and take off too much paint, just paint it again, wait for it to almost dry (usually within 10 minutes) and then wipe again. Continue on until you achieve the look you love.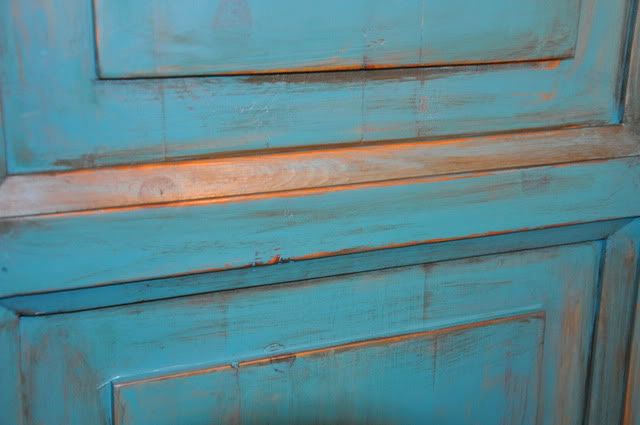 The next day, I decided that I wanted it to show a little more 'brown' so I took dark brown latex paint and painted the edges with the brown paint and then wiped some of that off until it looked like this. Overall, I bet this project took 3 hours. I adore it. I can't believe I went 15 years without painting it. And although I am completely smitten with this peacock blue, I have to say that when I saw Nester's
beautiful blue armoire,
I was a little torn. I want two blue armoires now. Her post on painting her armoire is much more comprehensive than mine, so check it out too. You'll learn something clever.
Other facts you should know:
1. I didn't paint the inside doors. I'm a little bit lazy when it comes to details.
2. I left the hardware on while I painted. I'm a little bit lazy when it comes to details.
3. I painted it right where it sits and scooted some craft paper underneath—on one side. I'm a little bit lazy when it comes to details.
4. I did not paint the back yet—-and may never—you can probably guess why.
Before/After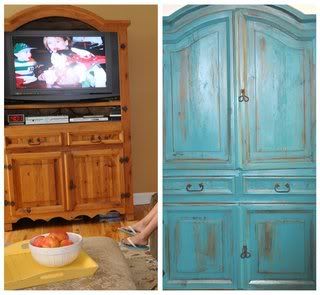 I hope this answers your questions. Now get busy painting my friends. I'm joining Kimba's DIY party, so visit
here
for more DIY inspiration.
Also, thank you so much for your sweetest little messages from my post Wednesday. I'm feeling better and am now 24 hours tear-free. Love and hugs to you all and hope you have a great weekend. I haven't forgotten that I have one more post to finish my
series
. I hope to get that done before I leave for vacation!