It is with great pleasure I give you: Studio 8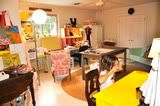 She had a sinewy mind, capable of violent enthusiasms and possessed a driving energy to make and do. Sometimes, it seemed as if the wrong soul had been placed inside that slight body, for she pushed herself to her limits and beyond, and was often ill as a result. There was something in her that could not, or would not, see the distinctions the world wished to make between weak and strong, between women and men, laborer and lord.
sinewy adj. -tough, stringy, strong
If you believe that quote and could know the amount of sheer physical labor that went into transforming this space, I am definitely due to get some kind of illness. But maybe the 27 aphthous ulcers that have terrorized the inside of my mouth ARE my illness. Do you ever do that, work so hard for so long that you make yourself sick? Yeah, me too. And I regret to inform you that I've searched high and low for a before picture and can't find one. It was a guest room with dirty carpet and far to many fake plants. Trust me, this is better.
So, the first thing I undertook was to rip up the old–nasty–ten year old—stained with all manner of dog and human stuff—carpet. It was not a job for the faint of heart. Not to mention the overstuffed sofa and queen bed and other sundry furnishings that had to be removed from the room before that could even take place. I then painted the walls with 2 cans of leftover light colored paint that I mixed together.
When I ran out of paint with one large wall left, I decided to do a chalk wall.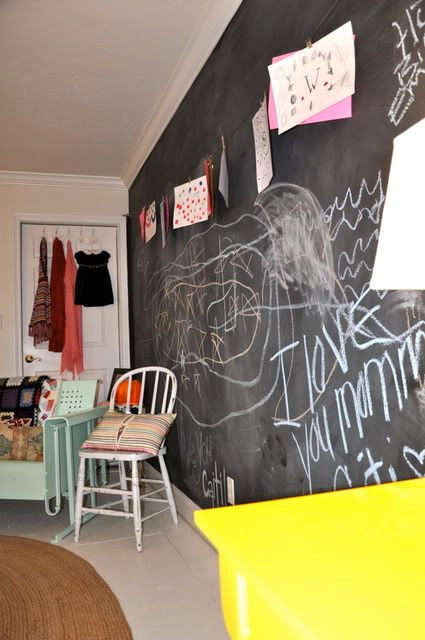 Because who doesn't love a chalk wall and a little improvisational creativity?
With the carpet slowly being removed (by me, the little girls and my neighbor Leigh Ann) I commenced to painting the subflooring with porch paint. This was my biggest expense, totaling around $62. That process took around 5 days because the paint had to dry thoroughly in between coats. I used Meredith (whom to all our misfortune has quit blogging) for inspiration and '
how-to'
information, but my sub-flooring was not nearly as nice as hers, so I did 3 coats of porch paint and it's looks very 'porch'-like—much more rustic than hers—but perfect for a craft studio. And then for kicks, I brought up every color of paint in my basement (which looks like the paint section at Lowe's minus the 20 year old paint section worker whose never painted a surface in his life) and began painting everything that didn't move.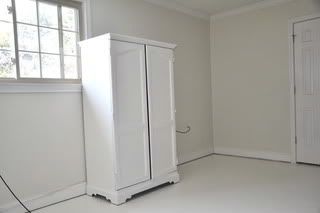 Including this old school table that I bought last year at an antique store close-out for $50. I used stainless steel paint—which I will never use again—and though I liked the way it turned out okay, I hate using oil based paint, which this was. I could have achieved the same result with a silver paint and without all the hassle of mineral spirits.
Then, there were these wooden shelves—with the perfect little scalloped edges— that were in my schoolroom that the girls and I painted. We used the cute scarf as our inspiration and picked from the multidinous colors at our disposal. Those shelves now are home to our yummy yarn collection. We also continued the color-love by adding jars of skittles and bubble gum—-because who wants to spend all day in a craft studio where there's no sugar? Not me.
Then, we shopped the house for everything fun and colorful and 'crafty' we could find. If it didn't fit our fun and crafty criteria, we painted it!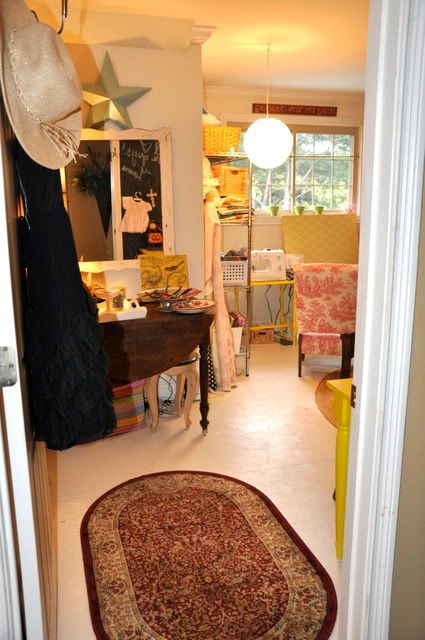 The icing on the cake was this awesome 1950's glider which we found this weekend at a yard sale for $20. It gives the spectators of the crafting a place to sit and watch old episodes of Andy Griffith. Something about Aunt Bee just makes me wanna bake and sew.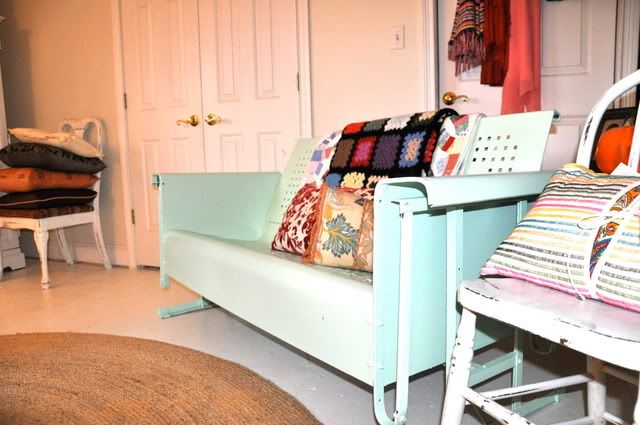 And last but not least is this cool chair that we bought at a thrift store for $5 and recovered with pink toile. I've written a
cautionary tale
about my upholstering skills
here
.
The sewing table is constructed from an old 1980's computer desk (which I painted blue) and an old door from Goodwill which I decoupaged with the black polka-dot wrapping paper. We are always on the hunt for unique items to add to our vintage, colorful studio, but for now, we are enjoying our little woman cave, where we can escape from a whole host of activities including laundry, scrubbing toilets, and watching the fifth college football game on any given Saturday—don't get me wrong, I love the first four.
This room is a little santuary of sorts—-where we girls can learn from each other—-and where our 'violent enthusiasms' and 'driving energy' have a productive place to land.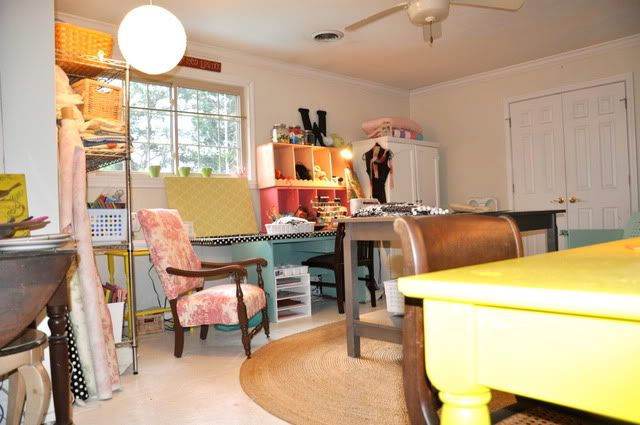 The Nitty Gritty:
It cost roughly $150 and ten days to complete this makeover. For the wall paint, I mixed two Valspar colors in about a 50/50 ratio. They are foxtrot and hemingway. For the porch paint, I used Sherwin Williams porch paint—but tinted to the color Dover. I stayed up way too late a few nights and dealt with a plethora of aphthous ulcers and one nasty cold sore. But I'm a team player so I gladly take one for the home team to get this dreamy little cozy space in which to make memories with my girls. I used a variety of craft room photos for inspiration which you can find at my
tumblr
site. I thank
Soulemama
who never ceases to amaze me with her love for the creative life and how to teach that to our children. I am also indebted to the
Nester
for teaching us all that
it doesn't have to be perfect to be beautiful
.
Please visit Kimba's sight (it's DIY day) to see lots of fun DIY projects!