For any of you new to my blog, welcome!  I hope you enjoy your visit! I'm joining Kelly's 'Show us Your Kids' Rooms' party!
After our house fire in 2010, we decided to rebuild our dream cottage.  We're still putting the finishing touches on it but we have designed and decorated it with hospitality in mind.  Our entire lower level is dedicated to guests with 3 guest rooms, an apartment style kitchen and its own living room.
My two favorite rooms in the house are the kitchen and the workroom but I sure do love my girls' room too.  They are 9 and 11 and share a room on the 2nd floor.
Their room was the first room Darlene and I worked on together and let's face it:  girls' rooms are so much fun to decorate!  It has come together beautifully and very close to the design board.
Come on in and take the tour!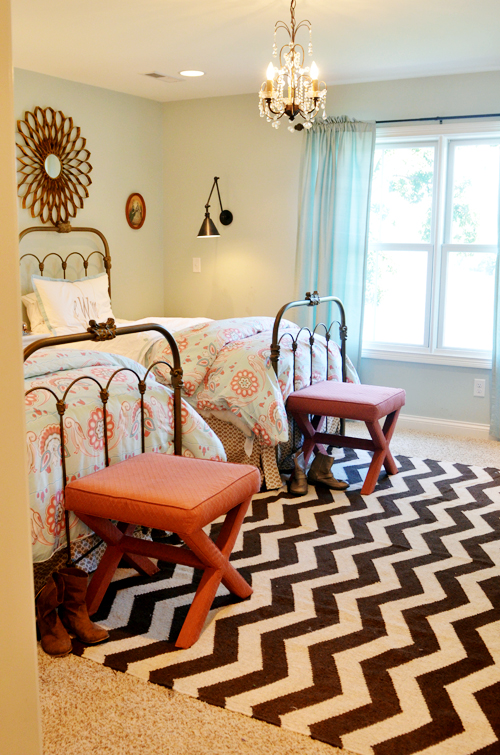 I started with these beds from Layla Grace and we developed the room around them.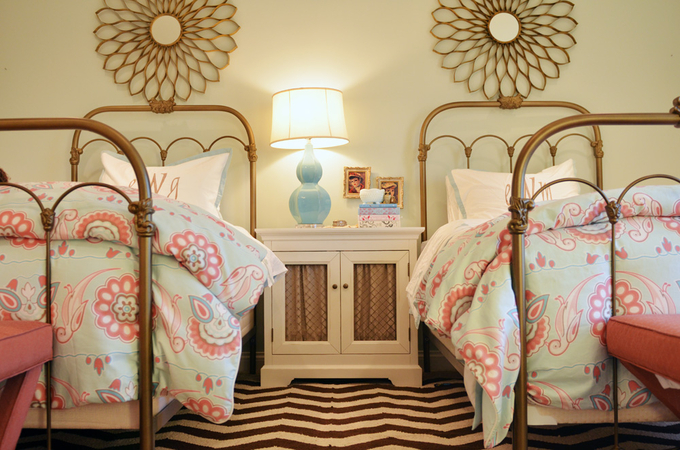 These beds were supposed to be dark mocha brown but when they finally got here from California, they were antique brass.  I loved them so much that I didn't even bother to try and correct the error.   Plus, we needed spots for nieces and nephews to sleep in the rental house that weekend.   I'm glad I kept them.
I made the right decision, right?  Okay, yes, I think so too.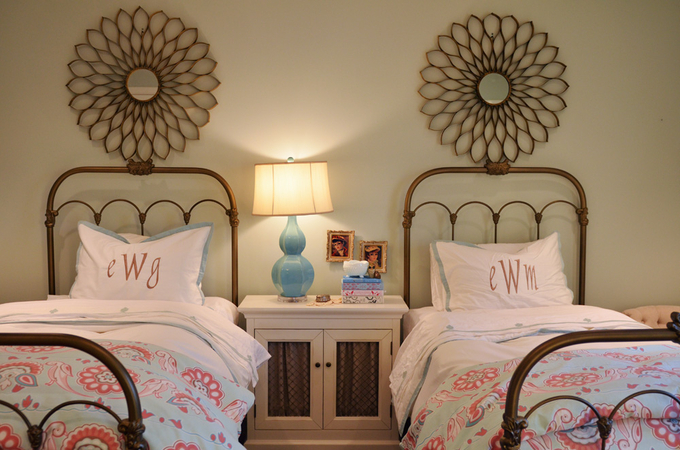 Oh and here's the design board so you can compare!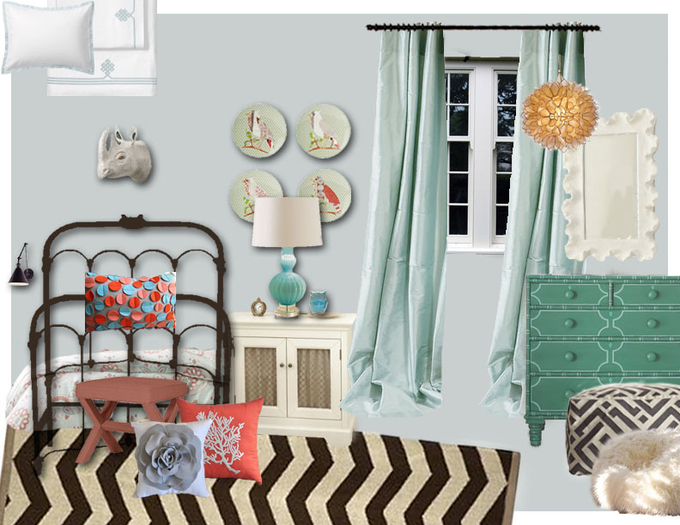 Then, there's the most wonderful dresser in the world (Darlene's find) and I threatened the girls that I was gonna keep it in the living room but they were already attached to it.
It's most definitely a splurge piece but it's so very unique and wonderful.   Darlene is responsible for this little nook that was built just for this piece.  She sent me an email to ask if the framers had already framed this out and we were able to make a few changes so that on the wall opposite the beds, this nook is central and the girls' closets flank each side.  It's perfection!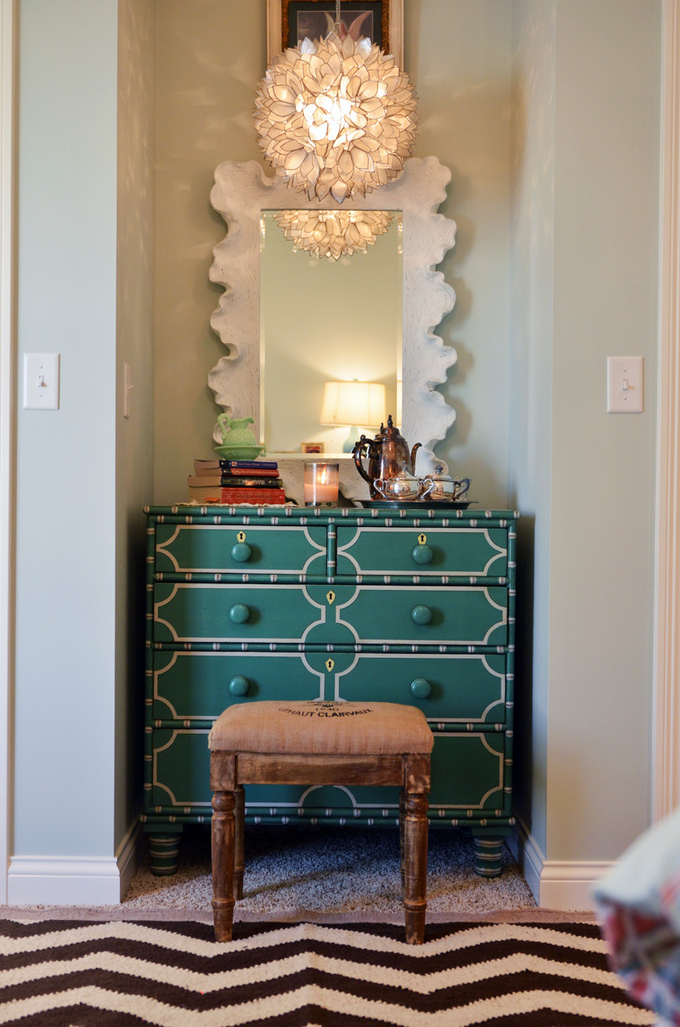 A few more angles……..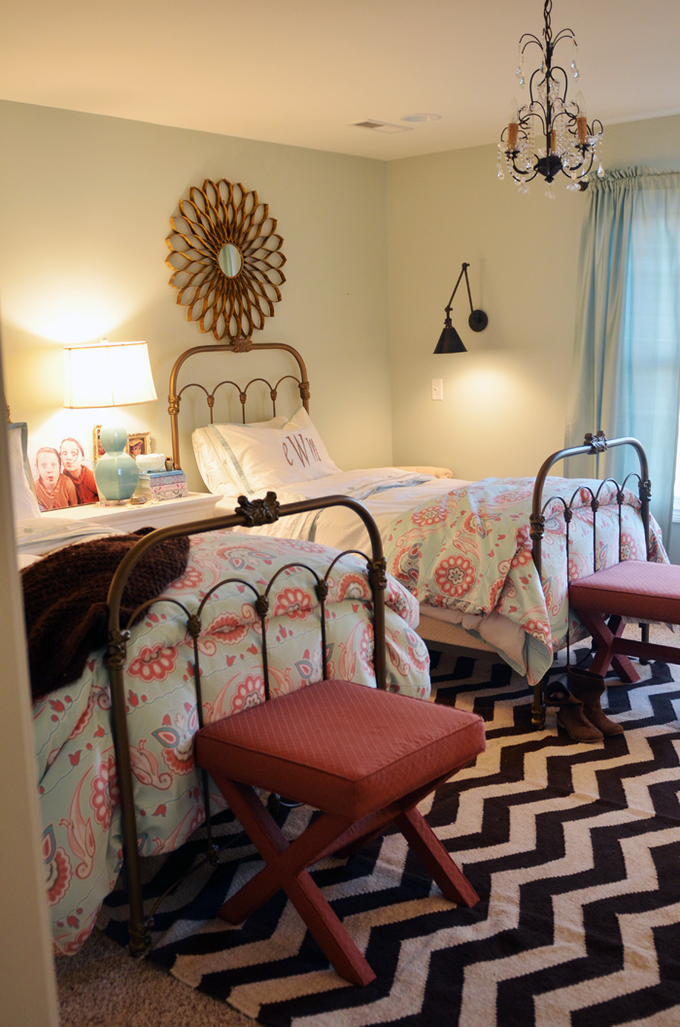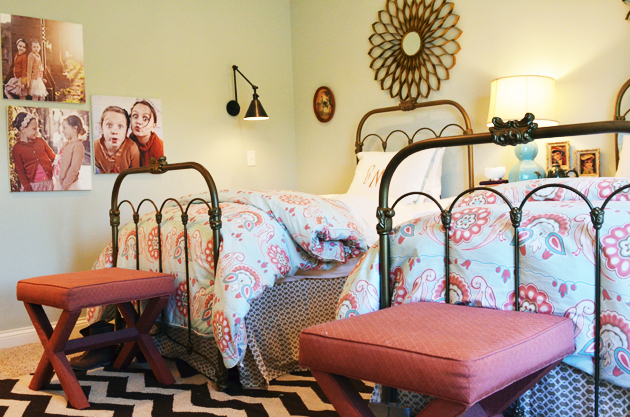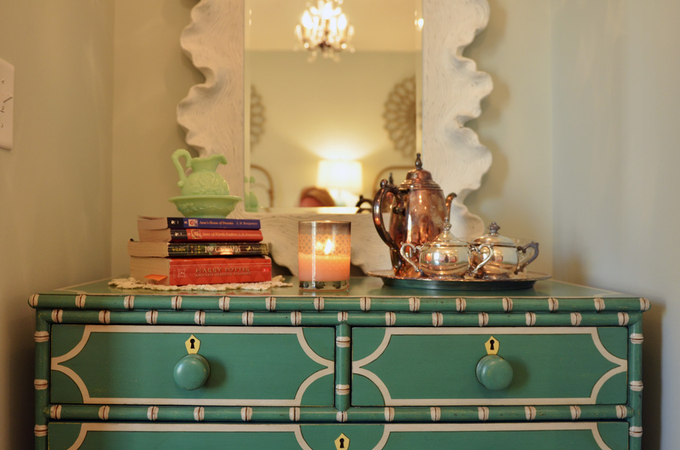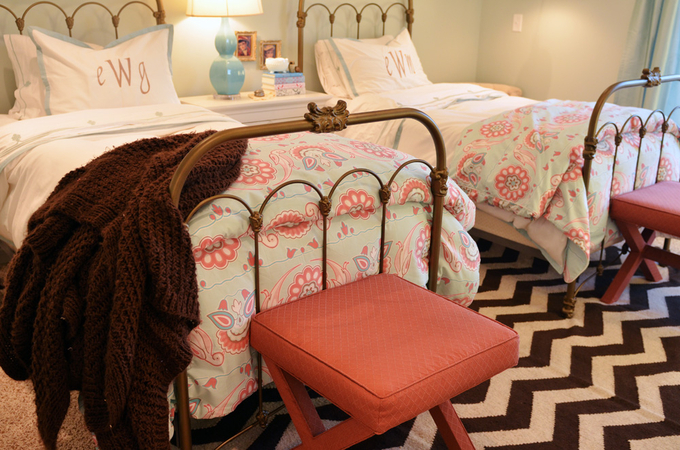 And the bathroom…..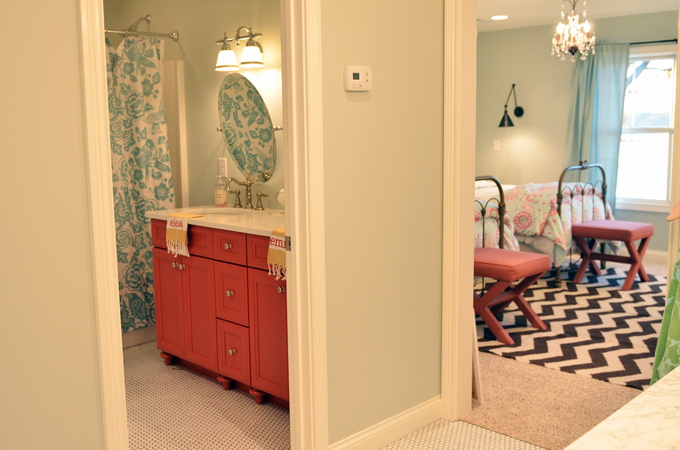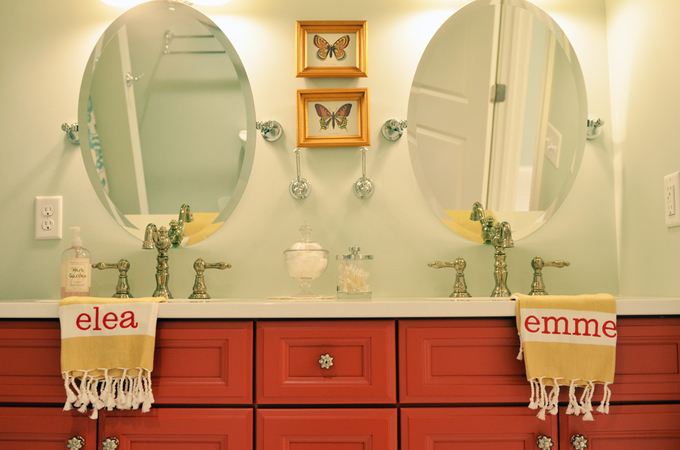 The dressing vanity……..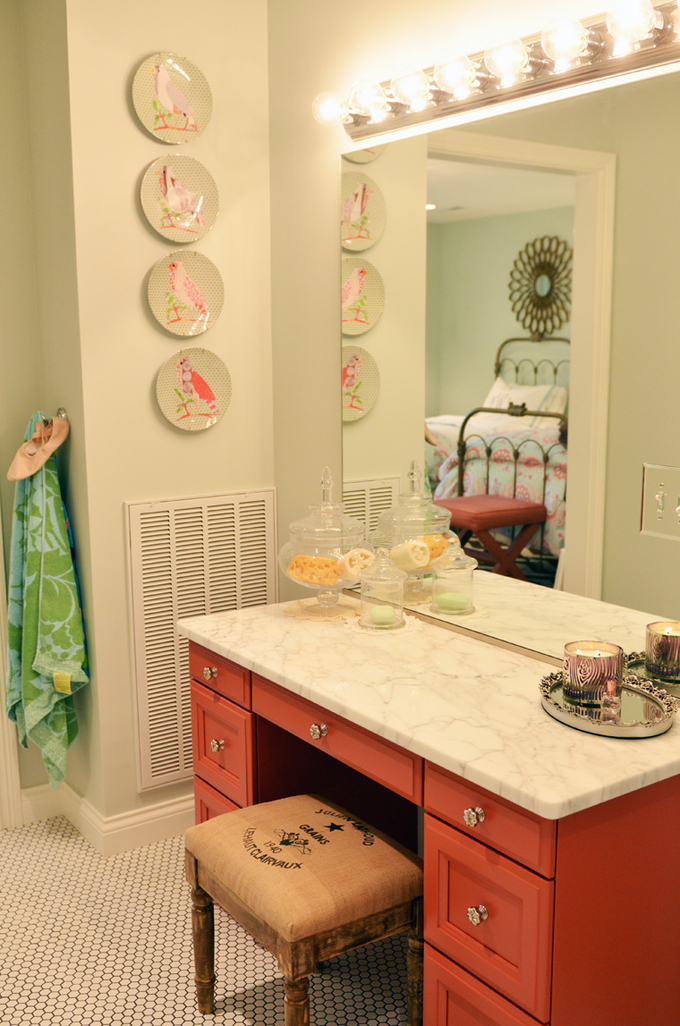 And my personal favorite, the antique picture of the 'Angel on the bridge' that shows an angel ushering two little ones to safety. That is my Caiti, rescuing her sister the morning of the fire. Steve's mom had this hanging in her house and sent it to me. It's our guardian angel 🙂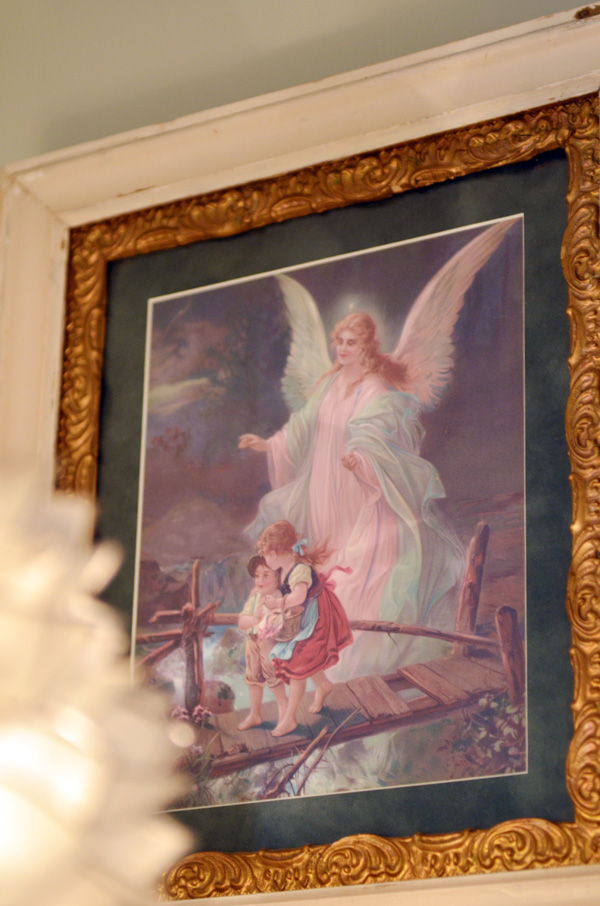 Wanna continue the house tour?  Visit the kitchen, the workroom, the master, the girls' room, the living room and the guest room.
Sources
Wall Color : Sea Salt, Benjamin Moore
Beds: Painted Vintage Jane Iron Beds (antique brass)
Curtains:  Country Curtains Ashford Silk in blue
Capiz Pendant (over the dresser) Pottery Barn
Atoll Rectangular Mirror w/ clear glass  Ballard Designs
Somerset Bay Long Key Chest in Gelato–Lavender Fields
ZigZag Rug in Ivory/Espresso/Flax  West Elm
Dominique Small Cabinet in Rubbed Chalk White   Ballard Designs
Aqua Lamp  T.J. Maxx
Melamine Bird Plates   West Elm
Bronze Boston Library Sconces  Bellacor
X Benches in Pomeroy Check fabric  Ballard Designs
Annabel Bedding Duvet  Serena and Lily
Aqua Trimmed Bedding  Serena and Lily
Bird Shower Curtain  T.J. Maxx