This post is part of series called "31 Days to Rebuild Your House and Heart" and I'm writing it to chronicle our rebuilding process after we lost everything in a house fire last December. You can start here and read the whole series.  Also, a hearty thanks to my friend Rhoda for hosting this little shindig!  Thanks for visiting!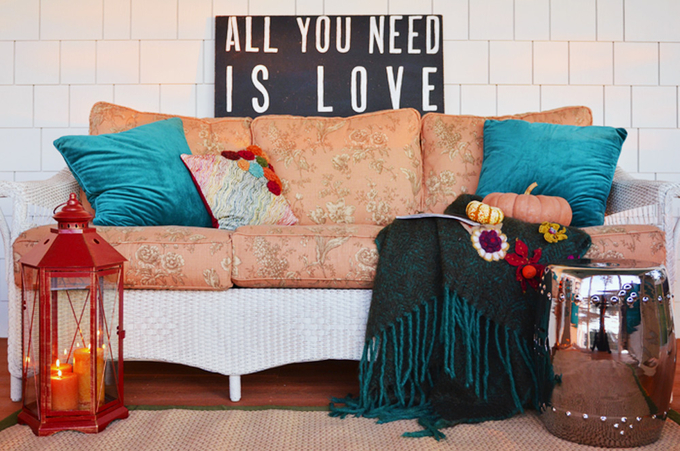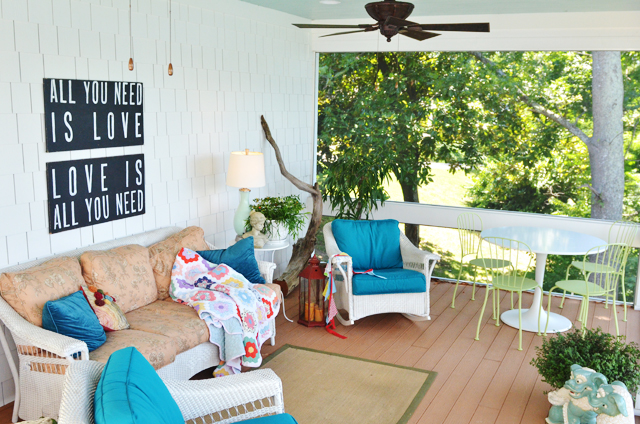 Today, I feel just like the Nester. I'm tired of blogging about rebuilding.
I did want to show you the screen porch because she's not gonna be the star of the show next week.
The adorable garden stool? That sweet Nester sent that to me about a week after the fire. I adore it and her.
The 'All you Need is Love' sign? From sweet Melaine who blogs at the stellar My Sweet Savannah. There are no end to the blessings at this house!
Thanks girls, you make a screen porch look bahyooteefull and a girl feel special 🙂
Oh and I almost forgot the ceiling!  It's painted my own shade of 'haint blue' which is common is Southern towns, especially Charleston.
Folklore is full of stories about haint blue—-that it wards off evil spirits and even mosquitoes.  I'm even hoping it could help ward off the calories of coffee treats I consume out here?
At any rate, I love the sky blue ceiling and all the coziness it creates.
(We used 2 inch pine boards.)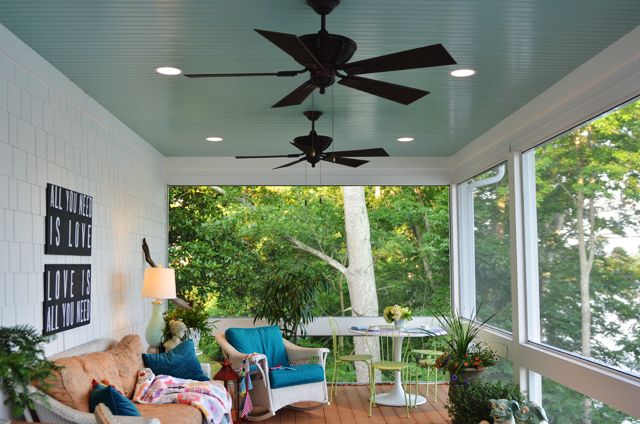 (The pillows and lantern and throw are from Pier One and the wicker is Lloyd Flanders Nantucket.)  The tables and chairs are from IKEA.  (Thanks Sebastian!)
**************************
And it's Stevie's birthday so I thought I'd humor you with his antics.
He got the new iPhone4s and now has been drawn into a love affair with  'Siri'–the voice controlled personal assistant.
He talks to her all the time.
Here are a few things they talked about today.
Stevie: "Will you set a timer for 7 minutes."
Siri: Sure. "Timer is set."
Stevie: "Thank you."
Siri: "Your most welcome."
Stevie: "Email my brother Jeff."
Siri: "Is that Jeff Schwarz or Jeff Wadsworth?"
Stevie: "Jeff Wadsworth, that's my brother."
Siri: "I'm sorry, I didn't get that."
Stevie: "Jeff Wadsworth."
Stevie: "What is the chemistry behind ashes."
Siri: "I'm sorry Steve.  I do not know."
Stevie: "Well, you should."
Siri: "Noted."
Stevie:   "Siri, I love you."
Siri: "STEVE (in a very motherly voice), you haven't known me that long."
I'm not even kidding.
These two could go on like this all day.
Twice, I almost answered because I thought he was talking to me.
Nope, it's Siri he's interested in.
Until dinner that is.
She still can't cook for him.
And that's why I win, Siri.  And besides, I was tired of looking things up for him anyways.
He also confessed to having a midlife crisis.
But instead of a sports car, he got a Big Green Egg.
It's the most amazing grill EVER.
Stevie said it goes from 0-700 in less than 10.
Boys and their toys 🙂
I've leased him some real estate on the screen porch for the grill. THAT, my dears, is true love.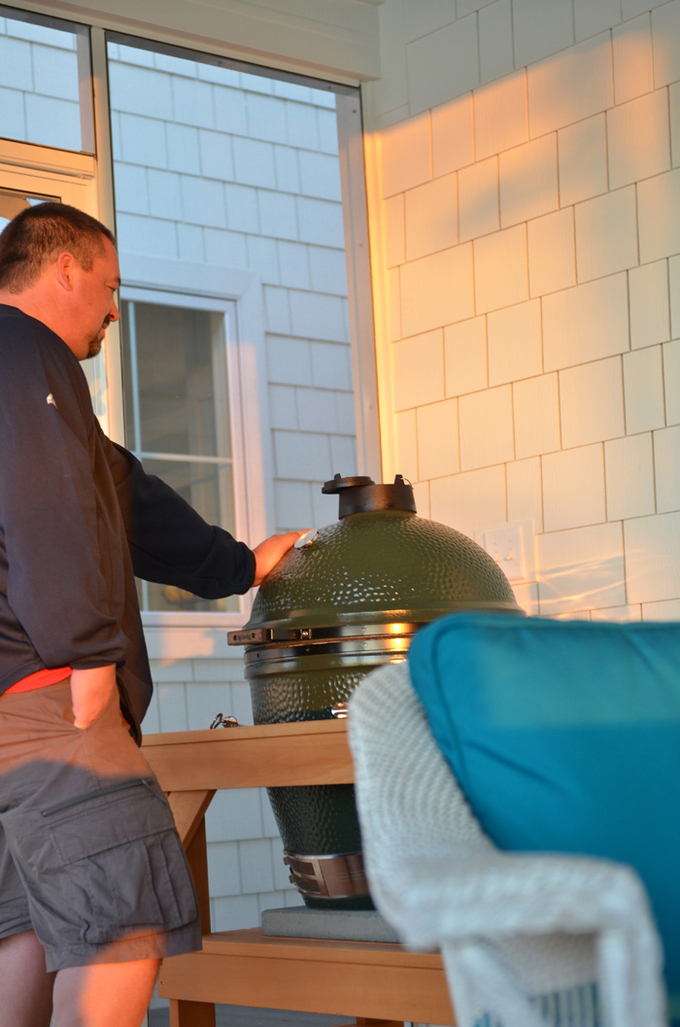 And Happy Birthday to my dear husband. Here's to many more long days by the fire, grilling up steaks, watching football and chasing our dreams!
Love yous,
edie