This post is part of series called "31 Days to Rebuild Your House and Heart" and I'm writing it to chronicle our rebuilding process after we lost everything in a house fire last December. You can start here and read the whole series. Thanks for visiting!


One thing I've learned as lover of creating cozy spaces is that lighting is everything.
Perhaps I overstate the case but lighting can transform a good solid space into a dreamland.
Lighting is like jewelry for your house.
(Which may explain my proclivity for crystal chandeliers.)
This is the *necklace* my dining table wears.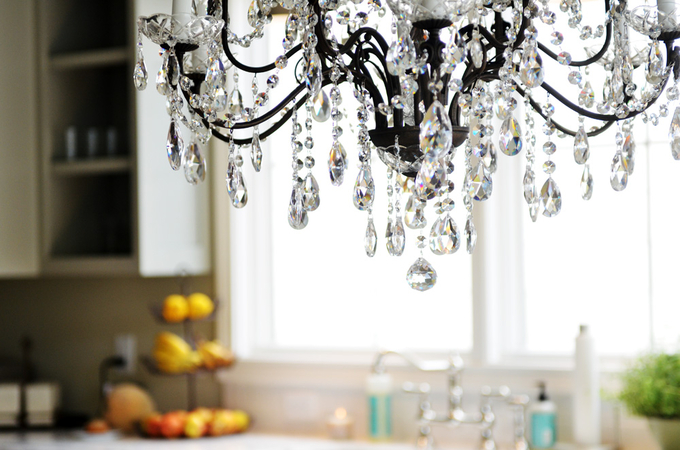 Lucky her:)
And lighting decisions must be made early, while the electrical circuits are being created.
Most of the spaces in this house were defined by the lighting.
Like buying shoes and then trying to find an outfit to coordinate.
I think it's a mistake to let the lighting be an afterthought. BIG mistake.
If you're involved from the beginning, the lighting can transform your spaces.
Most builders will work with a local lighting company to help you make your lighting choices.
Because I'm slightly insane, I thought I could handle it myself.
I started out organized with my lighting orders and watched the rental house garage fill up with boxes.
I ordered from online sites such as Bellacor and Lamps Plus and even Restoration Hardware.
But then I realized that unless I was gonna make ordering and tracking orders and lighting spreadsheets my full time job, I needed to get help.
I worked with Angie at Hardwood Specialties (also the place I bought my hardwood) and she came to the house and helped me finish the work.
I'm glad I was very intimately involved in the ordering and placing of the lights but I'm also thankful for the help. I think it makes all the difference in this house.
Tomorrow, I'll show you some specific lights and sources.
So, what do ya think? Am I just partial to light?
xo,
edie
p.s. Stevie just informed me that all my *heat lamps* are keeping the house warm. That, and Larry's stellar insulation.
I do have a whole lot of lights in this house—that ain't no lie.