If you're new around here?  Thank you for visiting my blog!  I'm honored you're here and I hope you'll find some encouragement (and some laughter!) for your days.  Join this community of grace lovers and get fun, free stuff every month delivered to your inbox, along with access to free printables, meal plans, and my 31 Days to A Heart of Hospitality ebook!
For a tour of our house this Christmas season, click here!
And now, for the wreath……..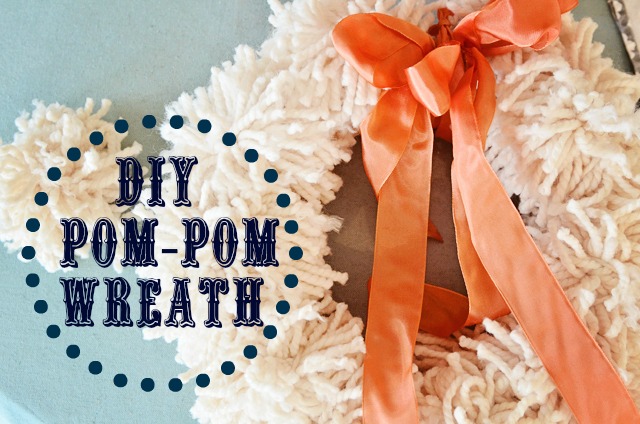 My jaw dropped the first time I saw the snowball wreath from Anthropologie.   It's beautiful——of the drop dead gorgeous variety.   And it's $298.
Then my friend Nester posted about her snowball wreath.  Which is all kinds of awesome.  Just like she is.  I knew I had to find a cheap, easy way to do it.
Side note:  She's the cornerstone of my internet world.  Hers was the first blog I stayed up until 3am to read ALL the archives from.  I love everything she does.  I love seeing the world through her eyes.  I love  that she works hard but also guards her margin. After our house fire in 2010, she made a video for us that I've watched over and over again and has been such a source of healing for me.. And then I couldn't believe it when she did this for our rebuild.  I adore her and feel privileged to call her friend.   I hope she knows how much we all appreciate her generosity and her willingness to use and share  her gifts.  She's one of a kind.  And she's hosting this Christmas crafting shindig, which will inspire to make something beautiful this weekend.  And while you're at it, visit Cate's crafty party too.  Let's just party in glue sticks and yarn and pretty fabric all weekend, whadaya say?
(I recently hosted a 12 Days of Christmas crafting and you're looking for great tutorials for gift making!)
Now, back to the wreath.  First, you've got to make 10 or 12 pom poms.
Here's what you'll need: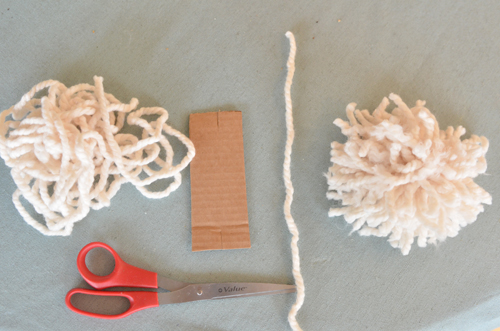 2 skeins of chunky yarn
1 10 inch string of yarn
10 inch wreath form (or whatever size you wanna make!)
scissors
a piece of cardboard ( I used a 2×4 inch piece but the bigger you make it, the larger the pom-pom.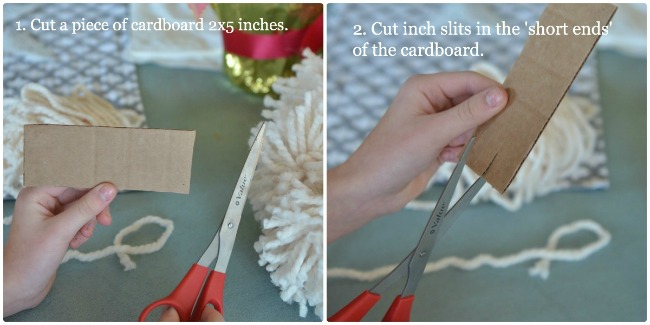 Place the ten inch string through the slits so that there are equal tails on each side. (When you make the pom pom, you will use the tails of this string and tie them into a tight knot around the wound string.)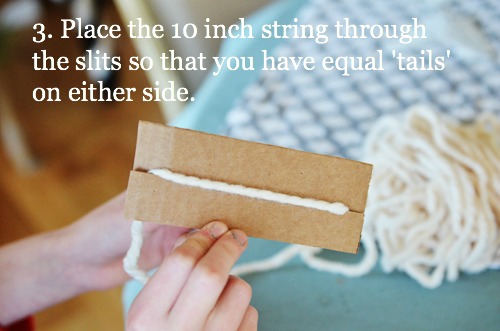 From the full ball of yarn, start wrapping around the cardboard. The more you wrap, the puffier your pom pom will be. I wrapped my chunky yarn about 100 times for my snow ball pom poms. If your yarn is normal weight (thinnish) you may need to wrap 150 times to make full pom poms.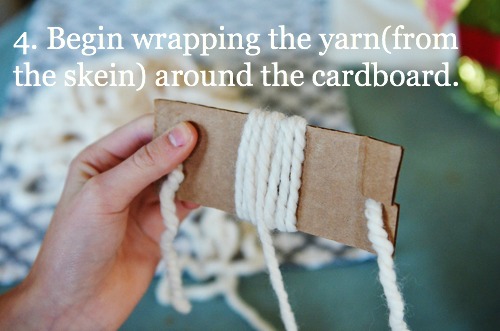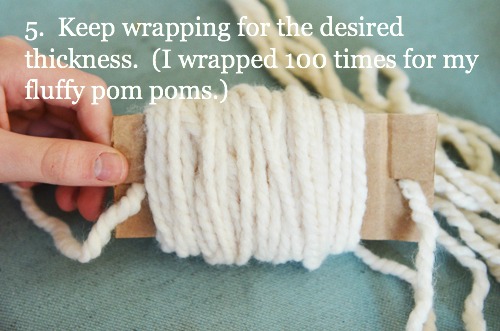 Once you've wrapped it as many times as  you like, take the two tails from the string that is in the slits of the cardboard and pull them up around the ball of yarn.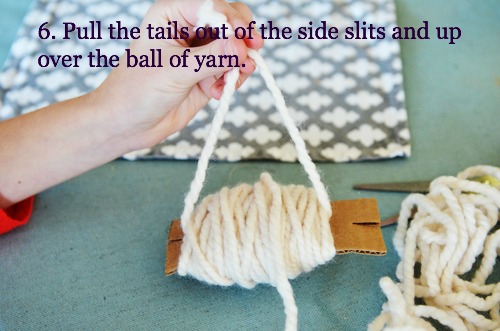 Gently slide the yarn off the cardboard, holding the tails up and being careful not to let them slip out from in between the newly formed ball of yarn.
At this step, you now have  a ball of yarn with a string in the middle.  Most tutorials will tell you at this step spread the yarn out towards the ends of the string.  I didn't do that.  I just tied a tight knot in the string and double knotted it for extra security.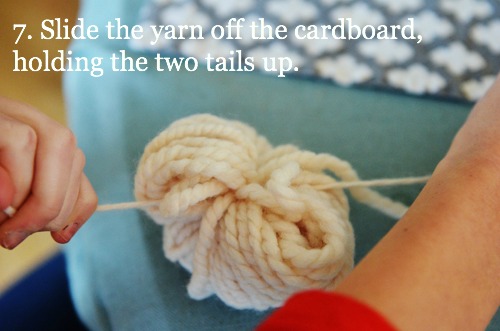 Then insert your scissors through the middle of all those loops you wound and cut right through them.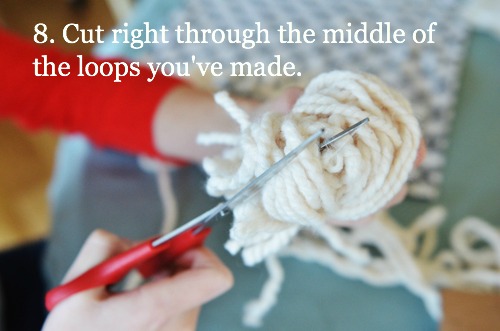 And tada!  You have a snowball pom pom!
You can give him a trim if he's got some straggly uneven spots.  We also pulled the ends of the yarn apart a little to make it look a more frayed and cozy.
Now all you need to do is make a dozen of those and  attach them to the wreath.  I used a 10 inch straw wreath form and it took exactly 2 skeins of  yarn to fill it up.  You could hot glue them or just wrap string around them and tie them on.  I chose the latter because I'm a little lazy with my crafts and didn't feel like firing up the glue gun.
This project took about an hour an a half , cost about $14, and was definitely worth the explosion of yarn and fuzz in my schoolroom.  Actually, the girls did 90% of the work, while I flitted around with a host of other (very ordinary) things, including my collaborative mantel project.  The girls did a great job!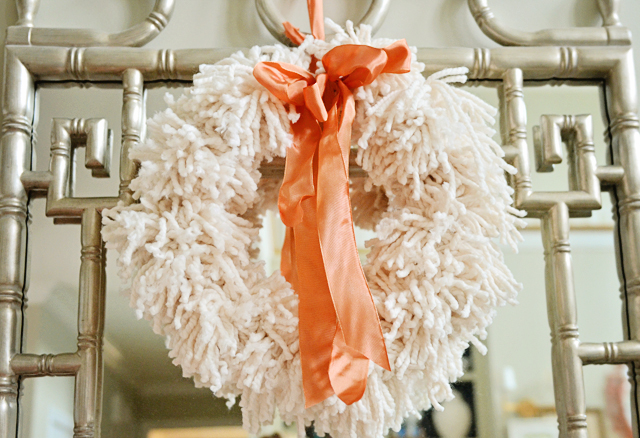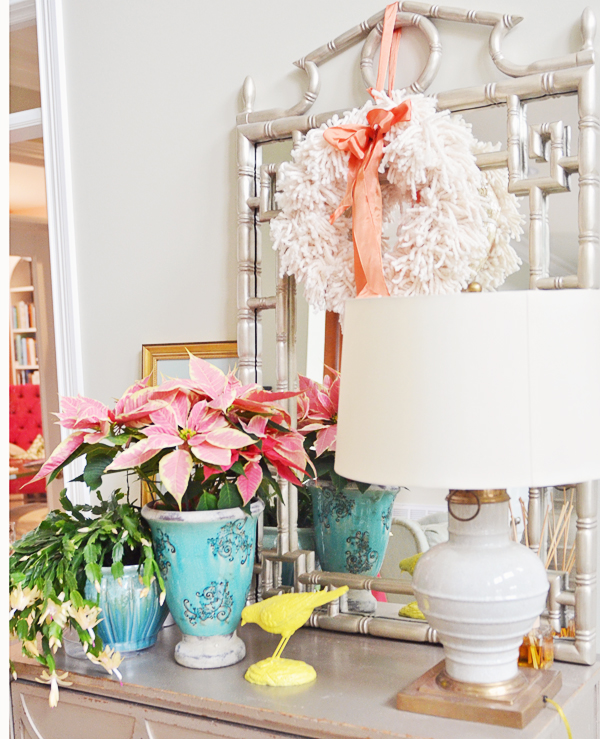 And for all you friends who gave it your all trying to help me with my Christmas mantel, I want you to know that I had paint on my grannie pj's by 5:30 this morning.
I was mixing paint like nobody's business.
Check out the coral-ish/pinkified/sal-mon colored mirror here!